Our never-ending quest to spread love for every genre and convince even the most hesitant of haters to try again continues! In this edition, we're talking about paranormal romance, because contrary to popular belief, it is 100% not dead. Or… undead.
While it may not be as hot as it once was (everyone remembers the Twilight heyday), paranormal romance has been a prominent sector of the YA book community for years. Supernatural creatures are always fun and come in a variety of, well, let's just say attractive shapes and sizes. Sometimes the romance takes front seat, and sometimes it's just happening in the background of an all out supernatural war.
Since we firmly believe that if you don't like a certain genre, you just haven't found the right book for you in it, be sure to check out the list below and see what catches your eye!
10 Paranormal Romance Books to Try if You Hate Paranormal Romance
1. The Summoning by Kelley Armstrong
Published back at the height of paranormal romance popularity, Kelley Armstrong delivered a thrilling entry into the genre with this trilogy. If you can't quite decide which supernatural creature is for you, it's your lucky day because you can find them all here.
My name is Chloe Saunders and my life will never be the same again.
All I wanted was to make friends, meet boys, and keep on being ordinary. I don't even know what that means anymore. It all started on the day that I saw my first ghost – and the ghost saw me.
Now there are ghosts everywhere and they won't leave me alone. To top it all off, I somehow got myself locked up in Lyle House, a "special home" for troubled teens. Yet the home isn't what it seems. Don't tell anyone, but I think there might be more to my housemates than meets the eye. The question is, whose side are they on? It's up to me to figure out the dangerous secrets behind Lyle House… before its skeletons come back to haunt me.
2. The Raven Boys by Maggie Stiefvater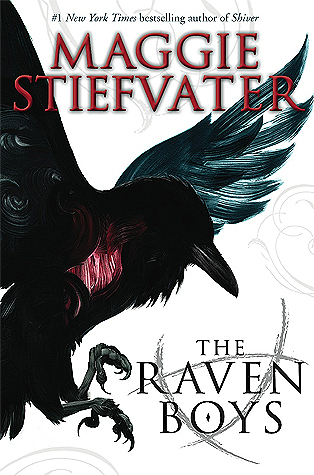 Maggie Stiefvater's writing tends to transcend genre. THE RAVEN BOYS has a bit of everything in it, but there's definitely a paranormal aspect, and there's that slow burning romance that makes our hearts ache. We can promise you there isn't anything else on shelves quite like it.
Every year, Blue Sargent stands next to her clairvoyant mother as the soon-to-be dead walk past. Blue herself never sees them—not until this year, when a boy emerges from the dark and speaks directly to her. His name is Gansey, and Blue soon discovers that he is a rich student at Aglionby, the local private school. Known as Raven Boys, they can only mean trouble.
But Blue is drawn to Gansey, in a way she can't entirely explain. He is on a quest that has encompassed three other Raven Boys: Adam, Ronan, and Noah. For as long as she can remember, Blue has been warned that she will cause her true love to die. She never thought this would be a problem. But now, as her life becomes caught up in the strange and sinister world of the Raven Boys, she's not so sure anymore.
3. Rebel Belle by Rachel Hawkins
REBEL BELLE is a great example for how expansive paranormal romance can be. It reads like a fun light-hearted contemporary until a dying janitor kisses the main character and passes on ancient supernatural abilities. Yes, it's as wacky and awesome as that sounds.
Harper Price, peerless Southern belle, was born ready for a Homecoming tiara. But after a strange run-in at the dance imbues her with incredible abilities, Harper's destiny takes a turn for the seriously weird. She becomes a Paladin, one of an ancient line of guardians with agility, super strength and lethal fighting instincts.
Just when life can't get any more disastrously crazy, Harper finds out who she's charged to protect: David Stark, school reporter, subject of a mysterious prophecy and possibly Harper's least favorite person. But things get complicated when Harper starts falling for him—and discovers that David's own fate could very well be to destroy Earth.
4. Beautiful Creatures by Kami Garcia & Margaret Stohl
The first book in the Caster Chronicles also came out when fervor for the genre was rampant. It's traditional paranormal romance in the best way possible. The dual timeline, warring secrets, and forbidden romance between Lena and Ethan is everything, and the supporting cast is super entertaining as well. It's a completely unique spin on magical mythology, and there's also a lush movie adaptation of it to boot!
Lena Duchannes is unlike anyone the small Southern town of Gatlin has ever seen, and she's struggling to conceal her power, and a curse that has haunted her family for generations. But a secret cannot stay hidden forever.
Ethan Wate, who has been counting the months until he can escape from Gatlin, is haunted by dreams of a beautiful girl he has never met. When Lena moves into the town's oldest and most infamous plantation, Ethan is inexplicably drawn to her and determined to uncover the connection between them. In a town with no surprises, one secret could change everything.
5. The Unbecoming of Mara Dyer by Michelle Hodkin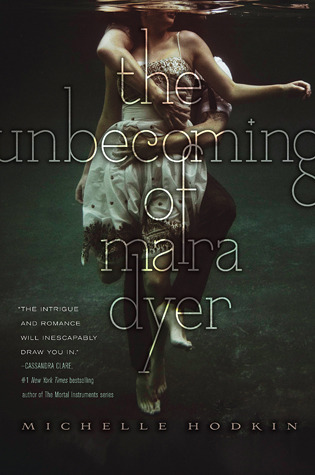 You'll notice the plot synopsis for Mara Dyer is rather sparse. It's meant to be that way. Michelle Hodkin crafted a series that's both an enchanting paranormal romance and an edge-of-your-seat thriller. We don't want to say more, because you have to experience it for yourself.
Mara Dyer believes life can't get any stranger than waking up in a hospital with no memory of how she got there. It can. She believes there must be more to the accident she can't remember that killed her friends and left her strangely unharmed. There is. She doesn't believe that after everything she's been through, she can fall in love. She's wrong.
6. Labyrinth Lost by Zoraida Córdova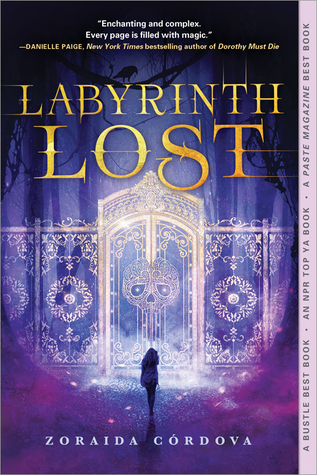 Zoraida Córdova is on fire right now. With multiple series in the works, we're definitely happy Brooklyn Brujas is one of them, because it means we get more of the dark and magical world introduced to us in the first book.
Alex is a bruja, the most powerful witch in a generation…and she hates magic. At her Deathday celebration, Alex performs a spell to rid herself of her power. But it backfires. Her whole family vanishes into thin air, leaving her alone with Nova, a brujo boy she can't trust, but who may be Alex's only chance at saving her family.
7. Anna Dressed in Blood by Kendare Blake
This list gets a little more violent with ANNA DRESSED IN BLOOD. Kendare Blake, who is also on fire right now with the THREE DARK CROWNS series, wrote one hell (pun intended—which you need to read the book to understand) of a paranormal romance series. It's not easy falling for a dead girl you were supposed to kill.
Cas Lowood has inherited an unusual vocation: He kills the dead. So did his father before him, until he was gruesomely murdered by a ghost he sought to kill. Now, armed with his father's mysterious and deadly athame, Cas travels the country with his kitchen-witch mother and their spirit-sniffing cat.
Searching for a ghost the locals call Anna Dressed in Blood, Cas expects the usual: track, hunt, kill. What he finds instead is a girl entangled in curses and rage, a ghost like he's never faced before. She still wears the dress she wore on the day of her brutal murder in 1958: once white, now stained red and dripping with blood. Since her death, Anna has killed any and every person who has dared to step into the deserted Victorian she used to call home.
8. Shadowshaper by Daniel José Older
Daniel José Older makes paranormal romance his own, with more of an emphasis on the paranormal part and less so on the romance part, with the Shadowshaper series. Have you ever wanted art to come to life? Well, it can. You just need a little magic. Older masterfully weaves Caribbean legend into a magical series debut you NEED to check out.
Sierra Santiago was looking forward to a fun summer of making art, hanging out with her friends, and skating around Brooklyn. But then a weird zombie guy crashes the first party of the season. Sierra's near-comatose abuelo begins to say "Lo siento" over and over. And when the graffiti murals in Bed-Stuy start to weep…. Sierra soon discovers a supernatural order called the Shadowshapers, who connect with spirits via paintings, music, and stories.
Her grandfather once shared the order's secrets with an anthropologist, Dr. Jonathan Wick, who turned the Caribbean magic to his own foul ends. Now Wick wants to become the ultimate Shadowshaper by killing all the others, one by one. With the help of her friends and the hot graffiti artist Robbie, Sierra must dodge Wick's supernatural creations, harness her own Shadowshaping abilities, and save her family's past, present, and future.
9. White Hot Kiss by Jennifer L. Armentrout
Jennifer L. Armentrout is a bit of a pro when it comes to paranormal romance. If her name her looks familiar to you, its probably because you've seen it on no less than 30 books. She knows what readers want, and what more convincing could you need?
Seventeen-year-old Layla just wants to be normal. But with a kiss that kills anything with a soul, she's anything but normal. Half demon, half gargoyle, Layla has abilities no one else possesses.
Raised among the Wardens—a race of gargoyles tasked with hunting demons and keeping humanity safe—Layla tries to fit in, but that means hiding her own dark side from those she loves the most. Especially Zayne, the swoon-worthy, incredibly gorgeous and completely off-limits Warden she's crushed on since forever.
Then she meets Roth—a tattooed, sinfully hot demon who claims to know all her secrets. Layla knows she should stay away, but she's not sure she wants to—especially when that whole no-kissing thing isn't an issue, considering Roth has no soul. But when Layla discovers she's the reason for the violent demon uprising, trusting Roth could not only ruin her chances with Zayne… it could brand her a traitor to her family. Worse yet, it could become a one-way ticket to the end of the world.
10. Unearthly by Cynthia Hand
Surprisingly, this is the first angel-centric book to be included on this list. And honestly, we think that says a lot about how expansive the genre is! Cynthia Hand pulls on all of our, and Clara's, heartstrings with this tale of a girl who finds out she's an angel.
Clara Gardner has recently learned that she's part angel. Having angel blood run through her veins not only makes her smarter, stronger, and faster than humans, but it means she has a purpose, something she was put on this earth to do. Figuring out what that is, though, isn't easy. Her visions of a raging forest fire and an alluring stranger lead her to a new school in a new town.
When she meets Christian, who turns out to be the boy of her dreams (literally), everything seems to fall into place and out of place at the same time. Because there's another guy, Tucker, who appeals to Clara's less angelic side. As Clara tries to find her way in a world she no longer understands, she encounters unseen dangers and choices she never thought she'd have to make between honesty and deceit, love and duty, good and evil.
---
What other books would you recommend? Tell us in the comments below!
Up Next: