A lot of people love to hate on New Jersey, but what you don't know is that it is actually the most romantic place to be. Why else would all of Robin Constantine's YA romances be set in New Jersey? Forget about all those terrible stereotypes you've heard and discover the more romantic side of New Jersey.
1. Nature
People complain that New Jersey is grungy? Um, excuse me, have you taken the subways in NYC? That's grungy. What people don't realize is that New Jersey is lush with nature's greenery! That's why it's called the Garden State, after all! And nothing says romance like a romantic stroll through the park on a sunny day, or shopping a local farmer's market and sampling the fresh fruits and veggies.
2. The Jersey Shore (NOT The Jersey Shore)
Let's get one thing straight real quick: the characters from The Jersey Shore TV show aren't even from New Jersey. JWoww? New York. Pauly D? Rhode Island. The Situation? Staten Island. Snookie? Chile. These are NOT people from New Jersey.
When we talk about the Jersey Shore, we're talking about New Jersey's majestic hundreds of miles of glorious beaches! Now what's more romantic than a long walk on the beach?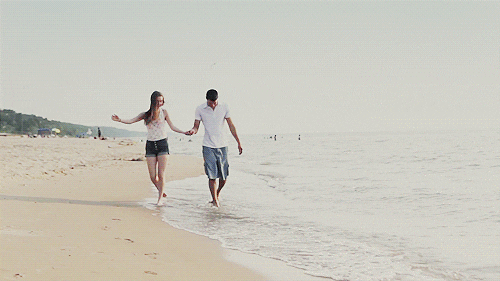 3. Italian Food
If Lady and the Tramp taught us anything, it's that Italian food is incredibly romantic. Thanks to the state's Italian immigrant heritage, New Jersey has some of the most delicious Italian food on the east coast!
4. Cake Boss
Know what else is romantic? Desserts! Hoboken, New Jersey, is home to Carlo's Bake Shop – the one made famous by the TV show Cake Boss. How can you not fall in love while eating such deliciousness?
5. Gas Stations
I know what you're thinking – how can gas stations be romantic? Well, New Jersey is one of only two states in the entire country where you aren't allowed to pump your own gas. So not only are you waited on by a (hopefully gorgeous) attendant, but not getting out of the car means more time in the car with your date.
6. Diners
The 24/7 dining options are endless thanks to all the diners throughout the state. Nothing says romance better than cheese fries with gravy!
7. Drive-in Movies
Drive-in movie theaters were born in New Jersey. So basically, New Jersey is the birthplace of American nostalgia.
8. Malls
No matter where you live in New Jersey, chances are there's a mall within 10 minutes driving distance. Not only are malls the perfect place to buy gifts for your special someone, but going to the mall with your date can actually be a lot of fun. You can try on clothes you'd never wear, nosh on free samples at the food court, and you can almost always find a photo booth to take a strip of goofy photos you'll cherish forever.
9. Proximity to Big East Coast Cities
Who needs to live in a big city when you can visit one? New Jersey is perfectly located for day trips or road trips to major east coast cities like New York, Boston, Philadelphia, Baltimore, and Washington D.C., which means there are plenty of places for you and your special someone to explore. And if you're lucky enough to live along the Hudson River in the northern part of New Jersey, you get romantic views of the New York City skyline at night.
10. Romantic Books Set in New Jersey
If you still aren't convinced by now that New Jersey is the romantic hot spot, then we highly recommend you add these books by Robin Constantine to your reading list. Each love story is set in some of the most iconic places in New Jersey, and they're all swoon-worthy—especially The Season of You & Me, which takes place on the Jersey Shore in the summertime.
---
What else makes New Jersey romantic? Tell us in the comments below!