Have you always wanted to read a YA graphic novel but you're not sure where to start? Don't worry, we got you covered with this curated reading list! The following graphic novels have been Epic Reads tested and approved for your bookshelf.
And thus begins your adventure into the land of illustrated stories:
1.) Nimona by Noelle Stevenson
Nemeses! Dragons! Science! Symbolism! All these and more await in this brilliantly subversive, sharply irreverent epic based on the web comic by Noelle Stevenson. The art in Nimona is to die for, and you probably recognize the style – Noelle did the cover illustrations for Fangirl by Rainbow Rowell!
Read an excerpt from Nimona here ––>
2. This One Summer by Mariko Tamaki, Jillian Tamaki
In This One Summer two stellar creators redefine the teen graphic novel. Cousins Mariko and Jillian Tamaki, the team behind Skim, have collaborated on this gorgeous, heartbreaking, and ultimately hopeful story about a girl on the cusp of her teen age—a story of renewal and revelation.
3. American Born Chinese by Gene Luen Yang
These three apparently unrelated tales come together with an unexpected twist, in a modern fable that is hilarious, poignant and action-packed. American Born Chinese is an amazing rise, all the way up to the astonishing climax–and confirms what a growing number of readers already know: Gene Yang is a major talent.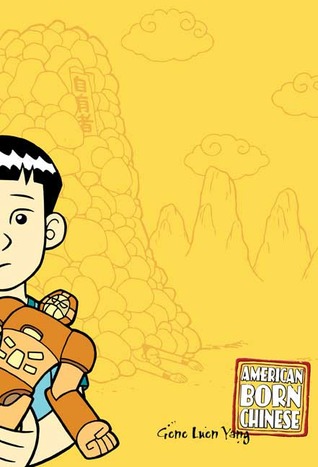 4. Blankets by Craig Thompson
"This is the first graphic novel i've read, and it definitely won't be the last in regards to Craig Thompson. This was a beautiful story of love, friendship, relationships, family and a loss of religion. The images were absolutely gorgeous and I love the strong sense nostalgia that was prevalent in his memories of being a boy." – Swept Away by Books Goodreads review
5. The Graveyard Book by Neil Gaiman
Inventive, chilling, and filled with wonder, Neil Gaiman's The Graveyard Book reaches new heights in this stunning adaptation. Artists Kevin Nowlan, P. Craig Russell, Tony Harris, Scott Hampton, Galen Showman, Jill Thompson, and Stephen B. Scott lend their own signature styles to create an imaginatively diverse and yet cohesive interpretation of Neil Gaiman's luminous novel.
6. Legend: The Graphic Novel by Marie Lu
We're already obsessed with the original Legend novel, but this graphic novel with illustrations done by Leigh Dragoon and Kaari is stunning and just begs to become an animated series. How can we make this happen? Anyone? Anyone?
7. Ms. Marvel, Vol. 1: No Normal by G. Willow Wilson
"Kamala is my friggin soul sister. I love this so much. It was all 1/3 adorable, 1/3 hilarious, and 1/3 kick butt. I related so much to kamala's strict upbringing and her struggles to stay to true to her roots and family but also become her own person. LOVED IT." – bookishandnerdy Goodreads review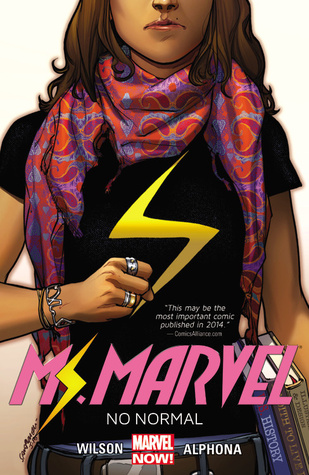 8. Miss Peregrine's Home for Peculiar Children Graphic Novel by Ransom Riggs
Ransom Riggs's haunting fantasy bestseller adapted to a graphic novel with art by Cassandra Jean!
9. Gris Grimly's Frankenstein
Bestselling illustrator Gris Grimly has long considered Frankenstein to be one of his chief inspirations. From the bones and flesh of the original, he has cut and stitched Mary Shelley's text to his own artwork, creating something entirely new: a stunningly original remix, both classic and contemporary, sinister and seductive, heart-stopping and heartbreaking.
10. In Real Life by Cory Doctorow, Jen Wang
From acclaimed teen author (Little Brother, For the Win) and Boing Boing editor Cory Doctorow and Koko Be Good creator Jen Wang, In Real Life is a perceptive and high-stakes look at adolescence, gaming, poverty, and culture clash.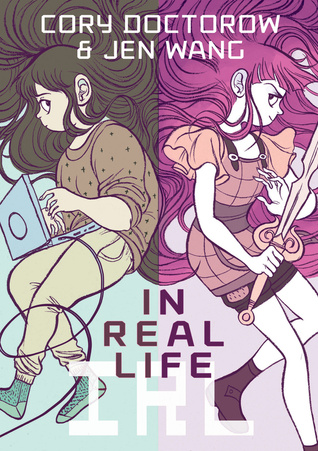 11. Wolf Children: Ame & Yuki by Mamoru Hosoda
If you haven't seen the Wolf Children animated movie yet then you need to stop reading this post and go watch it. It is one of the most beautiful and heartbreaking animes we've ever seen and the graphic novel version is just as good!
12. The Undertaking of Lily Chen by Danica Novgorodoff
The art in The Undertaking of Lily Chen is positively stunning but be warned, it can get a little dark and disturbing….and that's never a bad thing! Here's a little background on the premise: in some parts of China, there is this thing where if an unmarried man dies, the family procures a female body to bury with him so he won't be alone in the afterlife. Dark, right?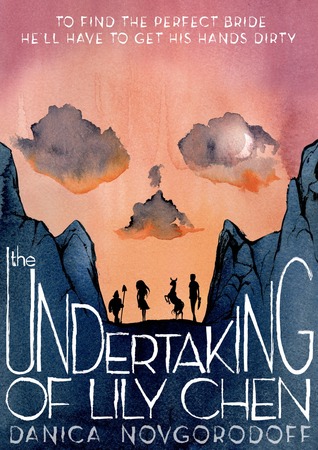 ---
What other YA graphic novels do you recommend? Tell us in the comments below!