It's time to hit the open road with these 12 YA road trip books! After chatting with our community about their favorite road trip books, we curated this list and included the characters' origins and final destinations –– but if you want to know their exact routes, you'll have to read the books!
Fun facts about this infographic!
––> In a Handful of Dust isn't a road trip book in the traditional sense. For the most part the characters, two badass ladies, travel across the country on horseback!
––> The awesome people over at YALSA took the time to plot out the entire route for John Green's Paper Towns including info about each stop. You can get it here!
––> Lauren Barnholdt is kind of the master of the road trip YA novel. In addition to Two-Way Street (on the graphic below) she's also written Right of Way!
Want to print this? Download the high-res version here!
Want to print this? Download the high-res version here!
What are your favorite road trip books? Show us on Instagram using the hashtag #EpicRoadTripReads!
ABOUT THE BOOKS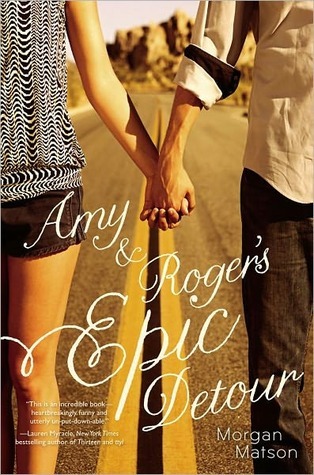 Origin: California
Destination: Connecticut
Amy Curry is not looking forward to her summer. Her mother decided to move across the country and now it's Amy's responsibility to get their car from California to Connecticut. The only problem is, since her father died in a car accident, she isn't ready to get behind the wheel. Enter Roger. An old family friend, he also has to make the cross-country trip – and has plenty of baggage of his own. The road home may be unfamiliar – especially with their friendship venturing into uncharted territory – but together, Amy and Roger will figure out how to map their way.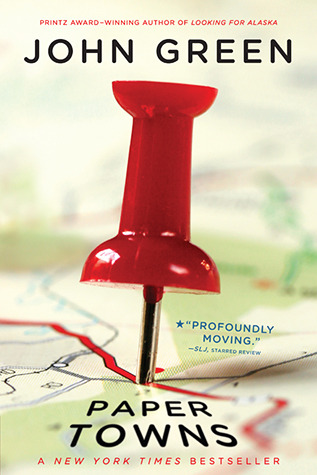 Origin: Florida
Destination: New York
Quentin Jacobsen has spent a lifetime loving the magnificently adventurous Margo Roth Spiegelman from afar. So when she cracks open a window and climbs back into his life — dressed like a ninja and summoning him for an ingenious campaign of revenge — he follows. After their all-nighter ends and a new day breaks, Q arrives at school to discover that Margo, always an enigma, has now become a mystery. But Q soon learns that there are clues — and they're for him. Urged down a disconnected path, the closer he gets, the less Q sees of the girl he thought he knew.
Origin: Ohio
Destination: California
n a Handful of Dust is set ten years after the first novel, Not a Drop to Drink, as a dangerous disease strikes the community where teenage Lucy lives. When her adoptive mother, Lynn, takes Lucy away from their home and friends in order to protect her, Lucy struggles to figure out what home means. During their journey west to find a new life, the two face nature's challenges, including hunger, mountains, and deserts.
Origin: Maine
Destination: New York
On the morning of his eighteenth birthday, Jack Polovsky kidnaps his own baby, names him Socrates, stocks up on baby supplies at Walmart, and hits the road with his best friend, Tommy, and with the baby's mother, Jess. As they head to Grandma's house (eluding the police at every turn), Jack tells baby Socrates the Greek myths—because all stories spring from those stories, really. Even this one. By turns funny, heart wrenching, and wholly original, this debut novel by Emil Ostrovski explores the nature of family, love, friendship, fatherhood, and myth.
Origin: California
Destination: Oregon
Colby and Bev have a long-standing pact: graduate, hit the road with Bev's band, and then spend the year wandering around Europe. But moments after the tour kicks off, Bev makes a shocking announcement: she's abandoning their plans – and Colby – to start college in the fall. But the show must go on and The Disenchantments weave through the Pacific Northwest, playing in small towns and dingy venues, while roadie- Colby struggles to deal with Bev's already-growing distance and the most important question of all: what's next?
Origin: North Dakota
Destination: Nevada
Will
Maybe I'm too late. Maybe Zoe's dad stole all her fifteen years and taught her to be scared. I'll undo it. Help her learn to be strong again, and brave. Not that I'm any kind of example, but we can learn together. When the whole world is after you, sometimes it seems like you can't run fast enough.
Zoe
Maybe it'll take Will years to come to terms with being abandoned. Maybe it'll take forever. I'll stay with him no matter how long it takes to prove that people don't always leave, don't always give up on you.
Origin: Georgia
Destination: California
What if there were teens whose lives literally depended on being bad influences? This is the reality for sons and daughters of fallen angels. Tenderhearted Southern girl Anna Whitt was born with the sixth sense to see and feel emotions of other people. She's aware of a struggle within herself, an inexplicable pull toward danger, but Anna, the ultimate good girl, has always had the advantage of her angel side to balance the darkness within. It isn't until she turns sixteen and meets the alluring Kaidan Rowe that she discovers her terrifying heritage and her willpower is put to the test. He's the boy your daddy warned you about. If only someone had warned Anna. Forced to face her destiny, will Anna embrace her halo or her horns?
Origin: Michigan
Destination: Pennsylvania
Mila was never supposed to remember her past, or know what lurked beneath her synthetic skin. She was never meant to learn that she was "born" in a secret computer science lab and programmed with superhuman skills. But when a group of hooded men show up on her doorstep, hoping to strip her of her advanced technology, she has no choice but to run for her life. In every direction there are dangerous people, hunting her down. They will do whatever it takes to capture Mila, including hurting the people she cares about most.
Zits: Shredded by Jerry Scott and Jim Borgman
Origin: Ohio
Destination: Wisconsin
Jeremy Duncan and his friends Hector and Pierce embark on the ultimate teenage rite of passage—a rockin' ROAD TRIP! Jeremy Duncan and his band, Goat Cheese Pizza, on an epic road adventure to record their first album. It's too bad that the only studio they can afford is all the way in Sheboygan, Wisconsin, but if they can just pump enough french-fry grease into their newly veggie-powered van, they actually might make it there!
Origin: New Jersey
Destination: Iowa
The good news: Jake's dream girl, Amanda Blake, finally knows his name. The bad news: it's because they both contracted a mysterious zombie virus and devoured the brains of half their senior class. Now Jake and Amanda are on the run from Cass, a teen psychic sent by the government's top-secret Necrotic Control Division to track them down. As Jake and Amanda deal with the existential guilt of eating their best friends and set off in search of a cure for the zombie virus, Cass struggles with a growing psychic dilemma of her own—one that will lead all three of them on an epic journey across the country and make them question what it means to truly be alive. Or undead.
Origin: Florida
Destination: Massachusetts
There are two sides to every breakup. This is Jordan and Courtney, totally in love. Sure, they were an unlikely high school couple. But they clicked; it worked. They're even going to the same college, and driving cross-country together for orientation. Then Jordan dumps Courtney — for a girl he met on the Internet. It's too late to change plans, so the road trip is on. Courtney's heartbroken, but figures she can tough it out for a few days. La la la — this is Courtney pretending not to care. But in a strange twist, Jordan cares. A lot. Turns out, he's got a secret or two that he's not telling Courtney. And it has everything to do with why they broke up, why they can't get back together, and how, in spite of it all, this couple is destined for each other.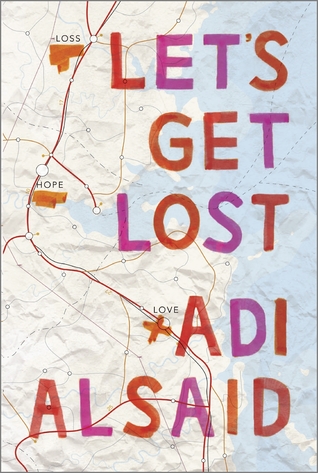 Origin: Louisiana
Destination: Alaska
Five strangers. Countless adventures. One epic way to get lost.  Four teens across the country have only one thing in common: a girl named LEILA. She crashes into their lives in her absurdly red car at the moment they need someone the most. There's HUDSON, a small-town mechanic who is willing to throw away his dreams for true love. And BREE, a runaway who seizes every Tuesday—and a few stolen goods along the way. ELLIOT believes in happy endings…until his own life goes off-script. And SONIA worries that when she lost her boyfriend, she also lost the ability to love. Hudson, Bree, Elliot and Sonia find a friend in Leila. And when Leila leaves them, their lives are forever changed. But it is during Leila's own 4,268-mile journey that she discovers the most important truth— sometimes, what you need most is right where you started. And maybe the only way to find what you're looking for is to get lost along the way.
More great road trip books!
Fore more road trip YA, check out this list from Goodreads!
What other books would you add to this list? Tell us in the comments below!