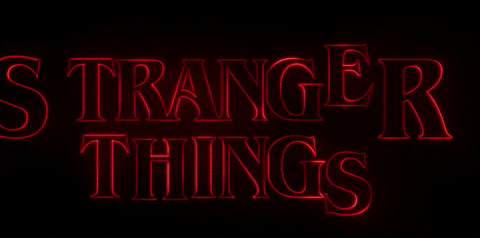 You'll devour these books like the demogorgon devoured Barb. For the last few weeks when we've been in-between books, we've been non-stop binging Stranger Things on Netflix. We are in wayyyy too deep to turn back now and are anxiously anticipating season 2 so we can find out if there ever will be #JusticeForBarb.
If you're feeling anything like we do about this show the wait for season 2 seems unbearable, so to ease the pain while we wait for season 2––and in addition to stalking our girl Millie Bobby Brown as she slays on a daily basis––we'll be reading these 13 hand-picked YA books.
Arclight by Josin L. McQuein
If you loved Stranger Things for the dark Upside Down and the creepy af demogorgon then you should check out Arclight by Josin L. McQuein. No one is safe when the lights go out. In this thrilling and thought-provoking teen thriller, one girl could mean survival—or utter destruction—for everyone around her. A riveting debut that's Stephen King meets The Passage meets Veronica Roth.
Add it to your Goodreads shelf here!
Replica by Lauren Oliver
If You loved Stranger Things for the government conspiracy theories, than this book is for you. Replica by Lauren Oliver is an upcoming YA scifi novel about two very different girls connected by dark pasts. Lyra, known by the number 24, is a replica—human model—who was born, raised, and observed in a clandestine research facility called the Haven Institute. When Lyra escapes from Haven and meets Gemma, a stranger on a quest of her own, earth-shattering secrets are revealed.
So Close To You by Rachel Carter
Fun fact: Stranger Things was originally called Montauk and makes many references to the experiments that supposedly occurred out on Long Island. So naturally, we had to recommend So Close to You by Rachel Carter which is a YA novel that dives deep into the mythos surrounding Montauk! Lydia Bentley has heard stories about the Montauk Project all her life: stories about the experiments that took place at the abandoned military base near her home and the people who've disappeared over the years. When Lydia is faced with proof that all the stories she's heard are true, she finds herself in the middle of one of the most dangerous experiments in history.
Add it to your Goodreads shelf here!

Shallow Graves by Kali Wallace
We are obsessed with the creepy, twisty and jump scare-y vibe of Stranger Things and know you'll get that same feeling when you read Shallow Graves by Kali Wallace. It's a gripping, hauntingly atmospheric novel about murder, revenge, and a world where monsters—human and otherwise—lurk at the fringes. When 17 yr old Breezy Lin wakes up in a shallow grave one year after her death, she doesn't remember who killed her or why. All she knows is that she's somehow conscious—and not only that, she's able to sense who around her is hiding a murderous past. Now she must set out to find answers and discover what is to become of her in the gritty, dangerous world to which she now belongs—where killers hide in plain sight, and a sinister cult is hunting for strange creatures like her.
Add it to your Goodreads shelf here!
Girls On Fire by Robin Wasserman
This chilling novel is perfect for Stranger Things fans who loved the whole small town America plus weird mystery vibe of the show. Girls on Fire by Robin Wasserman opens with a suicide whose aftermath brings good girl Hannah together with the town's bad girl, Lacey, the two bring their combined wills to bear on the community in which they live; unconcerned by the mounting discomfort that their lust for chaos and rebellion causes the inhabitants of their parochial small town, they think they are invulnerable.
The Outliers by Kimberly McCreight
A girl goes missing and her friends must ban together to find her using cryptic clues which all leads to some crazy shit that somehow involves science experiments and basically everything isn't what it seems. Sound like something you just binged watched? Well it can also be your next read! Try The Outliers by Kimberly McCreight! It all starts with a text: Please, Wylie, I need your help. Wylie hasn't heard from Cassie in over a week, not since their last fight. But that doesn't matter. Cassie's in trouble, so Wylie decides to do what she has done so many times before: save her best friend from herself.This time it's different though. Instead of telling Wylie where she is, Cassie sends cryptic clues. But figuring out where Cassie is goes from difficult to dangerous, fast.
Start reading The Outliers here!  
Paper Girls by Brian K. Kaughan
Those searching for more of that sweet sweet 80's vibe should absolutely pick up a copy of Paper Girls by Brian K. Vaughn.  In the early hours after Halloween of 1988, four 12-year-old newspaper delivery girls uncover the most important story of all time. Suburban drama and otherworldly mysteries collide in this smashhit series about nostalgia, first jobs, and the last days of childhood.
Add it to your Goodreads shelf here! 
17 & Gone by Nova Ren Suma
Eerie, surreal, dark, and you aren't quite sure what is going on until the end. That is how we would describe 17 & Gone by Nova Ren Suma. Seventeen-year-old Lauren is having visions of girls who have gone missing. And all these girls have just one thing in common—they are seventeen and gone without a trace. As Lauren struggles to shake these waking nightmares, impossible questions demand urgent answers: Why are the girls speaking to Lauren? How can she help them? And… is she next?
Add it to your Goodreads shelf here!
Beware The Wild by Natalie Parker
Need weird creatures and a seriously creepy setting after you finish Stranger Things? Try Beware The Wild by Natalie C. Parker. This Southern Gothic takes on a whole new twist in this debut novel. The swamp in Sterling's small Louisiana town proves to have a power over its inhabitants when her brother disappears and no one but Sterling even remembers that he existed. Now Sterling, with the help of brooding loner Heath, who's had his own creepy experience with the swamp, must fight back and reclaim what–and who–the swamp has taken.
Add it to your Goodreads shelf here!
The Cemetery Boys by Heather Brewer
The Cemetery Boys by Heather Brewer totally has that weird, shit-just-ain't-right, small town vibe like Hawkins, Indiana in Stranger Things. When Stephen's dad says they're moving, Stephen knows it's pointless to argue. They're broke from paying Mom's hospital bills, and now the only option left is to live with Stephen's grandmother in Spencer, a backward small town that's like something out of The Twilight Zone. Population: 814. This is a coming-of-age story about the dangerous power of belief and the cost of blind loyalty.
Add it to your Goodreads shelf here!

(Don't You) Forget About Me by Kate Karyus Quinn
The only place that might be stranger than Hawkins, Indiana is the town in (Don't You) Forget About Me by Kate Karyus Quinn. Kate is known for writing seriously weird and f-ed up books and this one is no exception. Welcome to Gardnerville. A place where no one gets sick. And no one ever dies. Except there's a price to pay for paradise. Every fourth year, the strange power that fuels the town exacts its payment by infecting teens with deadly urges. In a normal year in Gardnerville, teens might stop talking to their best friends. In a fourth year, they'd kill them.
Add it to your Goodreads shelf here!
Adaptation by Malinda Lo
Strange things are happening in Adaptation, so fans of Stranger Things should go get their hands on this book right away! If you liked the mix of mystery plus teen drama plus government experiments in the Netflix show then you should  Reese can't remember anything from the time between the accident and the day she woke up almost a month later. She only knows one thing: She's different now. When Reese unexpectedly collides with the beautiful Amber Gray, her search for the truth is forced in an entirely new direction—and threatens to expose a vast global conspiracy that the government has worked for decades to keep secret.
Add Adaptation to your Goodreads shelf here!
Another Little Piece by Kate Karyus Quinn
Another Little Piece by Kate Karyus Quinn (she's back at it again) is full of blood and gore and strange human-like demon creatures that force people to eat human hearts. If you're into stranger things for the horror,  this book is for you. Sara Shepard meets Stephen King in this hauntingly powerful tale about a girl who remembers nothing about her past—except for the fact that she killed the girl whose body she is in.
Add it to your Goodreads shelf here!

---
Are you as obsessed with Stranger Things as the rest of the Internet is? What other books would you recommend to fans who are having serious withdrawal symptoms? Tell us in the comments below!
Save
Save
Save
Save