We know—there have been a ton of amazing books this year.
And we get it, it's easy to lose track! But we're here to help, and have pulled together a bunch of books that might've passed under your radar but totally shouldn't have. These books are all amazing and deserve their own spots on your TBR, whether they're stunning fantasy, heartfelt contemporary, or jaw-dropping horror. So scroll through and read all about them!
41 Books You Might've Missed This Year (But Totally Shouldn't Have)
1. Midnight at the Electric by Jodi Lynn Anderson
Do you ever read a book so beautiful that you immediately need like, six other people to read it so that you can all sit down and talk about how beautiful it was? That is this book. MIDNIGHT AT THE ELECTRIC will take you through time, connecting you with three very different heroines all connected by a single thread and, maybe more importantly, a spark of hope. Will it make you cry? Maybe. Is it worth it? Absolutely
2. Allegedly by Tiffany D. Jackson
This story is not for the faint of heart—but it is for anybody who loves a good true crime story. ALLEGEDLY is the story of a girl who may or may not have killed a baby, but now, pregnant, is going back out into the world. She doesn't know who to trust, and we learn while we're reading that neither do we. There are so many twists and turns that will have you genuinely gasping, you won't be able to put this one down. Tiffany D. Jackson is an author to look out for.
3. Dreamland Burning by Jennifer Latham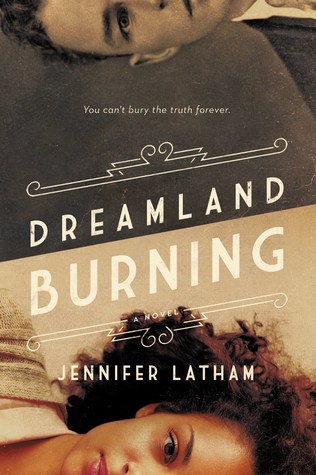 On a similar note for true crime fans, DREAMLAND BURNING is an amazing book that incorporates two different timelines—a hundred years apart—that deal with doing what's right in two very different ways. Originally set against the race riots in Tulsa, this book is an examination of racial undercurrents, both then and now, and, well, you won't be able to put it down. As entertaining and addictive as it is eye-opening, this is for the top of your TBRs.
4. Avenged by Amy Tintera
The RUINED series is one of our favorite fantasies on shelves right now, and the second installment, AVENGED, picks up right where book one lets off. The delicate balance between action, romance, and plot twists will make your minds explode (ugh… and you'll fall in love with the characters) is so well done in these books. They're a definite need for any fans of RED QUEEN or THRONE OF GLASS. We know they have a definite place on our shelves.
5. Mask of Shadows by Linsey Miller
A gender fluid hero in a fantasy book? Yes, please. A gender fluid hero who has to compete in a deadly competition and survive palace politics? Yes, please!! This book has everything you could want in a fast paced debut novel, and we fell in love with Sal. It starts as a tale of revenge, but as more comes about for the members of court, Sal gets dragged into the world than they ever thought they would.
6. Daughter of the Burning City by Amanda Foody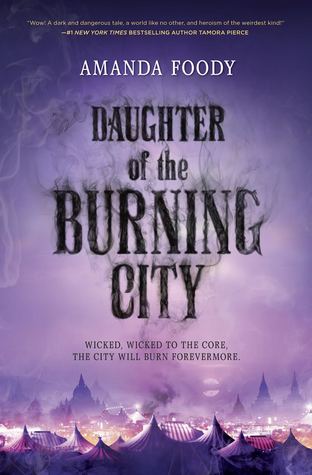 If you liked CARAVAL at all, you will be head over heels for DAUGHTER OF THE BURNING CITY. If you weren't a big fan, you'll probably still love it. That's how good Amanda Foody's circus-set dark fantasy is, following a main character whose realistic illusions start getting murdered. It's a mystery that will keep you guessing, a world that will have you wanting to see more, and characters that you will fall in love with.
7. I Believe in a Thing Called Love by Maurene Goo
We're so here for quality, diverse rom coms in YA, and I BELIEVE IN A THING CALLED LOVE delivers in all the right ways. It's about an overachiever who, in order to romance her crush, emulates the ridiculous situations that seem to work so well on her favorite K-dramas. It will have you laughing out loud as much as it has you swooning, and it will really, genuinely make you smile. And we all need that these days, don't we?
8. Eliza and Her Monsters by Francesca Zappia
ELIZA AND HER MONSTERS is a love letter to fandoms, a story for creators as much as it is for readers. Eliza Mirk is, anonymously, the writer of an insanely popular webcomic. She's fine with not standing out in real life. But a new student at school, Wallace, is more than just a jock. He also writes fanfic of her webcomic. This book deals with anxiety, creative pressure, and living life online versus off. Plus, there are illustrations in it from Eliza's comic!
9. Dress Codes for Small Towns by Courtney Stevens
Like you'd probably guess from the title, DRESS CODES is set in a small town. But unlike what you'd usually associate with a small town, main character Billie and her friends, known as the Hexagon, have no interest in going by the town's rules to fit in. Everything in Billie's life is fluid, from style to relationships to gender, and the friendships in this book will have you wishing you could be a part of them, too!
10. Alex, Approximately by Jenn Bennett
Okay, this is going to sound a little random, but if you love movies, or the aesthetic of watching a cute flick on a projection screen next to the person you have a crush on, ALEX, APPROXIMATELY is perfect for you. Bailey moves to the town of the film geek she's been crushing on online, but is torn between keeping up her online fantasy relationship with him and chasing an imperfect real one with—unbeknownst to her—the person he really is.
11. Who's That Girl by Blair Thornburgh
WHO'S THAT GIRL is a fun, voice-y YA book that will put a smile on your face as you read it. Nattie's always been under the radar, but now she's pretty sure the lead singer of a local-band-gone-big has written a hit song about her. Things get even more complicated when she throws herself into everyday life… and starts developing feelings for someone else. This is basically a punk rock song disguised as a YA novel, and we are so here for it.
12. The Wood by Chelsea Bobulski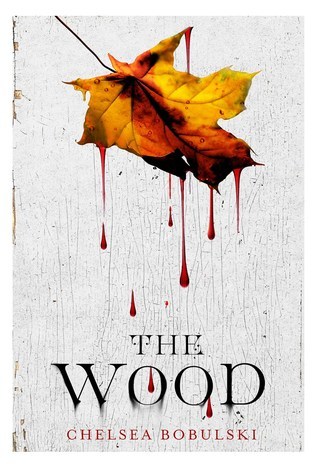 This twisting, turning YA fantasy will have your jaw on the floor with every discovery. In THE WOOD, Winter goes searching for the truth after her father goes missing in the woods that they're supposed to protect. What ensues is am an adventure that she never saw coming, complete with scares, discoveries she would've never guessed, and deadly truths tinged with the importance of family and friendships.
13. Our Own Private Universe by Robin Talley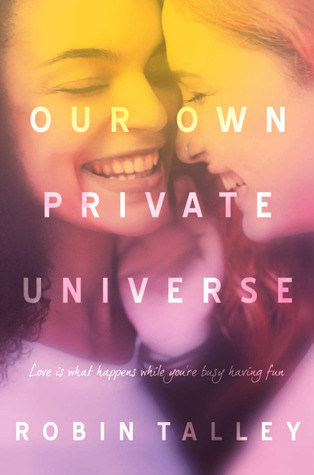 Aki is figuring out what it means to love and how to be herself. After all, she's only dated guys before. For her, this summer is about testing theories and hoping for a result of love 😍 In OUR OWN PRIVATE UNIVERSE, Robin Talley beautifully explores identity and is super inclusive in this gorgeous read, and get ready for the tears. Then again, you should know what's in store for her books by now! Plus it will look gorgeous on your shelf!
14. I See London, I See France by Sarah Mlynowski
Prepare to travel Europe in the most flirty and fun book you'll pick up this year! I SEE LONDON, I SEE FRANCE follows two best friends as they romp around the continent and deal with love, life, and growing up on the edge of adulthood. There's a super cute map inside so you can track the girls' trip! This book will have you laughing and leave you smiling, and if you're anything like us it is the perfect book to live vicariously through!
15. Everything All At Once by Katrina Leno
13 LITTLE BLUE ENVELOPES gets a magical touch in this fun book! It plays around with the idea of immortality, going on adventures, the stories we grow up with—and it's all set against a backdrop that will temporarily return you to summer! EVERYTHING ALL AT ONCE is a perfect novel for when you want to smile and feel hopeful. Definitely add this one to your TBR for a day when you need a read you'll finish in one sitting!
16. Solo by Kwame Alexander
This YA novel in poetic verse is about Blade, whose life is bombarded with scathing tabloids and a father struggling with just about every addiction under the sun. But in SOLO, they're desperate to make a comeback. It's told in text messages, song lyrics and conversations in verse, and you will finish it so fast you won't even realize the emotional gut punch you've been hit with until it's too late. So buckle up, and happy reading, because this one is a must.
17. Spindle Fire by Lexa Hillyer
One of our favorite things about SPINDLE FIRE, an updated, adventurous take on Sleeping Beauty, is that Lexa Hillyer writes in such a poetic way that it really, genuinely feels like we're reading a fairy tale! Both Aurora and Isbe are awesome in their own ways, and we loved seeing them both together and apart. Their character arcs are great, their worlds are lush and dreamy, and the fae mythology is stunning!
18. The Love Interest by Cale Dietrich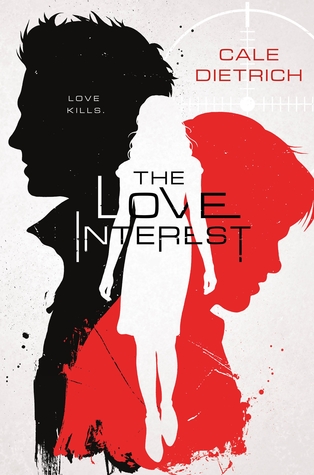 If you take the standard formula for a love triangle, add in some badass spies, an agency training kids to do their bidding, and a romance between the two guys while the independent, brilliant girl walks free, then you have THE LOVE INTEREST. There's also a dose of punk rock music, sports, and high school drama, so there's a lot to love. Read this one and come back to us, because we have a lot to talk about!
19. House of Furies by Madeleine Roux
Horror and romance mix amazingly well in this book from the author of ASYLUM! In HOUSE OF FURIES, Louisa ends up at a house where the residents are being judged by the owner—who then exerts his own form of justice on them. But she's pulled into saving someone she thinks isn't rightfully there… except she can't figure out who to trust. This book will have you spooked and it's perfect for the Halloween season… or anytime TBH.
20. American Street by Ibi Zoboi
Fabiola was supposed to come to America from Haiti to live a better life… but her mom gets held up at customs. Now, Fabiola has to live with her relatives and navigate the difficult world of the American social life, which still struggling to get her mom cleared. There's also an amazing element of Haitian magic involved, and AMERICAN STREET is written so lyrically that it's really a jack of all trades. What are you waiting for?!
21. We Are Okay by Nina LaCour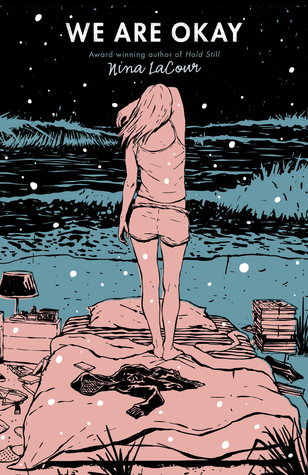 WE ARE OKAY will have you sobbing into your pillow before you've even realize what happened. This book, combined with Nina's beautiful writing, is an emotional meditation on what separated one girl from her home, her family, and her friends—and how she's dealing. This is a great book with LGBT rep, but it isn't completely based around that—it's merely included, another detail to add to the reasons of why we love this book perfect for an ugly cry.
22. Saints and Misfits by S.K. Ali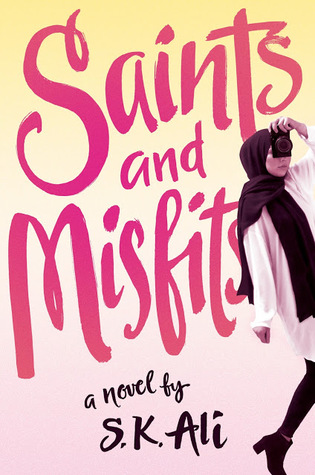 "My So-Called Life starring a Muslim teen" won us right off the bat. This book is about a girl named Janna who's trying to figure out her own identity, battling emotions and feelings that she thinks might go against her religion. Not only is SAINTS AND MISFISTS an important read—it's also a good one. We fell in love with Janna and her story, and we're sure that you will too! Plus, how fab is that cover?!
23. The Art of Starving by Sam J. Miller
THE ART OF STARVING is a powerhouse book that follows a gay teen boy who believes that his eating disorder is giving him superpowers. It's incredibly emotional and moving, and as Matt tries to figure out what's going on around him—what happened to his sister, how he can simultaneously be attracted to and disgusted by the other boys in his class—we know your heart will break for him just like ours did.
24. What to Say Next by Julie Buxbaum
Kit and David are both struggling in their own ways, but the connection that forms between them might just save them both. We love any book that starts out with a bizarre friendship between two unsuspecting parties, but Julie's clever writing (that will make you literally laugh out loud) combined with the genuine emotional bond at the core of the story makes for an especially awesome read. Plus, the autism rep is extremely well done.
25. The Authentics by Abdi Nazemian
What would you do if you found out your identity was a lie? In THE AUTHENTICS, Daria is a proud Iranian American girl—until she finds out that her parents have been keeping a secret from her, and it's a shocking truth about her past. Now, it seems like everyone around her is keeping secrets, even though her friends pride themselves on being authentic. It's witty and meaningful, and will leave you feeling glad to be exactly who you are!
26. It's Not Like It's a Secret by Misa Sigiura
This book is so, so charming, and it's about two girls of color falling in love. In IT'S NOT LIKE IT'S A SECRET, Sana and Jamie deal with their friends and families not wanting them to spend time with each other, but the relationship that grows between them anyway. It balances romance that will make you swoon with conversations that need to be had, and Misa strikes a perfect chord. And have you seen the artwork and process behind the cover?!
27. Want by Cindy Pon
This futuristic Taiwanese world will have you falling in love with Cindy's writing! The stakes are high and the action is nonstop, and WANT is more than perfect for anyone who was even a little intrigued by WARCROSS. In this page-turner, Zhou is trying to save his city without compromising everything he stands for. But *gasp*, a star-crossed love changes the game. It's so well done, and perfect for so many different types of YA fans!
28. Now I Rise by Kiersten White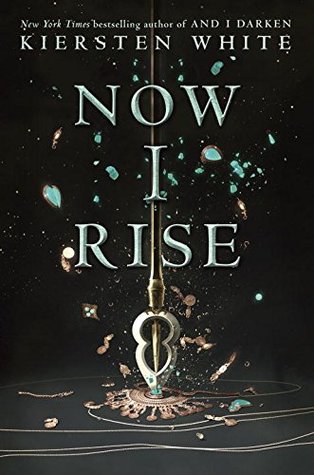 This action filled sequel to AND I DARKEN heightens the stakes to new levels. Lada is training to be brutal, responsible, and to be taken seriously, while Radu (who's trying to balance Islam with his conflicting romantic feelings) is still navigating the politically dangerous court around him. These two siblings are such an epic introduction to the world of historical YA fiction, and NOW I RISE should be a getting a larger spotlight, TBH.
29. 16 Ways to Break a Heart by Lauren Strasnick
From the name, you might think this is a romance—but it's not. Not exactly. In this twisty, turny, romance gone wrong, Natalie wants Dan to know just how much he broke her heart. And boy, did he break it. This book may resonate especially well for you if you've gone through a breakup recently, but it's totally not necessary to the way Nat wants to feel empowered and independent.  Pick this up for a compelling read that you'll zip through!
30. Dreamfall by Amy Plum
Whether you're still not over It, religiously watching American Horror Story, or waiting for Flatliners to hit the big screen, DREAMFALL is the perfect book for any fan of horror. Inception meets A Nightmare On Elm Street in this crazy look inside a nightmarish dreamscape. This book kept our attention from the very beginning, and the alternating POVs gave a genuinely frightening look into the characters' minds. Maybe read this one with the lights on.
31. The Girl With the Red Balloon by Katherine Locke
Ellie accidentally time travels to 1988 East Berlin using a red balloon, and with that, our dangerous, magical, and whimsical adventure begins. There's an underground guild using magic and balloons to help people escape to freedom—it's hopeful, but also serious. It calls out problematic thoughts on page, it talks about on the topics, and none of the awful events are romanticized. Katherine totally worked her own magic with this one.
32. By Your Side by Kasie West
Did you say Kasie West love story? Because yep, we love it. In this swoony read, Autumn finds herself locked in the library over a snowy weekend with resident school bad boy, Dax. Her friends and boyfriend don't realize she's been left behind until it's too late, and what follows is the perfect bonding experience that any bookworm will be jealous of. It also deals with anxiety phenomenally well, and it makes us so excited for what Kasie has next!
33. The Names They Gave Us by Emery Lord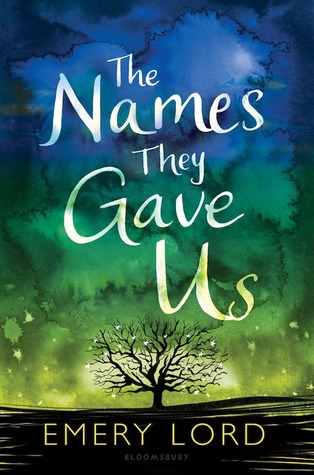 Lucy breaks with all the constants in her life when her mom's cancer reappears, turning to a new counselor job at a camp for kids who have been through tough times. This book is completely heartbreaking and powerful in all the best ways. It's about Lucy and her faith, but you don't need to share that in order to be completely wow'd by it. There is so much feeling in these pages that we can't say this enough: Read this book.
34. The Unlikelies by Carrie Firestone
A group of teenagers who become friends and bond over performing vigilante good deeds might be the most necessary thing we need to read about in this, the year of 2017. It focuses on bullying and helping others. It's voice-y, witty, and fun. It tackles important subjects but isn't too heavy, and THE UNLIKELIES is the perfect book for anyone who wants to dip their toes into contemporary waters. V delightful. V optimistic.
35. Grit by Gillian French
Darcy is a girl with a reputation, and every little thing she does seems to keep people whispering. Now, her ex-best friend is missing. But this is a brilliant book, and there's obv a lot more going on. Darcy is one of the most layered and complex protagonists we've read this year, and in GRIT, Gillian French does her justice. This book is gorgeously written and super powerful emotionally, and you won't regret embarking on this journey.
36. The Library of Fates by Aditi Khorana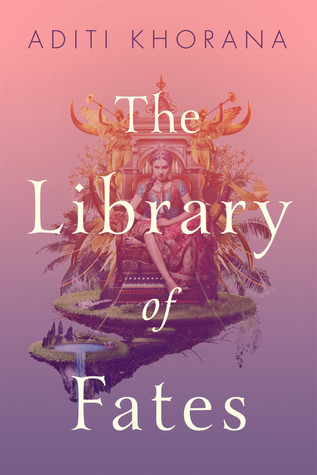 This book is a straight-up masterpiece. Amrita, the princess of Shalingar, offers her hand in marriage to a conquering emperor. But that's not enough. So along with an oracle, Thala, she sets out to free her kingdom from his brutal reign. We don't want to say too much about it because reading this book for the first time is a purely magical experience, but we can guarantee that THE LIBRARY OF FATES will leave you amazed.
37. The Grave Keepers by Elizabeth Byrne
Atmospheric, haunting, spine-tingling, and yet also incredibly relatable, THE GRAVE KEEPERS is a beautifully written book set in a town where people care for their future graves from the time they're young. After all, it's their forever home. For the Windham girls, who live secluded lives, the real world comes crashing in around them in the form of mean girls, an odd new friend, and a runaway boy hiding nearby. Oh, and there's also that sinister ghost…
38. Bad Romance by Heather Demetrios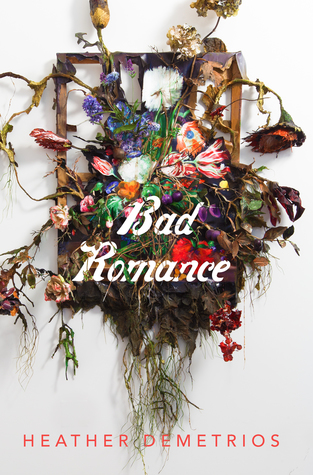 We won't sugarcoat it—this book is powerful. It's an emotional ride, and the writing is brutally honest. Grace ends up falling into a toxic relationship because of everything she's dealing with in town and at home, and the examination of abuse is so poignant. The vibe of the book—how everything feels close, so close—is so well written that you can actually feel it. Plus, it's in second person. Wow this book is good.
39. Fireworks by Katie Cotugno
FIREWORKS lightens things up a bit! This 90s set story from our very own The Bold Type-esque author, Katie Cotugno, takes place at the height of the boy and girl-band craze. It's a fun bit of nostalgia, competition, and pop music. It's a novel about friendship and first love—but mostly friendship—and one that will make you smile on even the roughest of days! After all, they're on the verge of greatness, and it'll make you feel like just maybe you are too.
40. The Gallery of Unfinished Girls by Lauren Karcz
Inspiration and motivation are impossible to force when it comes to creative ventures, and THE GALLERY OF UNFINISHED GIRLS captures this struggle with a fantastic magical touch. Mercedes is suffering from art block, as well as feelings for her best friend, Victoria, but the estate where she's working seems to be having a special effect. This book is dreamy and subtle and perfect for any creative, whether you prefer art, writing, or just books!
41. Freya by Matthew Laurence
Freya used to be a goddess—the Norse goddess of love and war, to be specific—but now she lives out her days as Sara, a girl who people have stopped believing in. She's been lying low, but now a corporation set its sights on her. It's a fun new take on some myths that we already know and love, and Freya is a kickass heroine. She embraces the tough and the feminine, and her voice as a narrator is uniquely fierce. Get ready for a rocking good time.
---
What are some books that you wish more people knew about? Let us (and them!) know in the comments below!
Up next: