The YA fantasy genre can sometimes feel like a blessing and a curse. On one hand, there are so many amazing books that we're never without one hopping off our TBR. On the other, we feel like we'll never get to catch up and read them all! And it's tragic, really. Because there are some amazing YA fantasy books that don't get the love they deserve.
So, we decided to pull some of these underrated gems together! Scroll through and find your next read!
12 Fantasy Books You Might've Missed (But Shouldn't Have)
1. Forest of a Thousand Lanterns by Julie C. Dao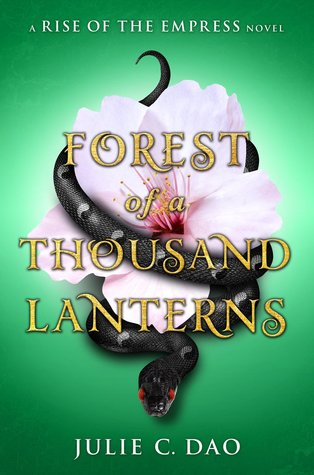 This dazzling Asian-inspired fantasy is the Snow White retelling you need in your life. Partly because it doesn't focus on Snow White at all, but the origin of the Evil Queen, but mostly because it is just so gorgeously written and intracately plotted that you won't be able to put it down! Xifeng is an incredible main character and so unlike other fantasy protagonists we've ever seen before—we promise you won't regret picking this one up.
Eighteen-year-old Xifeng is beautiful. The stars say she is destined for greatness, that she is meant to be Empress of Feng Lu. But only if she embraces the darkness within her. Growing up as a peasant in a forgotten village on the edge of the map, Xifeng longs to fulfill the destiny promised to her by her cruel aunt, the witch Guma, who has read the cards and seen glimmers of Xifeng's majestic future. But is the price of the throne too high?
2. Dividing Eden by Joelle Charbonneau
Take the no-holds-barred sibling rivalry of THREE DARK CROWNS, add in a proper palace setting, and you've got a recipe for a truly addicting fantasy. Carys and Andreus were never meant to inherit their family's throne. But an assassin leaves the kingdom unstable, and the twins need to compete against one another to become the next ruler of Eden. And these trials—and the inevitable betrayal—are everything fans of lavish fantasy would ever want!
As sister and brother, Carys and Andreus have always kept each other safe—from their secrets, from the court, and from the monsters lurking in the mountains beyond the kingdom's wall. But the Trial of Succession will test the bonds of trust and family. With their country and their hearts divided, Carys and Andreus will discover exactly what each will do to win the crown.
3. Flamecaster by Cinda Williams Chima
Sprawling worlds and intertwining stories perfect for fans of Game of Thrones, we love to dive into the Shattered Realms series anytime we get the chance! Filled with dark magic and characters constantly treading the line between life and death, this superpowered fantasy hooked us from the very start. Plus, Cinda is a total fantasy vet. With two books out and two still on the way, we can't wait to see what happens next.
Adrian sul'Han, known as Ash, is a trained healer with a powerful gift of magic—and a thirst for revenge. Abandoned at birth, Jenna Bandelow was told that the magemark on the back of her neck would make her a target. Eventually, Ash's and Jenna's paths will collide in Arden. Thrown together by chance and joined by their hatred of the ruthless king, they will come to rescue each other in ways they cannot yet imagine.
4. Ever the Hunted by Erin Summerill
First of all, isn't this book gorgeous?! Secondly, the worldbuilding in this book is so cool, trading in magic and hunters, bounties and tracking. There are two kingdoms at war, but don't let that distract you from our third, and favorite point—the characters you will fall in love with! We're still swooning over Cohen. Plenty of twists and turns are awaiting you in this stunning fantasy, so now go read it so we can talk about that bombshell ending!
Seventeen year-old Britta Flannery is at ease only in the woods with her dagger and bow. She spends her days tracking criminals alongside her father, the legendary bounty hunter for the King of Malam—that is, until her father is murdered. When Britta is caught poaching by the royal guard, instead of facing the noose she is offered a deal: her freedom in exchange for her father's killer. However, it's not so simple. The alleged killer is none other than Cohen McKay, her father's former apprentice.
5. The Bone Witch by Rin Chupeco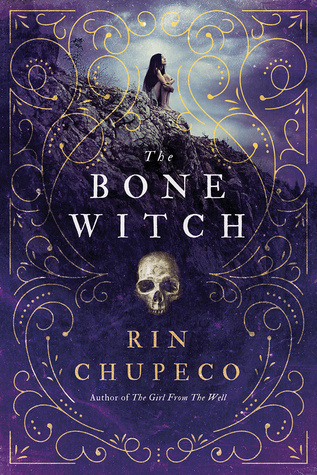 Want a fantasy that feels unique? This is the one for you. Tea is an anti-heroine, a girl who was once naïve but now finds herself thrust into a world full of more danger than she ever imagined. One of our favorite things about it was the beautifully developed setting; a multicultural fantasy world like the one in this book is so rarely done well, but THE BONE WITCH nails it. We're looking forward to everything still to come.
Tea is different from the other witches in her family. Her gift for necromancy makes her a bone witch, who are feared and ostracized in the kingdom. For theirs is a powerful, elemental magic that can reach beyond the boundaries of the living—and of the human.
6. Of Fire and Stars by Audrey Coulthurst
You know how it goes: two kingdoms need to unite, so they decide that the best way to do it is by marrying one's princess to the other's prince. Only this time, Prince Denna actually does fall in love. And it's with her betrothed's sister. The relationship between Denna and Mare is just the kindling in this lush, romantic fantasy, as it also deals with magic, looming war, and shocking assassinations. And, um, did you hear there's going to be a sequel?!
Denna has a secret. She possesses an Affinity for fire—a dangerous gift for the future queen of a land where magic is forbidden. Now Denna has to learn the ways of her new kingdom while trying to hide her growing magic. To make matters worse, she must learn to ride Mynaria's formidable warhorses before her coronation—and her teacher is the person who intimidates her most, the prickly and unconventional Princess Amaranthine, sister of her betrothed.
7. The Last Namsara by Kristen Ciccarelli
In a world where storytelling is outlawed because it lures dragons… there. Did we hook you? Because if that sentence doesn't do the trick, what will?! This is a truly epic fantasy, layered in brilliant mythology and wrapped up in a fast-paced action, forbidden romance striped bow. Asha is one of our favorite protagonists of 2017, and we're not exaggerating when we say that the twists in this book will have your jaw dropped. Pls read soon so we can discuss kthx.
Forbidden though the ancient stories may be, Asha, daughter of the king, has always felt a connection to the familiar figures of the past and to the teachings of the Old One. But it isn't until she becomes the fiercest, most feared dragon slayer in the land that she takes on the role of the next Iskari—a lonely destiny that leaves her feeling more like a weapon than a girl. When she's offered the chance to gain her freedom in exchange for the life of the most powerful dragon in Firgaard, she finds that there may be more truth to the ancient stories than she ever could have expected.
8. Blood Rose Rebellion by Roselyn Eves
If you like your fantasy with a twist of history, then this is the book for you! BLOOD ROSE REBELLION starts in London before moving over to eastern Europe, but the entire trip is steeped in magic, monsters, and powers that our protag Anna is just starting to understand. The writing will make you feel like you're back in time with her, though the rebellion and war will make you glad you're actually not.
Sixteen-year-old Anna Arden is barred from society by a defect of blood. Though her family is part of the Luminate, powerful users of magic, she is Barren, unable to perform the simplest spells. Anna would do anything to belong. But her fate takes another course when Anna finds herself exiled to her family's once powerful but now crumbling native Hungary. And there, Anna discovers that nothing is quite as it seems.
9. Frostblood by Elly Blake
Where do we start?! How much we love Ruby, who's incredibly tough and even more determined. Or maybe the romance, and how it avoided every cliché we've grown tired of. Or the nonstop action? Honestly, there are so many things to love about FROSTBLOOD that all we can do is tell you to pick up this series immediately and get lost in it. We dare you not to immediately jump into book two upon finishing.
Seventeen-year-old Ruby is a Fireblood who has concealed her powers of heat and flame from the cruel Frostblood ruling class her entire life. But when her mother is killed trying to protect her, and rebel Frostbloods demand her help to overthrow their bloodthirsty king, she agrees to come out of hiding, desperate to have her revenge.
10. The Star-Touched Queen by Roshani Chokshi
You will fall in love with Roshani's writing on the very first page of this book. This book is lush and gorgeous and elegant, and also filled with action and romance and basically anything you could want in a YA fantasy. The infusion of Greek and Indian mythology adds another phenomenal layer. In this story of horoscopes and reincarnation, of life and death and love, Maya is a main character whose growth and passion you will fall in love with.
Maya is cursed. With a horoscope that promises a marriage of death and destruction, she has earned only the scorn and fear of her father's kingdom. Content to follow more scholarly pursuits, her whole world is torn apart when her father, the Raja, arranges a wedding to quell outside rebellions. Soon Maya becomes the queen of Akaran and wife of Amar. Neither roles are what she expected: As Akaran's queen, she finds her voice and power. As Amar's wife, she finds something else entirely: Compassion. Protection. Desire…
11. Hunted by Meagan Spooner
Everyone loves a good Beauty and the Beast retelling, but in HUNTED, it's Beauty who's the real deadly one in the duo. This is the modern YA retelling you need in your life, and the perfect balance between action and romance truly stacks up to the epic it's based on. There's a ton of mystery surrounding the Beast and how Yeva ends up in his castle, and we can guarantee that this atmospheric fantasy novel will pull you in.
Beauty knows the Beast's forest in her bones—and in her blood. After all, her father is the only hunter who's ever come close to discovering its secrets. So when her father loses his fortune and moves Yeva and her sisters out of their comfortable home among the aristocracy and back to the outskirts of town, Yeva is secretly relieved. Out in the wilderness, there's no pressure to make idle chatter with vapid baronessas…or to submit to marrying a wealthy gentleman. But Yeva's father's misfortune may have cost him his mind, and when he goes missing in the woods, Yeva sets her sights on one prey: the creature he'd been obsessively tracking just before his disappearance. The Beast.
12. The Traitor's Kiss by Erin Beaty
If you love intricate worldbuilding, super clever political intrigue, and a plot that will kind of remind you of Mulan (Sage going undercover and balancing the dangers of the job with the war around her is everything), you need to pick this book up ASAP. It also has a romance that will make you swoon and plot twists that will make you gasp. Honestly, what's not to like? We devoured this book and cannot wait to get our hands on the next one.
With a sharp tongue and an unruly temper, Sage Fowler is not what they'd call a lady―which is perfectly fine with her. Deemed unfit for marriage, Sage is apprenticed to a matchmaker and tasked with wrangling other young ladies to be married off for political alliances. She spies on the girls―and on the soldiers escorting them. But as the girls' military escort senses a political uprising, Sage is recruited by a handsome soldier to infiltrate the enemy ranks.
---
What are some YA fantasy books that you wish more people knew about? Let us (and them!) know in the comments below!
Up next: