September is a month of movement so book nerds, GET READY.
The stars have aligned in a very forward direction, escorting you down the path of progress and into a very bright future indeed. Just remember to balance your inner needs with the outer world's demands and you'll do juuuust fine. Our recommendation to keep you grounded? Just carry a book with you everywhere (let's be honest, you already do this!) and stick your nose in whenever you need a ~moment~ of peace.
To ensure your forward motion throughout the weeks ahead, scroll down to your sign to see what the stars suggest and while we're at it, we'll let you know what book you should read this month to keep your Goodreads challenge on track!
Epic Reads September Horoscopes

Libra
September 23 – October 22
Keywords: Bright, beautiful, bountiful
In August, you embraced second chances. And we hope it paid off! In September, you'll be focused on strengthening your relationships with the people that matter most in your life — even yourself! Perhaps you're getting ready to 🎉celebrate🎉 your birthday positively, or maybe you're just glad that change is finally a choice — and not something thrust upon you. Whatever the reason, you'll be letting go of things that no longer serve you and replacing them with people and things healthier, happier, and more rewarding to your beautiful life. Shine bright as your new year approaches!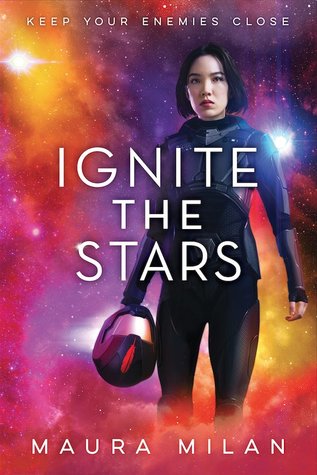 Book pick: Ignite the Stars by Maura Milan
Reason: A heroine as bright as your September. Everyone in the universe knows Ia Cocha's name and fears it. But what they don't know is that Ia is a girl. A criminal mastermind finally exposed by the imperialist nation she once terrorized, Ia's age and talent are used against her. Can she escape the Commonwealth's clutches before she falls for someone she shouldn't?
---

Scorpio
October 23 – November 21
Keywords: balance, popularity, peace
Last month you let exciting things happen to you, but also knew when to chase down those dreams yourself. In September, it won't be enough to chase. Oh no, not for you Scorpio. You'll be determined to pave your own path, be a pioneer, get out of your comfort zone and into something more adventurous. The challenge here will be finding a balance between an active outer world (the stars suggest you may be quite popular) and your inner world (which will be craving quiet). So go to that party! Join that new club! Sign up for the Italian class you've been dreaming of taking all summer. But also meditate, take a bubble bath, cuddle up with a good book, treat yo' self! With the right balance, everything will fall into place.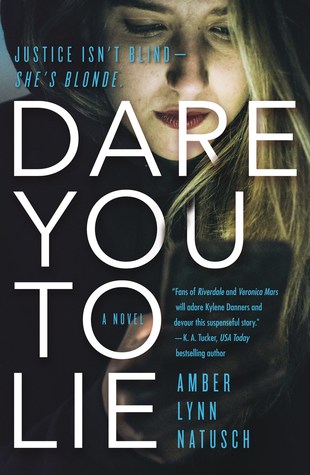 Book pick: Dare You To Lie by Amber Lunn Natusch
Reason:  For a month of paving your own path, a story about a girl determined to clear her father's name and expose the hidden skeleton's of her small town. But when she stumbles onto something much bigger, Kylene realizes that nothing is what it seems. And if she wants justice, she might have to take it for herself.
---

Sagittarius
November 22 – December 21
Keywords: vibrant, visible, courageous
You ran and jumped and climbed the obstacle course of life in August, and we certainly think you deserve a gold medal for #winning that month anyways. You've finally crawled out of that rut you felt you were in and arrived in September, Sagittarius. And it is going to be *quite* the month. Expect to be more…visible. The sun will be shining a light upon you, guiding the way into some exciting new opportunities if you dare to raise your hand or stick your neck out. If you let your ✨vibrant✨ personality show through in every connection you make, the stars predict an excellent chance of success.
Book pick: A Spark of White Fire by Sangu Mandanna
Reason: Like Esmae, you might be considering going all in on the chance of a lifetime. Unlike her, we hope your situation isn't quite so dire. Longing to return to her distant home and exiled royal family, Esmae enters a competition hoping to do just that, and to win back the crown for her brother in the process.
---

Capricorn
December 22 – January 19
Keywords: friendship, abundance, beginnings
You eased up on the reigns of life in August, and we hope you feel more peaceful for it! In September, put that brightened attitude to good use and start something new. Precisely what that is a bit up to you, but if the stars could bet, they'd place their money on new people entering your life. Maybe it's a brand new #squad as you start school, or it's a new teacher who will become your lifelong mentor, or perhaps a new crush who will propel you into fall on a wave of 🦋butterflies🦋. However it all pans out, you'll *certainly* be on a brand new adventure. And who doesn't like that, Capricorn?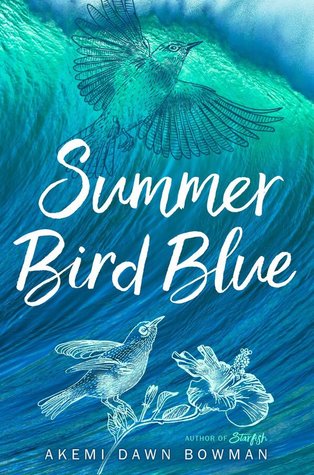 Book pick: Summer Bird Blue by Akemi Dawn Bowman
Reason: A reminder to embrace the new beginnings in your life this month, even if you were just fine with the old one. Rumi is sure of one thing: she wants to write music with her sister. But when Lea dies, Rumi's mother sends her to Hawaii to live with her aunt. There, she befriends the boy next door and an eighty-year-old man as she attempts to find her way back to music in the midst of grief.
---
Aquarius
January 20 – February 18
Keywords: action, progress, energy
August was one wild ride, regardless of whether you physically went anywhere or not. We can tell you've changed on the inside, Aquarius. And for the better, we hope! In September, the trick will be taking a step back to examine your life, but not being too critical. It's okay to see flaws you want to fix or relationships you'd like to nix in the pursuit of your goals and passions, but don't be TOO harsh. Remember, you can be smart about things without being savage. So 🐎go forth🐎 and conquer, without hesitation, doubt, or second thoughts. You got this!
Book pick: And the Ocean Was Our Sky by Patrick Ness
Reason: Give yourself the courage to conquer September with a familiar tale — Moby Dick — turned upside down. In this epic story of triumph and fate, the proud whales of Bethesda's pod live for the hunt. But when they attack a ship expecting easy prey, they find a monster, or perhaps the devil himself…
---
Pisces
February 19 – March 20
Keywords: confidence, realization, gratitude
In August, you simplified your life. And don't you feel lighter for it? You've practically sauntered into September with newfound confidence. Own that strength, my fishy friend, and it will take you far. Perhaps literally. Expect to connect with people, ideas, and opportunities that typically wouldn't have caught your eye in a million years. Your mind has been opened, and your heart too with all that introspection work from last month. Perhaps you'll realize the class clown is really the smartest kid in class, or maybe Spanish club won't be as awkward as first imagined, or you might even discover that you have a touch of the spiritual guru in you when you shuffle through your first deck of tarot cards. Whatever the case, trust your gut this month, Pisces!
Book pick: In Another Time by Caroline Leech
Reason: Just like Maisie, keep an open mind and heart to those around you. Maisie McCall is in the Spanish Highlands, a lumberjack in the Women's Timber Corps, and working beside the mysterious John Lindsay. As they grow close, Maisie realizes that his mystery is a front for a painful past. Will she risk her heart to help heal his?
---

Aries
March 21 – April 19
Keywords: renewal, opportunity, balance
Aries, you floated through August on a cloud of joy — perhaps things got bumpy at times, but what month doesn't? Welcome to September, the month of passion and progress. Be on the lookout for a new beginning. Perhaps a new class, a unique opportunity, a brand new idea…or maybe, just maybe, a newly deepening relationship. And while all that shiny new stuff is twinkling around you like a magically growing 📚TBR pile📚, you'll be letting that yucky old stuff go so you can focus your heart and your energy on that something new. Leave the floaty feeling of August behind, and embrace the exciting challenge of September. You got this!
Book pick: Pride by Ibi Zoboi
Reason: In this updated take on Pride and Prejudice, Zuri balances the magic of first love with the clash of cultural identity and gentrification in Brooklyn. Like Zuri Benitez, you might be averse to deepening the connection with that new kid across the street (no matter how handsome they are). But could your judgment be misplaced?
---

Taurus
April 20 – May 20
Keywords: playful, motivated, abundant
August was all about tying up loose ends and embracing your loved ones both literally and physically. And in theory, all of those hugs made you stronger and surer and more stable! Which is perfect for September, a month 🌅dawning🌅 as rosy and warm as the blush of first love. That's right: the stars will be twinkling in your eyes this month. Perhaps it will be a twinkle of love, maybe it will be one of excitement for that new class you're taking, or maybe it will be one of gluttony as that pie you're baking for your Labor Day party comes together perfectly. Whatever the cause, expect to feel energized, playful, and motivated as you stroll through September with a book at your side. Just remember to balance the fun with the work, or you'll regret it next month…
Book pick: The Deepest Roots by Miranda Asebedo
Reason: A heartwarming, fast-paced story for your potential month of love and excitement. Follow the peculiar and cursed girls of Cottonwood Hollow as they hunt for a long-hidden treasure and hide their secrets.
---

Gemini
May 21 – June 20
Keywords: adventure, confidence, movement
You let go of the past to embrace the future last month, Gemini. And didn't that feel good? In September, you'll be moving even further forward with your life. This will be a very active month, what with the extra travel — maybe you'll head off on a spontaneous vacation for Labor day — a possible move (hello, college!), or the continuation of your spiritual journey. All that yucky stagnation has been released (and good riddance to it), making room for ✨new beginnings✨ in every sense of the phrase. Skip into September with confidence, creativity, and gratitude. With the right attitude, there's nothing that can hold you back.
Book pick: For a Muse of Fire by Heidi Heilig
Reason: An adventure for your movement-filled month! Magic, romance, and sacrifice meet in the first book of a new fantasy series that merges Asian cultures with Moulin Rouge-era France. Follow Jetta and her famed family of shadow players as they travel on the royal ship to Aquitan, a country torn between a colonial army, a terrifying tyrant, and a feared rebel leader.
---

Cancer
June 21 – July 22
Keywords: onward, upward, success
Now that you've dotted the I's and crossed the T's of life, you can focus on moving forward in September. Perhaps you'll take this literally for Labor Day, jetting off on a spontaneous trip, or carpooling to the beach for a day in the sun. But the stars seem to agree that September will be MUCH more momentous than a road trip. And with all that work you did dusting the old out of your life to make way for the new, we think you're ready for something much more significant. Be prepared to turn that hobby into a future, to accept that leadership position in class, to take the next step in your budding relationship. 🚀Onwards and upwards🚀, Cancer. Onwards, indeed.
Book pick: Buried Beneath the Baobab Tree by Adaobi Tricia Nwaubani
Reason: A reminder that your future is yours to fight for. Based on the interviews with young women who were kidnapped by Book Haram, this poignant novel tells the story of one girl who was taken from her home in Nigeria and her harrowing fight for survival.
---

Leo
July 23 – August 22
Keywords: peace, progress, purpose
Last month, you were the sun, Leo. In September you'll be more like the diplomat: concerned with 🕊peace and harmony🕊 between friends, family, and in your mind. Maybe that Labor Day picnic will get rained out and you'll come up with plan b, perhaps you'll realize that the person who has been holding you back needs to be let go of, or it could be as simple as solving an argument between your siblings. Whatever the case may be, move forward with confidence and purpose, continuing the momentum that's been building for your all summer long.
Book pick: The Looking Glass by Janet McNally
Reason: A poignant story of sisters, purpose, and magic for your purposeful September. After her sister Julia disappears, Sylvie tries to live up to her impressive legacy at the National Ballet Theatre Academy. But when Julia sends her a copy of their old storybook, Sylvie sets out to find her sister once and for all.
---

Virgo
August 23 – September 22
Keywords: fresh, focused, fabulous
Last month you found your bliss in focusing on one thing at a time. And we hope that was good practice because now the universe is prompting you to pick your next BIG project. It's about time, am I right? You deserve a fresh start for your 🎂birthday.🎂 Maybe it's time to quit that soul-crushing after-school job in favor of something less terrible. Perhaps you should switch your major to the one you've secretly been coveting all summer. And have you considered that your treadmill time might be leading to something greater, possibly aligning with the number 26.2? September is your chance to choose again. And we suggest you choose you, and what makes you feel at your best and brightest and most amazing. Because why not, Virgo? Why not, indeed.
Book pick: Freak 'N' Gorgeous by Sebastian J. Plata
Reason: Speaking of choosing you and being fabulous…Formerly average-looking Konrad woke up one morning stunningly attractive. Unfortunately, formerly pretty Camilla is now devastatingly ugly. Will his meteoric rise to popularity (due to his hotness, of course) survive the fact that people begin to suspect he's at fault for Camilla's new look?
*Illustrations by Delaney Gibbons
---
What'd you think of your September horoscope? Will you be reading the book we paired for you? Let us know in the comments below!
Up next: