If you read A WRINKLE IN TIME, you were probably as excited as we were to hear that it was getting the Hollywood treatment. And every new look at the film just added to the hype. Every trailer was magical, each scene was a burst of color, and it seemed to really capture the idea of the book, the limitless possibilities and hope that came with light fighting dark and worlds unexplored. And of course, time travel. Dimensional exploration. You know, super light topics for kids to read about.
But one of the most impressive things about WRINKLE is that it really made all the time travel, etc., accessible for us. It was laid out so simply, so well. And because we need a fix of more books like A WRINKLE IN TIME, we decided to seek out some other YA that packs an emotional punch wrapped in a time-warping bow. Scroll down and check them out!
Books to Read After A Wrinkle in Time
1. Passenger by Alexandra Bracken
For an emotionally devastating (but also like, very enjoyable and hopeful? Honestly there are a lot of feels about this book) tale through time and place, look no further than the PASSENGER duology by Alexandra Bracken. You'll probably hug this book once your done, and then immediately start the sequel.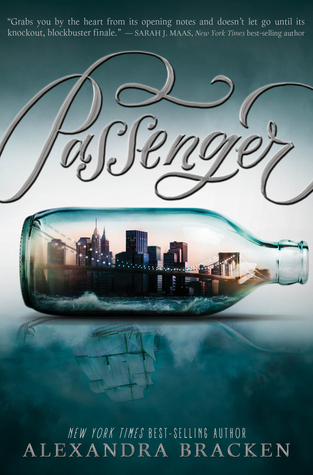 In one devastating night, violin prodigy Etta Spencer loses everything she knows and loves. Thrust into an unfamiliar world by a stranger with a dangerous agenda, Etta is certain of only one thing: she has traveled not just miles but years from home. And she's inherited a legacy she knows nothing about from a family whose existence she's never heard of. Until now.
Nicholas Carter is content with his life at sea, free from the Ironwoods—a powerful family in the colonies—and the servitude he's known at their hands. But with the arrival of an unusual passenger on his ship comes the insistent pull of the past that he can't escape and the family that won't let him go so easily. Now the Ironwoods are searching for a stolen object of untold value, one they believe only Etta, Nicholas' passenger, can find. In order to protect her, he must ensure she brings it back to them—whether she wants to or not.
Together, Etta and Nicholas embark on a perilous journey across centuries and continents, piecing together clues left behind by the traveler who will do anything to keep the object out of the Ironwoods' grasp. But as they get closer to the truth of their search, and the deadly game the Ironwoods are playing, treacherous forces threaten to separate Etta not only from Nicholas but from her path home… forever.
2. Invictus by Ryan Graudin
Sure, time travel has its dangers, but Far and his crew remind us that it can also be fun. This was just such an enjoyable read, and that's one of the best things about WRINKLE. In addition to its legacy, it's also just a nice, good, entertaining book. INVICTUS does the genre justice.
Time flies when you're plundering history.
Farway Gaius McCarthy was born outside of time. The son of a time-traveling Recorder from 2354 AD and a gladiator living in Rome in 95 AD, Far's birth defies the laws of nature. Exploring history himself is all he's ever wanted, and after failing his final time-traveling exam, Far takes a position commanding a ship with a crew of his friends as part of a black market operation to steal valuables from the past.
But during a heist on the sinking Titanic, Far meets a mysterious girl who always seems to be one step ahead of him. Armed with knowledge that will bring Far's very existence into question, she will lead Far and his team on a race through time to discover a frightening truth: History is not as steady as it seems.
3. The Girl From Everywhere by Heidi Heilig
If you want things to get a little more fantastical, buckle up for the ride in Heidi Heilig's stunning debut! THE GIRL FROM EVERYWHERE will take you through time to places both real and mythical, and each setting is more magical than the last.
As the daughter of a time traveler, Nix has spent sixteen years sweeping across the globe and through the centuries aboard her father's ship. Modern-day New York City, nineteenth-century Hawaii, other lands seen only in myth and legend—Nix has been to them all.
But when her father gambles with her very existence, it all may be about to end.
If there is a map, Nix's father can sail his ship, The Temptation, to any place and any time. But now that he's uncovered the one map he's always sought—1868 Honolulu, the year before Nix's mother died in childbirth—Nix's life, her entire existence, is at stake. No one knows what will happen if her father changes the past. It could erase Nix's future, her dreams, her adventures . . . her connection with the charming Persian thief, Kash, who's been part of their crew for two years.
4. Timeless by Alexandra Monir
After we blew through THE FINAL SIX, we just really needed an excuse to dive into another world by Alexandra Monir. And with time travel, a secondary storyline set in the early 20th century, and swooning romance, we knew TIMELESS would be the perfect one!
When tragedy strikes Michele Windsor's family, she is forced to move from Los Angeles to New York City to live with the wealthy, aristocratic grandparents she has never met. In their historic Fifth Avenue mansion, filled with a century's worth of family secrets, Michele discovers the biggest family secret of all – an ancestor's diary that, amazingly, has the power to send her back in time to 1910, the year it was written. There, at a glamorous high-society masquerade ball, Michele meets the young man with striking blue eyes who has haunted her dreams all her life. And she finds herself falling for him, and into an otherworldly romance.
Soon Michele is leading a double life, struggling to balance her contemporary high school world with her escapes into the past. But when she stumbles upon a terrible discovery, she is propelled on a race through history to save the boy she loves – and to complete a quest that will determine their fate.
5. Jane, Unlimited by Kristin Cashore
JANE, UNLIMITED is a freaking crazy book—in all the best ways. Mysteries, horror, dimensional rips, consequences and causality—the sheer magnitude and ambition of this book screams for it to be a perfect follow-up to WRINKLE's imaginativeness.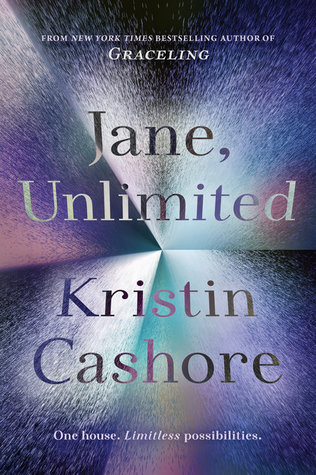 If you could change your story, would you?
Jane has lived a mostly ordinary life, raised by her recently deceased aunt Magnolia, whom she counted on to turn life into an adventure. Without Aunt Magnolia, Jane is directionless. Then an old acquaintance, the glamorous and capricious Kiran Thrash, blows back into Jane's life and invites her to a gala at the Thrashes' extravagant island mansion called Tu Reviens. Jane remembers her aunt telling her: "If anyone ever invites you to Tu Reviens, promise me that you'll go."
What Jane doesn't know is that at Tu Reviens her story will change; the house will offer her five choices that could ultimately determine the course of her untethered life. But every choice comes with a price. She might fall in love, she might lose her life, she might come face-to-face with herself. At Tu Reviens, anything is possible.
6. A Thousand Pieces of You by Claudia Gray
If the sheer beauty of these covers wasn't enough to win you over, the dimension-spanning romance definitely will. Plus, the anchor in Marguerite's father totally gave us the same emotions that Meg's quest for her own did. Yeah, we might have to re-binge these books ASAP.
A thousand lives. A thousand possibilities. One fate.
Marguerite Caine grew up surrounded by cutting-edge scientific theories, thanks to her brilliant physicist parents. Yet nothing is more astounding than her mother's latest invention, a device called the Firebird that allows people to leap into alternate dimensions.
When Marguerite's father is murdered, all the evidence points to one person—Paul, her parents' enigmatic star student. Before the law can touch him, Paul slips into another dimension, having committed what seems like the perfect crime. But he didn't count on Marguerite.
With the help of another physics student, Theo, Marguerite chases Paul through various dimensions. In each new world Marguerite leaps into, she meets another version of Paul that has her doubting his guilt and questioning her heart. Soon, she is swept into an epic love affair as dangerous as it is irresistible.
7. Pivot Point by Kasie West
We are ALWAYS here for an excuse to reread a Kasie West classic, and the plot of this one bridges the gap perfectly between WRINKLE and Kasie's usual adorable romances. It begs questions regarding fate, the future, and one girl's choices—sound familiar?
Addison Coleman's life is one big "What if?" As a Searcher, a special type of clairvoyant, whenever Addie is faced with a choice, she is able to look into the future and see both outcomes. So when her parents tell her they are getting a divorce and she has to pick who she wants to live with, a Search has never been more important.
In one future Addie is living with her mom in the life she's always known and is being pursued by the most popular guy in school. In the other she is the new girl in school, where she falls for a cute, quiet artist. Then Addie finds herself drawn into a murder investigation, and her fate takes a darker turn. With so much to lose in either future, Addie must decide which reality she's willing to live through… and who she's willing to live without.
8. The Last Magician by Lisa Maxwell
Magic! Old New York! A dangerous, deadly plot to save the future! The battle of light and dark is a high stakes mission in WRINKLE, and Esta's quest to save the Mageus' future reminded us of it immediately. Throw in secret societies and you know we're here for it.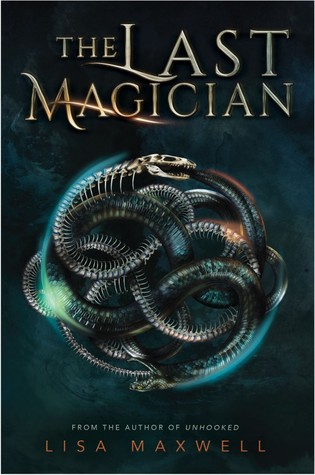 In modern-day New York, magic is all but extinct. The remaining few who have an affinity for magic—the Mageus—live in the shadows, hiding who they are. Any Mageus who enters Manhattan becomes trapped by the Brink, a dark energy barrier that confines them to the island. Crossing it means losing their power—and often their lives.
Esta is a talented thief, and she's been raised to steal magical artifacts from the sinister Order that created the Brink. With her innate ability to manipulate time, Esta can pilfer from the past, collecting these artifacts before the Order even realizes she's there. And all of Esta's training has been for one final job: traveling back to 1902 to steal an ancient book containing the secrets of the Order—and the Brink—before the Magician can destroy it and doom the Mageus to a hopeless future.
But Old New York is a dangerous world ruled by ruthless gangs and secret societies, a world where the very air crackles with magic. Nothing is as it seems, including the Magician himself. And for Esta to save her future, she may have to betray everyone in the past.
---
What books are you reading to cure your WRINKLE hangover? Let us know!
Up next: