When Ibi Zoboi, author of American Street, was younger she had a thing for bad boys. I mean seriously… who doesn't?! So obviously when she started writing American Street she had to showcase those bad boys and the girls who loved them. By doing this, Ibi Zoboi proves that American Street is meant to be much more than an immigrant story. She says that American Street is about how love changes shape when certain freedoms are threatened. Keep scrolling to read more about Ibi Zoboi's experience with bad boys, and how they inspired her to write the riveting story that is American Street.
---
On Loving Bad Boys
By Ibi Zoboi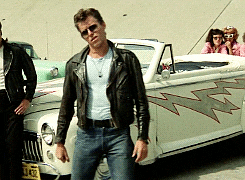 I was in the sixth grade when I first fell in love with bad boys. They were the ones who sat in the back of the classroom, beatboxing, reciting rhymes, talking smack, and being sent to the principal's office.
There were different kinds of bad boys, though—the ones who called me ugly and once, a google-eyed bat because I wore thick glasses. I absolutely did not love the boys who treated me or any other girl like crap. I loved the bad boys who were good to me. The ones who cursed out the teacher, but held the door for me. The ones who'd fight after school, and with bruised hands, hold my book bag.
As I got older, the bad boys I knew moved from the back of the classroom to street   corners and in the driver's seats of shiny cars. Some smoked, drank, called me "shorty," and noticed my changing body, demanding that I give them my phone number. Others wore shirts and ties as part of their Catholic school uniform and bought me flowers and teddy bears, asking for much more than my phone number.
When I started writing American Street—which at its core is a love story, both familial and romantic—I had to include the bad boys alongside the girls who loved them. I wanted to dig deep to examine the labels placed on these boys and the violence that surrounded them. Whether they were violent criminal offenders or attended Catholic school, these boys were not a monolith as portrayed in the media. Some were indeed victimizers and some were victims, while others carefully navigated the blurred lines in between.
Much like my characters Kasim and Dray in American Street, these boys all had to make hard choices that led them down different paths. Some returned love freely and were sweet and tender. Others fought the people and the air around them. Yet, whatever their choices, this label stuck and boxed them in. We've seen these confining labels time and time again with victims of police brutality. In order to justify their deaths, these boys are labeled bad and delinquent, and therefore deserving of their sometimes fatal ends.
Through the eyes of an immigrant teen girl, I wanted to examine the complexity of loving these labeled boys in the midst of deferred dreams.  I had to ask some hard questions of my characters. What makes us love the boys who treat us badly? When is it ever right to choose a boy over family?
Ultimately, American Street is much more than an immigrant story. It's about how love changes shape when certain freedoms are threatened. Love of self, family, and even bad boys becomes a messy web that's increasingly hard to untangle. In the end, I hope American Street reveals some universal truths about how home, citizenship, family, and other ideas we hold near and dear are layered and multifaceted, much like my beloved bad boys.
---
Who is your favorite YA Bad Boy? Tell us in the comments below!