Queen Bey knows that Girls Run the World, and we love a strong female lead, too.
So in honor of Women's History Month, we're rounding up some of our favorite female characters because they are total badasses and WE 👏 ARE 👏 SO👏 HERE 👏 FOR 👏 IT. They are our faves for a reason and deserve to be celebrated! Scroll down to see who we think kick butt across all genres of YA.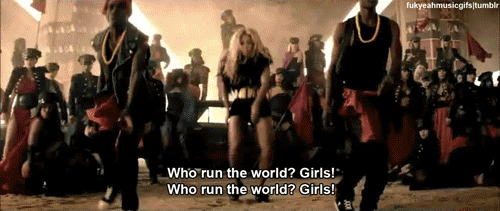 Anything You Can Do, I Can Do Better: 13 Books With Awesome Girl Protagonists
1. Juliette from the Shatter Me series
~scroll past if you've never read this series before~
And if you have then you know Juliette is the freaking Supreme Commander at the end of IGNITE ME. What will she do now that she's in this position of power?!?! We can't wait to find out when RESTORE ME comes out next week. All we know is one thing for sure…Juliette is a badass female character you do NOT want to mess with.
Juliette Ferrars thought she'd won. She took over Sector 45, was named the new Supreme Commander of North America, and now has Warner by her side. But when tragedy strikes, she must confront the darkness that dwells both around and inside her.
Who will she become in the face of adversity? Will she be able to control the power she wields, and use it for good?
2. Cinder from The Lunar Chronicles
Cinder hasn't exactly had it easy her whole life. After all, she is a girl and a cyborg and so she's facing prejudices that are beyond her control. But through it all Cinder remains brave and smart and nice and GOOD. We admire her resilience and the way she steps up to the plate when the world needs her.
A forbidden romance. A deadly plague. Earth's fate hinges on one girl…Cinder, a gifted mechanic in New Beijing, is also a cyborg. She's reviled by her stepmother and blamed for her stepsister's sudden illness. But when her life becomes entwined with the handsome Prince Kai's, she finds herself at the centre of a violent struggle between the desires of an evil queen – and a dangerous temptation. Cinder is caught between duty and freedom, loyalty and betrayal. Now she must uncover secrets about her mysterious past in order to protect Earth's future.
3. Starr from The Hate U Give
Basically, we can't get enough of this book. We've called it a masterpiece and stand behind our belief that the book will be a modern-day classic, but 16-year-old Starr Carter truly is a star and a standout protagonist. We promise you've never read about anyone quite like her.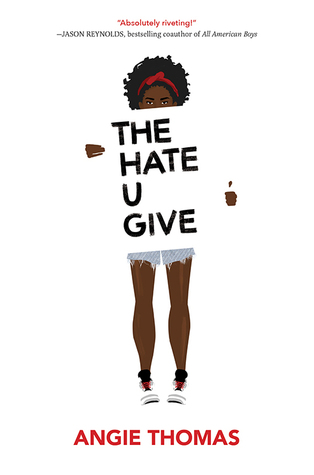 She moves between two worlds: the poor neighborhood where she lives and the fancy suburban prep school she attends. The uneasy balance between these worlds is shattered when Starr witnesses the fatal shooting of her childhood best friend, Khalil, at the hands of a police officer. Khalil was unarmed.
Everyone wants to know what really went down that night? And the only person alive who can answer that is Starr. But what Starr does — or does not — say could upend her community. It could also endanger her life.
4. Maddie and "Verity" from Code Name Verity
Warning: This book may make you ugly cry. Plus, this is a two-for-one bonus because Maddie and "Verity" will both stay with you for a long, long time.
The scoop: A British spy plane crashes in Nazi-occupied France. Its pilot and passenger are best friends. One of the girls has a chance at survival. The other has lost the game before it's barely begun.
When "Verity" is arrested by the Gestapo, she's sure she doesn't stand a chance. As a secret agent captured in enemy territory, she's living a spy's worst nightmare. As she intricately weaves her confession, Verity uncovers her past, how she became friends with the pilot Maddie, and why she left Maddie in the wrecked fuselage of their plane. But will trading her secrets be enough to save her from the enemy?
5. Kate from Retribution Rails
Kate in Vengeance Road was a take-no-prisoners heroine. In this companion novel that returns to the Wild West, Charlotte Vaughn proves to have just as much grit, dealing with racism and sexism head on.
When Reece Murphy is forcibly dragged into the Rose Riders gang because of a mysterious gold coin in his possession, he vows to find the man who gave him the piece and turn him over to the gang in exchange for freedom. Never does he expect a lead to come from an aspiring female journalist. But when Reece's path crosses with Charlotte Vaughn after a botched train robbery and she mentions a promising rumor about a gunslinger from Prescott, it becomes apparent that she will be his ticket to freedom — or a noose. As the two manipulate each other for their own ends, past secrets are unearthed, reviving a decade-old quest for revenge that may be impossible to settle. 
6. Frankie from The Disreputable History of Frankie Landau-Banks
E. Lockhart's books always have great girl characters, but Frankie Landau-Banks has an attitude that's all her own.
Frankie Landau-Banks at age 14: Debate Club; her father's "bunny rabbit"; a mildly geeky girl attending a highly competitive boarding school.
Frankie Landau-Banks at age 15: A knockout figure; a sharp tongue; a chip on her shoulder and a gorgeous new senior boyfriend: the supremely goofy, word-obsessed Matthew Livingston.
Frankie Landau-Banks, at age 16: Possibly a criminal mastermind. 
This is the story of how she got that way.
7. Mira from Before She Ignites
Mira is a kick-ass heroine that really doesn't disappoint. Mira is beautiful but flawed. She struggles with crippling anxiety and counts compulsively, but her flaws only make us love her more.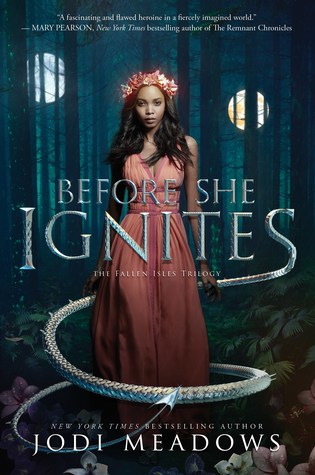 Mira has always been a symbol of hope for the Fallen Isles, perfect and beautiful — or at least that's how she's forced to appear. But when she uncovers a dangerous secret, Mira is betrayed by those closest to her and sentenced to the deadliest prison in the Fallen Isles.
Except Mira is over being a pawn. Fighting to survive against outer threats and inner demons of mental illness, Mira must find her inner fire and the scorching truth about her own endangered magic — before her very world collapses.
And that's all before she ignites.
8. Emika from Warcross
Emika Chen is a rainbow-haired electric skateboard-riding hacker. What's more is that she works as a bounty hunter, tracking down people who play Warcross illegally. Warcross isn't just a game — it's a way of life, and its fan base now spans the globe.
Emika is struggling to make ends meet, and surviving as a bounty hunter hasn't always been easy. Needing to make some quick cash, Emika takes a risk and hacks into the opening game of the international Warcross Championships — only to accidentally glitch herself into the action and become an overnight sensation.
Emika is a fiercely independent risk-taker who will keep you turning pages.
9. Celaena from Throne of Glass
Throne of Glass lives up to the hype, and it's largely due to the snarky and lethal heroine, who just happens to be the world's most deadly assassin. This is an epic fantasy saga, but it's also an unputdownable story about female friendship.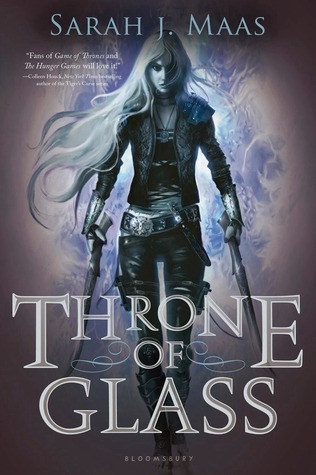 When magic has gone from the world, and a vicious king rules from his throne of glass, an assassin comes to the castle. She does not come to kill but to win her freedom. If she can defeat 23 killers, thieves, and warriors in a competition to find the greatest assassin in the land, she will become the King's Champion and be released from prison.
Her name is Celaena Sardothien.
The Crown Prince will provoke her. The Captain of the Guard will protect her.
And a princess from a foreign land will become the one thing Celaena never thought she'd have again: a friend.
10. Bille from Dress Codes for Small Towns
We want to say that Billie McCaffrey is one of a kind, but the truth is, she's one of us and we find her so freaking relatable. She refuses to let others define her before she can do it herself and we applaud her for always standing her ground. 
As the tomboy daughter of the town's preacher, Billie McCaffrey has always struggled with fitting the mold of what everyone says she should be. She'd rather get into trouble with her solid group of friends: Woods, Mash, Davey, Fifty, and Janie Lee.
But when Janie Lee confesses to Billie that she's in love with Woods, Billie's filled with a nagging sadness as she realizes that she is also in love with Woods … and maybe with Janie Lee, too.
Billie doesn't want anyone slapping a label on her sexuality before she can understand it herself. It's about understanding love on her terms — this thing that has always been defined as a boy and a girl falling in love and living happily ever after. For Billie, a box-defying dynamo, it's not that simple.
11. Katniss from The Hunger Games
You can't have a list of awesome girl leads in YA without Katniss Everdeen. Quick-witted and humble, Katniss is an underdog you can't help but root for.
Set in a post-apocalyptic North America, the Capitol maintains its control over the citizens of 12 districts by forcing them to compete in an annual televised event known as the Hunger Games. Every year, each district uses a lottery system to yield one boy and one girl between the ages of 12 and 18. Those selected are forced to fight to the death, leaving only one survivor to claim victory.
When 16-year-old Katniss' younger sister, Prim, is selected as District 12's female representative, Katniss volunteers to take her place. She and her male counterpart, Peeta are pitted against bigger, stronger representatives, some of whom have trained for this their whole lives. She sees it as a death sentence. But Katniss has been close to death before. For her, survival is second nature.
12. Ismae from Grave Mercy
Seventeen-year-old Ismae is a daughter of death and a trained killer nun. Need we say more? Robin LaFever's Grave Mercy is part historical, part fantastical, and totally compelling.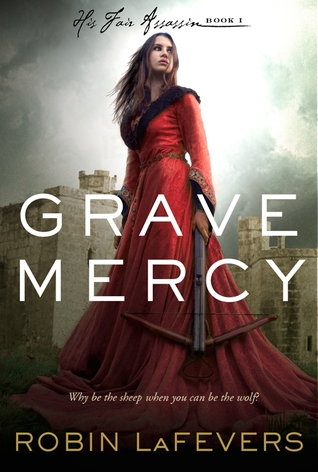 When Ismae escapes from the brutality of an arranged marriage, she ends up at the convent of St. Mortain, where the sisters still serve the gods of old. Here she learns that the god of Death Himself has blessed her with dangerous gifts — and a violent destiny. If she chooses to stay at the convent, she will be trained as an assassin and serve as a handmaiden to Death. To claim her new life, she must destroy the lives of others.

And how can she deliver Death's vengeance upon a target who, against her will, has stolen her heart? 
13. Brienna from The Queen's Rising
Brienna is a character that is minding her own business and just wants to do as well as those before her (so relatable) but when she has the chance to help a queen regain her rightful place in the kingdom, SHE STEPS UP. And we cannot applaud her enough.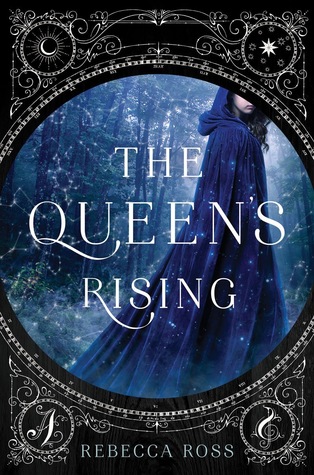 When her seventeenth summer solstice arrives, Brienna desires only two things: to master her passion and to be chosen by a patron. Little does she know, the lord that offers her patronage is involved in a dangerous plot. His plan? Overthrow the king of Maevana—the archrival kingdom of Valenia—and restore the rightful queen, and her magic, to the northern throne. With war brewing between the two lands, Brienna must choose whose side she will remain loyal to because a queen is destined to rise and lead the battle to reclaim the crown. The ultimate decision Brienna must determine is: Who will be that queen?

---
TBH, there are so many amazing YA books out there with awesome girl protagonists that it was hard to narrow it down so definitely let us know in the comments who else you'd add to this list!