Have you ever walked into a library and thought, "Damn. I'd love to get locked in here and fall in love with a mysteriously adorable bad boy." Of course you have. If you've ever found yoursef frustrated that you have not yet met the book nerd bae of your dreams, join us in counting down the most beautiful libraries we'd like to get stuck in(and fall in love in)  and then read Kasie West's new novel, By Your Side, to live your biggest dreams out vicariously through this swoony library romance.
When Autumn Collins finds herself accidentally locked in the library for an entire weekend, she doesn't think things could get any worse. But that's before she realizes that Dax Miller is locked in with her. One thing lease to another and well… the rest is history. These two fall in love in one of the most swoony stories we've ever experienced and in the book nerdiest of locations- the library!
Boston Public Library
The Boston Public Library is the perfect mix between modern and old-school. The lower level of the library was recently renovated and even holds a media cafe where you can watch live podcasts and news shows being recorded.  Plus the courtyard is quite possibly one of the most serene and calming places we've ever seen so fallin in love will be VERY easy.
New York Public Library
The New York Public Library is for sure one of the most beautiful libraries we've ever laid our eyes on. The energy in the library is perfect for getting lost in a good book. The New York Public Library is the second largest library in the United States, and literally has 53 MILLION books. Yes please.
Barroque Library, Prague
We'd like to jet set all the way to Prague just to lock ourselves in this library. The Baroque library hall is located inside The Clementinum and has a STUNNING interior. We would probably lay on the floor all day long just to look at that pretty ceiling.
Skywalker Ranch Library, California
The Skywalker Ranch Library is a place where you will probably spot some big hollywood names. directors and producers can often been found here researching a plethora of topics for their next big screen project. This place is chic, and perfect for a Cali book nerd.
Royal Portugese Reading Room
The Royal Portugese Reading Room is tucked in the heart of  Rio de Janeiro. It is straight up the glammest room we've ever seen and is basically, this is the queen of libraries. Be there or be square.
Library Of Congress, Washington D.C.
THE LARGEST LIBRARY IN THE WORLD. One more time… THE LARGEST LIBRARY IN THE WORLD. Do we need to say more? I'll spend all night spring around the aisles of this never-ending lib.
Central Library Of Vancouver
This library is basically a mall and food court and library all in one. (Can someone please pinch me idk if this is real??) We'd love to adventure around this library with the love of our life just eatin' and readin', eatin' and readin'
Library Of Birmingham
OKAY… does this look like a giant delicious cake to anyone else or am I just hungry. I would devour this library and every single book in  it. This would be the sweetest library lock-in I could ever imagine.
Seattle Public Library Central Library
This reminds us of a library we would find in a dystopian novel and we are ALL about it. Just picture it: reading a romance novel and staring out the windows of this gorgeous glass library, with a beautiful book nerd bae. 😍
The Library of El Escorial, Spain
Okay It's officially time to pack your bags and head on over to España. We are certain that getting stuck in this library would be absolutely magical. Because of it's rich history with royal families, it's safe to say you're going to find your prince charming.
Admont Abbey Library, Austria
I am so in love with this library I CAN'T even. I would want to be swept off my feet and then read the night away in what looks like the most beautiful royal ballroom of all time. This Library is for all you royal readers out there. If you want to go with me, PLEASE HMU.
Home Of Peruvian Literature, Peru
There is something about these colors that make my eyes SO happy. Falling in love in this library would probably mean that your relationship would be quite colorful. Yup. Lock me in.
Stuggart City Library
This minimalistic library is anything but #Basic. This photo actually gives us the butterflies so spending a night stuck in here with the book nerd of our dreams can't be anything but AMAZING.
George Peabody Library, Baltimore
Okay PUT ME IN COACH. I wanna play in this library all night long (all night). The books might be a little too distracting too fall in love with an actual human being so let's just lock me in here solo so I can get lost in the shelves.
About By Your Side
An irresistible story from Kasie West that explores the timeless question:  What do you do when you fall for the person you least expect?
When Autumn Collins finds herself accidentally locked in the library for an entire weekend, she doesn't think things could get any worse. But that's before she realizes that Dax Miller is locked in with her. Autumn doesn't know much about Dax except that he's trouble. Between the rumors about the fight he was in (and that brief stint in juvie that followed it) and his reputation as a loner, he's not exactly the ideal person to be stuck with. Still, she just keeps reminding herself that it is only a matter of time before Jeff, her almost-boyfriend, realizes he left her in the library and comes to rescue her.
Only he doesn't come. No one does.
Instead it becomes clear that Autumn is going to have to spend the next couple of days living off vending-machine food and making conversation with a boy who clearly wants nothing to do with her. Except there is more to Dax than meets the eye. As he and Autumn at first grudgingly, and then not so grudgingly, open up to each other, Autumn is struck by their surprising connection. But can their feelings for each other survive once the weekend is over and Autumn's old life, and old love interest, threaten to pull her from Dax's side?
By Your Side is available in paperback and e-book now! Buy a copy from your favorite bookstore or purchase online here!
BRB falling in love at the library like…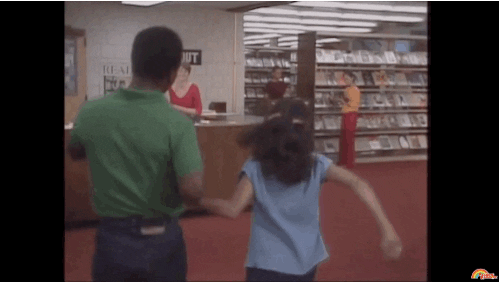 ---
What other beautiful libraries would you want to get stuck in? Tell us in the comments below! 
Up Next: Read the First Two Chapters of By Your Side 
Save