There are three kind of books that we read and immediately need to share with our best friends. The first is the type that, upon finishing, we think "omg, this is literally me." These books are best enjoyed with a buddy, because once they read it, they too will text us and say "omg, this is literally you."
The second book is the WTF-did-I-just-read, I-need-to-talk-about-this-plot-twist-immediately one. We think that title is pretty explanatory.
And the third type of book is the one that you're just like, "you know what, this book was so freaking good, I want you to read this so that you can enjoy it the same as I did." These books can span all types of genres, and the best parts about them can be their message, their writing, or just how fun they are.
There's no wrong reason for wanting to share a book with your BFF, and so we put together a list of the best books that we've shared with ours!
The 12 Best Books to Share With Your BFF
1. The Upside of Unrequited by Becky Albertalli
Super genuine voice that's equal parts sarcastic, optimistic, and down-to-earth? Check. DIY crafts? Check. A grand list of unrequited crushes, and one or two that maybe are requited? Check.
SIMON VS. stole our hearts, but THE UPSIDE OF UNREQUITED is the perfect book to share with your BFF! You'll definitely see one of yourselves in Molly, and good luck not trying to make her edible cookie dough recipe once you're done. Plus, this book isn't your typical romance. Friendship, sisterhood, identity, and family play huge roles and it's got the perfect amount of emotion to make you cherish what you've got.
Seventeen-year-old Molly Peskin-Suso knows all about unrequited love. No matter how many times her twin sister, Cassie, tells her to woman up, Molly can't stomach the idea of rejection. So she's careful. Fat girls always have to be careful…
2. Goodbye Days by Jeff Zentner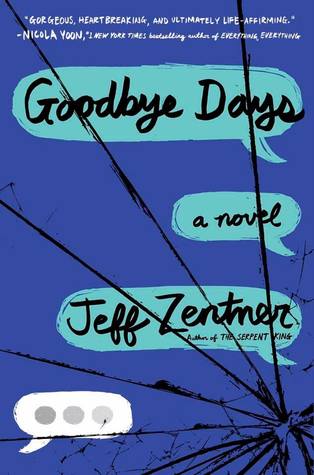 If you want a book that will make you really thankful for the friendships you have in your life, you need to read GOODBYE DAYS.
We're not gonna lie—we may have totally sobbed through this. But it was such a great reminder to enjoy the time that we have with our best friends and make memories that we'll keep with us forever. Maybe get a joint box of tissues to share as you both dive into this. And as you relive Carver's stories with him, it might even inspire you to do some new things, too.
One day Carver Briggs had it all—three best friends, a supportive family, and a reputation as a talented writer at Nashville Academy for the Arts. Only, he lost it all when he sent a simple text to his friend Mars, right before Mars, Eli, and Blake were killed in a car crash…
3. The Raven Boys by Maggie Stiefvater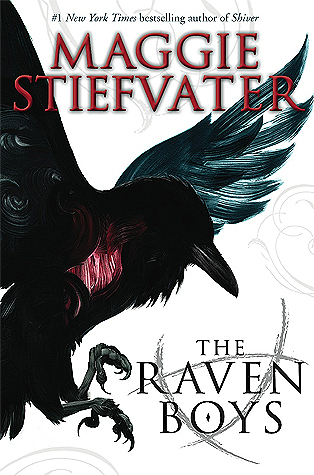 You will fall in love with this gang of semi-magical friends and immediately go searching for an adventure to take with your own.
Gansey and his Raven Boys have such genuine banter, love, frustrations, and every other sort of emotion that you'll feel like you're part of the group too. And then you'll make your best friend read the book, and ask them, "Hey, how come we haven't gone hunting for any dead kings lately?" Probably this will happen. The power to pull things from your dreams is not necessary, we guess, but the one-liners and conversations had between the group over the course of these four books are must-shares.
Every year, Blue Sargent stands next to her clairvoyant mother as the soon-to-be dead walk past. Blue herself never sees them—not until this year, when a boy emerges from the dark and speaks directly to her…
4. Geekerella by Ashley Poston
GEEKERELLA is the perfect book for celebrating fandom with your best friend who's obsessed with all the same books, shows, comics, movies—YOU NAME IT—that you are. So, the true makings of BBFship.
This book is fun, cute, sweet, and, well you get the idea. Reading this book is such a fun celebration of the things that bond us together. The story itself may focus on a romance, but we definitely shared it with all our friends the minute we finished just because there's finally a book that understands what it means to be a part of a fandom. Honestly we just need more people to love this book with us.
When geek girl Elle Wittimer sees a cosplay contest sponsored by the producers of Starfield, she has to enter. First prize is an invitation to the ExcelsiCon Cosplay Ball and a meet-and-greet with the actor slated to play Federation Prince Carmindor in the reboot. Elle's been scraping together tips from her gig at the Magic Pumpkin food truck behind her stepmother's back, and winning this contest could be her ticket out once and for all—not to mention a fangirl's dream come true…
5. Dumplin' by Julie Murphy
Get ready to want to drive around, blasting your favorite songs and singing along no matter how bad your voice is.
DUMPLIN' will make you feel like that, empowered and on top of the world, and also glad to have someone by your side to take it on with. You and your BFF can bond over just how great this book makes you feel, and then you can go see the movie together once it comes out! Oh, and did you see there's a sequel? Get that Dolly Parton loaded up on your Spotfiy and start reading!
Self-proclaimed fat girl Willowdean Dickson (dubbed "Dumplin'" by her former beauty queen mom) has always been at home in her own skin. Her thoughts on having the ultimate bikini body? Put a bikini on your body. With her all-American-beauty best friend, Ellen, by her side, things have always worked—until she meets Private School Bo, a hot former jock who happens to return her attraction…
6. The Hate U Give by Angie Thomas
If your BFF has not read THE HATE U GIVE yet, it is your duty as a responsible book nerd to put it in their hands. If you have not read THE HATE U GIVE yet, minimize this post and go start immediately.
Things are tough right now, and we know the world can seem very overwhelming. This masterpiece by Angie Thomas tackles some tough topics, but does so with such a soft touch and so much heart and humor that it doesn't feel heavy at all. It feels hopeful. And it feels important. We are so lucky to have this book to read, and we cannot recommend it to enough people. Hopefully this is one that you and your book nerd BFF can bond over ASAP.
Sixteen-year-old Starr Carter moves between two worlds: the poor neighborhood where she lives and the fancy suburban prep school she attends. The uneasy balance between these worlds is shattered when Starr witnesses the fatal shooting of her childhood best friend Khalil at the hands of a police officer. Khalil was unarmed…
7. Divergent by Veronica Roth
How can you have a genuine bookish conversation with your BFF if they don't know what faction they would be in?! Actually, scratch that. Literally no one on Team Epic Reads can decide what faction they would be in, so you can just bond over being Divergent with your BFF and both win!
DIVERGENT is one of the original YA books we fell in love with. Since some newer fans might have missed the dystopian craze, it's our responsibility to spread the love. It's also our responsibility to make sure every reader is as in love with Four as we are.
On an appointed day of every year, all sixteen-year-olds must select the faction to which they will devote the rest of their lives. For Beatrice, the decision is between staying with her family and being who she really is—she can't have both. So she makes a choice that surprises everyone, including herself…
8. This Darkness Mine by Mindy McGinnis
If you've read THIS DARKNESS MINE, you know that your BFF has to read it so that you can discuss it immediately.
There are so many gaspworthy moments and shocking twists and turns in this book that there's no way we could've shouldered it alone. In fact, Tyler from Team Epic Reads kept track of his thoughts as he read it. You can read them here. They're insane. Almost as insane as Sasha Stone. But you can discuss that with us (and your BFF) after you've read it.
Sasha Stone knows her place—first-chair clarinet, top of her class, and at the side of her Oxford-wearing boyfriend. She's worked her entire life to ensure her path to Oberlin Conservatory as a star musician is perfectly paved. But suddenly there's a fork in the road in the shape of Isaac Harver. Why does he act like he knows her so well—too well—when she doesn't know him at all…
9. Warcross by Marie Lu
Not only will you want your BFF to read this one because of how genuinely fun it is, but also because then you can discuss what roles you would play if you were on the same Warcross team. Also, you will need someone to swoon over Hideo (or maybe Zero!) with.
Plus, Emika is super relatable, from her sense of humor to her determination, and one of the arcs over the course of the book is how she deals with the people around her. We don't want to spoil too much about the plot, but it also won't hurt to have someone to nurse your book hangover with—because you'll definitely have one after this.
For the millions who log in every day, Warcross isn't just a game—it's a way of life. The obsession started ten years ago and its fan base now spans the globe, some eager to escape from reality and others hoping to make a profit. Struggling to make ends meet, teenage hacker Emika Chen works as a bounty hunter, tracking down players who bet on the game illegally…
10. One of Us Is Lying by Karen M. McManus
ONE OF US IS LYING is the perfect book to read alongside your BFF so that you can speculate together while you binge your way through this too-relatable murder mystery. Er, not the murder part. But the high school drama is something we've all been through.
If you've already this one, you definitely should still get your BFF on it stat, because it is almost as entertaining the second time around, watching as someone else tries to figure it out! Did you get it right? Did they?! Also, this book made us appreciate our own friends that much more…
On Monday afternoon, five students at Bayview High walk into detention.
Bronwyn, the brain, is Yale-bound and never breaks a rule. Addy, the beauty, is the picture-perfect homecoming princess. Nate, the criminal, is already on probation for dealing. Cooper, the athlete, is the all-star baseball pitcher. And Simon, the outcast, is the creator of Bayview High's notorious gossip app. Only, Simon never makes it out of that classroom. Before the end of detention, Simon's dead…
11. When Dimple Met Rishi by Sandhya Menon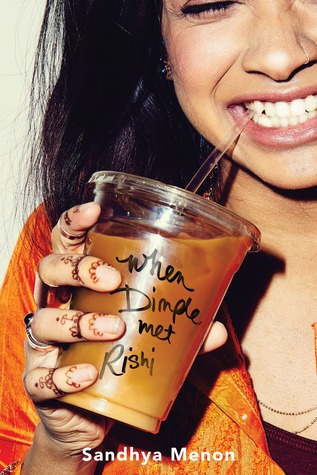 If your BFF is ever sad, it is your responsibility as a book nerd to give them WHEN DIMPLE MET RISHI.
It will cheer them up, clear their pores, and everything will seem right in the world for at least one week after they finish the last page. How do we know this? We just do, okay, and this book is amazingly sweet.
Don't let the fact that it's a romance fool you. You don't have to be in love, crushing, or even vaguely aware of your options in order to enjoy it. Both Dimple and Rishi are amazing characters, and odds are that if you can't relate to one, you'll relate to the other. Maybe you'll relate to both! Either way, this book is amazing and consider this our way, as your book BFF, of sharing it with you. Go forth, fave readers, and read.
Dimple Shah has it all figured out. With graduation behind her, she's more than ready for a break from her family, from Mamma's inexplicable obsession with her finding the "Ideal Indian Husband." Ugh. Dimple knows they must respect her principles on some level, though. If they truly believed she needed a husband right now, they wouldn't have paid for her to attend a summer program for aspiring web developers…
12. Top Ten by Katie Cotugno
What could be a better book to share with your BFF than one actually about all the moments between two best friends?!
Gabby and Ryan really are BFF goals, and one of our fave things in any Katie Cotugno book is how well she depicts not only the fun, but also the messy parts of friendship. Things can get complicated, arguments can take place, but at the end of the day, you're always there for each other. The romance thrown into this one is just an added bonus.
Ryan McCullough and Gabby Hart are the unlikeliest of best friends. Prickly, anxious Gabby would rather do literally anything than go to a party. Ultra-popular Ryan is a hockey star who can get any girl he wants—and frequently does. But somehow their relationship just works; from dorky Monopoly nights to rowdy house parties to the top ten lists they make about everything under the sun.
Now, on the night of high school graduation, everything is suddenly changing…
---
What are some YA books that you've recommended to your BFF? Let us know!
Up next: