Are you the type of reader who likes to have a decent stockpile of books available in a series before they dive in? The type who hates waiting for the next new releases? Don't worry if you are—it's totally valid. The wait between book times can be killer. So, to help those readers out, we thought we'd pull together a list of the best fantasy series for bingeable reading!
All the series below, if they're not yet complete, do have at least three books out, so you can binge some others in the meantime while waiting for them to finish up. Or you can dive in and wait for the last couple! Trust us, they're that good, and you won't want to wait.
The 21 Best Fantasy Series to Binge
1. Girl of Fire and Thorns by Rae Carson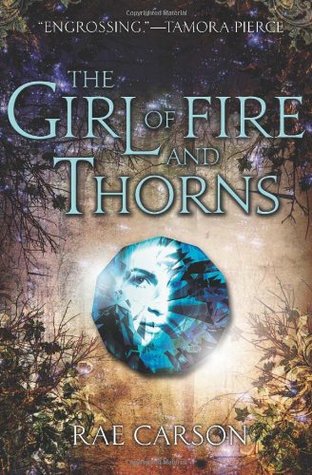 Once a century, one person is chosen for greatness. Elisa is the chosen one. But she is also the younger of two princesses, the one who has never done anything remarkable. She can't see how she ever will.
Now, on her sixteenth birthday, she has become the secret wife of a handsome and worldly king—a king whose country is in turmoil. A king who needs the chosen one, not a failure of a princess.
And he's not the only one who seeks her. Savage enemies seething with dark magic are hunting her. A daring, determined revolutionary thinks she could be his people's savior. And he looks at her in a way that no man has ever looked at her before. Soon it is not just her life, but her very heart that is at stake.
Elisa could be everything to those who need her most. If the prophecy is fulfilled. If she finds the power deep within herself. If she doesn't die young. Most of the chosen do.
2. Throne of Glass by Sarah J. Maas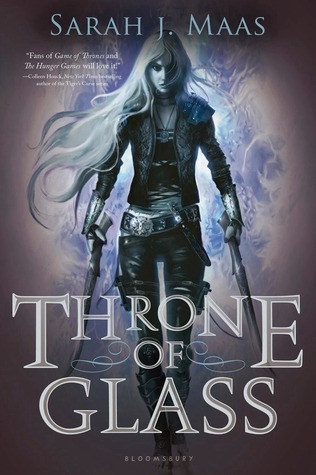 In a land without magic, where the king rules with an iron hand, an assassin is summoned to the castle. She comes not to kill the king, but to win her freedom. If she defeats twenty-three killers, thieves, and warriors in a competition, she is released from prison to serve as the king's champion. Her name is Celaena Sardothien.
The Crown Prince will provoke her. The Captain of the Guard will protect her. But something evil dwells in the castle of glass–and it's there to kill. When her competitors start dying one by one, Celaena's fight for freedom becomes a fight for survival, and a desperate quest to root out the evil before it destroys her world.
3. The Grishaverse by Leigh Bardugo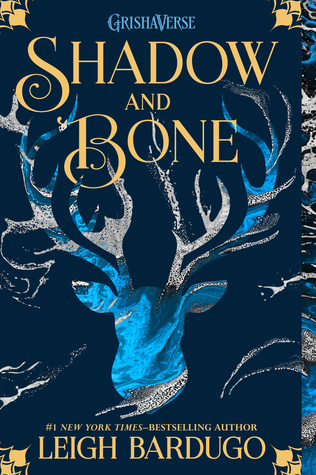 Surrounded by enemies, the once-great nation of Ravka has been torn in two by the Shadow Fold, a swath of near impenetrable darkness crawling with monsters who feast on human flesh. Now its fate may rest on the shoulders of one lonely refugee.
Alina Starkov has never been good at anything. But when her regiment is attacked on the Fold and her best friend is brutally injured, Alina reveals a dormant power that saves his life—a power that could be the key to setting her war-ravaged country free. Wrenched from everything she knows, Alina is whisked away to the royal court to be trained as a member of the Grisha, the magical elite led by the mysterious Darkling.
Yet nothing in this lavish world is what it seems. With darkness looming and an entire kingdom depending on her untamed power, Alina will have to confront the secrets of the Grisha . . . and the secrets of her heart.
4. The Young Elites by Marie Lu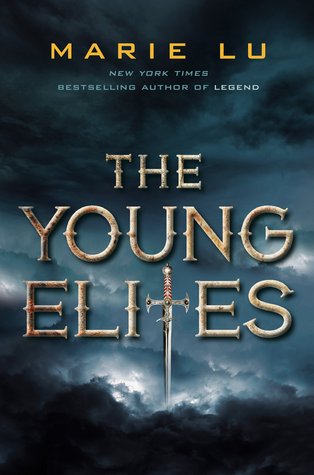 Adelina Amouteru is a survivor of the blood fever. A decade ago, the deadly illness swept through her nation. Most of the infected perished, while many of the children who survived were left with strange markings. Adelina's black hair turned silver, her lashes went pale, and now she has only a jagged scar where her left eye once was. Her cruel father believes she is a malfetto, an abomination, ruining their family's good name and standing in the way of their fortune. But some of the fever's survivors are rumored to possess more than just scars—they are believed to have mysterious and powerful gifts, and though their identities remain secret, they have come to be called the Young Elites.
Teren Santoro works for the king. As Leader of the Inquisition Axis, it is his job to seek out the Young Elites, to destroy them before they destroy the nation. He believes the Young Elites to be dangerous and vengeful, but it's Teren who may possess the darkest secret of all.
Enzo Valenciano is a member of the Dagger Society. This secret sect of Young Elites seeks out others like them before the Inquisition Axis can. But when the Daggers find Adelina, they discover someone with powers like they've never seen.
Adelina wants to believe Enzo is on her side, and that Teren is the true enemy. But the lives of these three will collide in unexpected ways, as each fights a very different and personal battle. But of one thing they are all certain: Adelina has abilities that shouldn't belong in this world. A vengeful blackness in her heart. And a desire to destroy all who dare to cross her.
5. Red Queen by Victoria Aveyard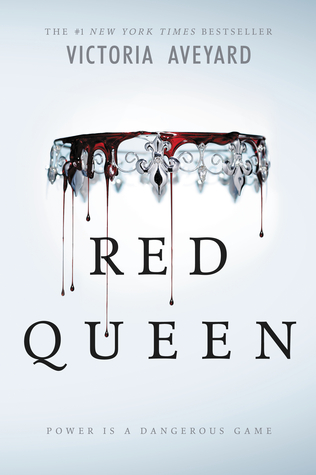 This is a world divided by blood – red or silver. The Reds are commoners, ruled by a Silver elite in possession of god-like superpowers. And to Mare Barrow, a seventeen-year-old Red girl from the poverty-stricken Stilts, it seems like nothing will ever change. That is until she finds herself working in the Silver Palace.
Here, surrounded by the people she hates the most, Mare discovers that, despite her red blood, she possesses a deadly power of her own. One that threatens to destroy the balance of power. Fearful of Mare's potential, the Silvers hide her in plain view, declaring her a long-lost Silver princess, now engaged to a Silver prince. Despite knowing that one misstep would mean her death, Mare works silently to help the Red Guard, a militant resistance group, and bring down the Silver regime.
But this is a world of betrayal and lies, and Mare has entered a dangerous dance—Reds against Silvers, prince against prince, and Mare against her own heart.
6. The Seven Realms by Cinda Williams Chima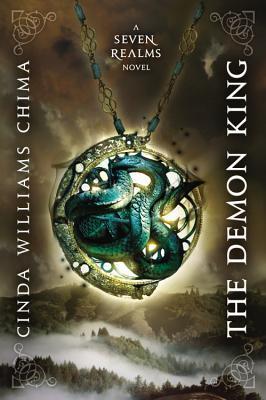 Times are hard in the mountain city of Fellsmarch. Reformed thief Han Alister will do almost anything to eke out a living for his family. The only thing of value he has is something he can't sell—the thick silver cuffs he's worn since birth. They're clearly magicked—as he grows, they grow, and he's never been able to get them off.
One day, Han and his clan friend, Dancer, confront three young wizards setting fire to the sacred mountain of Hanalea. Han takes an amulet from Micah Bayar, son of the High Wizard, to keep him from using it against them. Soon Han learns that the amulet has an evil history—it once belonged to the Demon King, the wizard who nearly destroyed the world a millennium ago. With a magical piece that powerful at stake, Han knows that the Bayars will stop at nothing to get it back.
Meanwhile, Raisa ana'Marianna, princess heir of the Fells, has her own battles to fight. She's just returned to court after three years of freedom in the mountains—riding, hunting, and working the famous clan markets. Raisa wants to be more than an ornament in a glittering cage. She aspires to be like Hanalea—the legendary warrior queen who killed the Demon King and saved the world. But her mother has other plans for her…
7. The Shattered Realms by Cinda Williams Chima
Set in the world of the acclaimed Seven Realms series, this is a breathtaking story of dark magic, chilling threats, and two unforgettable characters walking a knife-sharp line between life and death.
Adrian sul'Han, known as Ash, is a trained healer with a powerful gift of magic—and a thirst for revenge. Ash is forced into hiding after a series of murders throws the queendom into chaos. Now he's closer than ever to killing the man responsible, the cruel king of Arden. Can Ash use his powers not to save a life but to take it?
Abandoned at birth, Jenna Bandelow was told that the magemark on the back of her neck would make her a target. But when the King's Guard launches a relentless search for a girl with a mark like hers, Jenna assumes that it has more to do with her role as a saboteur than any birth-based curse. Eventually, Ash's and Jenna's paths will collide in Arden. Thrown together by chance and joined by their hatred of the ruthless king, they will come to rescue each other in ways they cannot yet imagine.
8. Daughter of Smoke & Bone by Laini Taylor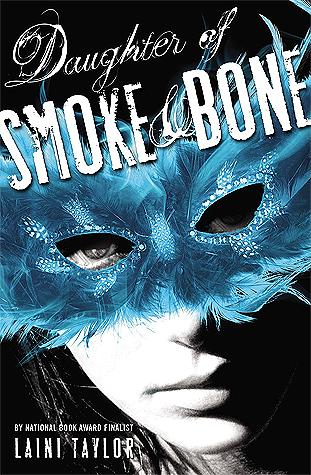 Around the world, black hand prints are appearing on doorways, scorched there by winged strangers who have crept through a slit in the sky.
In a dark and dusty shop, a devil's supply of human teeth grows dangerously low.
And in the tangled lanes of Prague, a young art student is about to be caught up in a brutal otherworldly war.
Meet Karou. She fills her sketchbooks with monsters that may or may not be real, she's prone to disappearing on mysterious "errands", she speaks many languages – not all of them human – and her bright blue hair actually grows out of her head that color. Who is she? That is the question that haunts her, and she's about to find out.
When beautiful, haunted Akiva fixes fiery eyes on her in an alley in Marrakesh, the result is blood and starlight, secrets unveiled, and a star-crossed love whose roots drink deep of a violent past. But will Karou live to regret learning the truth about herself?
9. Graceling Realm by Kristin Cashore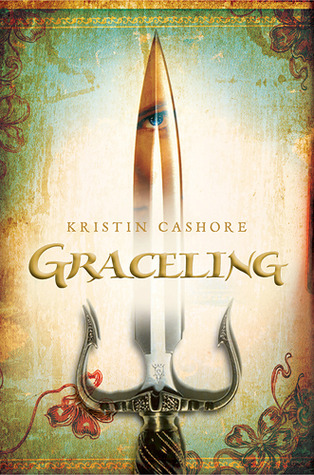 Katsa has been able to kill a man with her bare hands since she was eight—she's a Graceling, one of the rare people in her land born with an extreme skill. As niece of the king, she should be able to live a life of privilege, but Graced as she is with killing, she is forced to work as the king's thug.
She never expects to fall in love with beautiful Prince Po.
She never expects to learn the truth behind her Grace—or the terrible secret that lies hidden far away . . . a secret that could destroy all seven kingdoms with words alone.
With elegant, evocative prose and a cast of unforgettable characters, debut author Kristin Cashore creates a mesmerizing world, a death-defying adventure, and a heart-racing romance that will consume you, hold you captive, and leave you wanting more.
10. Ruined by Amy Tintera
Emelina Flores has nothing. Her home in Ruina has been ravaged by war. She lacks the powers of her fellow Ruined. Worst of all, she witnessed her parents' brutal murders and watched helplessly as her sister, Olivia, was kidnapped.
But because Em has nothing, she has nothing to lose. Driven by a blind desire for revenge, Em sets off on a dangerous journey to the enemy kingdom of Lera. Somewhere within Lera's borders, Em hopes to find Olivia. But in order to find her, Em must infiltrate the royal family.
In a brilliant, elaborate plan of deception and murder, Em marries Prince Casimir, next in line to take Lera's throne. If anyone in Lera discovers Em is not Casimir's true betrothed, Em will be executed on the spot. But it's the only way to salvage Em's kingdom and what is left of her family.
Em is determined to succeed, but the closer she gets to the prince, the more she questions her mission. Em's rage-filled heart begins to soften. But with her life—and her family—on the line, love could be Em's deadliest mistake.
11. The Glittering Court by Richelle Mead
Both a school and a business venture, the Glittering Court is designed to transform impoverished girls into upper-class ladies who appear destined for powerful and wealthy marriages in the New World. Adelaide naturally excels in her training, and even makes a few friends: the fiery former laundress Tamsin and the beautiful Sirminican refugee Mira. She manages to keep her true identity hidden from all but one: the intriguing Cedric Thorn, son of the wealthy proprietor of the Glittering Court.
When Adelaide discovers that Cedric is hiding a dangerous secret of his own, together they hatch a scheme to make the best of Adelaide's deception. Complications soon arise—first as they cross the treacherous seas from Osfrid to Adoria, and then when Adelaide catches the attention of a powerful governor.
But no complication will prove quite as daunting as the potent attraction simmering between Adelaide and Cedric. An attraction that, if acted on, would scandalize the Glittering Court and make them both outcasts in wild, vastly uncharted lands…
12. The Winner's Trilogy by Marie Rutkoski
As a general's daughter in a vast empire that revels in war and enslaves those it conquers, seventeen-year-old Kestrel has two choices: she can join the military or get married. But Kestrel has other intentions. One day, she is startled to find a kindred spirit in a young slave up for auction.
Arin's eyes seem to defy everything and everyone. Following her instinct, Kestrel buys him—with unexpected consequences. It's not long before she has to hide her growing love for Arin. But he, too, has a secret, and Kestrel quickly learns that the price she paid for a fellow human is much higher than she ever could have imagined.
Set in a richly imagined new world, The Winner's Curse by Marie Rutkoski is a story of deadly games where everything is at stake, and the gamble is whether you will keep your head or lose your heart.
13. Frostblood by Elly Blake
Seventeen-year-old Ruby is a Fireblood who has concealed her powers of heat and flame from the cruel Frostblood ruling class her entire life. But when her mother is killed trying to protect her, and rebel Frostbloods demand her help to overthrow their bloodthirsty king, she agrees to come out of hiding, desperate to have her revenge.
Despite her unpredictable abilities, Ruby trains with the rebels and the infuriating – yet irresistible – Arcus, who seems to think of her as nothing more than a weapon. But before they can take action, Ruby is captured and forced to compete in the king's tournaments that pit Fireblood prisoners against Frostblood champions. Now she has only one chance to destroy the maniacal ruler who has taken everything from her – and from the icy young man she has come to love.
14. Snow Likes Ashes by Sara Raasch
Sixteen years ago the Kingdom of Winter was conquered and its citizens enslaved, leaving them without magic or a monarch. Now, the Winterians' only hope for freedom is the eight survivors who managed to escape, and who have been waiting for the opportunity to steal back Winter's magic and rebuild the kingdom ever since.
Orphaned as an infant during Winter's defeat, Meira has lived her whole life as a refugee, raised by the Winterians' general, Sir. Training to be a warrior—and desperately in love with her best friend, and future king, Mather — she would do anything to help her kingdom rise to power again.
So when scouts discover the location of the ancient locket that can restore Winter's magic, Meira decides to go after it herself. Finally, she's scaling towers, fighting enemy soldiers, just as she's always dreamed she would. But the mission doesn't go as planned, and Meira soon finds herself thrust into a world of evil magic and dangerous politics – and ultimately comes to realize that her destiny is not, never has been, her own.
15. The Summoner Series by Taran Matharu
When blacksmith apprentice Fletcher discovers that he has the ability to summon demons from another world, he travels to Adept Military Academy. There the gifted are trained in the art of summoning. Fletcher is put through grueling training as a battlemage to fight in the Hominum Empire's war against orcs. He must tread carefully while training alongside children of powerful nobles. The power hungry, those seeking alliances, and the fear of betrayal surround him. Fletcher finds himself caught in the middle of powerful forces, with only his demon Ignatius for help.
As the pieces on the board maneuver for supremacy, Fletcher must decide where his loyalties lie. The fate of an empire is in his hands. The Novice is the first in a trilogy about Fletcher, his demon Ignatius, and the war against the Orcs.
16. A Court of Thorns and Roses by Sarah J. Maas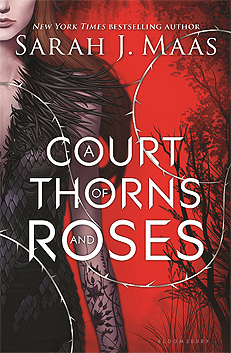 Feyre's survival rests upon her ability to hunt and kill – the forest where she lives is a cold, bleak place in the long winter months. So when she spots a deer in the forest being pursued by a wolf, she cannot resist fighting it for the flesh. But to do so, she must kill the predator and killing something so precious comes at a price …
Dragged to a magical kingdom for the murder of a faerie, Feyre discovers that her captor, his face obscured by a jewelled mask, is hiding far more than his piercing green eyes would suggest. Feyre's presence at the court is closely guarded, and as she begins to learn why, her feelings for him turn from hostility to passion and the faerie lands become an even more dangerous place. Feyre must fight to break an ancient curse, or she will lose him forever.
17. The Queen's Thief Novels by Megan Whalen Turner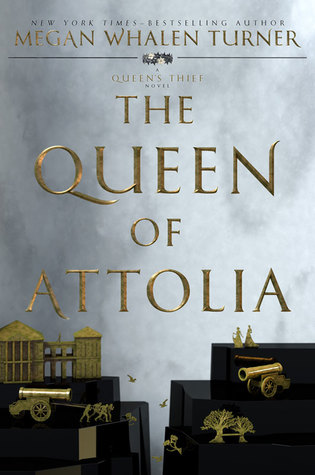 New York Times-bestselling author Megan Whalen Turner's entrancing and award-winning Queen's Thief novels bring to life the world of the epics and feature one of the most charismatic and incorrigible characters of fiction, Eugenides the thief. Megan Whalen Turner's Queen's Thief novels are rich with political machinations and intrigue, battles lost and won, dangerous journeys, divine intervention, power, passion, revenge, and deception.
The brilliant thief Eugenides has visited the Queen of Attolia's palace one too many times, leaving small tokens and then departing unseen. When his final excursion does not go as planned, he is captured by the ruthless queen.
18. Three Dark Crowns by Kendare Blake
In every generation on the island of Fennbirn, a set of triplets is born—three queens, all equal heirs to the crown and each possessor of a coveted magic. Mirabella is a fierce elemental, able to spark hungry flames or vicious storms at the snap of her fingers. Katharine is a poisoner, one who can ingest the deadliest poisons without so much as a stomachache. Arsinoe, a naturalist, is said to have the ability to bloom the reddest rose and control the fiercest of lions.
But becoming the Queen Crowned isn't solely a matter of royal birth. Each sister has to fight for it. And it's not just a game of win or lose…it's life or death. The night the sisters turn sixteen, the battle begins.
The last queen standing gets the crown.
19. The Witchlands by Susan Dennard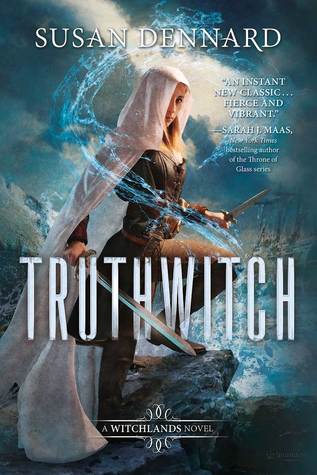 Young witches Safiya and Iseult have a habit of finding trouble. After clashing with a powerful Guildmaster and his ruthless Bloodwitch bodyguard, the friends are forced to flee their home.
Safi must avoid capture at all costs as she's a rare Truthwitch, able to discern truth from lies. Many would kill for her magic, so Safi must keep it hidden – lest she be used in the struggle between empires. And Iseult's true powers are hidden even from herself.
In a chance encounter at Court, Safi meets Prince Merik and makes him a reluctant ally. However, his help may not slow down the Bloodwitch now hot on the girls' heels. All Safi and Iseult want is their freedom, but danger lies ahead. With war coming, treaties breaking and a magical contagion sweeping the land, the friends will have to fight emperors and mercenaries alike. For some will stop at nothing to get their hands on a Truthwitch.
20. An Ember in the Ashes by Sabaa Tahir
Under the Martial Empire, defiance is met with death. Those who do not vow their blood and bodies to the Emperor risk the execution of their loved ones and the destruction of all they hold dear.
It is in this brutal world, inspired by ancient Rome, that Laia lives with her grandparents and older brother. The family ekes out an existence in the Empire's impoverished backstreets. They do not challenge the Empire. They've seen what happens to those who do.
But when Laia's brother is arrested for treason, Laia is forced to make a decision. In exchange for help from rebels who promise to rescue her brother, she will risk her life to spy for them from within the Empire's greatest military academy.
There, Laia meets Elias, the school's finest soldier—and secretly, its most unwilling. Elias wants only to be free of the tyranny he's being trained to enforce. He and Laia will soon realize that their destinies are intertwined—and that their choices will change the fate of the Empire itself.
21. The Ravenspire Novels by C.J. Redwine
Lorelai Diederich, crown princess and fugitive at large, has one mission: kill the wicked queen who took both the Ravenspire throne and the life of her father. To do that, Lorelai needs to use the one weapon she and Queen Irina have in common—magic. She'll have to be stronger, faster, and more powerful than Irina, the most dangerous sorceress Ravenspire has ever seen.
In the neighboring kingdom of Eldr, when Prince Kol's father and older brother are killed by an invading army of magic-wielding ogres, the second-born prince is suddenly given the responsibility of saving his kingdom. To do that, Kol needs magic—and the only way to get it is to make a deal with the queen of Ravenspire, promise to become her personal huntsman…and bring her Lorelai's heart.
But Lorelai is nothing like Kol expected—beautiful, fierce, and unstoppable—and despite dark magic, Lorelai is drawn in by the passionate and troubled king. Fighting to stay one step ahead of the dragon huntsman—who she likes far more than she should—Lorelai does everything in her power to ruin the wicked queen. But Irina isn't going down without a fight, and her final move may cost the princess the one thing she still has left to lose.
---
What's the most bingeable seires you've ever read? Let us know below!
Up next: