Fall is all about pumpkins, spice, and rainbows of leave painting the landscape—oh, wait… this… isn't that kind of post? This is about the books that embrace the creepier aspects of fall, and delve into the mysteries, bloodshed, and monsters instead?
Fine by us, because we love all of the above. Give us thrillers, chillers, a blanket to hide under, and we're all set! Some of the creepiest and best books we've ever read have been hitting sheleves lately, so if you're with us, grab your fave over-the-top, limited edition caffeinated beverage or a handful of that candy you're SUPPOSED to be saving for Halloween, and get ready to curl up with these chilling reads!
The 12 Best Rainy Day Books You Should Be Reading on a Stormy Night
1. Broken Things by Lauren Oliver
Part Slender Man inspired, part true crime-esque, part twisted obsessions—BROKEN THINGS is sure to keep you reading long into the night. Lauren Oliver is a master of plotting and suspense, and she doesn't hold back in this latest mystery rife with shocks.
It's been five years since Summer Marks was brutally murdered in the woods.
Everyone thinks Mia and Brynn killed their best friend. That driven by their obsession with a novel called The Way into Lovelorn the three girls had imagined themselves into the magical world where their fantasies became twisted, even deadly.
The only thing is: they didn't do it.
On the anniversary of Summer's death, a seemingly insignificant discovery resurrects the mystery and pulls Mia and Brynn back together once again. But as the lines begin to blur between past and present and fiction and reality, the girls must confront what really happened in the woods all those years ago—no matter how monstrous.
2. Sawkill Girls by Claire Legrand
"Beware of the woods and the dark, dank deep. He'll follow you home and he won't let you sleep." This creepy AF song is STILL giving us the chills. It's what the children sing on Sawkill Rock, the gorgeous and affluent island community in this creepy read that we cannot recommend enough. Think Stranger Things with a fiercely feminist twist.
Who are the Sawkill Girls?
Marion: The newbie. Awkward and plain, steady and dependable. Weighed down by tragedy and hungry for love she's sure she'll never find.
Zoey: The pariah. Luckless and lonely, hurting but hiding it. Aching with grief and dreaming of vanished girls. Maybe she's broken—or maybe everyone else is.
Val: The queen bee. Gorgeous and privileged, ruthless and regal. Words like silk and eyes like knives; a heart made of secrets and a mouth full of lies.
Their stories come together on the island of Sawkill Rock, where gleaming horses graze in rolling pastures and cold waves crash against black cliffs. Where kids whisper the legend of an insidious monster at parties and around campfires. Where girls have been disappearing for decades, stolen away by a ravenous evil no one has dared to fight… until now.
3. The Merciless by Danielle Vega
This is the perfect book for when you've re-watched The Craft one too many times. This story starts at suspenseful and turns it all the way up to pure horror as it follows four teenage girls performing an exorcism gone wrong.
Brooklyn Stevens sits in a pool of her own blood, tied up and gagged. No one outside of these dank basement walls knows she's here. No one can hear her scream.
Sofia Flores knows she shouldn't have gotten involved. When she befriended Riley, Grace, and Alexis on her first day at school, she admired them, with their perfect hair and their good-girl ways. They said they wanted to save Brooklyn. They wanted to help her. Sofia didn't realize they believed Brooklyn was possessed.
Now, Riley and the girls are performing an exorcism on Brooklyn—but their idea of an exorcism is closer to torture than salvation. All Sofia wants is to get out of this house. But there is no way out. Sofia can't go against the other girls… unless she wants to be next…
4. There's Someone Inside Your House by Stephanie Perkins
Does the name not say it all? When the students at her new high school begin meeting slasher-movie-style fates at the hands of an unknown serial killer, new girl Makani starts to fear that she hasn't traveled far enough to escape the dark secrets of her past…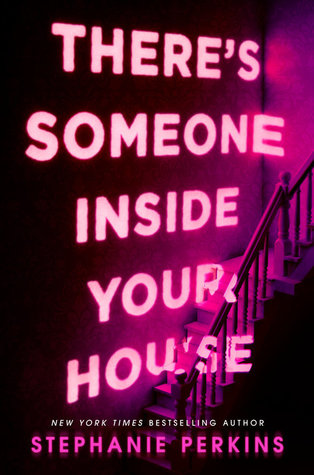 Love hurts…
Makani Young thought she'd left her dark past behind her in Hawaii, settling in with her grandmother in landlocked Nebraska. She's found new friends and has even started to fall for mysterious outsider Ollie Larsson. But her past isn't far behind.
Then, one by one, the students of Osborne Hugh begin to die in a series of gruesome murders, each with increasingly grotesque flair. As the terror grows closer and her feelings for Ollie intensify, Makani is forced to confront her own dark secrets.
5. You May Now Kill the Bride by R.L. Stine
The mastermind of scary stories himself—R.L. Stine—returns to Fear Street with this tale of a decades old curse that plagues the women of one family every time they prepare to walk down the aisle. Love, curses… what more could you want?!
Two sisters, divided by time. Each with a terrible resentment she can barely contain.
Two Fear family weddings, decades apart… Each bride will find that the ancient curse that haunts the Fears LIVES ON. It feeds off the evil that courses through their blood. It takes its toll in unexpected ways, and allows dark history to repeat itself.
In this all-new Fear Street story, family ties bind sisters together—till DEATH do they part.
6. The Dark Descent of Elizabeth Frankenstein by Kiersten White
Ready to hear the a twist on the classic tale, from the point of view you should've gotten long ago? As his only companion, Elizabeth's survival depends on her ability to stay in the good graces of the infamous Victor Frankenstein. Can she save him? Or are they doomed to the same dark fate?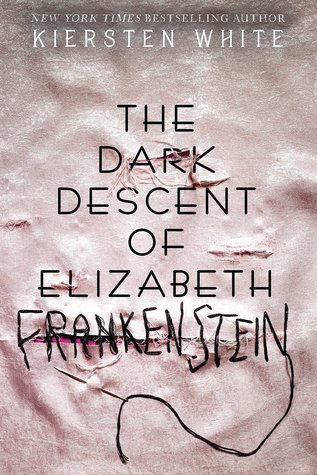 Elizabeth Lavenza hasn't had a proper meal in weeks. Her thin arms are covered with bruises from her "caregiver," and she is on the verge of being thrown into the streets… until she is brought to the home of Victor Frankenstein, an unsmiling, solitary boy who has everything–except a friend.
Victor is her escape from misery. Elizabeth does everything she can to make herself indispensable–and it works. She is taken in by the Frankenstein family and rewarded with a warm bed, delicious food, and dresses of the finest silk. Soon she and Victor are inseparable.
But her new life comes at a price. As the years pass, Elizabeth's survival depends on managing Victor's dangerous temper and entertaining his every whim, no matter how depraved. Behind her blue eyes and sweet smile lies the calculating heart of a girl determined to stay alive no matter the cost… as the world she knows is consumed by darkness.
7. The Wicked Deep by Shea Ernshaw
If you're ready for a darker tale after rewatching Hocus Pocus for the 50th time, can we recommend the story of these three sister-witches? Sentenced to death long ago but steal wreaking havoc, this atmospheric story is only made better by the crisp autumn air.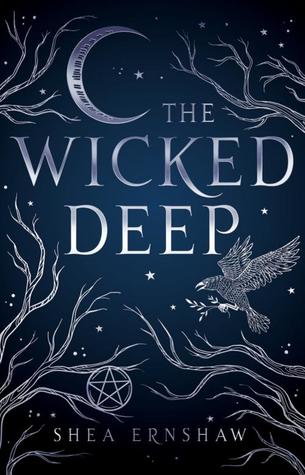 Welcome to the cursed town of Sparrow, where, two centuries ago, three sisters were sentenced to death for witchery. Stones were tied to their ankles and they were drowned in the deep waters surrounding the town.
Now, for a brief time each summer, the sisters return, stealing the bodies of three weak-hearted girls so that they may seek their revenge, luring boys into the harbor and pulling them under. Like many locals, seventeen-year-old Penny Talbot has accepted the fate of the town. But this year, on the eve of the sisters' return, a boy named Bo Carter arrives; unaware of the danger he has just stumbled into.
Mistrust and lies spread quickly through the salty, rain-soaked streets. The townspeople turn against one another. Penny and Bo suspect each other of hiding secrets. And death comes swiftly to those who cannot resist the call of the sisters.
8. Three Dark Crowns by Kendare Blake
By sheer concept alone, you know this book is going to be chilling. But Kendare writes this tale with such a haunting, foreboding atmosphere, and so many twists to keep you turning pages as quickly as possible, that we know it will also keep you reading through the night.
In every generation on the island of Fennbirn, a set of triplets is born: three queens, all equal heirs to the crown and each possessor of a coveted magic. Mirabella is a fierce elemental, able to spark hungry flames or vicious storms at the snap of her fingers. Katharine is a poisoner, one who can ingest the deadliest poisons without so much as a stomachache. Arsinoe, a naturalist, is said to have the ability to bloom the reddest rose and control the fiercest of lions.
But becoming the Queen Crowned isn't solely a matter of royal birth. Each sister has to fight for it. And it's not just a game of win or lose…it's life or death. The night the sisters turn sixteen, the battle begins. The last queen standing gets the crown.
9. This Savage Song by V.E. Schwab
A paranormal war between monsters and humans. A twisting narrative that winds between the heirs of both halves of Verity. Dark creatures, darker humans, fights, chases… you know what? You should just read it.
Kate Harker and August Flynn are the heirs to a divided city—a city where the violence has begun to breed actual monsters. All Kate wants is to be as ruthless as her father, who lets the monsters roam free and makes the humans pay for his protection.
All August wants is to be human, as good-hearted as his own father, to play a bigger role in protecting the innocent—but he's one of the monsters. One who can steal a soul with a simple strain of music. When the chance arises to keep an eye on Kate, who's just been kicked out of her sixth boarding school and returned home, August jumps at it. But Kate discovers August's secret, and after a failed assassination attempt the pair must flee for their lives.
In This Savage Song, Victoria Schwab creates a gritty, seething metropolis, one worthy of being compared to Gotham and to the four versions of London in her critically acclaimed fantasy for adults, A Darker Shade of Magic. Her heroes will face monsters intent on destroying them from every side—including the monsters within.
10. Scythe by Neal Schusterman
Does anyone write dark dystopia quite like Neal Schusterman? Imagine a futuristic society that's conquered all the causes of death—and now enlists designated lifetakers known as Scythes to keep the population under control. Now imagine you get picked for the job…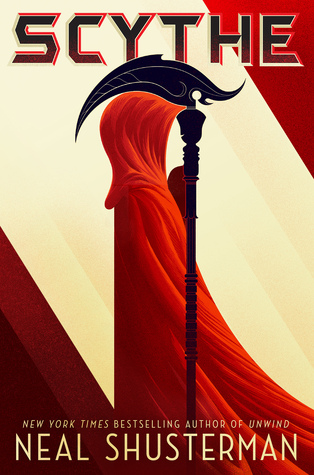 Thou shalt kill.
A world with no hunger, no disease, no war, no misery. Humanity has conquered all those things, and has even conquered death. Now scythes are the only ones who can end life—and they are commanded to do so, in order to keep the size of the population under control.
Citra and Rowan are chosen to apprentice to a scythe—a role that neither wants. These teens must master the "art" of taking life, knowing that the consequence of failure could mean losing their own.
11. Monster by Michael Grant
Speaking of dark dystopias, why not return to one of the worlds we grew up reading? The same virus that caused SO MUCH death and destruction in Michael Grant's original series is now spreading across the globe, and if you want your chills with a side of epic action, then these are the books for you.
Everyone, except the kids trapped in the FAYZ—an invisible dome that was created by an alien virus. Inside the FAYZ, animals began to mutate and teens developed dangerous powers. The terrifying new world was plagued with hunger, lies, and fear of the unknown.
Now, four years later, meteorites are hitting Earth with a virus that is even deadlier. Humans will mutate into creatures with power . . . and the whole world will be exposed.
But power corrupts. As some teens begin to morph into heroes, they will find that others become dangerously out of control and that the world is on the brink of a monstrous battle between good and evil.
And there is only one thing more terrifying than the fear of the unknown: when history repeats itself.
12. The Deepest Roots by Miranda Asebedo
This book opens with a literal tornado and is filled with mystical moments. A ghostly presence, powerful talents, and aggressive encounters make this a great book to curl up with on any night—let alone one so stormy.
Cottonwood Hollow, Kansas, is a strange place. For the past century, every girl has been born with a special talent, like the ability to Fix any object, Heal any wound, or Find what is missing.
To best friends Rome, Lux, and Mercy, their abilities often feel more like a curse. Rome may be able to Fix anything she touches, but that won't help her mom pay rent. Lux's ability to attract any man with a smile has always meant danger. And although Mercy can make Enough of whatever is needed, even that won't help when her friendship with Rome and Lux is tested.
Follow three best friends in this enchanting debut novel as they discover that friendship is stronger than curses, that trust is worth the risk, and sometimes, what you've been looking for has been under your feet the whole time.
---
What books are you reading this fall? Let us know in the comments!
Up next: