When the Teen Titans came out with their hit bop, "Catchin' Feelings Villains," we really felt that. Villains in literature, especially some featured in YA, are some of the most complex characters we ever come across, and part of what makes their plight so understandable is that they're not always wrong. Plenty of times they hadn't actually meant to get in that situation, or maybe the protagonists actually did wrong them. Sure, maybe they'll go about things the wrong way, but the way their motives are layered is like a masterpiece.
So, in the spirit of us Catchin' Villains, here are some of the best villains in YA that we can't help but kind of root for as we read. They don't need to have a happy ending, really, but they don't deserve all that suffering!
Villains in Literature We Can't Help But (Kind of) Root For
1. Iris Cygnet (Red Queen series)
Iris was a late addition to Mare Barrow's world, and just by chance and upbringing ended up on a side opposite our favorite lightning girl. Shifting political alliances sent her to Maven's side, but the WAR STORM chapters that showed her continually scheming and aware of how precarious her positioning was.
Mare Barrow's world is divided by blood—those with common, Red blood serve the Silver-blooded elite, who are gifted with superhuman abilities. Mare is a Red, scraping by as a thief in a poor, rural village, until a twist of fate throws her in front of the Silver court. Before the king, princes, and all the nobles, she discovers she has an ability of her own.
To cover up this impossibility, the king forces her to play the role of a lost Silver princess and betroths her to one of his own sons. As Mare is drawn further into the Silver world, she risks everything and uses her new position to help the Scarlet Guard—a growing Red rebellion—even as her heart tugs her in an impossible direction.
One wrong move can lead to her death, but in the dangerous game she plays, the only certainty is betrayal.
2. Pietyr Renard (Three Dark Crowns series)
Pietyr is so loyal and dedicated to Katharine (even if it is in kind of an odd, twisted way), that we have to remind ourselves sometimes that Katharine is arguably the most villainous of the three sisters. We want these two to get together and be happy—but how happy do we really want them to be while we root for the other triplets?! Ugh, it's all so complicated.
Three queens, all equal heirs to the crown and each possessor of a coveted magic. Mirabella is an elemental, able to spark hungry flames or vicious storms at the snap of her fingers. Katharine is a poisoner, one who can ingest the deadliest poisons without so much as a stomachache. Arsinoe, a naturalist, is said to have the ability to bloom the reddest rose and control the fiercest of lions.
But becoming the Queen Crowned isn't solely a matter of royal birth. Each sister has to fight for it. And it's not just a game of win or lose… it's life or death. The night the sisters turn sixteen, the battle begins. The last queen standing gets the crown.
3. Holland Vosijk (Shades of Magic series)
If you told us around the first book that we would someday feel pity for the poor, murderous, slave to the Danes, we would have called you a liar. But we ended up full of sad, tragic feelings for Holland by the third book, and that was not what we thought we signed up for!
Kell was raised in Arnes—Red London—and officially serves the Maresh Empire as an ambassador, traveling between the frequent bloody regime changes in White London and the court of George III in the dullest of Londons, the one without any magic left to see.
Unofficially, Kell is a smuggler, servicing people willing to pay for even the smallest glimpses of a world they'll never see. It's a defiant hobby with dangerous consequences, which Kell is now seeing firsthand.
After an exchange goes awry, Kell escapes to Grey London and runs into Delilah Bard, a cut-purse with lofty aspirations. She first robs him, then saves him from a deadly enemy, and finally forces Kell to spirit her to another world for a proper adventure.
4. Celeste Newsome (The Selection series)
Did anyone else love Celeste from the very beginning, or was that just us?! She was just so here for the drama and it made the competition ten times as intense as it would've been otherwise. Who doesn't love a villain fighting for love?! And she did not deserve that ending!
For thirty-five girls, the Selection is the chance of a lifetime. The opportunity to escape the life laid out for them since birth. To be swept up in a world of glittering gowns and priceless jewels. To live in a palace and compete for the heart of gorgeous Prince Maxon.
But for America Singer, being Selected is a nightmare. It means turning her back on her secret love with Aspen, who is a caste below her. Leaving her home to enter a fierce competition for a crown she doesn't want. Living in a palace that is constantly threatened by violent rebel attacks.
Then America meets Prince Maxon. Gradually, she starts to question all the plans she's made for herself—and realizes that the life she's always dreamed of may not compare to a future she never imagined.
5. Xifeng (Forest of a Thousand Lanterns duology)
It feels weird putting Xifeng on this list because she's actually the protagonist of FOREST OF A THOUSAND LANTERNS. But her character arc is so brutally crafted, the layers of depth so carefully folded in, that by book's end we're as terrified as we are intrigued.
Eighteen-year-old Xifeng is beautiful. The stars say she is destined for greatness, that she is meant to be Empress of Feng Lu. But only if she embraces the darkness within her. Growing up as a peasant in a forgotten village on the edge of the map, Xifeng longs to fulfill the destiny promised to her by her cruel aunt, the witch Guma, who has read the cards and seen glimmers of Xifeng's majestic future. But is the price of the throne too high?
Because in order to achieve greatness, she must spurn the young man who loves her and exploit the callous magic that runs through her veins–sorcery fueled by eating the hearts of the recently killed. For the god who has sent her on this journey will not be satisfied until his power is absolute.
6. Rielle Dardenne (Furyborn)
The prologue alone guaranteed Rielle's involvement in all that chaos and destruction, and yet we STILL couldn't help but root for her to pass each trial as they came! It doesn't matter if we know what her relationships lead to or what she ends up doing. She is such an intricate, strong character that we can't look away from every bad decision she makes.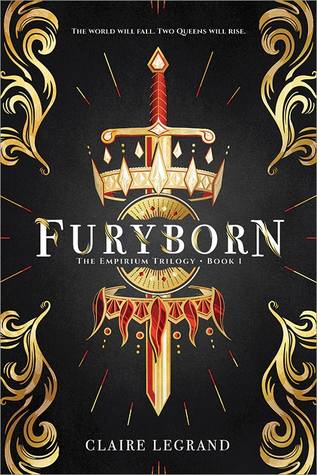 When assassins ambush her best friend, the crown prince, Rielle Dardenne risks everything to save him, exposing her ability to perform all seven kinds of elemental magic. The only people who should possess this extraordinary power are a pair of prophesied queens: a queen of light and salvation and a queen of blood and destruction. To prove she is the Sun Queen, Rielle must endure seven trials to test her magic. If she fails, she will be executed…unless the trials kill her first.
A thousand years later, the legend of Queen Rielle is a mere fairy tale to bounty hunter Eliana Ferracora. When the Undying Empire conquered her kingdom, she embraced violence to keep her family alive. Now, she believes herself untouchable–until her mother vanishes without a trace, along with countless other women in their city. To find her, Eliana joins a rebel captain on a dangerous mission and discovers that the evil at the heart of the empire is more terrible than she ever imagined.
As Rielle and Eliana fight in a cosmic war that spans millennia, their stories intersect, and the shocking connections between them ultimately determine the fate of their world–and of each other.
7. The Darkling (The Grishaverse)
When we first read SHADOW AND BONE, we were like, "oh, who is this mysterious guy?" We had no idea what was in store for us in the rest of the trilogy, and we slowly, despite our better judgment, felt ourselves grow so attached to the Darkling's unique brand of wickedness. We know he won't be back in KING OF SCARS, but a book nerd can dream.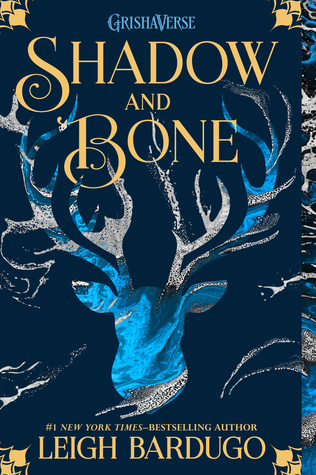 Surrounded by enemies, the once-great nation of Ravka has been torn in two by the Shadow Fold, a swath of near impenetrable darkness crawling with monsters who feast on human flesh. Now its fate may rest on the shoulders of one lonely refugee.
Alina Starkov has never been good at anything. But when her regiment is attacked on the Fold and her best friend is brutally injured, Alina reveals a dormant power that saves his life—a power that could be the key to setting her war-ravaged country free. Wrenched from everything she knows, Alina is whisked away to the royal court to be trained as a member of the Grisha, the magical elite led by the mysterious Darkling.
Yet nothing in this lavish world is what it seems. With darkness looming and an entire kingdom depending on her untamed power, Alina will have to confront the secrets of the Grisha… and the secrets of her heart.
8. Leda Cole (The Thousandth Floor series)
Can we really call Leda a villain after THE DAZZLING HEIGHTS? Katharine McGee did the impossible and actually made us care about her after putting her squarely in the center of all of book one's conflict! The Tower's residents are all so well developed that we want them all to end up happy at the end of this trilogy—and we can't believe that includes Leda, too.
Welcome to Manhattan, 2118. A hundred years in the future, New York is a city of innovation and dreams. Everyone there wants something… and everyone has something to lose.
Leda Cole's flawless exterior belies a secret addiction—to a drug she never should have tried, and a boy she never should have touched. Eris Dodd-Radson's beautiful, carefree life falls to pieces when a heartbreaking betrayal tears her family apart. Rylin Myers's job on one of the highest floors sweeps her into a world—and a romance—she never imagined… but will this new life cost Rylin her old one? Watt Bakradi is a tech genius with a secret: he knows everything about everyone. But when he's hired to spy for an upper-floor girl, he finds himself caught in a complicated web of lies.
And living above everyone else on the thousandth floor is Avery Fuller, the girl genetically designed to be perfect. The girl who seems to have it all—yet is tormented by the one thing she can never have.
9. Victor Vale (The Villains series)
Is Victor the villain in these books? Is Eli? The setup of VICIOUS presents Victor with the backstory typical of that of a classic villain, but as one of book one's central protagonists, his motives are completely understandable! And being in his head, Eli definitely comes across as the story's true villain. So where will it go from here?! We have no freaking idea.
Victor and Eli started out as college roommates—brilliant, arrogant, lonely boys who recognized the same sharpness and ambition in each other. In their senior year, a shared research interest in adrenaline, near-death experiences, and seemingly supernatural events reveals an intriguing possibility: that under the right conditions, someone could develop extraordinary abilities. But when their thesis moves from the academic to the experimental, things go horribly wrong.
Ten years later, Victor breaks out of prison, determined to catch up to his old friend (now foe), aided by a young girl whose reserved nature obscures a stunning ability. Meanwhile, Eli is on a mission to eradicate every other super-powered person that he can find—aside from his sidekick, an enigmatic woman with an unbreakable will. Armed with terrible power on both sides, driven by the memory of betrayal and loss, the archnemeses have set a course for revenge—but who will be left alive at the end?
10. Minya (The Strange the Dreamer duology)
We can't help but feel bad for Minya! Everything she is now is the heartbreaking result of a war, and she used up everything she had to so selflessly save everyone. Is she the villain of this story? Yes, maybe! But that doesn't mean we want her to get her happy ending any less!
The dream chooses the dreamer, not the other way around–and Lazlo Strange, war orphan and junior librarian, has always feared that his dream chose poorly. Since he was five years old he's been obsessed with the mythic lost city of Weep. Then a stunning opportunity presents itself, in the form of a hero called the Godslayer and a band of legendary warriors, and he has to seize his chance or lose his dream forever.
What happened in Weep two hundred years ago to cut it off from the rest of the world? And who is the blue-skinned goddess who appears in Lazlo's dreams?
The answers await in Weep.
---
Who are your favorite YA villains? Let us know in the comments!
Up next: