Today, we're taking a moment to celebrate some awesome books that remind us you don't have to be a certain size or shape to be the hero, win the battle, or get the love interest of your dreams. That's right, we're talking body positivity, with the help of one of our favorite authors out there spreading the message—the one and only Julie Murphy!
Julie stole our hearts with DUMPLIN' (soon to be a major motion picture!!) and takes things to the next level with her new companion novel PUDDIN'. It's about two girls who are unlikely friends and seem like polar opposites… except for the fact that they both turn out to be total badasses that refuse to take no for an answer when it comes to pursuing their dreams. PUDDIN' has so many messages we need more of in our lives; it's equal parts heart-flutteringly adorable and inspirational, and it'll make you cheer out loud.
If you haven't read it yet, you need to start right now!
After finishing PUDDIN', we were desperate to get our hands on more inspiring reads about loving your body, and Julie was nice enough to share a list of some of her favorite recs. Scroll down to see what made it onto her list!
9 Body Positive Books Rec'd by Julie Murphy
1. The Summer of Jordi Perez by Amy Spalding
Julie says, "This book is the queer fat girl rom-com I've been waiting my whole life for. And bonus points for cheeseburgers!
Seventeen, fashion-obsessed, and gay, Abby Ives has always been content playing the sidekick in other people's lives. While her friends and sister have plunged headfirst into the world of dating and romances, Abby has stayed focused on her plus-size style blog and her dreams of taking the fashion industry by storm. When she lands a prized internship at her favorite local boutique, she's thrilled to take her first step into her dream career. She doesn't expect to fall for her fellow intern, Jordi Perez. Abby knows it's a big no-no to fall for a colleague. She also knows that Jordi documents her whole life in photographs, while Abby would prefer to stay behind the scenes.
Then again, nothing is going as expected this summer. She's competing against the girl she's kissing to win a paid job at the boutique. She's somehow managed to befriend Jax, a lacrosse-playing bro type who needs help in a project that involves eating burgers across L.A.'s eastside. Suddenly, she doesn't feel like a sidekick. Is it possible Abby's finally in her own story?
2. Landwhale by Jes Baker
Jes is, without a doubt, one of the leading voices in the body acceptance movement. I love everything she stands for and this book is no exception.
Jes Baker burst onto the body positivity scene when she created her own ads mocking Abercrombie & Fitch for discriminating against all body types—a move that landed her on the Today Show and garnered a loyal following for her raw, honest, and attitude-filled blog missives.
Building on the manifesta power of Things, this memoir goes deeply into Jes's inner life, from growing up a fat girl to dating while fat. With material that will have readers laughing and crying along with Jes's experience, this new book is a natural fit with her irreverent, open-book style.
3. Dietland by Sarai Walker
I promise this book will get you fired up about loving your body and smashing the patriarchy. Read it now before the show hits the small screen this summer!
Plum Kettle does her best not to be noticed, because when you're fat, to be noticed is to be judged. Or mocked. Or worse. With her job answering fan mail for a popular teen girls' magazine, she is biding her time until her weight-loss surgery. Only then can her true life as a thin person finally begin.
Then, when a mysterious woman starts following her, Plum finds herself falling down a rabbit hole and into an underground community of women who live life on their own terms. There Plum agrees to a series of challenges that force her to deal with her past, her doubts, and the real costs of becoming "beautiful." At the same time, a dangerous guerrilla group called "Jennifer" begins to terrorize a world that mistreats women, and as Plum grapples with her personal struggles, she becomes entangled in a sinister plot. The consequences are explosive.
4. Gabi, A Girl in Pieces by Isabel Quintero
Isabel writes with such nuance and care. This is a reread book for me and I always find myself discovering new things about Gabi every time.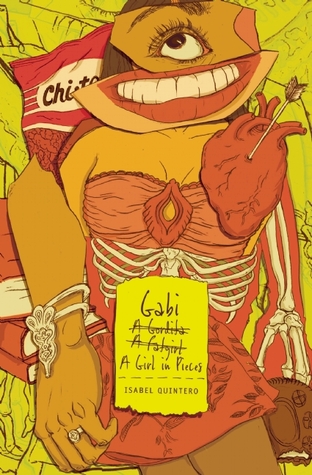 Gabi Hernandez chronicles her last year in high school in her diary: college applications, Cindy's pregnancy, Sebastian's coming out, the cute boys, her father's meth habit, and the food she craves. And best of all, the poetry that helps forge her identity.
July 24
My mother named me Gabriella, after my grandmother who, coincidentally, didn't want to meet me when I was born because my mother was unmarried, and therefore living in sin. My mom has told me the story many, many, MANY, times of how, when she confessed to my grandmother that she was pregnant with me, her mother beat her. BEAT HER! She was twenty-five…
5. The Upside of Unrequited by Becky Albertalli
Becky Albertalli—need I say more? Molly's story is heart wrenchingly good and her relationship with her body is both familiar and refreshing to see on the page at the same time.
Seventeen-year-old Molly Peskin-Suso knows all about unrequited love. No matter how many times her twin sister, Cassie, tells her to woman up, Molly can't stomach the idea of rejection. So she's careful. Fat girls always have to be careful.
Then a cute new girl enters Cassie's orbit, and for the first time ever, Molly's cynical twin is a lovesick mess. Meanwhile, Molly's totally not dying of loneliness—except for the part where she is. Luckily, Cassie's new girlfriend comes with a cute hipster-boy sidekick. If Molly can win him over, she'll get her first kiss and she'll get her twin back.
There's only one problem: Molly's coworker, Reid. He's a chubby Tolkien superfan with a season pass to the Ren Faire, and there's absolutely no way Molly could fall for him. Right?
6. Shrill by Lindy West
This book had me pumping my fist in the air and shouting "Yes!" Lindy touches on lots of different topics, but her fat girl essays have a special place in my heart.
From a painfully shy childhood in which she tried, unsuccessfully, to hide her big body and even bigger opinions; to her public war with stand-up comedians over rape jokes; to her struggle to convince herself, and then the world, that fat people have value; to her accidental activism and never-ending battle royale with Internet trolls, Lindy narrates her life with a blend of humor and pathos that manages to make a trip to the abortion clinic funny and wring tears out of a story about diarrhea.
With inimitable good humor, vulnerability, and boundless charm, Lindy boldly shares how to survive in a world where not all stories are created equal and not all bodies are treated with equal respect, and how to weather hatred, loneliness, harassment, and loss—and walk away laughing.
7. The Earth, My Butt, & Other Big Round Things by Carolyn Mackler
This YA classic is a must-read and it's getting a fancy anniversary re-release this year! And a companion novel!
Fifteen-year-old Virginia Shreves has a larger-than-average body and a plus-size inferiority complex, especially when she compares herself to her slim, brilliant, picture-perfect family. But that's before a shocking phone call—and a horrifying allegation—about her rugby-star brother changes everything.
With irreverent humor and surprising gravity, Carolyn Mackler creates an endearingly blunt heroine who speaks to every teen who struggles with family expectations, and proves that the most impressive achievement is to be true to yourself.
8. Big Gal Yoga by Valerie Sagun
Yoga is something that's helped me get in tune and appreciate my body in a way I never thought was possible. Valerie offers great insights and even modifications for all kinds of bodies and levels of experience. Every Body Yoga by Jessamyn Stanley is also worth checking out.
Instagram star Valerie Sagun is a powerful voice in the body-positive movement: With 120,000 followers on Instagram and constant traffic on her Tumblr site, readers love her for her fearless message and insights on the benefits of yoga for all bodies.
Rejecting the idea that all yogis have to be skinny white women in fancy Lululemon gear, Valerie—size 22, mixed race, and tattooed—offers readers all of the inspiration and guidance they need to become yogis at any size.
Yoga has long been one of the most popular fitness trends in the U.S., and the body positivity community is now bigger than ever.
9. Undead Girl Gang by Lily Anderson
This might just be my favorite debut book of the year! A fat main character, an undead best friend, and witchy antics? Sign me up!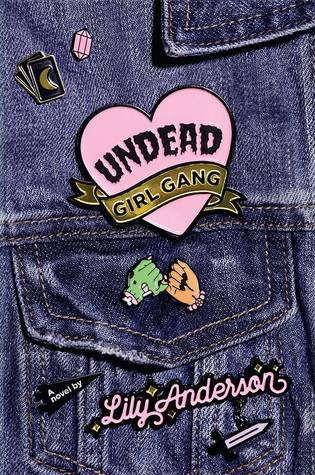 Mila Flores and her best friend Riley have always been inseparable. There's not much excitement in their small town of Cross Creek, so Mila and Riley make their own fun, devoting most of their time to Riley's favorite activity: amateur witchcraft.
So when Riley and two Fairmont Academy mean girls die under suspicious circumstances, Mila refuses to believe everyone's explanation that her BFF was involved in a suicide pact. Instead, armed with a tube of lip gloss and an ancient grimoire, Mila does the unthinkable to uncover the truth: she brings the girls back to life.
Unfortunately, Riley, June, and Dayton have no recollection of their murders, but they do have unfinished business to attend to. Now, with only seven days until the spell wears off and the girls return to their graves, Mila must wrangle the distracted group of undead teens and work fast to discover their murderer…before the killer strikes again.
---
So there you have it—from yoga guides to YA contemporaries to the undead—Julie's included something for everyone in her list of recs! Any recs of your own you'd add to the list? Tell us in the comments below!
Up next: