By now you know that 13 Reasons Why, the adaptation of Jay Asher's hit novel has premiered on Netflix. If you're anything like us, you're probably planning to binge the whole series this weekend while you ugly cry and eat ice cream in bed. We expect to have a violent YA hangover after this binge so in the spirit of planning ahead, here is a list of 13 books to read if you loved 13 Reasons Why!
History Is All You Left Me by Adam Silvera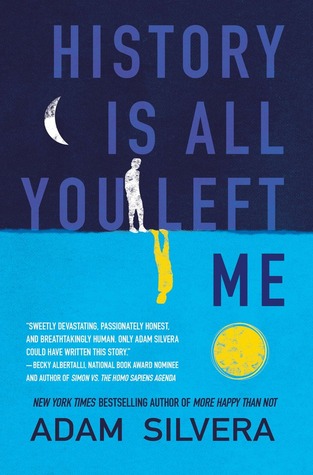 You're gonna need a lot of kleenex for this one. If you weirdly  loved all the tears you shed while binging 13 Reasons Why, then History Is All You Left Me by Adam Silvera is right up your ally. Get ready for the water works.
When Griffin's first love and ex-boyfriend, Theo, dies in a drowning accident, his universe implodes. Even though Theo had moved to California for college and started seeing Jackson, Griffin never doubted Theo would come back to him when the time was right. But now, the future he's been imagining for himself has gone far off course. If Griffin is ever to rebuild his future, he must first confront his history, every last heartbreaking piece in the puzzle of his life.
Add History Is All You Left Me to your Goodreads shelf!
Before I Fall By Lauren Oliver
Lauren Oliver is about to make you question everything. If you liked the mystery and thrill of 13 Reasons Why, then get ready to fall hard for Before I Fall. Before I Fall brings you all the High School drama, secrets, and heart ache that you loved about 13 Reasons Why.
Samantha Kingston has it all: looks, popularity, the perfect boyfriend. Friday, February 12, should be just another day in her charmed life. Instead, it turns out to be her last.
The catch? Samantha still wakes up the next morning. Living the last day of her life seven times during one miraculous week, she will untangle the mystery surrounding her death—and discover the true value of everything she is in danger of losing.
Add Before I Fall to your Goodreads Shelf! 
More Happy Than Not By Adam Silvera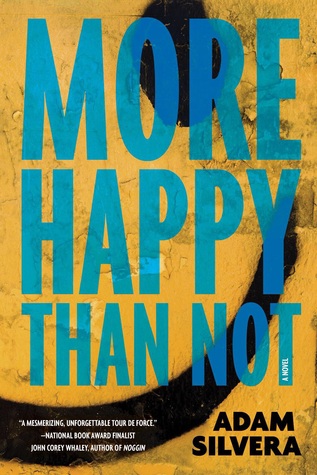 Similar to 13 Reasons Why, More Happy Than Not deals with the hard topics of suicide and loss. This book is on the heavier side of this list, so be prepared for a gritty, raw, and real read from Adam Silvera.
In the months after his father's suicide, it's been tough for 16-year-old Aaron Soto to find happiness again–but he's still gunning for it. With the support of his girlfriend Genevieve and his overworked mom, he's slowly remembering what that might feel like. But grief and the smile-shaped scar on his wrist prevent him from forgetting completely.
When Genevieve leaves for a couple of weeks, Aaron spends all his time hanging out with this new guy, Thomas. Aaron's crew notices, and they're not exactly thrilled. But Aaron can't deny the happiness Thomas brings or how Thomas makes him feel safe from himself, despite the tensions their friendship is stirring with his girlfriend and friends. Since Aaron can't stay away from Thomas or turn off his newfound feelings for him, he considers turning to the Leteo Institute's revolutionary memory-alteration procedure to straighten himself out, even if it means forgetting who he truly is.
Add More Happy Than Not to your Goodreads shelf! 
I'll Give You The Sun By Jandy Nelson
I'll GiveYou The Sun will give you characters you can't enough of, and that weird feeling you in your stomach the entire time you were watching 13 Reasons Why. This book is about being broken, betrayed, lost, and found.
Jude and her twin brother, Noah, are incredibly close. At thirteen, isolated Noah draws constantly and is falling in love with the charismatic boy next door, while daredevil Jude cliff-dives and wears red-red lipstick and does the talking for both of them. But three years later, Jude and Noah are barely speaking. Something has happened to wreck the twins in different and dramatic ways . . until Jude meets a cocky, broken, beautiful boy, as well as someone else—an even more unpredictable new force in her life. The early years are Noah's story to tell. The later years are Jude's. What the twins don't realize is that they each have only half the story, and if they could just find their way back to one another, they'd have a chance to remake their world.
Add I'll Give You The Sun to your Goodreads shelf! 
This Is Where It Ends By Marieke Nijkamp
This Is Where It Ends will keep your heart racing after you watch 13 Reasons Why. This Is Where It Ends explores the cause and effects of a tragic school shooting.
10:00 a.m. The principal of Opportunity High School finishes her speech, welcoming the entire student body to a new semester and encouraging them to excel and achieve.
10:02 a.m. The students get up to leave the auditorium for their next class.
10:03 a.m. The auditorium doors won't open.
10:05 a.m. Someone starts shooting.
Told from four different perspectives over the span of fifty-four harrowing minutes, terror reigns as one student's calculated revenge turns into the ultimate game of survival.
Add This Is Where It Ends to your Goodreads shelf! 
Me, Earl, & The Dying Girl By Jesse Andrews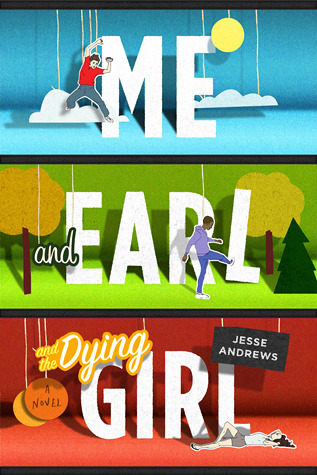 Me, & Earl, & The Dying Girl will give you all the feels. We're talkin' romance + heartbreak + tragedy. You'll fall in love with these characters.
Greg Gaines is the last master of high school espionage, able to disappear at will into any social environment. He has only one friend, Earl, and together they spend their time making movies, their own incomprehensible versions of Coppola and Herzog cult classics.
Until Greg's mother forces him to rekindle his childhood friendship with Rachel.
Rachel has been diagnosed with leukemia—-cue extreme adolescent awkwardness—-but a parental mandate has been issued and must be obeyed. When Rachel stops treatment, Greg and Earl decide the thing to do is to make a film for her, which turns into the Worst Film Ever Made and becomes a turning point in each of their lives.
And all at once Greg must abandon invisibility and stand in the spotlight.
Add Me, & Earl, & The Dying Girl to your Goodreads shelf! 
If I Stay By Gayle Forman
*cue tears* Similar to 13 Reasons Why, If I Stay explored the events leading up to and following the tragic loss of a young teen. If I Stay also got a bomb adaptation with Chloe Moretz that literally changed us forever.
Choices. Seventeen-year-old Mia is faced with some tough ones: Stay true to her first love—music—even if it means losing her boyfriend and leaving her family and friends behind?
Then one February morning Mia goes for a drive with her family, and in an instant, everything changes. Suddenly, all the choices are gone, except one. And it's the only one that matters.
If I Stay is a heartachingly beautiful book about the power of love, the true meaning of family, and the choices we all make.
Add If I Stay to your Goodreads shelf!
The Perks of Being A Wallflower By Stephen Chbosky
Perks Of Being A Wallflower explores mental health in a raw and real way, and reminds us of the larger themes present in 13 Reasons Why. This book will give you a sense of feeling infinite.
Perks follows observant "wallflower" Charlie as he charts a course through the strange world between adolescence and adulthood. First dates, family drama, and new friends. Sex, drugs, and The Rocky Horror Picture Show. Devastating loss, young love, and life on the fringes. Caught between trying to live his life and trying to run from it, Charlie must learn to navigate those wild and poignant roller-coaster days known as growing up.
Add The Perks Of Being A Wallflower to your Goodreads shelf! 
It's Kind Of A Funny Story By Ned Vizzini
It's Kind Of A Funny Story is a remarkably moving tale about the unexpected road to happiness. Like 13 Reasons Why, this story explores suicide and the importance of  mental health.
Ambitious New York City teenager Craig Gilner is determined to succeed at life – which means getting into the right high school to get into the right job. But once Craig aces his way into Manhattan's Executive Pre-Professional High School, the pressure becomes unbearable. He stops eating and sleeping until, one night, he nearly kills himself.
Craig's suicidal episode gets him checked into a mental hospital, where his new neighbors include a transsexual sex addict, a girl who has scarred her own face with scissors, and the self-elected President Armelio. There, Craig is finally able to confront the sources of his anxiety.
Add It's Kind Of A Funny Story to your Goodreads shelf! 
The Last Time We Say Goodbye By Cynthia Hand
In the same vein as 13 Reasons Why, The Last Time We Say Goodbye follows the story of those left behind when a loved one commits suicide. This is a gorgeous and heart-wrenching story  of love, loss, and letting go.
The last time Lex was happy, it was before. When she had a family that was whole. A boyfriend she loved. Friends who didn't look at her like she might break down at any moment.
Now she's just the girl whose brother killed himself. And it feels like that's all she'll ever be.
As Lex starts to put her life back together, she tries to block out what happened the night Tyler died. But there's a secret she hasn't told anyone-a text Tyler sent, that could have changed everything.Lex's brother is gone. But Lex is about to discover that a ghost doesn't have to be real to keep you from moving on.
Add The Last Time We Say Goodbye to your Goodreads shelf! 
Girl in Pieces By Kathleen Glasgow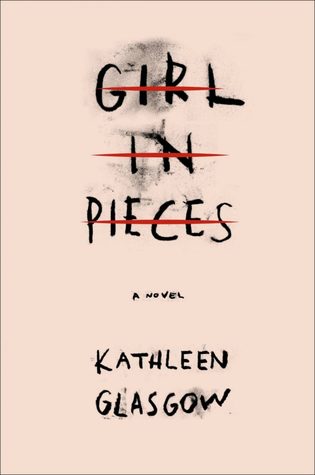 Girl In Pieces is a story about how to recover from immense loss when it seems impossible to move on. Trust us when we say that this one will tug on your heart strings.
Charlotte Davis is in pieces. At seventeen she's already lost more than most people lose in a lifetime. But she's learned how to forget. The broken glass washes away the sorrow until there is nothing but calm. You don't have to think about your father and the river. Your best friend, who is gone forever. Or your mother, who has nothing left to give you.
Every new scar hardens Charlie's heart just a little more, yet it still hurts so much. It hurts enough to not care anymore, which is sometimes what has to happen before you can find your way back from the edge.
Add Girl In Pieces to your Goodreads shelf! 
We Are Okay By Nina Lacour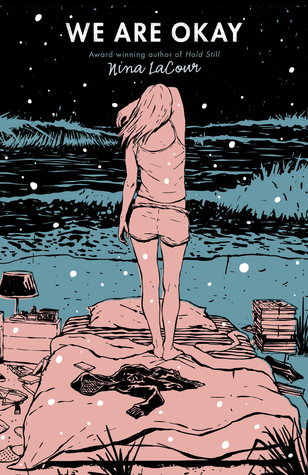 We Are Okay is a book about changing relationships, self discover, and emotions. It is about family, love, grief, and solitude. This will give you the feels + more.
You go through life thinking there's so much you need…Until you leave with only your phone, your wallet, and a picture of your mother.
Marin hasn't spoken to anyone from her old life since the day she left everything behind. No one knows the truth about those final weeks. Not even her best friend, Mabel. But even thousands of miles away from the California coast, at college in New York, Marin still feels the pull of the life and tragedy she's tried to outrun. Now, months later, alone in an emptied dorm for winter break, Marin waits. Mabel is coming to visit, and Marin will be forced to face everything that's been left unsaid and finally confront the loneliness that has made a home in her heart.
Add We Are Okay to your Goodreads shelf! 
Everything That Makes You By Moriah Mcstay
Everything That Makes You is full of what if's and what could have been's, the same way Before I Fall and 13 Raasons why is. Everything That Makes You will remind you to live life to the fullest- and dance like noone's watching, while you still can.
Everything That Makes You is an epic romance about one girl—and the two possible lives she might have lived if an accident hadn't changed everything.Fiona Doyle's face was horribly scarred as a child. She writes about her frustrations and dreams in notebooks, penning song lyrics—but she'd never be brave enough to sing those songs in public or to Trent, the boy she's always loved. Fi Doyle never had an accident. She's the best lacrosse player in the state and can't be distracted by her bff, Trent, who wants to be more than that. Then one day, her luck on the field goes south, and everything's not so easy anymore.
Alternating chapters between Fiona and Fi tell two separate stories about the same girl and feature many of the same characters.
Add Everything That Makes You to your Goodreads shelf! 
---
What other books would you recommend after watching 13 Reasons Why? Tell us in the comments below!