If you're the type of book nerd we think you are, then you know what we're talking about all too well. Books with cliffhangers are our guilty pleasure, because sure, they hurt in the moment, but there's also nothing that makes us more excited for the inevitably extra epic sequel. Below, we rounded up some of the most perfectly brutal cliffhangers we've read recently, in case you want to torture yourself with them, too.
Oh, and just in case, 🚨 A VARIETY OF SPOILERS BELOW! 🚨
Alright, are you ready? Let's see which books broke our hearts and made their waits perfectly bittersweet with some of the most game-changing cliffhangers in YA:
12 Books With Cliffhangers That Are Perfectly Bittersweet
1. A Court of Mist and Fury by Sarah J. Maas
CLIFFHANGER TYPE: "Oh sh#t, this is going to be good"
Feyre survived Amarantha's clutches to return to the Spring Court—but at a steep cost. Though she now has the powers of the High Fae, her heart remains human, and it can't forget the terrible deeds she performed to save Tamlin's people.
Nor has Feyre forgotten her bargain with Rhysand, High Lord of the feared Night Court. As Feyre navigates its dark web of politics, passion, and dazzling power, a greater evil looms—and she might be key to stopping it. But only if she can harness her harrowing gifts, heal her fractured soul, and decide how she wishes to shape her future—and the future of a world cleaved in two.
2. One Dark Throne by Kendare Blake
CLIFFHANGER TYPE: "HOW CAN IT JUST END LIKE THAT?!"
With the unforgettable events of the Quickening behind them and the Ascension Year underway, all bets are off.
Katharine, once the weak and feeble sister, is stronger than ever before. Arsinoe, after discovering the truth about her powers, must figure out how to make her secret talent work in her favor without anyone finding out. And Mirabella, once thought to be the strongest sister of all and the certain Queen Crowned, faces attacks like never before—ones that put those around her in danger she can't seem to prevent.
In this enthralling sequel to Kendare Blake's New York Times bestselling Three Dark Crowns, Fennbirn's deadliest queens must face the one thing standing in their way of the crown: each other.
3. Restore Me by Tahereh Mafi
CLIFFHANGER TYPE: "Um… I have no words"
It's been sixteen days since Juliette Ferrars killed the supreme commander of North America and took over as ruler of The Reestablishment on the continent.
Sixteen days since she assassinated Warner's father.
Juliette thought she'd won. She took over Sector 45 and now has Warner by her side. But she's still the girl with the ability to kill with a single touch—and with so much power in her young hands, the world is watching her every move, waiting to see what happens next.
Juliette and Warner have risked every-thing. But when tragedy strikes, they must confront the darkness that exists both around and inside them. Will they be able to control the power Juliette wields, or will it control them?
4. Six of Crows by Leigh Bardugo
CLIFFHANGER TYPE: "I feel personally attacked by this development"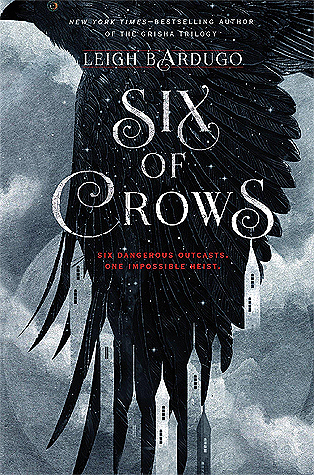 Ketterdam: a bustling hub of international trade where anything can be had for the right price–and no one knows that better than criminal prodigy Kaz Brekker. Kaz is offered a chance at a deadly heist that could make him rich beyond his wildest dreams. But he can't pull it off alone…
A convict with a thirst for revenge.
A sharpshooter who can't walk away from a wager.
A runaway with a privileged past.
A spy known as the Wraith.
A Heartrender using her magic to survive the slums.
A thief with a gift for unlikely escapes.
Six dangerous outcasts. One impossible heist. Kaz's crew is the only thing that might stand between the world and destruction—if they don't kill each other first.
5. Lord of Shadows by Cassandra Clare
CLIFFHANGER TYPE: "No, no, no, nope, no, no way, nope, nope, bye"
Emma Carstairs has learned that the love she shares with her parabatai, Julian Blackthorn, isn't just forbidden—it could destroy them both. She knows she should run from Julian. But how can she when the Blackthorns are threatened by enemies on all sides?
Their only hope is the Black Volume of the Dead, a spell book of terrible power. Everyone wants it. Only the Blackthorns can find it. Spurred on by a dark bargain with the Seelie Queen, Emma; her best friend, Cristina; and Mark and Julian Blackthorn journey into the Courts of Faerie, where glittering revels hide bloody danger and no promise can be trusted. Meanwhile, rising tension between Shadowhunters and Downworlders has produced the Cohort, an extremist group of Shadowhunters dedicated to registering Downworlders and "unsuitable" Nephilim. They'll do anything in their power to expose Julian's secrets and take the Los Angeles Institute for their own.
As dangers close in, Julian devises a risky scheme that depends on the cooperation of an unpredictable enemy. But success may come with a price he and Emma cannot even imagine.
6. Empire of Storms by Sarah J. Maas
CLIFFHANGER TYPE: "How am I hysterically crying and blindingly furious all at once?"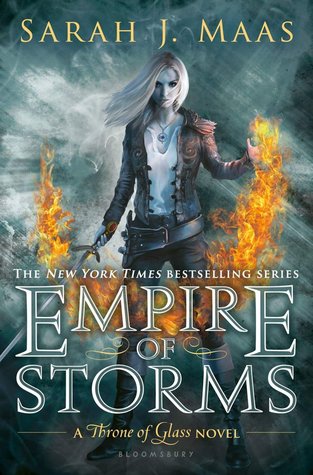 The long path to the throne has only just begun for Aelin Galathynius as war looms on the horizon. Loyalties have been broken and bought, friends have been lost and gained, and those who possess magic find themselves at odds with those who don't.
With her heart sworn to the warrior-prince by her side, and her fealty pledged to the people she is determined to save, Aelin will delve into the depths of her power to protect those she loves. But as monsters emerge from the horrors of the past, and dark forces become poised to claim her world, the only chance for salvation will lie in a desperate quest that may mark the end of everything Aelin holds dear.
7. Heart of Iron by Ashley Poston
CLIFFHANGER TYPE: "What?! WHAT?! How DARE THIS HAPPEN?!"
Seventeen-year-old Ana is a scoundrel by nurture and an outlaw by nature. Found as a child drifting through space with a sentient android called D09, Ana was saved by a fearsome space captain and the grizzled crew she now calls family. But D09—one of the last remaining illegal Metals—has been glitching, and Ana will stop at nothing to find a way to fix him.
Ana's desperate effort to save D09 leads her on a quest to steal the coordinates to a lost ship that could offer all the answers. But at the last moment, a spoiled Ironblood boy beats Ana to her prize. He has his own reasons for taking the coordinates, and he doesn't care what he'll sacrifice to keep them.
When everything goes wrong, she and the Ironblood end up as fugitives on the run. Now their entire kingdom is after them—and the coordinates—and not everyone wants them captured alive.
8. Warcross by Marie Lu
CLIFFHANGER TYPE: "Everything's CHANGED also I knew I was justified in loving him"
The obsession started ten years ago and its fan base now spans the globe, some eager to escape from reality and others hoping to make a profit. Struggling to make ends meet, teenage hacker Emika Chen works as a bounty hunter, tracking down Warcross players who bet on the game illegally. But the bounty hunting world is a competitive one, and survival has not been easy. To make some quick cash, Emika takes a risk and hacks into the opening game of the international Warcross Championships—only to accidentally glitch herself into the action and become an overnight sensation.
Convinced she's going to be arrested, Emika is shocked when instead she gets a call from the game's creator, the elusive young billionaire Hideo Tanaka, with an irresistible offer. He needs a spy on the inside of this year's tournament in order to uncover a security problem… and he wants Emika for the job. With no time to lose, Emika's whisked off to Tokyo and thrust into a world of fame and fortune that she's only dreamed of. But soon her investigation uncovers a sinister plot, with major consequences for the entire Warcross empire.
9. Everless by Sara Holland
CLIFFHANGER TYPE: "EVERYTHING IS TYING TOGETHER but also, WHAT?!"
In the kingdom of Sempera, time is currency—extracted from blood, bound to iron, and consumed to add time to one's own lifespan. The rich aristocracy, like the Gerlings, tax the poor to the hilt, extending their own lives by centuries.
No one resents the Gerlings more than Jules Ember. A decade ago, she and her father were servants at Everless, the Gerlings' palatial estate, until a fateful accident forced them to flee in the dead of night. When Jules discovers that her father is dying, she knows that she must return to Everless to earn more time for him before she loses him forever.
But going back to Everless brings more danger—and temptation—than Jules could have ever imagined. Soon she's caught in a tangle of violent secrets and finds her heart torn between two people she thought she'd never see again. Her decisions have the power to change her fate—and the fate of time itself.
10. The Last of August by Brittany Cavallaro
CLIFFHANGER TYPE: "I don't totally know what happened but it did wreck my emotions"
Jamie and Charlotte are looking for a winter break reprieve in Sussex after a fall semester that almost got them killed. But nothing about their time off is proving simple, including Holmes and Watson's growing feelings for each other.
When Charlotte's beloved Uncle Leander goes missing from the Holmes estate—after being oddly private about his latest assignment in a German art forgery ring—the game is afoot once again, and Charlotte throws herself into a search for answers.
So begins a dangerous race through the gritty underground scene in Berlin and glittering art houses in Prague, where Holmes and Watson discover that this complicated case might change everything they know about their families, themselves, and each other.
11. Truly Devious by Maureen Johnson
CLIFFHANGER TYPE: "Oh no, oh no, oh no this is bad nope"
Ellingham Academy is a famous private school in Vermont for the brightest thinkers, inventors, and artists. It was founded by Albert Ellingham, an early twentieth century tycoon, who wanted to make a wonderful place full of riddles, twisting pathways, and gardens. "A place," he said, "where learning is a game."
Shortly after the school opened, his wife and daughter were kidnapped. The only real clue was a mocking riddle listing methods of murder, signed with the frightening pseudonym "Truly, Devious." It became one of the great unsolved crimes of American history.
True-crime aficionado Stevie Bell is set to begin her first year at Ellingham Academy, and she has an ambitious plan: She will solve this cold case. That is, she will solve the case when she gets a grip on her demanding new school life and her housemates: the inventor, the novelist, the actor, the artist, and the jokester. But something strange is happening. Truly Devious makes a surprise return, and death revisits Ellingham Academy. The past has crawled out of its grave. Someone has gotten away with murder.
12. Ruined by Amy Tintera
CLIFFHANGER TYPE: "Well that's NOT GOING TO BE GREAT MOVING FORWARD"
Emelina Flores has nothing. Her home in Ruina has been ravaged by war; her parents were killed and her sister was kidnapped. Even though Em is only a useless Ruined—completely lacking any magic—she is determined to get revenge.
Her plan is simple: She will infiltrate the enemy's kingdom, posing as the crown prince's betrothed. She will lead an ambush. She will kill the king and everything he holds dear, including his son.
The closer Em gets to the prince, though, the more she questions her mission. Her rage-filled heart begins to soften. But with her life—and her family—on the line, love could be Em's deadliest mistake.
---
What book has had the best cliffhanger you've read? Let us know in the comments!
Up next: