Today we're revealing exclusive new Carve The Mark character art for two of the main characters in the duology! We asked two amazing artists to give us their interpreations of our favorite characters in Carve The Mark. Today we are releasing their art for Akos Kereseth, and Ryzek Noavek! We hope you fall for these boys just as hard as we did.
Akos
Akos is from the peace loving nation of Thuvhe, but he and his brother are captured and brought to the rival nation of Shotet, where Akos is trained as a soldier. Using his combat skills and his unique currentgift that allows him to cancel out other people's powers, Akos hopes to save his brother and escape back home. Check out these fierce interpretations of Akos from two awesome artists!
Damnnn with that battle armor on you do not want to mess with him! Akos may or may not be our new book boyfriend, so don't even think about it.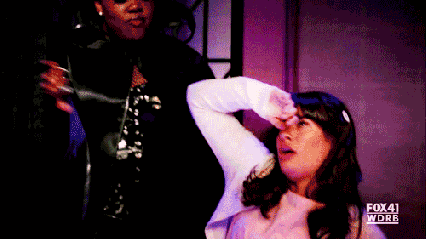 Ryzek
Ryzek, the evil dictator of Shotet  is one scary dude. His cruelty is legit sharper than the edge of his currentblade (woah that's really sharp)! His currentgift allows him to trade memories with other people, which sounds really cool but of course he uses his power in a twisted way to further his agenda to gain control of Thuvhe. Check it:
Woahhh we SO cannot wait to see Akos and Ryzek battle it out in CARVE THE MARK.
THE ARTISTS
Gabriel Picolo
"On my work I like to tell stories using bold black lines and sometimes a limited color palette. That's the style I chose for Cyra, Akos and Ryzek; Cyra being the most relaxed and outgoing of the three; Akos has the will of a soldier so he has this solid, confident pose; and Ryzek, besides being thinner than Akos has the most menacing appearance."
Check out more of his work here!
Morgana Wallace
"My art style is inspired by the fact that I am constantly challenged and delighted by the creative process. There is always something new to discover, some new way to share my vision, and enrich my life as an artist. In the same way, I want the characters of Cyra, Ryzek, and Akos to come to life, to speak to me, to invite me to enter their world."
Check out more of her work here!
It's day 10 in our #CarveTheMarkCountdown celebration – our seventeen day long event where we're giving you with exclusive Carve the Mark content every day until the release of Carve the Mark, Veronica Roth's new spacetastic YA novel, on January 17, 2017!  More Carve The Mark character art is headed your way, so keep your eyes peeled!
Missed some of the Carve The Mark Countdown? We've got you covered: 
Everything You Need To Know About Carve The Mark 
What's Your #Currentgift? 
Carve The Mark Pronunciation Guide
Space Food To Devour While You Wait For Carve The Mark
Here's How Carve The Mark is Changing YA into High Fashion
Meet The Cast Of The Carve The Mark Audio Book
Carve The Mark Map Reveal
Read An Excerpt Of The Divergent Epilogue Here
What's your Carve The Mark Name?
---
What did you think of todays character art? Tell us in the comments below! 
Save
Save