Time travel, an epic romance, immortality, AND a royal court? The SEVENTH MISS HATFIELD series by Anna Caltabiano is historical fiction with a fantastical twist – just the way we like it. Read the first five chapters of the sequel, THE TIME OF THE CLOCKMAKER, before it's available for your e-reader on December 8th!
Chapter Excerpt: THE TIME OF THE CLOCKMAKER by Anna Caltabiano
About THE TIME OF THE CLOCKMAKER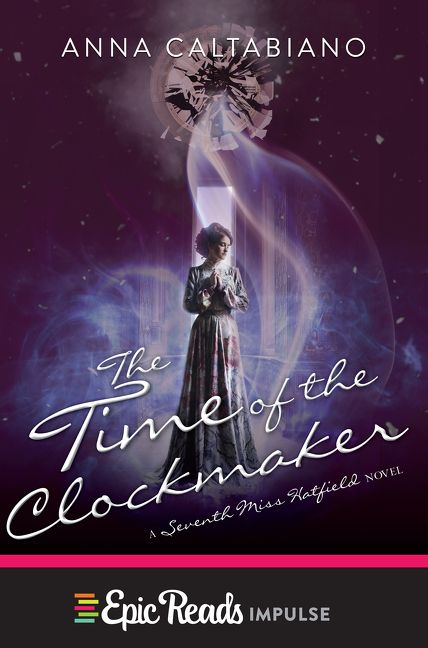 The Time of the Clockmaker, the sequel to The Seventh Miss Hatfield, is set in the lush court of Henry VIII and continues Rebecca's romantic and action-packed time-traveling adventures. With an epic romance that cannot be stopped by the bounds of time as well as deeper questions regarding immortality, this is perfect for fans of love stories such as The Time Traveler's Wife, as well as historical fiction with a fantastical twist, like Grave Mercy by Robin LaFevers.
Cynthia, who is now known only as the seventh Rebecca Hatfield, has settled in to the regular routine of traveling with the sixth Miss Hatfield. But when Rebecca's mentor is shockingly killed in front of her, Rebecca must flee the place and time she knows. She has lost her family, her dearest love, and her ability to live a normal life. All she has left is the gift—or curse—of immortality, and the bizarre clock that allows her to travel in time.
Just when Rebecca thinks she might be safe, she is attacked too. The mysterious black-clad figure steals the clock, but not before it transports them to a new time: Tudor England. Without her clock, Rebecca is stranded in the past. Alone, without friends or resources, she must find a way to survive in the beautiful—but dangerous—court of Henry VIII.
And what of her love, Henley, a boy Rebecca met in another time and place, but whose ghostly figure follows Rebecca wherever she goes, even when she begins a whirlwind romance with a dashing apprentice to the king's alchemist?
The mysterious attacker—someone who seems to possess the same powers as Rebecca—could be anyone at the lavish court. Can Rebecca escape him and find a way home? Would that mean once again sacrificing her heart for the sake of keeping the secret of immortality safe?
---
What do you think of the first five chapters? Tell us in the comments below!