We know we're still in the throes of winter over here, but while we bundle up from the millionth cold front this season, we thought, hey, why not look ahead? And it couldn't have come at a better time! We have your first look at all things FALL 2018, and that means all the tearjerkers, blockbusters, and heartstopping books that hit shelves around then!
This list includes every YA book that HarperCollins is publishing next fall, from September to December, and yes, we've already added them all to our to-read piles. Make sure you click over to Goodreads as you scroll so you can do the same! Please remember that covers can change before on-sale, and some books coming out next fall aren't listed here because their covers aren't finished being designed!
OKAY, GET READY TO SCROLL DOWN AND FALL IN LOVE!! 😍
Two Dark Reigns by Kendare Blake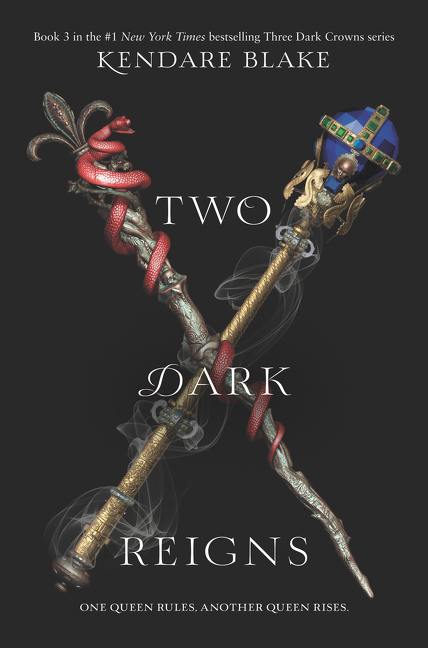 About Two Dark Reigns
Newly crowned Queen Katharine has finally taken her seat on the throne. With the power of a thousand dead queens coursing through her veins, she knows she is stronger than ever, but the constant challenges to her authority from the naturalists and elementals is wearing on her. With her anxiety high, and her uncertainty about whether her sisters Arsinoe and Mirabella are actually dead, Katharine is haunted—fueled by the need to prove herself. Then the dead bodies start washing ashore…
Meanwhile, on the Mainland, Arisnoe and Mirabella try to make a life for themselves despite all they've lost—the strength of their powers, their beloved Jules and Joseph, and any sense of belonging. To make matters worse, Arsinoe gets visited by visions she believes may be the Blue Queen, which allows Arsinoe glimpses into Fennbirn's past and the Blue Queen's legendary reign.
And then there's Jules. Forced to hide out on the island she once called home, she is bereft—but if Katharine finds out she's alive, it would mean death. After befriending a war-gifted girl named Emilia, however, Jules learns there's more on the horizon. Like a rebel army that wants to usurp the throne from Katharine. And according to Emilia, they will be led by a legion-cursed girl—Jules herself. With a possible rebellion headed toward Katharine, and a fearsome entity pointing Arsinoe and Mirabella back toward Fennbirn, Kat's crown may not be as secure as she and the Arrons thought.
Perhaps answers lie in the Blue Queen's fabled regime.
And the Ocean Was Our Sky by Patrick Ness
About And The Ocean Was Our Sky
With harpoons strapped to their backs, the proud whales of Bathsheba's pod live for the hunt, fighting in the ongoing war against the world of men. When they attack a ship bobbing on the surface of the Abyss, they expect to find easy prey. Instead, they find the trail of a myth, a monster, perhaps the devil himself…
As their relentless Captain leads the chase, they embark on a final, vengeful hunt, one that will forever change the worlds of both whales and men.
With the lush, atmospheric art of Rovina Cai woven in throughout, this remarkable work by Patrick Ness turns the familiar tale of Moby Dick upside down and tells a story all its own with epic triumph and devastating fate.
Buried Beneath the Baobab Tree by Adaobi Tricia Nwaubani
About Buried Beneath the Baobab Tree
On April 14, 2014, Boko Haram kidnapped 276 girls. Some managed to escape. Many are still missing. A new pair of shoes, a university degree, a husband—these are the things that a girl dreams of in a Nigerian village. A girl who works hard in school and to help her family. A girl with a future as bright as live coals in the dark. And with a government scholarship right around the corner, everyone—her mother, her five brothers, her best friend, her teachers—can see that these dreams aren't too far out of reach. Even if the voices on Papa's radio tell more fearful news than tales to tell by moonlight.
But the girl's dreams turn to nightmares when her village is attacked by Boko Haram, a terrorist group, in the middle of the night. Kidnapped, she is taken with other girls and women into the forest where she is forced to follow her captors' radical beliefs and watch as her best friend slowly accepts everything she's been told. Still, the girl defends her existence. As impossible as escape may seem, her life—her future—is hers to fight for.
The Opposite of Innocent by Sonya Sones
About The Opposite of Innocent
Lily has been crushing on Luke, a friend of her parents, ever since she can remember. He's been away for two endless years, but he's finally returning today. Lily was only twelve when he left. But now, at fourteen, she feels transformed. She can't wait to see how Luke will react when he sees the new her. And when her mother tells her that Luke will be staying with them for a while, in the bedroom right next to hers, her heart nearly stops.
Having Luke back is better than Lily could have ever dreamed. His lingering looks set Lily on fire. Is she just imagining them? But then, when they're alone, he kisses her. Then he kisses her again. At first, the secrecy and danger of their relationship thrills Lily. But soon Luke begins to expect, then demand much more than kissing. He won't stop pressuring her to do things she doesn't want to do. Lily wishes she had never flirted with Luke. She feels imprisoned in a situation that's all her fault. How will she escape?
In this powerful tale of a terrifying leap into young adulthood, readers will accompany Lily on her harrowing journey from hopelessness to hope.
As She Ascends by Jodi Meadows
About As She Ascends
Mira is on the run with her friends after a fiery escape from the Pit where she'd been condemned for speaking out against dragon trafficking. And she wants answers.
Where have all the dragons been taken? Why are powerful noorstones being shipped to the mainland? And did the treaty she's been defending her whole life truly sell out the Fallen Isles to their enemies? But the only way to find the truth is to go home again, to Darina, and face the people who betrayed her and the parents she's not sure she can trust. Home, where she must learn to rise above her fears. Or be consumed.
The second novel in Jodi Meadow's Fallen Isles trilogy blazes with endangered magic, smoldering romance, and one girl's inner fire.
Pride by Ibi Zoboi
About Pride
It is a truth universally acknowledged that when white people move into a neighborhood that's already been a little bit broken and a little bit forgotten, the first thing they want to do is clean it up.
Zuri Benitez has pride. Brooklyn pride, family pride, and pride in her Afro-Latino roots. But pride might not be enough to save her rapidly gentrifying neighborhood from becoming unrecognizable.
When the wealthy Darcy family moves in across the street, Zuri wants nothing to do with their two teenage sons, even as her older sister, Janae, starts to fall for the charming Ainsley. She especially can't stand the judgmental and arrogant Darius. Yet as Zuri and Darius are forced to find common ground, their initial dislike shifts into an unexpected understanding.
But with four wild sisters pulling her in different directions, cute boy Warren vying for her attention, and college applications hovering on the horizon—Zuri fights to find her place in Bushwick's changing landscape, or lose it all.
In a timely update of Pride and Prejudice, critically-acclaimed author Ibi Zoboi skillfully balances cultural identity, class, and gentrification against the heady magic of first love in her vibrant reimagining of this beloved classic.
The Deepest Roots by Miranda Asebedo
About The Deepest Roots
Everyone knows the girls of Cottonwood Hollow are peculiar. Generations ago, a wealthy settler named Emmeline Remington cursed them with strange abilities like Fixer, Siren, or Finder.
For Rome Galveston and her friends, these abilities have never been anything but a burden, until they realize that their strange talents might be the key to uncovering Emmeline's long-hidden treasure. Rome and her friends each want Emmeline's treasure for different reasons—reasons they are keeping secret from each other.
Soon, these secrets strain their friendship, and even if they do find what they are looking for, their friendship might never be the same. Contemporary fiction with a hint of magic, this heartwarming story has vivid and memorable characters, gripping drama, and a compelling voice that will keep you racing through the pages until you reach the end.
For a Muse of Fire by Heidi Heilig
About For a Muse of Fire
Jetta and her parents are famed throughout the countryside for their elaborate shadow plays. Everyone wants to know the troupe's secret—how their puppets (called fantouches) move without stick or string. They always claim it's a trade secret. But in truth, Jetta can see recently deceased spirits—and has the power to bind them to the fantouches using a few drops of her blood. But the old ways are forbidden, ever since the colonial army conquered their nation, and if anyone found out, they would all be in danger.
Jetta's skill and their fame may be enough to earn them passage aboard the royal ship to Aquitan, where shadow plays are all the rage, and the Mad King is rumored to have a spring that eases his ills. Jetta must gain access to that spring—seeing spirits is not all that plagues her. But rebellion is brewing. When Jetta meets a young smuggler with secrets of his own, she and her family are swept into a dangerous journey. Soon, Jetta will face truths and decisions she never imagined, including a shocking revelation her mother has kept hidden for sixteen years—Jetta's entire life. And the power to raise an army of the dead is one that appeals to both sides of the coming war.
Heidi Heilig creates a vivid, rich world inspired by Asian cultures and French colonialism. Her characters are equally complex and nuanced, including the bipolar heroine and biracial love interest. Told from Jetta's first-person point-of-view, as well as chapters written as play scripts, and ephemera such as telegrams and letters, For a Muse of Fire is a lush, page-turning journey that weaves magic, simmering romance, and the deep bonds of family with the high stakes of epic adventure.
The Caged Queen by Kristen Ciccarelli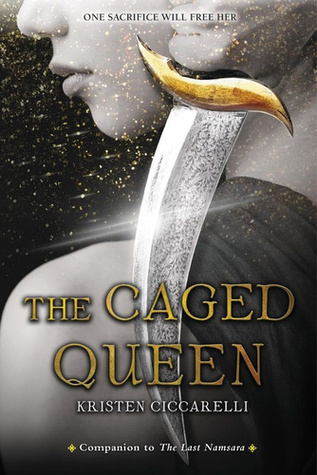 About The Caged Queen
Once there were two sisters born with a bond so strong that it forged them together forever. When they were angry, mirrors shattered, and when they were happy, flowers bloomed. It was a magic they cherished—until the day a terrible accident took Essie's life and trapped her soul in this world.
Dax—the heir to Firgaard's throne—was responsible for the accident. Roa swore to hate him forever. But eight years later he returned, begging for her help. He was determined to dethrone his cruel father, under whose oppressive reign Roa's people had suffered. Roa made him a deal: she'd give him the army he needed if he made her queen.
Together with Dax and his sister, Asha, Roa and her people waged war and deposed a tyrant. But now Asha is on the run, hiding from the price on her head. And Roa is an outlander queen, far from home and married to her enemy. Worst of all: Dax's promises go unfulfilled. Roa's people continue to suffer.
Then a chance to right every wrong arises—an opportunity for Roa to rid herself of this enemy king and rescue her beloved sister. During the Reliquishing, when the spirits of the dead are said to return, Roa can reclaim her sister for good.
All she has to do is kill the king.
The Lady's Guide to Petticoats and Piracy by Mackenzi Lee
This on sale date and description was corrected from an earlier version!
About The Lady's Guide to Petticoats and Piracy
Felicity Montague is through with pretending she prefers society parties to books about bone setting—or that she's not smarter than most people she knows, or that she cares about anything more than her dream of becoming a doctor.
A year after an accidentally whirlwind tour of Europe, which she spent evading highwaymen and pirates with her brother Monty, Felicity has returned to England with two goals in mind—avoid the marriage proposal of Callum Doyle, a lovestruck suitor from Edinburgh; and enroll in medical school. However, her intellect and passion will never be enough in the eyes of the administrators, who see men as the sole guardians of science.
But then a small window of hope opens. Doctor Alexander Platt, an eccentric physician that Felicity idolizes, is looking for research assistants, and Felicity is sure that someone as forward thinking as her hero would be willing to take her on. However, Platt is in Germany, preparing to wed Felicity's estranged childhood friend Johanna. Not only is Felicity reluctant to opening old wounds, she also has no money to make the trip.
Luckily, a mysterious young woman is willing to pay Felicity's way, so long as she's allowed to travel with Felicity disguised as her maid. In spite of her suspicions, Felicity agrees, but once the girl's true motives are revealed, Felicity becomes part of a perilous quest that will lead her from the German countryside to the promenades of Zurich to secrets lurking beneath the Atlantic.
Broken Things by Lauren Oliver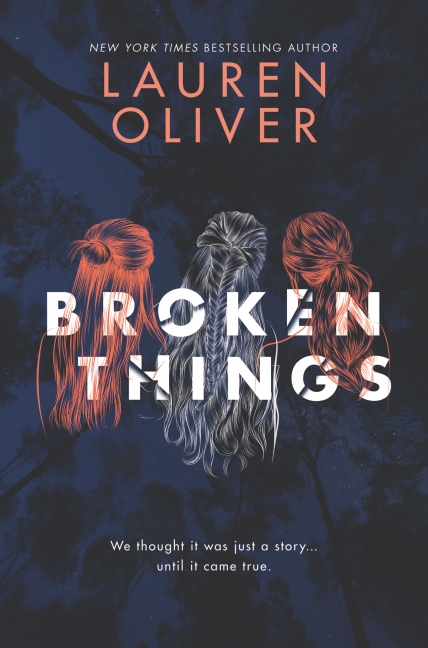 About Broken Things
SIt's been five years since Summer Marks was brutally murdered in the woods.
Everyone thinks Mia and Brynn killed their best friend. That driven by their obsession with a novel called The Way into Lovelorn the three girls had imagined themselves into the magical world where their fantasies became twisted, even deadly.
The only thing is: they didn't do it.
On the anniversary of Summer's death, a seemingly insignificant discovery resurrects the mystery and pulls Mia and Brynn back together once again. But as the lines begin to blur between past and present and fiction and reality, the girls must confront what really happened in the woods all those years ago—no matter how monstrous.
With all the intensity and whiplash turns of Gone Girl and One of Us Is Lying, this engrossing psychological thriller by New York Times bestselling author Lauren Oliver is an unforgettable, mesmerizing tale of exquisite obsession, spoiled innocence, and impossible friendships.
Damsel by Elana K. Arnold
About Damsel
The rite has existed for as long as anyone can remember: when the prince-who-will-be-king comes of age, he must venture out into the gray lands, slay a fierce dragon, and rescue a damsel to be his bride. This is the way things have always been.
When Ama wakes in the arms of Prince Emory, however, she knows none of this. She has no memory of what came before she was captured by the dragon, or what horrors she has faced in its lair. She knows only this handsome prince, the story he tells of her her rescue, and her destiny to sit on the throne beside him. Ama comes with Emory back to the kingdom of Harding, hailed as the new princess, welcomed to the court.
However, as soon as her first night falls, she begins to realize that not all is as it seems, that there is more to the legends of the dragons and the damsels than anyone knows–and that the greatest threats to her life may not be behind her, but here, in front of her.
Elana K. Arnold, author of the National Book Award longlistee What Girls Are Made Of, has written a dark, terrifying, and unforgettable story of one young woman who, like so many others, is trapped in a world where her choices are not her own.
When We Caught Fire by Anna Godbersen
About When We Caught Fire
It's 1871 and Emmeline Carter is poised to take Chicago's high society by storm. Between her father's sudden rise to wealth, and her recent engagement to Chicago's most eligible bachelor, Emmeline has it all. But she can't stop thinking about the life she left behind, including her childhood sweetheart, Anders Magnuson. Fiona Byrne, Emmeline's childhood best friend, is delighted by her friend's sudden rise to prominence, especially since it means Fiona is free to pursue Anders herself. But when Emmeline risks everything for one final fling with Anders, Fiona feels completely betrayed.
As the summer turns to fall, the city is at a tipping point: friendships are tested, hearts are broken, and the tiniest spark might set everything ablaze. Sweeping, soapy, and romantic, this is a story about an epic love triangle—one that will literally set the city ablaze, and change the lives of three childhood friends forever.
Shadow of the Fox by Julie Kagawa
About Shadow of the Fox
Every millennium, one age ends and another age dawns…and whoever holds the Scroll of a Thousand Prayers holds the power to call the great Kami Dragon from the sea and ask for any one wish. The time is near…and the missing pieces of the scroll will be sought throughout the land of Iwagoto. The holder of the first piece is a humble, unknown peasant girl with a dangerous secret.
Demons have burned the temple Yumeko was raised in to the ground, killing everyone within, including the master who trained her to both use and hide her kitsune shapeshifting powers. Yumeko escapes with the temple's greatest treasure—one part of the ancient scroll. Fate thrusts her into the path of a mysterious samurai, Kage Tatsumi of the Shadow Clan. Yumeko knows he seeks what she has…and is under orders to kill anything and anyone who stands between him and the scroll.
What If It's Us by Becky Albertalli & Adam Silvera
About What If It's Us
Arthur is only in New York for the summer, but if Broadway has taught him anything, it's that the universe can deliver a showstopping romance when you least expect it.
Ben thinks the universe needs to mind its business. If the universe had his back, he wouldn't be on his way to the post office carrying a box of his ex-boyfriend's things.
But when Arthur and Ben meet-cute at the post office, what exactly does the universe have in store for them?
Maybe nothing. After all, they get separated.
Maybe everything. After all, they get reunited.
But what if they can't quite nail a first date… or a second first date… or a third?
What if Arthur tries too hard to make it work… and Ben doesn't try hard enough?
What if life really isn't like a Broadway play?
But what if it is?
The Healer by Donna Freitas
About The Healer
Marlena Oliveira has—mysteriously, miraculously—been given the power to heal all kinds of ailments. People around the world believe she is a saint. But her power comes at a price. She can't go to school, she can't have friends her own age, and she certainly can't date. Then she meets Finn, a boy who makes her want to fall in love. For the first time, she begins to doubt whether her gift is worth all that she must give up to keep it.
Sawkill Girls by Claire Legrand
About Sawkill Girls
Beware of the woods and the dark, dank deep.
He'll follow you home, and he won't let you sleep.
Who are the Sawkill Girls?
Marion: The newbie. Awkward and plain, steady and dependable. Weighed down by tragedy and hungry for love she's sure she'll never find. Zoey: The pariah. Luckless and lonely, hurting but hiding it. Aching with grief and dreaming of vanished girls. Maybe she's broken—or maybe everyone else is. Val: The queen bee. Gorgeous and privileged, ruthless and regal. Words like silk and eyes like knives; a heart made of secrets and a mouth full of lies.
Their stories come together on the island of Sawkill Rock, where gleaming horses graze in rolling pastures and cold waves crash against black cliffs. Where kids whisper the legend of an insidious monster at parties and around campfires. Where girls have been disappearing for decades, stolen away by a ravenous evil no one has dared to fight… until now.
Shocking, nail-biting, and gorgeously written by Edgar Award-nominated novelist Claire Legrand, this atmospheric and spine-tingling novel will keep you guessing until the very last page.
Villain by Michael Grant
About Villain
It's been four years since the events of GONE.
The Perdido Beach dome is down, but the horrors within have spread, and now all of humanity is in danger. The alien virus-infested rock that created the FAYZ is creating monsters–monsters that walk the cities and countryside, terrorizing all. There are tanks in the street and predator drones in the sky, doomed efforts to stop the disintegration of civilization. Into this chaos comes a villain with the power to control anyone with just the sound of his voice.
Dillon Poe wanted to be a comedian once… but everyone made fun of him. Dillon the loser. Dillon the freak. Now he's sending thousands to their death. Who's laughing now?
The only people who can stop a superpowered villain are superpowered heroes. Dekka, Shade, Cruz, Malik, Armo, and a new mutant with unmatched powers, are all that stand in Dillon's way. But when the lines begin to blur between hero and villain—some begin to wonder who's really the monster. The fight will be bloody. This isn't another battle, this is the war to save the human race.
The Light Between Worlds by Laura E. Weymouth
About The Light Between Worlds
Six years ago, sisters Evelyn and Philippa Hapwell were swept away to a strange and beautiful kingdom called the Woodlands, where they lived for years. But ever since they returned to their lives in post-WWII England, they have struggled to adjust.
Ev desperately wants to return to the Woodlands, and Philippa just wants to move on. So when Ev suddenly disappears, Philippa wonders if her sister found a way home, or if the weight of her worlds finally pulled her under.
Told in dual POV and chapters that alternate between the fantasy world of the Woodlands and post-WWII England, debut author Laura E Weymouth's magical and lyrical YA fantasy is an exploration of loss and healing and what it means to find where you belong.
One Giant Leap by Heather Kaczynski
About One Giant Leap
When Cassandra Gupta was chosen to be the youngest member of a top secret mission to the far reaches of the universe she knew to expect the unexpected. But nothing could have prepared her for the catastrophic events that occurred once she left earth.
Now, Cassie is back in America, but her mission is far from over. Two alien species hell-bent on killing each other have brought their war to Earth…And Cassie is the only one with the information that can possibly stop the conflict from destroying humans as well.
That Night by Amy Giles
About That Night
One night in March, a terrible tragedy shakes the Far Rockaway community where Jessica Nolan and Lucas Rossi live. The year since has played out differently for Jess and Lucas, both of whom were affected by that night in eerily similar, and deeply personal, ways.
Lucas has taken up boxing and lives under the ever-watchful eye of his overprotective parents, while trying to put good into the universe through random acts of kindness—to pay back a debt he feels he owes the universe and his deceased brother. Jess struggles to take care of her depressed mother, with the help of her elderly next-door neighbor, and tries to make ends meet. When Jess and Lucas's paths cross at their shared after-school job, they start to become friends—and then more. As they fall in love, they'll have to learn to help each other heal, cope, and move forward—together.
This Is Kind of an Epic Love Story by Kheryn Callender
About This Is Kind of an Epic Love Story
Nathan Bird doesn't believe in happy endings. Although he's the ultimate film buff and an aspiring screenwriter, Nate's seen the demise of too many real-life romances to believe that perfect movie endings might exist for people. Playing it safe to spare a broken heart has been his M.O. ever since his father died and left his mom to unravel.
This strategy is not without fault, of course. His best-friend-turned-girlfriend-turned-best-friend-again Florence is set on making sure Nate finds someone else. And in a twist too perfect to have not been designed, someone does come along: Ollie.
Oliver James Hernandez, the best friend that came before Flo. But now Ollie is back. And Ollie is still cute. And Ollie seems like he might have feelings for Nate—and Nate totally feels the same way. And now Nate has the chance to tell Ollie the truth: that he always loved Ollie. But is he brave enough to do it? But like in all epic love stories, the relationship is tested. And as Nate watches more romances around him crash and burn, he has to decide if he and Ollie have what it takes to write themselves a happily-ever-after worthy of the movies.
Frozen Reign by Kathryn Purdie
About Frozen Reign
Fear reigns in Riaznin.
Former emperor Valko has kidnapped the youngest Auraseer and provoked a civil war. Now, he's hunting his brother, Anton, and leading Shenglin troops across the border. But with her empathic powers gone, Sonya doesn't know how to protect the people she loves or the nation she helped free. She can't sense who to trust. She can't track Valko She can't tell if her beloved Anton is safe. She only knows danger is coming. And there's nothing she can do to stop it.
Until Sonya hears a tale of an Esten Auraseer with a mysterious ability to heal, and suddenly her situation doesn't feel as impossible as it once did. But without her powers, finding the legendary Auraseer will be dangerous. And if she doesn't succeed, the peace she sacrificed so much to achieve will be shattered forever.
This Is What It Feels Like by Rebecca Barrow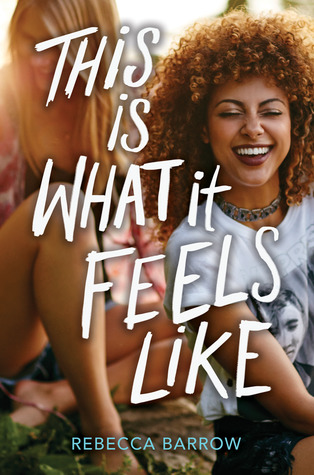 About This Is What It Feels Like
It doesn't matter what the prize for the Sun City Originals contest is this year. Who cares that's it's fifteen grand? Who cares about a spot opening up for one of the greatest bands to ever play this town? Not Dia, that's for sure. Because Dia knows that without a band, she hasn't got a shot at winning Sun City. Ever since Hanna left—well, there hasn't been a band. And ever since Hanna's drinking took over her life, Dia and Jules haven't been in it.
It used to be the three of them, Dia, Jules, and Hanna, messing around and making music and thinking of the future. But that was then, and this is now—and now means a baby, a failed relationship, a stint in rehab, all kinds of beats that have thrown off the rhythm of their friendship. No contest can change that. Right? But like the lyrics of a song you once played on repeat, there's no forgetting a best friend.
And for Dia, Jules, and Hanna, what seems like an impossible feat—to ignore the past, in order to play again and start their future—will only become possible when they finally make peace with the girls they once were. Rebecca Barrow's raw, tender story of friends, music, and ferocious love asks—what will you fight for, if not yourself?
Four Three Two One by Courtney Stevens
About Four Three Two One
Golden "Go" Jennings wasn't supposed to be on Bus 21 the day it blew up in New York City. Neither was her boyfriend, Chandler. But they were. And so was Rudy, a cute stranger whom Go shared a connection with the night before. And Caroline, a girl whose silence ended up costing nineteen people their lives.
Though it's been almost a year, Go is stuck in the memory of that day. She needs to talk about what happened and would like it to be with Chan, but he's completely shut himself off to what happened and what Go needs to move on from it. Then she makes contact with Rudy. Just like that, she again finds herself connecting so easily (and guiltily) to him.
Talking to another survivor has opened up a small window of healing in an otherwise stifling nightmare of memories. So she makes an impulsive decision: take her Gran's truck and her best friend Becky, road trip to Florida to pick up Rudy and Caroline, and, somehow along the way, convince Chan to join them. Their destination? New York City to board an art installation made of the charred remnants of Bus 21.
But things are never easy when it comes to healing. Uniting the four stirs up conflicting feelings of love, anger, and forgiveness. And secrets. Secrets that answer long-awaited questions. Secrets that dig schisms. Secrets that just may save these survivors—from themselves and the guilt that plagues them.
This Splintered Silence by Kayla Olson
About This Splintered Silence
Lindley Hamilton has spent her entire life on a space station, under the command of her mother. But when a deadly virus kills her mother and every single adult crew member who ever set foot on Earth, Lindley is left with no choice but to step up and become the ship leader herself.
Lindley can't deny that she's in over her head. She's never captained a ship before and her peers have little knowledge of how things work either. But things only get worse when one of their own dies from the contagion. The disease was supposed to be over; they were supposed to be immune. But as more people die, Lindley must face the terrifying reality that either the virus has mutated, or something worse is happening: one of their own is a killer.
The Resolutions by Mia Garcia
About The Resolutions
New Years are for fresh starts, but Jess just wants everything to go back to the way it was.
From hiking trips, to four-person birthday parties, to never-ending group texts, Jess, Lee, Ryan, and Nora have always been inseparable—and unstoppable. But now, with senior year on the horizon, they've been splintering off and growing apart. And so, as always, Jess makes a plan.
Reinstating their usual tradition of making resolutions together on New Year's Eve, Jess adds a new twist: instead of making their own resolutions, the four friends assign them for each other—dares like kiss someone you know is wrong for you, show your paintings, learn Spanish, say yes to everything.
But not even the best laid plans can take into account the uncertainties of life. As the year unfolds, Jess, Ryan, Nora, and Lee each test the bonds that hold them together. And amid first loves, heart breaks, and life-changing decisions, beginning again is never as simple as it seems.
Your Own Worst Enemy by Gordon Jack
About Your Own Worst Enemy
What does it take to become student body president at Lincoln High School?
Stacey Wynn has the experience, the support of the administration, and the right temperament. Julia Alvarado promises to break down the barriers dividing those who ride the bus and those who drive their Lexus. Tony Guo will do almost whatever it takes to bring back chocolate milk and make the cafeteria great again—as long as he's able to also smoke up.
If this were an ordinary school election, the winner would be whichever candidate was the most popular. But this year is special because campaign manager Brian and his ruthless younger brother Kyle are working behind the scenes to help their candidates succeed. To become the clear frontrunner in the race, how low will each candidate sink to win an election that could change the course of… well, nothing, really?
Dagger and Coin by Kathy MacMillan
About Dagger and Coin
Soraya Gamo is finally in a position of power after being jilted by the prince, thereby relinquishing any chance of wearing the crown. Now on a ruling council to help rebuild Qilara, she can, at last, use what everyone once told her to hide: her brain.
The city has fallen, and with it the old way of thinking. No longer does she need to rely on a husband, her father's money, or societal status. But not everyone is ready to accept that the class system has been overthrown, seemingly overnight. The Ruling Council has decreed equality between the Arnathim—former slaves—and the Qilarites—their former masters.
But when a ship arrives full of captured Arnathim slaves that were taken before Qilara fell, the unrest, anger, and violence that has been bubbling since the rebellion threatens to explode. What follows is an uphill struggle to gain the trust of the Arnath people Soraya herself once abhorred and establish peace in what has become chaos. With the threat of attacks high, Gelti, a former army captain, trains Soraya in self-defense. As the two grow close, tension within the city ramps even higher than before.
Friends become foes, adversaries become allies, and the clashing of classes threatens to unravel all the good changes Soraya has been trying to implement. Can one girl, who was underestimated her whole life, be the leader to empower a divided nation to unite? Or will the sins of her past forever haunt the footsteps of her future?
All the Wandering Light by Heather Fawcett
About All the Wandering Light
After the terrifying events on Mount Raksha, the witches have returned, and River has betrayed Kamzin to regain his dark powers. The witches' next step: march on the Three Cities and take over the Empire—led by River's brother, Esha.
If Kamzin is to save Azmiri and prevent the fall of the Empire, she must find a star that fell in the Ash Mountains to the north. Fallen stars have immense power, and if Kamzin and Lusha can find the star, they can use its magic to protect the Empire. To get there, Kamzin has allied with Azar-at, the dangerous and deceptive fire demon, who can grant her great power—in exchange for pieces of her soul. But River wants the star too, and as their paths collide in dangerous and unexpected ways, Kamzin must wrestle with both her guilt and her conflicted feelings for the person who betrayed her.
Facing dark magic, a perilous journey, and a stand-off against the witches, can Kamzin, Lusha, and Tem find the star and save their homeland?
The Cursed Sea by Lauren DeStefano
About The Cursed Sea
Wilhemina Heidle, the exiled princess of Northern Arrod, the girl thought dead by her family and friends, must return home. The only way to save Loom, the cursed prince of the Southern Isles, is to revisit the castle and discover the origins of her own curse.
But home is very different from how she left it—Wil's unstable elder brother is now king, leading a war against the Southern Isles. And the rest of her family must reckon with the truth of what happened to lead to Wil's exile. With time running out, Wil must navigate the dangerous secrets within her family if she's going to find the truth and save the boy she loves.
When she's finally able to reach Pahn, nothing goes as planned, and suddenly Wil and her allies are fighting for their lives, again and again, as the Southern King is out to punish his children for all they've done. Traveling across cursed seas and treacherous kingdoms, Wil, Loom—and his ruthless sister Espel—have to work to make peace with their own struggles if they hope to secure the future of their kingdoms.
But when their plans lead them right back to evil marveler Pahn, and to Baren—who is more dangerous than ever—can Wil and her friends outsmart their enemies, this time, for good?
The Disasters by M. K. England
About The Disasters
The Breakfast Club meets Guardians of the Galaxy!
Hotshot pilot Nax Hall has a history of making poor life choices. So it's not exactly a surprise when he's kicked out of the elite Ellis Station Academy in less than twenty-four hours.
But Nax's one-way trip back to Earth is cut short when a terrorist group attacks the Academy. Nax and three other washouts escape—barely—but they're also the sole witnesses to the biggest crime in the history of space colonization. And the perfect scapegoats.
On the run and framed for atrocities they didn't commit, Nax and his fellow failures execute a dangerous heist to spread the truth about what happened at the Academy. They may not be "Academy material," and they may not get along, but they're the only ones left to step up and fight.
Kiss Collector by Wendy Higgins
About Kiss Collector
Seventeen-year-old Zae Monroe is over relationships. Between getting cheated on by the only guy she's ever loved and watching her parents' marriage crumble, she decides to turn the tables and go after what she wants, and what she wants are kisses.
Athletes, musicians, poets, bad boys—their lips are all on her agenda, and it's time to collect. Zae proposes a contest with her friends to see who can kiss the most boys during spring break.
But what starts as a harmless competition leads to a downward spiral of drama. Zae is forced to face the reasons behind her boy angst and starts to wonder if she was wrong about the male race…or at least some of them. New York Times bestselling author Wendy Higgins delivers a searing YA romance filled with endless flirting, heartthrob boys, and of course, lots of kisses!
---
HOW ARE WE SUPPOSED TO ACTUALLY READ ALL OF THESE AMAZING BOOKS?!
We can't even pick our favorites!! Which ones caught your eye? Which one are you going to read first?! Let us know in the comments below!
Up next: