Will you… be the Watson to my Holmes? Everyone needs a partner in crime, and YA characters are no exception. You can't expect anyone to save the world on their own! And even though these books might be about forbidden romance, or the end of the world, or simple criminal masterminds with questionable agendas, it's really these friendships that shine through. And we wanted to know what you thought!
Scroll down and let's see what you had to say!
The 11 Greatest Duos in YA
1. Charlotte Holmes & Jamie Watson (A Study in Charlotte)
Yeah yeah, the original Holmes and Watson are great, but Charlotte and Jaime are a truly irresistible pair! From their clever banter to the lengths they'll go to save each other, we could read about them all day every day. Thank goodness there are four books in this series because after that ending in THE CASE FOR JAMIE, we NEED one more story with Charlotte and Jamie together!
Jamie Watson has always been intrigued by Charlotte Holmes; after all, their great-great-great-grandfathers are one of the most infamous pairs in history. But the Holmes family has always been odd, and Charlotte is no exception. She's inherited Sherlock's volatility and some of his vices—and when Jamie and Charlotte end up at the same Connecticut boarding school, Charlotte makes it clear she's not looking for friends.
But when a student they both have a history with dies under suspicious circumstances, ripped straight from the most terrifying of the Sherlock Holmes stories, Jamie can no longer afford to keep his distance. Danger is mounting and nowhere is safe—and the only people they can trust are each other.
2. Kaz & Inej (Six of Crows)
Kaz may be the most notorious criminal in Ketterdam but he would be nothing without Inej by his side. These two are everything together and, ahem, we're STILL waiting for our invitation to join the Dregs.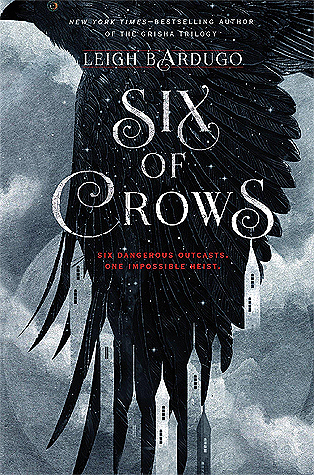 Ketterdam: a bustling hub of international trade where anything can be had for the right price–and no one knows that better than criminal prodigy Kaz Brekker. Kaz is offered a chance at a deadly heist that could make him rich beyond his wildest dreams. But he can't pull it off alone…
A convict with a thirst for revenge.
A sharpshooter who can't walk away from a wager.
A runaway with a privileged past.
A spy known as the Wraith.
A Heartrender using her magic to survive the slums.
A thief with a gift for unlikely escapes.
Six dangerous outcasts. One impossible heist. Kaz's crew is the only thing that might stand between the world and destruction—if they don't kill each other first.
3. America & Marlee (The Selection)
These two stand by each other throughout the entire Selection and never let the competition get in the way of their friendship. We honestly still get choked up thinking about America trying to save Marlee when she's accused of treason. Thank goodness both girls find love and are still besties 20 years later in THE HEIR!
For thirty-five girls, the Selection is the chance of a lifetime. The opportunity to escape the life laid out for them since birth. To be swept up in a world of glittering gowns and priceless jewels. To live in a palace and compete for the heart of gorgeous Prince Maxon.
But for America Singer, being Selected is a nightmare. It means turning her back on her secret love with Aspen, who is a caste below her. Leaving her home to enter a fierce competition for a crown she doesn't want. Living in a palace that is constantly threatened by violent rebel attacks.
Then America meets Prince Maxon. Gradually, she starts to question all the plans she's made for herself—and realizes that the life she's always dreamed of may not compare to a future she never imagined.
4. Kenji & Juliette (Shatter Me)
In book one of the Shatter Me series, Kenji appears as this random loudmouth guy Juliette isn't sure she can trust, but by the time RESTORE ME rolls around Kenji is… still a loudmouth. BUT, he's also the person Juliette can always confide in and his comic relief is much needed as she tries to figure out the whole Supreme Commander gig!
One touch is all it takes. One touch, and Juliette Ferrars can leave a fully grown man gasping for air. One touch, and she can kill.
No one knows why Juliette has such incredible power. It feels like a curse, a burden that one person alone could never bear. But The Reestablishment sees it as a gift, sees her as an opportunity. An opportunity for a deadly weapon.
Juliette has never fought for herself before. But when she's reunited with the one person who ever cared about her, she finds a strength she never knew she had.
5. Mare & Farley (Red Queen)
Okay yes, these two definitely butt heads but it's only because they're both so passionate and dedicated to the cause of the Scarlet Guard. In battle they have each other's backs every. single. time. and we CANNOT wait to see what kind of destruction they cause together in WAR STORM!
Mare Barrow's world is divided by blood—those with common, Red blood serve the Silver-blooded elite, who are gifted with superhuman abilities. Mare is a Red, scraping by as a thief in a poor, rural village, until a twist of fate throws her in front of the Silver court. Before the king, princes, and all the nobles, she discovers she has an ability of her own.
To cover up this impossibility, the king forces her to play the role of a lost Silver princess and betroths her to one of his own sons. As Mare is drawn further into the Silver world, she risks everything and uses her new position to help the Scarlet Guard—a growing Red rebellion—even as her heart tugs her in an impossible direction.
One wrong move can lead to her death, but in the dangerous game she plays, the only certainty is betrayal.
6. Ryan & Gabby (Top Ten)
This book is literally comprised of the top ten reasons why Gabby & Ryan have the best friendship, and it's 100% true. Their personalities complement each other perfectly and there's no doubt that they do love each other—but whether it's just as friends or something more, you'll have to read to find out!
Ryan McCullough and Gabby Hart are the unlikeliest of best friends. Prickly, anxious Gabby would rather do literally anything than go to a party. Ultra-popular Ryan is a hockey star who can get any girl he wants—and frequently does. But somehow their relationship just works; from dorky Monopoly nights to rowdy house parties to the top ten lists they make about everything under the sun.
Now, on the night of high school graduation, everything is suddenly changing—in their lives, and in their relationship. As they try to figure out what they mean to each other and where to go from here, they make a final top ten list: this time, counting down the top ten moments of their friendship.
7. Will & Jem (Clockwork Angel)
Where do we even start?! We have so many emotions about these two, from everything between Will's heartbreaking backstory and ~curse~ to OUR heartbreak during CLOCKWORK PRINCESS. Has anyone else reread the epilogue and cried? We can't be alone, right? These two are the epitome of the parabatai bond and no offense to every other pair in the Shadowhunter Chronicles but like… Will and Jem are the best, sorry.
When sixteen-year-old Tessa Gray crosses the ocean to find her brother, her destination is England, the time is the reign of Queen Victoria, and something terrifying is waiting for her in London's Downworld, where vampires, warlocks and other supernatural folk stalk the gaslit streets. Only the Shadowhunters, warriors dedicated to ridding the world of demons, keep order amidst the chaos.
Kidnapped by the mysterious Dark Sisters, members of a secret organization called The Pandemonium Club, Tessa soon learns that she herself is a Downworlder with a rare ability: the power to transform, at will, into another person. What's more, the Magister, the shadowy figure who runs the Club, will stop at nothing to claim Tessa's power for his own.
Friendless and hunted, Tessa takes refuge with the Shadowhunters of the London Institute, who swear to find her brother if she will use her power to help them. As their search draws them deep into the heart of an arcane plot that threatens to destroy the Shadowhunters, Tessa realizes that she may need to choose between saving her brother and helping her new friends save the world.
8. Noah & Jude (I'll Give You the Sun)
Yes, the twins aren't even on speaking terms for half the book and they're super competitive but they're also so full of LIFE and ART and BEAUTY and their bond can never be completely broken.
At first, Jude and her twin brother Noah, are inseparable. Noah draws constantly and is falling in love with the charismatic boy next door, while daredevil Jude wears red-red lipstick, cliff-dives, and does all the talking for both of them.
Years later, they are barely speaking. Something has happened to change the twins in different yet equally devastating ways… but then Jude meets an intriguing, irresistible boy and a mysterious new mentor.
The early years are Noah's to tell; the later years are Jude's. But they each have only half the story, and if they can only find their way back to one another, they'll have a chance to remake their world.
9. Aza & Daisy (Turtles All the Way Down)
They definitely have their ups and downs, and we can't say that we always love them—or even Daisy, for that matter. But at the end of the day, Daisy was always there to have Aza's back. And because we love Aza, and our heart breaks for her, and we want her to have her happily ever after, we believe that these two BFFs are on their way to an even stronger future friendship.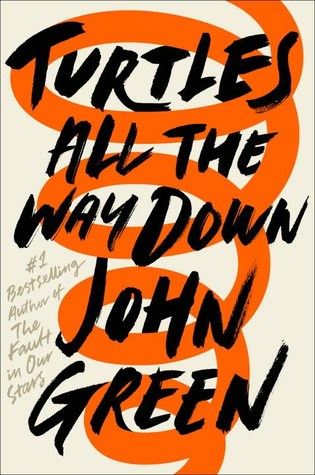 Sixteen-year-old Aza never intended to pursue the mystery of fugitive billionaire Russell Pickett, but there's a hundred-thousand-dollar reward at stake and her Best and Most Fearless Friend, Daisy, is eager to investigate. So together, they navigate the short distance and broad divides that separate them from Russell Pickett's son, Davis.
Aza is trying. She is trying to be a good daughter, a good friend, a good student, and maybe even a good detective, while also living within the ever-tightening spiral of her own thoughts.
10. Arsinoe & Jules (Three Dark Crowns)
Every queen may be (allegedly) gifted with a supernatural power, but not all of them are gifted with a BFF as loyal—and as fierce—as Jules. She had Arsinoe's back no matter what, which is no small feat in a battle of life and death. What are the odds they both get a happy ending in this dark, twisted tale?
In every generation on the island of Fennbirn, a set of triplets is born: three queens, all equal heirs to the crown and each possessor of a coveted magic. Mirabella is a fierce elemental, able to spark hungry flames or vicious storms at the snap of her fingers. Katharine is a poisoner, one who can ingest the deadliest poisons without so much as a stomachache. Arsinoe, a naturalist, is said to have the ability to bloom the reddest rose and control the fiercest of lions.
But becoming the Queen Crowned isn't solely a matter of royal birth. Each sister has to fight for it. And it's not just a game of win or lose… it's life or death. The night the sisters turn sixteen, the battle begins.
The last queen standing gets the crown.
11. Rose & Christian (Vampire Academy)
If you don't know why Rose and Christian are on this list together, then you haven't read SHADOW KISS. The third book in the series is one of our faves, and seeing these two clash and simultaneously work together is nothing short of epic. Totally here for this friendship!
Lissa Dragomir is a Moroi princess: a mortal vampire with a rare gift for harnessing the earth's magic. She must be protected at all times from Strigoi; the fiercest vampires – the ones who never die. The powerful blend of human and vampire blood that flows through Rose Hathaway, Lissa's best friend, makes her a dhampir. Rose is dedicated to a dangerous life of protecting Lissa from the Strigoi, who are hell-bent on making Lissa one of them.
After two years of freedom, Rose and Lissa are caught and dragged back to St. Vladimir's Academy, a school for vampire royalty and their guardians-to-be, hidden in the deep forests of Montana. But inside the iron gates, life is even more fraught with danger… and the Strigoi are always close by.
---
Which YA duos would you add to this list? Let us know in the comments below!