It's been a while since we rounded up our favorite winter reads, and with the holidays looming, we've been thinking about the best cozy reads for winter break. In the mood for a love story? A fantasy? Something that's straight-up Christmas? There are SO MANY TO CHOOSE FROM. We've got you covered with this festive mix.
And want to take it even further and celebrate just how wonderful of a time of year this is for us book nerds? Don't miss out on the first ever Epic Reads Holiday box! They're only around for a limited time and some books are running out, so hurry up and place your order!!
You can find out more about it right here!
Scroll through and choose which holly jolly books should be added to your TBR!
11 Holiday Books That Will Put You in a Festive Mood
1. The Afterlife of Holly Chase, by Cynthia Hand
All right, you know A CHRISTMAS CAROL. You (hopefully haven't been visited by, but) know the ghosts of Christmas past, present, and future. Well this classic got a total reawakening this year in the form of HOLLY CHASE, one of the most strong-willed protagonists this holiday season. This book will make you swoon, laugh out loud, and want to decorate for the holidays all at the same time. Honestly, can we ask for anything better?
(Yes, yes we can, because you can get this book now with even more holiday goodies)
On Christmas Eve five years ago, seventeen-year-old Holly Chase was visited by three Ghosts who showed her how selfish and spoiled she'd become. They tried to convince her to mend her ways. She didn't. And then she died.
Now she's stuck working for the top-secret company Project Scrooge—as their latest Ghost of Christmas Past. So far, Holly's afterlife has been miserable. But this year's Scrooge is different. This year's Scrooge might change everything…
2. Let It Snow, by John Green, Maureen Johnson, and Lauren Myracle
One big snowstorm, and love is in the air. What more could you ask for? Other than three interconnected stories told by three amazing YA authors. This one came out a while ago, but it's still at the top of our list to get into the holiday spirit every year.
A Christmas Eve snowstorm transforms one small town into a romantic haven, the kind you see only in movies. Well, kinda. After all, a cold and wet hike from a stranded train through the middle of nowhere would not normally end with a delicious kiss from a charming stranger. And no one would think that a trip to the Waffle House through four feet of snow would lead to love with an old friend. Or that the way back to true love begins with a painfully early morning shift at Starbucks. The magic of the holidays shines on these hilarious and charming interconnected tales of love, romance, and breathtaking kisses.
3. Almost Midnight, by Rainbow Rowell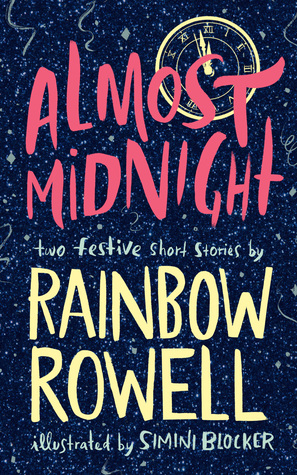 In our opinion—and you know we have many about YA—short stories are totally underrated. ALMOST MIDNIGHT has two holiday-themed short stories by one of our fave authors, Rainbow Rowell! They're perfect to gift to a friend, or to curl up with and read yourself. We're probably doing both.
"Midnights" is the story of Noel and Mags, who meet at the same New Year's Eve party every year and fall a little more in love each time …
"Kindred Spirits" is about Elena, who decides to queue up to see the new Star Wars movie and meets Gabe, a fellow fan.
4. My True Love Gave to Me, edited by Stephanie Perkins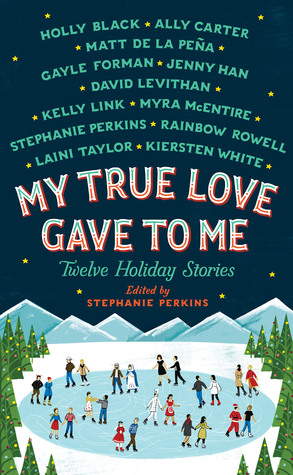 Speaking of short stories being underrated, listen to this line up: Holly Black, Ally Carter, Matt de la Pena, Gayle Forman, Jenny Han, David Levithan, Kelly Link, Myra McEntire, Rainbow Rowell, Laini Taylor, and Kiersten White.
So. if you want more short stories, you'll know what to pick up.
If you love holiday stories, holiday movies, made-for-TV-holiday specials, holiday episodes of your favorite sitcoms and, especially, if you love holiday anthologies, you're going to fall in love with MY TRUE LOVE GAVE TO ME, by 12 best-selling writers. Whether you enjoy celebrating Christmas or Hanukkah, Winter Solstice or New Year's, there's something here for everyone. So curl up by the fireplace and get cozy. You have 12 reasons this season to stay indoors and fall in love.
5. The Lion, the Witch, and the Wardrobe, by C.S. Lewis
Okay, one classic, and then we'll return to our regularly scheduled modern programming. We know, you read this when you were a kid. But this wintry classic—full of magic—was meant to be read over winter break. It's sort of like THE NIGHT BEFORE CHRISTMAS. You never really outgrow it!
Lucy is the first to find the secret of the wardrobe in the professor's mysterious old house. At first, no one believes her when she tells of her adventures in the land of Narnia. But soon Edmund and then Peter and Susan discover the Magic and meet Aslan, the Great Lion, for themselves. In the blink of an eye, their lives are changed forever.
6. Girls Made of Snow and Glass by Melissa Bashardoust
For a very different type of fantasy, this is definitely a new one that you should be adding to your book piles. What's more wintry than a 15-year-old who was created out of snow by a magician?! It may not have an actual holiday in it, but this feminist fantasy reimagining of Snow White will keep you turning pages until the very end. And also it will make you crave hot chocolate. So, win/win.
At 16, Mina's mother is dead, her magician father is vicious, and her silent heart has never beat with love for anyone — has never beat at all, in fact, but she'd always thought that fact normal. She never guessed that her father cut out her heart and replaced it with one of glass. When she moves to Whitespring Castle and sees its king for the first time, Mina forms a plan: Win the king's heart with her beauty, become queen, and finally know love. The only catch is that she'll have to become a stepmother.
Fifteen-year-old Lynet looks just like her late mother, and one day she discovers why: A magician created her out of snow in the dead queen's image, at her father's order. But despite being the dead queen made flesh, Lynet would rather be like her fierce and regal stepmother, Mina.
7. The Best Girl by Emma Harrison
Because what we need right now is escapism as perfect as this book. We finally have time to relax, and dang it, we are going to.
You are cordially invited to your brother's wedding, where he will marry rich, famous Marni Shay, at the River Lodge, the most elite resort in Colorado, the state you chose to go to college in so you could escape your family—except they'll all be there.
Enjoy 10 fun-filled days of avoiding your mother, who still thinks you're not girly enough; planning your brother's bachelor party, because you are his best man, er, girl; and, oh yeah, trying not to drool all over Hot Connor, who happens to be in your English seminar and works at the River Lodge. Don't miss the most joyous celebration of the year!
Yeah, right.
8. Love on the Lifts by Rachel Hawthorne
We mean… just read the description… you'll see.
Winter Break super-secret perfect cocoa recipe:
8 oz. steamed whole milk (no skim! doesn't work!)
2 tbsp. dark cocoa powder (big scoops)
1 tbsp. sugar (can't be too sweet)
4 dried, crushed mint leaves
(or 1 tbsp. mint syrup)
Stir thoroughly. Add mint swizzle stick. Combine with cute ski instructor, or brother's cute best friend, or cute guy you never noticed was so cute… Enjoy.
9. Trapped by Michael Northrop
Looking for a change of pace? This wintry thriller isn't so heartwarming, but it will most definitely keep you on the edge of your seat.
The day the blizzard started, no one knew that it was going to keep snowing for a week. That for those in its path, it would become not just a matter of keeping warm, but of staying alive.
Scotty and his friends Pete and Jason, are among the last seven kids at their high school waiting to get picked up that day, and they soon realize that no one is coming for them. Still, it doesn't seem so bad to spend the night at school, especially when distractingly hot Krista and Julie are sleeping just down the hall. But then the power goes out, and then the heat. The pipes freeze, and the roof shudders. As the days add up, the snow piles higher, and the empty halls grow colder and darker. The mounting pressure forces a devastating decision …
10. Winter Town by Stephen Emond
A little bit GARDEN STATE and a little bit NICK AND NORAH'S INFINITE PLAYLIST, this illustrated novel about falling in love over winter break should absolutely be read on winter break.
Every winter, straight-laced, Ivy League-bound Evan looks forward to a visit from Lucy, a childhood pal who moved away after her parent's divorce. But when Lucy arrives this year, she's changed. The former "girl next door" now has chopped dyed black hair, a nose stud, and a scowl. But Evan knows that somewhere beneath the Goth, "Old Lucy" still exists, and he's determined to find her… even if it means pissing her off.
11. Dash and Lily's Book of Dares by Rachel Cohn and David Levithan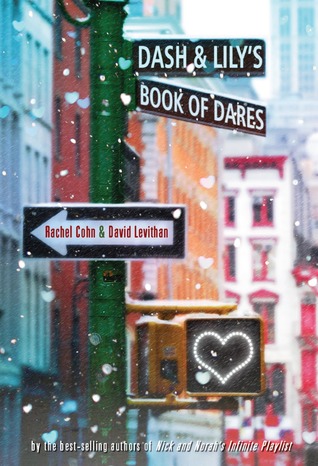 You can't go wrong with these superstar authors, whether they're on their own or teamed up for another epic adventure. Quirky characters? Check. Love story? Check. Winter in NYC? Check.
"I've left some clues for you.
If you want them, turn the page.
If you don't, put the book back on the shelf, please."
Lily has left a red notebook full of challenges on a favorite bookstore shelf, waiting for just the right guy to come along and accept its dares. But is Dash that right guy? Or are Dash and Lily only destined to trade dares, dreams, and desires in the notebook they pass back and forth at locations across New York? Could their in-person selves possibly connect as well as their notebook versions? Or will they be a comic mismatch of disastrous proportions.
Bonus, there's also THE TWELVE DAYS OF DASH AND LILY ❄️
---
What books do you read around the holidays? Let us know in the comments below!
Up next: