So you are reading a book and all of a sudden you read a quote or passage that just speaks to you. How do you call it out? Today, we are opening the debate on how book nerds go about annotating their books.
If you're lucky enough to own an e-reader, you already have simple solutions built in to your device or reading apps so we aren't going to discuss those here. (Let's put that as a point in the e-reader column in the epic debate between e-readers and real books.)
For those of you who prefer to read real books, you have a couple of annotation options. We discussed this topic in a recent Tea Time (fast-forward to 18:40) and came to the conclusion that there is no right or wrong way to annotate your books and everyone seems to have their own preference.
We took some photos of ways our community likes to take notes, but we'd like to hear what you think! Join us in the comments and tell us how you annotate your books or link us to a photo example!
Option 1: The Post-It
This seems to be quite a popular option as normal sized or large Post-Its have room to write messages down and the sticky backing is preferable to regular pieces of paper because, well, you can stick them to things! Plus, Post-Its come in a variety of colors, so you could totes match your Post-It to your book.
Option 2: Sticky Flags
This is similar to option 1, but instead of the regular or larger Post-It, we used these little sticky "flags". There's not much room to write anything on them, but they are small enough to keep in your bag so you can use them on the go. Plus, like the regular Post-Its, they come in a variety of colors so you can color coordinate your notes. For example: yellow flags signify quotes you like, green could signify passages you want to remember for your reviews and red could signify kissy scenes. . . or you know, whatever!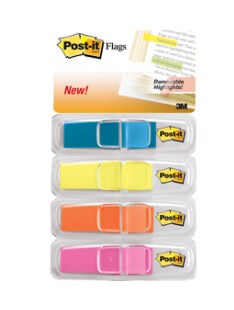 Option 3: The Old Fashioned Way
This is a classic we like to use in ARCs, paperbacks and sometimes in hardcovers (although it's hard to mark up hardcovers, we like ours in pristine condition!).
There are a variety of options within this style of note taking. Let's start with the style:
1.) Underlining
2.) Arrows, stars, parenthesi, ect.
Now, what utensil do you use?
1.) Pencil
2.) Pen
3.) Highlighter
If you take notes this way, how do you ultimately remember what pages you highlighted? A member of our team likes to list out the pages on the book's title page as a way of indexing everything:
Option 4: Keep a notebook
The other option we saw a lot of our members mention during Tea Time was keeping a notebook, (or a super cute tiny one like this!) nearby and jotting notes down in that. This is a perfect option for those that don't want to mark up their books but also want more room for note taking than a Post-It offers.
Option 5: Take photos!
One member mentioned that she likes to take pictures of her favorite passages with her phone and upload them to Pinterest or Instagram as a way of digitally cataloging her favorite sections.
Does anyone else think a thin bookmark that doubled as a tiny notebook and sticky flag holder would be ideal for annotation? (This was an idea also spawned during Tea Time.)
So which option do you prefer? Are there any ways of taking notes that we missed?