With less than one week to go in our #CarveTheMarkCountdown, we thought it was time to dedicate some attention to our favorite queen of the Current – none other than Cyra Noavek herself! In Carve The Mark, Cyra is the sister of the tyrant, Ryzek,  who rules the Shotet people. Her currentgift causes her to be in constant pain and to inflict pain on anyone she touches—so her brother uses her as a weapon to torture his enemies. But Cyra is much more than just a blade in her brother's hand: she is resilient, quick on her feet, and smarter than he knows. We are *so* excited to finally reveal some character art for Cyra. This girl is such a badass, and being able to put a face to the name only made us love her more. We have two amazing designs for Cyra, one from each of our incredibly talented artists, Morgana Wallace and Gabriel Picolo.
We seriously cannot get enough of this style. Look at her! Cyra is ready to slay.
And this one is straight up just 😍 . This is a girl who knows what she's capable of and isn't afraid to stand up for herself and prove it. Talk about #Girlboss.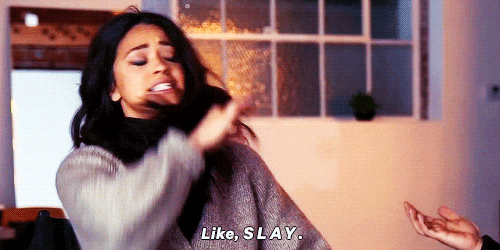 It's day 11 in our #CarveTheMarkCountdown celebration – our seventeen day long event where we're giving you with exclusive Carve the Mark content every day until the release of Carve the Mark, Veronica Roth's new spacetastic YA novel, on January 17, 2017! Find more Carve The Mark character art here!
Missed some of the Carve The Mark Countdown? We've got you covered: 
Everything You Need To Know About Carve The Mark 
What's Your #Currentgift? 
Carve The Mark Pronunciation Guide
Space Food To Devour While You Wait For Carve The Mark
Here's How Carve The Mark is Changing YA into High Fashion
Meet The Cast Of The Carve The Mark Audio Book
Carve The Mark Map Reveal
Read An Excerpt Of The Divergent Epilogue Here
What's your Carve The Mark Name?
Feast Your Eyes On This Carve The Mark Character Art
---
Are you excited to meet this Shotet royal for real?! Hit the comments and let us know what you think of Cyra so far!