Amandla Stenberg, we bow down to you as you take over everything YA. Amandla is making moves as they continue to slay YA adaptations everywhere. First, they made their debut as Rue in The Hunger Games, and now has us hooked with their upcoming lead roles in YA adaptations such as Nicola Yoon's Everything Everything movie, Fox's adaptation of Alexandra Bracken's Darkest Minds, and A.C Thomas' revolutionary The Hate U Give film. On top of being a kick ass actor, Amandla is a style icon and a passionate artist and activist- their eloquence in these areas make them even more royal in our eyes. Because they are undeniably taking the YA world by storm we've decided to give you a sneak peak into the #work of our new YA icon!
Amandla As Rue  In The Hunger Games
Ahhh where it all began. We first saw Amandla shine in their role as Rue in the first Hunger Games film, where they broke our hearts playing the tragic role. It's safe to say that from the moment we saw Amandla on the screen, we knew they were something special.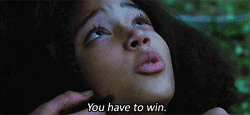 Amandla in Nicola Yoon's Everything, Everything
Amandla Stenberg recently signed on to hit YA feature Everything, Everything and will star as the lead in the film! Find out everything you need to know about the Everything, Everything film here! Amandla is currently filming this project, where they play a sickly teen girl struggling to find both herself, and love amongst her disease. The film set to be released in 2017 and we are fangirling prettty hard over it.
First day on set of Everything Everything with @notnickrob. (I promise it is Nick Rob.) pic.twitter.com/Y46J1txXyy

— Amandla (@amandlastenberg) September 7, 2016
Amandla stars in Fox's Darkest Minds Adaptation
Breaking news! Not only will Alexandra Bracken's YA series Darkest Minds get a Fox movie adaptation- but Amandla just signed on as the lead role! CAN YOU BELIEVE THIS? Minds is set after a pandemic kills most of America's children and teenagers. When some survivors develop various superpowers, they are deemed too dangerous for society, taken from their families and placed inside internment camps. Amandla will play Ruby, who escapes the camp using her telekinetic powers and joins a group of teens who are all running from the government.
Amandla Stenberg will be the star of sci-fi thriller, 'Darkest Minds' https://t.co/utcI1sm82i pic.twitter.com/bygpKGw6P6

— Blavity (@Blavity) September 27, 2016
Amandla Signs On To A.C. Thomas' THE HATE U GIVE
This is the one that officially confirms Amandla is taking over the YA universe. THE HATE U GIVE isn't out yet, but had a massive auction which ended in Balzer & Bray acquiring the novel, and is sure to make waves in both the YA community and Amandla's career. We'll have more information on this ground- breaking masterpiece by A.C. Thomas in the upcoming months but for now you can add it to your goodreads shelf in anticipation for its release! Thomas' story follows a 16-year-old who attends a suburban prep school and must deal with the aftermath of witnessing a police officer shoot her unarmed best friend. When she is called to testify in court, she has to face the consequences of what she does or doesn't say. Amandla's activism along with their previously mentioned YA roles make them the perfect fit to slay this role.
Amandla's Style
We couldn't write an article about Amandla without mentioning that they are literally our fashion icon. Not only are they our YA rockstar but also are the inspiration for all our wish-list outfits. Amandla continues to be unapologetic and make a splash in fashion as they take over the YA world. Check out some of their styles here!
Amandla Means…
Amandla has proven to be the epitome of a #boss as they speak out for what they believe in and the injustices they see in society.  Amandla's activism is inpirational and gives us the constant courage and bravery we've all been looking for. Amandla's name was inspired by Miles Davis' 1989 album, "Amandla," which means "power" in Zulu. The name is certainly fitting, and they've taken it on with pride! We can't wait to see their upcoming work. We applaud you Amandla! 👏👏👏👏
She uses her voice to create social change & we r all for it! Check out our BTS #WEDay interview w/ @AmandlaStenberg:https://t.co/dwLG4aMgqm

— WE (@WEMovement) August 27, 2016
Where You Can See More Of Amandla:
As You Are
Where Hands Touch
Sleepy Hollow
Mr. Robinson
Mercy
Beyonce's Lemonade Video Album
Follow Amandla on Facebook • Twitter • Instagram 
---
Which movie are you most excited to see Amandla Stenberg in? Everything, Everything, The Hate U Give, or Darkest Minds? 
Save
Save
Save
Save