It's true that there has been a wealth of better representation in the YA market lately, but with the success and love for LOVE, SIMON, we're ready to see more of those storylines making their way off of the shelves and onto screens. Thankfully we have THE MISEDUCATION OF CAMERON POST to look forward to, but what else? What will be next? We'll take any kind of adaptation for these LGBTQIA books—it totally depends on the story.
To give these studios some ideas and maybe nudge them in the right direction, we took it upon ourselves to consider some we would love to see adaptations for. We thought, "Hm, how would this work as a series? Who do we trust to give us a good show? Do we want to watch this movie in theaters, or from the comfort of our own beds?" There was a lot to consider, but we're pretty content with what we came up with!
Scroll through for our dream LGBTQIA adaptations!
LGBTQIA Books We Wish Would Get TV or Movie Adaptations
1. The Gentleman's Guide to Vice and Virtue by Mackenzi Lee
DREAM ADAPTATION: CW SERIES
We're thinking of a GENTLEMAN'S GUIDE adaptation as something that would combine the best parts of Reign, Riverdale, and Supernatural, so it only seems fitting that this novel would find its place on The CW's roster! And, okay, this might be cheating, because it was optioned by Greg Berlanti, who is the mastermind behind so many CW shows, but still…
Henry "Monty" Montague doesn't care that his roguish passions are far from suitable for the gentleman he was born to be. But as Monty embarks on his grand tour of Europe, his quests for pleasure and vice are in danger of coming to an end. Not only does his father expect him to take over the family's estate upon his return, but Monty is also nursing an impossible crush on his best friend and traveling companion, Percy…
2. They Both Die at the End by Adam Silvera
DREAM ADAPTATION: MINISERIES
Sure, this might be vague, but we would welcome a THEY BOTH DIE miniseries adaptation on any platform. Why a miniseries, you ask? Well, you know the plot of the novel by now. We think this would have the most emotional punch without being dragged out. To see Mateo and Rufus's story unfold over eight expertly crafted episodes would be asking for heartbreak, but it would be the kind of heartbreak we are so here for. You thought you were ugly crying during the book? Just wait until the end of episode seven.
On September 5, a little after midnight, Death-Cast calls Mateo Torrez and Rufus Emeterio to give them some bad news: They're going to die today. Mateo and Rufus are total strangers, but, for different reasons, they're both looking to make a new friend on their End Day. The good news: There's an app for that. It's called Last Friend, and through it, Rufus and Mateo are about to meet up for one last great adventure—to live a lifetime in a single day…
3. It's Not Like It's a Secret by Misa Sugiura
DREAM ADAPTATION: MAJOR MOTION PICTURE
We're ready to buckle ourselves in, sit back with a bucket of popcorn, and alternate between crying and swooning for a solid ninety minutes in the darkness while friends and strangers around us do the exact same. We want this award-winning novel to get ALL THE LOVE. We want premieres, trailers, sneak peeks—and we want Sana and Jamie on the big screen!
Sixteen-year-old Sana Kiyohara has too many secrets. Some are small, like how it bothers her when her friends don't invite her to parties. Some are big, like the fact that her father may be having an affair. And then there's the one that she can barely even admit to herself—the one about how she might have a crush on her best friend…
4. Mask of Shadows by Linsey Miller
DREAM ADAPTATION: NETFLIX SERIES
Netflix series know how to have fun, and they also aren't forced to drag stories out for 22-episode extended takes. So we think the streaming giant would be perfect for MASK OF SHADOWS… and also kind of because selfishly, we want to binge as much as we can at once. Watching Sal fight to become a member of The Left Hand—and then continue their story in the follow-up seasons based on RUIN OF STARS, would be awesome.
Sallot Leon is a thief, and a good one at that. But gender fluid Sal wants nothing more than to escape the drudgery of life as a highway robber and get closer to the upper-class—and the nobles who destroyed their home. When Sal steals a flyer for an audition to become a member of The Left Hand—the Queen's personal assassins—Sal jumps at the chance to infiltrate the court and get revenge…
5. We Are Okay by Nina LaCour
DREAM ADAPTATION: HULU SERIES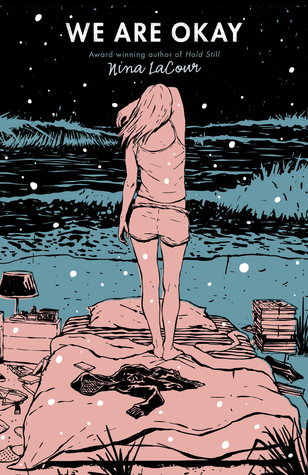 Hulu gives its shows the opportunity to be creative with their storytelling, but also excels in keeping them grounded—and that's the best thing we could ask for with WE ARE OKAY. This adaptation would have to handle the flashbacks and raw emotion of the story, the depth of the characters and resonance of the relationships… ugh, how have we not gotten it yet?!
Marin hasn't spoken to anyone from her old life since the day she left everything behind. No one knows the truth about those final weeks. Not even her best friend, Mabel. But even thousands of miles away from the California coast, at college in New York, Marin still feels the pull of the life and tragedy she's tried to outrun. Now, months later, alone in an emptied dorm for winter break, Marin waits…
6. Girl Mans Up by M-E Girard
DREAM ADAPTATION: FREEFORM SERIES
Maybe it's because of our love for THE BOLD TYPE, but we think another girl-power-centric series would be the perfect addition to Freeform's roster. And this is the rare book that we would be thrilled to see continue beyond what's on the page. Pen was such a complex and memorable main character, we would gladly take seasons and seasons of this story.
All Pen wants is to be the kind of girl she's always been. So why does everyone have a problem with it? They think the way she looks and acts means she's trying to be a boy—that she should quit trying to be something she's not. If she dresses like a girl, and does what her folks want, it will show respect. If she takes orders and does what her friend Colby wants, it will show her loyalty. But respect and loyalty, Pen discovers, are empty words…
7. The Love Interest by Cale Dietrich
DREAM ADAPTATION: NETFLIX MOVIE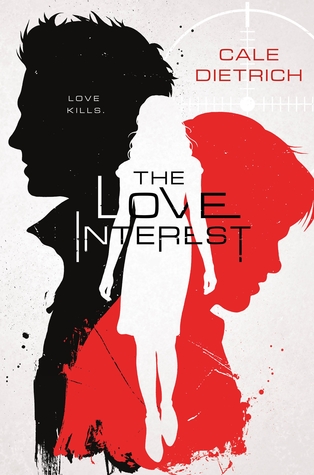 Netflix is totally getting into their own rom-com genre, and we are ready for THE LOVE INTEREST to be their next, action-packed addition! Between their Marvel series, Degrassi high school drama, and recent hits like The Kissing Booth, we think it's a perfect fit. Netflix would also be able to give us some more clips and scenes that show the boys' times in the training center… and hopefully expand on some of their nights out together! Plus, both Netflix and this book are on top of their soundtrack game, so that's just the cherry on top.
Caden is a Nice: the boy next door, sculpted to physical perfection. Dylan is a Bad: the brooding, dark-souled guy who is dangerously handsome. The girl they are competing for is important to the organization, and each boy will pursue her. Will she choose the Nice or the Bad? Both Caden and Dylan are living in the outside world for the first time…
8. Of Fire and Stars by Audrey Coulthurst
DREAM ADAPTATION: FREEFORM SERIES
Normally we might be hesitant to wish for a fantasy-based TV series, but Freeform did such an awesome job with both Siren and Cloak & Dagger that we know they'd be able to open their worlds up even farther with OF FIRE AND STARS! We would love the slow burn romance throughout the first season as Denna and Mare discover their feelings for each other against the backdrop of political intrigue and forbidden magic, and future seasons can expand the plot and cover the sequel! And we don't think it's too greedy to ask for a miniseries spinoff during a holiday break that adapts INKMISTRESS, right?!
Betrothed since childhood to the prince of Mynaria, Princess Dennaleia has always known what her future holds. Her marriage will seal the alliance between Mynaria and her homeland, protecting her people from other hostile kingdoms. But Denna has a secret. She possesses an Affinity for fire—a dangerous gift for the future queen of a land where magic is forbidden…
9. I'll Give You the Sun by Jandy Nelson
DREAM ADAPTATION: NETFLIX SERIES
All the characters in this book are already so alive and the emotions just leap off the page, so we can't imagine how amazing it would be to see the story play out on screen! This book would be perfect for a ten-part series with each episode alternating between Noah and Jude's perspectives. We'll just be staring at the screen with permanent rainbows in our eyes while Noah sketches portraits of Brian and every time Oscar's crooked face smiles at Jude our hearts will explode, so we need this series to bring some joy back into the world ASAP!
At first, Jude and her twin brother Noah, are inseparable. Noah draws constantly and is falling in love with the charismatic boy next door, while daredevil Jude wears red-red lipstick, cliff-dives, and does all the talking for both of them. Years later, they are barely speaking. Something has happened to change the twins in different yet equally devastating ways. The early years are Noah's to tell; the later years are Jude's…
10. Anger Is a Gift by Mark Oshiro
DREAM ADAPTATION: MAJOR MOTION PICTURE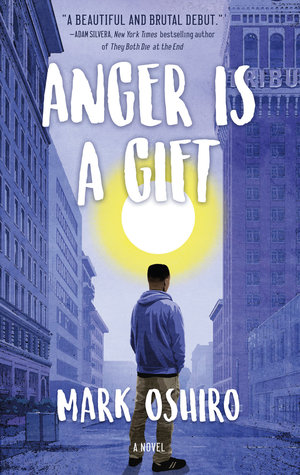 This may be a tad bit influenced by how shook we still are from THE HATE U GIVE trailer, but we need a movie to capture the raw emotion we felt reading ANGER IS A GIFT. We got so attached to these characters in such a short time and the plot was so electrifyingly powerful that we don't want to risk a TV network dragging it out and muddling the message. We can already imagine the movie opening with the flashback to Moss's father, and then the title card flashing on screen, and transitioning into a typical day at his school…
Six years ago, Moss Jefferies' father was murdered by an Oakland police officer. Along with losing a parent, the media's vilification of his father and lack of accountability has left Moss with near crippling panic attacks. Now, in his sophomore year of high school, Moss and his fellow classmates find themselves increasingly treated like criminals by their own school…
11. The Summer of Jordi Perez by Amy Spalding
DREAM ADAPTATION: NETFLIX SERIES
This book is just so freaking purely delightful that we need Netflix to adapt it so that we can sit inside on a lazy weekend and binge the entire thing and feel better about the world for eight to ten episodes at a time. Seriously! Fashion is coming back into the media spotlight, and we would be so here for body positive representation in that department. Plus, seeing romance and rivalry intertwine is always fun. Give us the Queer Eye / Set It Up mashup we didn't know we needed in our lives, Netflix!
Seventeen, fashion-obsessed, and gay, Abby Ives has always been content playing the sidekick in other people's lives. While her friends and sister have plunged headfirst into the world of dating and romances, Abby has stayed focused on her plus-size style blog and her dreams of taking the fashion industry by storm. When she lands a prized internship at her favorite local boutique, she's thrilled to take her first step into her dream career. She doesn't expect to fall for her fellow intern, Jordi Perez…
12. Reign of the Fallen by Sarah Glenn Marsh
DREAM ADAPTATION: MTV SERIES
Okay, here us out: MTV has criminally underrated scripted YA television hits. Maybe not at the moment, because they're focused on their reality empire, but Teen Wolf, The Shannara Chronicles, and Scream are not to be forgotten. And if you mashed all these up, do you know what you would get? REIGN OF THE FALLEN! But like, with better rep. So we think MTV should get back into the scripted game and tackle this book, because it would be gorgeous and creepy and entertaining and everything we'd need!
Odessa is one of Karthia's master necromancers, catering to the kingdom's ruling Dead. Whenever a noble dies, it's Odessa's job to raise them by retrieving their souls from a dreamy and dangerous shadow world called the Deadlands. But there is a cost to being raised—the Dead must remain shrouded, or risk transforming into zombie-like monsters known as Shades…
13. None of the Above by I. W. Gregorio
DREAM ADAPTATION: MTV SERIES
And we cannot forget the contemporary classics of the MTV scripted golden age—Awkward. and Faking it—because the latter is the reason we think MTV would be perfect to give us the best version of a NONE OF THE ABOVE show! Faking It had intersex rep (in addition to other queer characters along the LGBT+ spectrum), but we think it's time for an intersex character to step into the spotlight. MTV's NONE OF THE ABOVE could combine sharp wit, grounded emotional plotlines, and characters with depth to bring Kristin's story to an entirely new (and well-deserved) audience. And with a killer soundtrack at that!
When Kristin Lattimer is voted homecoming queen, it seems like another piece of her ideal life has fallen into place. She's a champion hurdler with a full scholarship to college and she's madly in love with her boyfriend. In fact, she's decided that she's ready to take things to the next level with him. But Kristin's first time isn't the perfect moment she's planned—something is very wrong. A visit to the doctor reveals the truth: Kristin is intersex…
14. Pantomime by Laura Lam
DREAM ADAPTATION: STARZ SERIES
We want the adaptation of PANTOMIME to, well, happen, but also be as dark and glittering and thrilling as it deserves to be! That's why we trust Starz to tackle this one, who made masterpieces out of other adaptations like OUTLANDER and AMERICAN GODS. Flashes to the past and through Micah's life would make for incredible sequences in some episodes, while the almost fantasy steampunk tone of the world is something we can already picture so clearly just from the writing!
Gene's life resembles a debutante's dream. Yet she hides a secret that would see her shunned by the nobility. Gene is both male and female. Then she displays unwanted magical abilities – last seen in mysterious beings from an almost-forgotten age. Matters escalate further when her parents plan a devastating betrayal, so she flees home, dressed as a boy. The city beyond contains glowing glass relics from a lost civilization. They call to her, but she wants freedom not mysteries. So, reinvented as 'Micah Grey', Gene joins the circus…
15. The Prince and the Dressmaker by Jen Wang
DREAM ADAPTATION: NETFLIX ANIMATED SERIES
This graphic novel was so freaking cute that we need multiple seasons of it and we need them adorably animated and we need to be able to binge them—so Netflix, please do us a favor and adapt THE PRINCE AND THE DRESSMAKER! Being able to actually watch the magical, dream-filled story of Sebastian and Frances come to life would be just the thing we needed to take this story to the next level, and adapting it into a full series would also give us the luxury of seeing the art style expanded to more of the world outside of the plot alone!
Prince Sebastian is looking for a bride―or rather, his parents are looking for one for him. Sebastian is too busy hiding his secret life from everyone. At night he puts on daring dresses and takes Paris by storm as the fabulous Lady Crystallia―the hottest fashion icon in the world capital of fashion! Sebastian's secret weapon (and best friend) is the brilliant dressmaker Frances…
16. The Art of Starving by Sam J. Miller
DREAM ADAPTATION: CW SERIES
The CW loves its superhero shows, so why not focus on one with creepy supernatural powers that may or may not be a figment of its main character's imagination?! THE ART OF STARVING could be a total hit in the vein of Legion if the CW were to lean into its magical side, but also probably more grounded and better because of how it deals with love, body image, and independence. This book is heartbreaking and powerful and haunting, so we would love a few seasons on a main network to bring it to life. And also… we already know the CW would do justice in casting the perfect Tariq!
Matt hasn't eaten in days. His stomach stabs and twists inside, pleading for a meal, but Matt won't give in. The hunger clears his mind, keeps him sharp—and he needs to be as sharp as possible if he's going to find out just how Tariq and his band of high school bullies drove his sister, Maya, away. Matt's hardworking mom keeps the kitchen crammed with food, but Matt can resist the siren call of casseroles and cookies because he has discovered something: the less he eats the more he seems to have… powers…
17. Dreadnought by April Daniels
DREAM ADAPTATION: HULU SERIES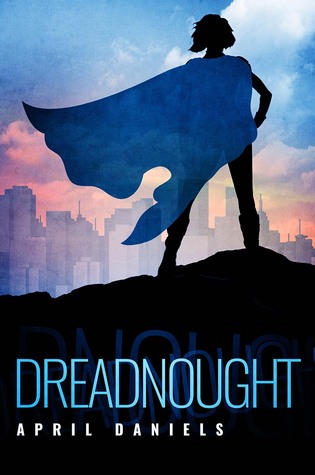 Hulu did such a good job with Runaways, did you really think we would want something as amazing as DREADNOUGHT tackled by anyone else?! Hulu isn't afraid to embrace how campy some superhero elements are, but they keep them grounded in such real, believable emotions and current day struggles that they come across in the perfect way. Utopia would have a chance to be as creepy as ever, and Danny would still our hearts on the weekly!
Until Dreadnought fell out of the sky and died right in front of her, Danny was trying to keep people from finding out she's transgender. But before he expired, Dreadnought passed his mantle to her, and those secondhand superpowers transformed Danny's body into what she's always thought it should be. Now there's no hiding that she's a girl…
18. Little & Lion by Brandy Colbert
DREAM ADAPTATION: NETFLIX MOVIE
Yes, yes, Netflix would handle the cutest of the elements of this book, but have you seen Sense8?! Have you had your heartstrings pulled to their most taut, and ugly cried while watching because of all the series issues drowning in pools of emotions?! Yeah, that's the vibe we get from a LITTLE & LION Netflix adaptation. This is such an incredible sibling story, but also one of mental illness, family, identity, and so much more, that we think a movie increasing the credibility of their ability to tell depthful stories would be just what Netflix needs!
When Suzette comes home to Los Angeles from her boarding school in New England, she isn't sure if she'll ever want to go back. L.A. is where her friends and family are (along with her crush, Emil). And her stepbrother, Lionel, who has been diagnosed with bipolar disorder, needs her emotional support. But as she settles into her old life, Suzette finds herself falling for someone new—the same girl her brother is in love with…
Learn more about Little & Lion!
19. Let's Talk About Love by Claire Kann
DREAM ADAPTATION: FREEFORM SERIES
Can you imagine watching LET'S TALK ABOUT LOVE and Grown-ish back to back, with maybe even The Bold Type thrown in? Because we totally can, and that's why we think it would make for an excellent Freeform series. It's super cute and sweet and adorkable while dealing with real issues that face someone who is asexual, and Freeform is really finding the balance between teaching lessons in a fun, pop culture way. And we love Alice and Takumi so much that we would happily see their story extended even farther—as long as nothing about the ending changes, because you cannot improve upon perfection.
Alice had her whole summer planned. Non-stop all-you-can-eat buffets while marathoning her favorite TV shows (best friends totally included) with the smallest dash of adulting–working at the library to pay her share of the rent. The only thing missing from her perfect plan? Her girlfriend (who ended things when Alice confessed she's asexual). Alice is done with dating. But then Alice meets Takumi and she can't stop thinking about him…
20. Like Water by Rebecca Podos
DREAM ADAPTATION: NETFLIX SERIES
Milennial anxiety, new crushes, a genderqueer character, small towns—and the fact that Savannah performs as a mermaid at a water park—just scream Netflix to us. We want to binge this story all over again, and we think Netflix would not only get the aesthetic right, but also the casting, emotions, and representation. LIKE WATER is not only an important book, but it's also beautifully written and pulls you in to truly care about its characters, so giving us episodes from multiple perspectives, times in their relationship… it could all be so good!
In Savannah Espinoza's small New Mexico hometown, kids either flee after graduation or they're trapped there forever. Vanni never planned to get stuck—but that was before her father was diagnosed with Huntington's disease, leaving her and her mother to care for him. Now she doesn't have much of a plan at all. That changes the day she meets Leigh…
---
What books do you wish would get adaptations? Let us know in the comments below!
Up next: