Summer is finally around the corner, and with it, an incredible new crop of books just waiting to be added to our shelves, packed in our bags, and read, shamelessly, while ignoring all other responsibilities. And you know what that means. Yep—it's time to dive in and see the most anticipated books of June! Brutal fantasies, swooning historicals, and wickledly brilliant contemporaries are just the start, and we think this month is going to be one for the books!
So scroll through our list of the most anticipated books, and make sure you add everything to your Goodreads shelf; we know you won't want to miss a single release! 😍⬇️
The 17 Most Anticipated Books to Read in June
1. A Reaper at the Gates by Sabaa Tahir
The Blood Shrike, Helene Aquilla, is assailed on all sides. Emperor Marcus, haunted by his past, grows increasingly unstable, while the Commandant capitalizes on his madness to bolster her own power. As Helene searches for a way to hold back the approaching darkness, her sister's life and the lives of all those in the Empire hang in the balance.
Far to the east, Laia of Serra knows the fate of the world lies not in the machinations of the Martial court, but in stopping the Nightbringer. But while hunting for a way to bring him down, Laia faces unexpected threats from those she hoped would aid her, and is drawn into a battle she never thought she'd have to fight.
And in the land between the living and the dead, Elias Veturius has given up his freedom to serve as Soul Catcher. But in doing so, he has vowed himself to an ancient power that will stop at nothing to ensure Elias's devotion–even at the cost of his humanity.
2. Save the Date by Morgan Matson
Charlie Grant's older sister is getting married this weekend at their family home, and Charlie can't wait—for the first time in years, all four of her older siblings will be under one roof. Charlie is desperate for one last perfect weekend, before the house is sold and everything changes. The house will be filled with jokes and games and laughs again. Making decisions about things like what college to attend and reuniting with longstanding crush Jesse Foster—all that can wait. She wants to focus on making the weekend perfect.
The only problem? The weekend is shaping up to be an absolute disaster.
Over the course of three ridiculously chaotic days, Charlie will learn more than she ever expected about the family she thought she knew by heart. And she'll realize that sometimes, trying to keep everything like it was in the past means missing out on the future.
3. My Plain Jane by Cynthia Hand, Jodi Meadows, & Brodi Ashton
You may think you know the story. After a miserable childhood, penniless orphan Jane Eyre embarks on a new life as a governess at Thornfield Hall. There, she meets one dark, brooding Mr. Rochester. Despite their significant age gap (!) and his uneven temper (!!), they fall in love—and, Reader, she marries him. (!!!)
Or does she?
Prepare for an adventure of Gothic proportions, in which all is not as it seems, a certain gentleman is hiding more than skeletons in his closets, and one orphan Jane Eyre, aspiring author Charlotte Brontë, and supernatural investigator Alexander Blackwood are about to be drawn together on the most epic ghost hunt this side of Wuthering Heights.
4. Smoke in the Sun by Renée Ahdieh
After Okami is captured in the Jukai forest, Mariko has no choice—to rescue him, she must return to Inako and face the dangers that have been waiting for her in the Heian Castle. She tricks her brother, Kenshin, and betrothed, Raiden, into thinking she was being held by the Black Clan against her will, playing the part of the dutiful bride-to-be to infiltrate the emperor's ranks and uncover the truth behind the betrayal that almost left her dead.
With the wedding plans already underway, Mariko pretends to be consumed with her upcoming nuptials, all the while using her royal standing to peel back the layers of lies and deception surrounding the imperial court. But each secret she unfurls gives way to the next, ensnaring Mariko and Okami in a political scheme that threatens their honor, their love and the very safety of the empire.
5. Fugitive Six by Pittacus Lore
The Human Garde Academy was created in the aftermath of an alien invasion of Earth. It was meant to provide a safe haven for teens across the globe who were suddenly developing incredible powers known as Legacies.
Taylor Cook was one of the newest students and had no idea if she'd ever fit in. But when she was mysteriously abducted, her friends broke every rule in the book to save her. In the process, they uncovered a secret organization that was not only behind Taylor's kidnapping but also the disappearance of numerous teens with abilities. An organization that has dark roots in the Loric's past, untold resources, and potentially even a mole at their own school.
Now these friends, who have become known to other students as the "Fugitive Six," must work together to bring this mysterious group to an end before they can hurt anyone else.
6. A Thousand Beginnings and Endings by Ellen Oh & Elsie Chapman
Fifteen bestselling and acclaimed authors reimagine the folklore and mythology of East and South Asia in short stories that are by turns enchanting, heartbreaking, romantic, and passionate.
A mountain loses her heart. Two sisters transform into birds to escape captivity. A young man learns the true meaning of sacrifice. A young woman takes up her mother's mantle and leads the dead to their final resting place. From fantasy to science fiction to contemporary, from romance to tales of revenge, these stories will beguile readers from start to finish.
Compiled by We Need Diverse Books's Ellen Oh and Elsie Chapman, the authors included in this exquisite collection are: Renee Ahdieh, Sona Charaipotra, Preeti Chhibber, Roshani Chokshi, Aliette de Bodard, Melissa de la Cruz, Julie Kagawa, Rahul Kanakia, Lori M. Lee, E. C. Myers, Cindy Pon, Aisha Saeed, Shveta Thakrar, and Alyssa Wong.
7. The Emerald Sea by Richelle Mead
The dazzling conclusion to #1 New York Times bestselling author Richelle Mead's The Glittering Court series.
Meet Tamsin, the Glittering Court's hard-angled emerald. Her outsized aspirations make her a fierce competitor, rising to the top of the ranks. But when the ship she boards for the New World is tragically lost at sea, she is quite literally thrown off-course.
8. Eden Conquered by Joelle Charbonneau
The Trials of Virtuous Succession have ended. Prince Andreus is king—and Princess Carys is dead.
But even as he's haunted by what he did to win the throne, Andreus discovers that his dream of ruling only brings new problems. The people love his twin even more in death than they did when she was alive. The Elders treat him as a figurehead. And worst of all, the winds of Eden are faltering.
But despite what everyone believes, Carys is alive. Exiled to the wilderness, Carys struggles to control the powers that have broken free inside her. And as she grows stronger, so does her conviction that she must return to the Palace of Winds, face her twin and root out the treachery that began long before the first Trials started.
9. Invisible Ghosts by Robyn Schneider
Rose Asher believes in ghosts. She should, since she has one for a best friend: Logan, her annoying, Netflix-addicted brother, who is forever stuck at fifteen. But Rose is growing up, and when an old friend moves back to Laguna Canyon and appears in her drama class, things get complicated.
Jamie Aldridge is charming, confident, and a painful reminder of the life Rose has been missing out on since her brother's death. She watches as Jamie easily rejoins their former friends–a group of magnificently silly theater nerds–while avoiding her so intensely that it must be deliberate.
Yet when the two of them unexpectedly cross paths, Rose learns that Jamie has a secret of his own, one that changes everything. Rose finds herself drawn back into her old life–and to Jamie. But she quickly starts to suspect that he isn't telling her the whole truth.
10. The Bird and the Blade by Megan Bannen
As a slave in the Kipchak Khanate, Jinghua has lost everything: her home, her family, her freedom … until she finds herself an unlikely conspirator in the escape of Prince Khalaf and his irascible father as they flee from their enemies across the vast Mongol Empire. On the run, with adversaries on all sides and an endless journey ahead, Jinghua hatches a scheme to use the Kipchaks' exile to return home, a plan that becomes increasingly fraught as her feelings for Khalaf evolve into a hopeless love.
Jinghua's already dicey prospects take a downward turn when Khalaf seeks to restore his kingdom by forging a marriage alliance with Turandokht, the daughter of the Great Khan. As beautiful as she is cunning, Turandokht requires all potential suitors to solve three impossible riddles to win her hand—and if they fail, they die.
Jinghua has kept her own counsel well, but with Khalaf's kingdom—and his very life—on the line, she must reconcile the hard truth of her past with her love for a boy who has no idea what she's capable of… even if it means losing him to the girl who'd sooner take his life than his heart.
11. Bruja Born by Zoraida Córdova
Three sisters. One spell. Countless dead.
Lula Mortiz feels like an outsider. Her sister's newfound Encantrix powers have wounded her in ways that Lula's bruja healing powers can't fix, and she longs for the comfort her family once brought her. Thank the Deos for Maks, her sweet, steady boyfriend who sees the beauty within her and brings light to her life.
Then a bus crash turns Lula's world upside down. Her classmates are all dead, including Maks. But Lula was born to heal, to fix. She can bring Maks back, even if it means seeking help from her sisters and defying Death herself. But magic that defies the laws of the deos is dangerous. Unpredictable. And when the dust settles, Maks isn't the only one who's been brought back…
12. Fat Girl on a Plane by Kelly deVos
Don't miss this unforgettable debut novel, told in two timelines, about smart fashion, pursuing your dreams, and loving yourself!
FAT.
High school senior Cookie Vonn's post-graduation dreams include getting out of Phoenix, attending Parsons and becoming the next great fashion designer. But in the world of fashion, being fat is a cardinal sin. She arrives in the city to find that she's been replaced by the boss's daughter, a girl who's everything she's not—ultrathin and superrich. Bowing to society's pressure, she vows to lose weight, get out of the friend zone with her crush, and put her life on track.
SKINNY.
Cookie expected sunshine and rainbows, but nothing about her new life is turning out like she planned. Her designs make waves, but her real dream of creating great clothes for people of all sizes seems to grow more distant by the day. Will she realize that she's always had the power to make her own dreams come true?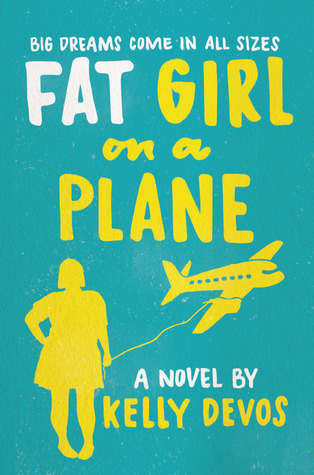 13. Court of Shadows by Madeleine Roux
After the frightful events of last autumn, seventeen-year-old Louisa Ditton has settled into her role as a maid at Coldthistle House, but she has not settled into what that means for her humanity.
As Louisa struggles to figure out whether she is worthy of redemption, the devilish Mr. Morningside plans a fete— one that will bring new guests to Coldthistle House. From wicked humans to Upworlders, angelic beings who look down upon Mr. Morningside's monstrous staff, all are armed with their own brand of self-righteous justice.
Even a man claiming to be Louisa's father has a role to play, though what his true motive is, Louisa cannot tell. The conflicts will eventually come to a head on the grounds of Coldthistle House—and the stakes include Louisa's very soul.
14. Always Forever Maybe by Anica Mrose Rissi
When Betts meets Aiden at the candy store where she works, their connection is like a sugar rush to the heart. Betts already knows the two of them are infinite. Inevitable. Destined to become an us.
Betts has only ever kept one secret from her best friend, Jo, but suddenly there's a long list of things she won't tell her, things Jo wouldn't understand. Because Jo doesn't see how good Aiden is for Betts. She finds him needy. Possessive. Controlling.
She's wrong. With a love like this, nothing else matters.
15. City of Bastards by Andrew Shvarts
Tilla, bastard of House Kent, has it made. Safe from her murderous father in the dazzling capital of Lightspire, she lives a life of luxury under the protection of the Volaris King, alongside her boyfriend Zell and best friend, Princess Lyriana.
So why isn't she happy? Maybe it's the whispers and stares that follow her wherever she goes, as the daughter of the traitor waging war against Lightspire. Or maybe it's the memories of her beloved brother, Jax, who lies cold in his grave even as she tries to settle into a life in the city's prestigious University.
Then, Tilla stumbles upon the body of a classmate, a friend. The authorities are quick to rule it a suicide and sweep it under the rug, but when Tilla herself is attacked by a mysterious man with terrifying powers, she's convinced of a conspiracy. Her friends beg her to stay silent; what she's suggesting is impossible… and treasonous.
But Tilla can't, won't, let it go. And the deeper she digs, the more questions she uncovers.
16. A Flicker in the Clarity by Amy McNamara
For as long as Evie can remember, she and Emma have been best friends. They've gone through everything together—only Evie understood what it was like for Emma to lose her older brother in a car accident. And though they couldn't be more different—Emma is the life of the party while Evie is shy—the dynamic has always worked for them.
But then Evie makes a careless mistake that ends up having serious consequences for Emma. They've had their squabbles before, but this is different. Who is Evie without Emma?
Then Evie meets Theo, a kindred spirit unlike any boy she's ever encountered. With him, she can at least pretend like her life is normal. But just as she's about to let go and fully fall into whatever is happening with him, Emma resurfaces, miraculously letting Evie back in—though it's not without consequence. Evie is used to swooping in to pull Emma out of her troubles, but how do you help someone who doesn't want to be saved?
17. Mariam Sharma Hits the Road by Sheba Karim
The summer after her freshman year in college, Mariam is looking forward to working and hanging out with her best friends: irrepressible and beautiful Ghazala and religious but closeted Umar. But when a scandalous photo of Ghaz appears on a billboard in Times Square, Mariam and Umar come up with a plan to rescue her from her furious parents. And what better escape than New Orleans?
The friends pile into Umar's car and start driving south, making all kinds of pit stops along the way—from a college drag party to a Muslim convention, from alarming encounters at roadside diners to honky-tonks and barbeque joints.
Along with the adventures, the fun banter, and the gas station junk food, the friends have some hard questions to answer on the road. With her uncle's address in her pocket, Mariam hopes to learn the truth about her father (and to make sure she didn't inherit his talent for disappearing). But as each mile of the road trip brings them closer to their own truths, they know they can rely on each other, and laughter, to get them through.
CHECK OUT THESE OTHER *EPIC* YA BOOKS COMING OUT IN JUNE!
---
What's on your most anticipated list? Which book are you going to pick up first? Tell us in the comments below!