It's almost December, book nerds, and you know what that means! It's time for our final most anticipated YA book list of the YEAR. With the holidays coming up, you're going to need to know what new releases to put on your wish list and we've got you covered with our handy guide of the top books publishing over the next few weeks. So without further ado…
The 12 Most Anticipated YA Books to Read in December
1. Love, Life, and the List by Kasie West
Seventeen-year-old Abby Turner's summer isn't going the way she'd planned. She has a not-so-secret but definitely unrequited crush on her best friend, Cooper. She hasn't been able to manage her mother's growing issues with anxiety. And now she's been rejected from an art show because her work "has no heart." So when she gets another opportunity to show her paintings Abby isn't going to take any chances. Which is where the list comes in.
Abby gives herself one month to do ten things, ranging from face a fear (#3) to learn a stranger's story (#5) to fall in love (#8). She knows that if she can complete the list she'll become the kind of artist she's always dreamed of being. But as the deadline approaches, Abby realizes that getting through the list isn't as straightforward as it seems… and that maybe—just maybe—she can't change her art if she isn't first willing to change herself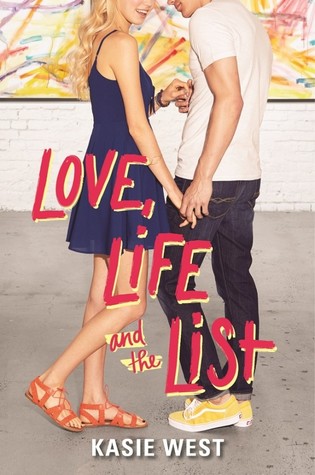 .
2. Ever the Brave by Erin Summerill
Ever the Divided. Ever the Feared. Ever the Brave.
After saving King Aodren with her newfound Channeler powers, Britta only wants to live a peaceful life in her childhood home. Unfortunately, saving the King has created a tether between them she cannot sever, no matter how much she'd like to, and now he's insisting on making her a noble lady. And there are those who want to use Britta's power for evil designs. If Britta cannot find a way to harness her new magical ability, her life—as well as her country—may be lost. The stakes are higher than ever in the sequel to Ever the Hunted, as Britta struggles to protect her kingdom and her heart.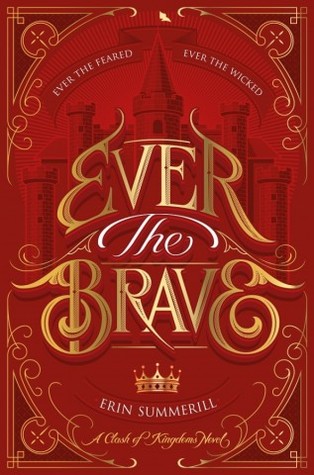 3. Three Sides of a Heart edited by Natalie C. Parker
You may think you know the love triangle, but you've never seen love triangles like these. This collection, edited by Natalie C. Parker, contains stories written by Renee Ahdieh, Rae Carson, Brandy Colbert, Katie Cotugno, Lamar Giles, Tessa Gratton, Bethany Hagan, Justina Ireland, Alaya Dawn Johnson, EK Johnston, Julie Murphy, Garth Nix, Natalie C. Parker, Veronica Roth, Sabaa Tahir, and Brenna Yovanoff.
A teen girl who offers kissing lessons. Zombies in the Civil War South. The girl next door, the boy who loves her, and the girl who loves them both. Vampires at a boarding school. Three teens fighting monsters in an abandoned video rental store. Literally the last three people on the planet. What do all these stories have in common? The love triangle.
4. Foolish Hearts by Emma Mills
The day of the last party of the summer, Claudia overhears a conversation she wasn't supposed to. Now on the wrong side of one of the meanest girls in school, Claudia doesn't know what to expect when the two are paired up to write a paper—let alone when they're both forced to try out for the school production of A Midsummer Night's Dream.
But mandatory participation has its upsides—namely, an unexpected friendship, a boy band obsession, and a guy with the best dimpled smile Claudia's ever seen. As Claudia's world starts to expand, she finds that maybe there are some things worth sticking her neck out for.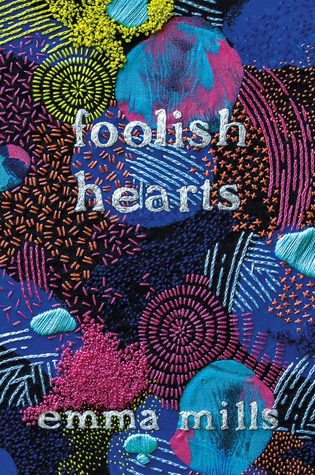 5. The Love Letters of Abelard and Lily by Laura Creedle
When Lily Michaels-Ryan ditches her ADHD meds and lands in detention with Abelard, who has Asperger's, she's intrigued—Abelard seems thirty seconds behind, while she feels thirty seconds ahead. It doesn't hurt that he's brilliant and beautiful.
When Abelard posts a quote from The Letters of Abelard and Heloise online, their mutual affinity for ancient love letters connects them. The two fall for each other. Hard. But is it enough to bridge their differences in person?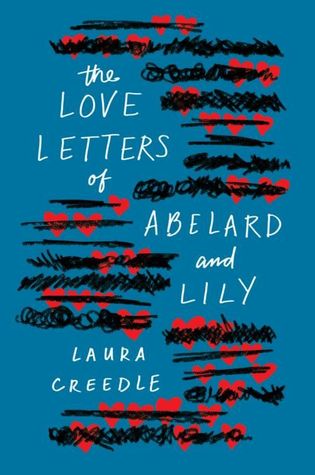 6. Instructions for a Secondhand Heart by Tamsyn Murray
Jonny knows better than anyone that life is full of cruel ironies. He's spent every day in a hospital hooked up to machines to keep his heart ticking. Then when a donor match is found for Jonny's heart, that turns out to be the cruellest irony of all. Because for Jonny's life to finally start, someone else's had to end. That someone turns out to be Neve's twin brother, Leo. When Leo was alive, all Neve wanted was for him (and all his glorious, overshadowing perfection) to leave. Now that Leo's actually gone forever, Neve has no idea how to move forward. Then Jonny walks into her life looking for answers, her brother's heart beating in his chest, and everything starts to change.
Together, Neve and Jonny will have to face the future, no matter how frightening it is, while also learning to heal their hearts, no matter how much it hurts.
7. Shadow Girl by Liana Liu
The house on Arrow Island is full of mystery. Yet, when Mei arrives, she can't help feeling relieved. She's happy to spend the summer in an actual mansion tutoring a rich man's daughter if it means a break from her normal life—her needy mother, her delinquent brother, their tiny apartment in the city. And Ella Morison seems like an easy charge, sweet and well behaved. What she doesn't know is that something is very wrong in the Morison household.
Though she tries to focus on her duties, Mei becomes increasingly distracted by the family's problems and her own complicated feelings for Ella's brother, Henry. But most disturbing of all are the unexplained noises she hears at night—the howling and thumping and cries. Mei is a sensible girl. She isn't superstitious; she doesn't believe in ghosts. Yet she can't shake her fear that there is danger lurking in the shadows of this beautiful house, a darkness that could destroy the family inside and out… and Mei along with them.
8. Rules of Rain by Leah Scheier
Rain has taken care of Ethan all of her life. Before she even knew what autism meant, she's been her twin brother's connection to the hostile world around him. She's always prepared—when her father abandons them, when her mother gets sick, when Ethan is tortured by bullies from school—Rain is the reliable, stable one holding them all together. She's both cautious carer and mad chef, preparing customized meals for her family and posting crazy recipes on her cooking blog.
Each day with Ethan is unvarying and predictable, and she's sure that nothing will ever change—until one night when her world is turned upside down by a mistake she can't take back. As her new romance with her long-time crush and her carefully constructed life begins to unravel, she discovers that the fragile brother whom she's always protected has grown into a young man who no longer needs her. And now, for the first time, she finds that she needs him.
9. The Truth Beneath the Lies by Amanda Searcy
All Kayla Asher wants to do is run. Run from the government housing complex she calls home. Run from her unstable mother. Run from a desperate job at No Limit Foods. Run to a better, cleaner, safer life. Every day is one day closer to leaving.
All Betsy Hopewell wants to do is survive. Survive the burner phone hidden under her bed. Survive her new rules. Survive a new school with new classmates. Survive being watched. Every minute grants her another moment of life.
But when fate brings Kayla and Betsy together, only one girl will live.
10. Prince in Disguise by Stephanie Kate Strohm
Life is real enough for Dylan—especially as the ordinary younger sister of Dusty, former Miss Mississippi and the most perfect, popular girl in Tupelo. But when Dusty wins the hand of the handsome Scottish laird-to-be Ronan on the TRC television network's crown jewel, Prince in Disguise, Dylan has to face a different kind of reality: reality TV.
As the camera crew whisks them off to Scotland to film the lead-up to the wedding, camera-shy Dylan is front and center as Dusty's maid of honor. The producers are full of surprises—including old family secrets, long-lost relatives, and a hostile future mother-in-law who thinks Dusty and Dylan's family isn't good enough for her only son. At least there's Jamie, an adorably bookish groomsman who might just be the perfect antidote to all Dylan's stress . . . if she just can keep TRC from turning her into the next reality show sensation.
11. Before Now by Norah Olson
The odds were against them, but somehow aspiring astronomer Atty and her troubled boyfriend, Cole, managed to escape their old lives in the rough neighborhoods of Minneapolis and the judgmental eyes of their parents, who couldn't see that Atty and Cole were meant to be. But they don't get away clean. Eventually the mistakes and betrayals from their pasts catch up to them. Atty is lying about why Cole is being hounded by the cops and Cole won't go quietly to jail—or anywhere without Atty. Then the unthinkable becomes reality and the future is instantly unwritten.
Through Atty's journal, all the intimate details of her tragic romance with Cole unfold from finish to start, including the mystery of what brought them together—and tore them apart.
12. Here, There, Everywhere by Julia Durango
Zeus would rather be anywhere than here—Buffalo Falls—the tiny town his family moved to at the end of the school year. Having left all his friends back in Chicago and with nothing to look forward to except helping out at his mother's café and biking around town with his weird little brother, Zeus is pretty sure this is destined to be the worst summer of his life. But then he meets Rose—funny, beautiful, smart, and an incredible musician.
Zeus can hardly believe that someone like her exists, let alone seems interested in being with him. However, while Zeus is counting down the minutes until he can see her next, Rose is counting down the days until she finds out whether she will be able to leave their small town to pursue her dreams. As the afternoons spent going on local adventures pass into nights discussing their deepest hopes, Zeus knows that he doesn't have long to convince Rose that what they have is more than a summer fling…if only he's brave enough to seize the chance.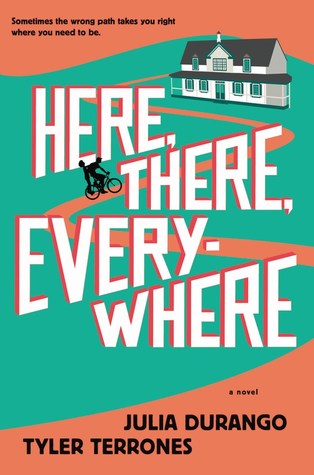 PLUS, we get more Mirabella, Arsinoe, and Katharine! 👑👑👑
This novella is available on December 26th from HarperTeen!
In this must-read prequel to Kendare Blake's New York Times bestselling Three Dark Crowns, the queens' origin story is revealed. It's a pre-crown lowdown of Fennbirn's ruling class.
---
Did we miss anything on your most anticipated list? What are other December new releases that you excited to read? Tell us in the comments below!