Are your bookshelves ready? Because we're not just looking forward to longer days or higher temperatures. We're also getting ready for all the incredible new YA novels that are going to hit shelves this spring! From fantasies to romance, and everything in between, these are the most exciting books coming out in the next few months.
Of course, there are countless others, but whether they're part of a series or simply a page-turner that'll make you gasp, we think there's something special about these. So gather up whatever gift cards you have left, save up, and get ready to read!
The Most Exciting Books Coming This Spring
1. War Storm, by Victoria Aveyard
The RED QUEEN series is coming to an end, and we don't know if we're excited, scared, or just in disbelief that the end is near! What are we going to do without Mare? Without Maven? Without Evangeline?! Get ready for all the feels when this one hits shelves.
Mare Barrow learned this all too well when Cal's betrayal nearly destroyed her. Now determined to protect her heart—and secure freedom for Reds and newbloods like her—Mare resolves to overthrow the kingdom of Norta once and for all . . . starting with the crown on Maven's head.
But no battle is won alone, and before the Reds may rise as one, Mare must side with the boy who broke her heart in order to defeat the boy who almost broke her. Cal's powerful Silver allies, alongside Mare and the Scarlet Guard, prove a formidable force. But Maven is driven by an obsession so deep, he will stop at nothing to have Mare as his own again, even if it means demolish everything—and everyone—in his path.
War is coming, and all Mare has fought for hangs in the balance. Will victory be enough to topple the Silver kingdoms? Or will the little lightning girl be forever silenced?
On sale: May 15th, 2018
2. Dread Nation, by Justina Ireland
Rise up—because DREAD NATION is coming. This powerhouse novel is an unbelievably entertaining, action-packed ride with all the important societal commentary you would expect from its incredible author.
Jane McKeene was born two days before the dead began to walk the battlefields of Gettysburg, Pennsylvania—derailing the War between the States and changing the nation forever. In this new America, safety for all depends on the work of a few, and laws like the Negro and Native Reeducation Act require certain children attend combat schools to learn to put down the dead. But there are also opportunities, and Jane is studying to become an Attendant, trained in both weaponry and etiquette to protect the well-to-do. It's a chance for a better life for Negro girls like Jane.
But that's not a life she wants. Almost finished with her education at Miss Preston's School of Combat in Baltimore, Jane is set on returning to her Kentucky home and doesn't pay much mind to the politics of the eastern cities, with their talk of returning America to the glory of its days before the dead rose. But when families around Baltimore County begin to go missing, Jane is caught in the middle of a desperate fight against some powerful enemies. And the restless dead, it would seem, are the least of her problems.
On sale: April 3rd, 2018
3. A Reaper at the Gates, by Sabaa Tahir
Have we been waiting forever for this next EMBER QUARTET novel? It feels like we've been waiting forever. And we know things are only going to get harder for our faves, but we can't wait to see Elias, Laia, and Helene again. Break our hearts, Sabaa. We're ready.
The Blood Shrike, Helene Aquilla, is assailed on all sides. Emperor Marcus, haunted by his past, grows increasingly unstable, while the Commandant capitalizes on his madness to bolster her own power. As Helene searches for a way to hold back the approaching darkness, her sister's life and the lives of all those in the Empire hang in the balance.
Far to the east, Laia of Serra knows the fate of the world lies not in the machinations of the Martial court, but in stopping the Nightbringer. But while hunting for a way to bring him down, Laia faces unexpected threats from those she hoped would aid her, and is drawn into a battle she never thought she'd have to fight.
And in the land between the living and the dead, Elias Veturius has given up his freedom to serve as Soul Catcher. But in doing so, he has vowed himself to an ancient power that will stop at nothing to ensure Elias's devotion—even at the cost of his humanity.
On sale: June 12th, 2018
4. Legendary, by Stephanie Garber
Things are about to get even more twisted in the magical world of CARAVAL when its sequel hits shelves. Oh, and Scarlett's sister is the main point of view in this one?! We're so excited to see what's going on in her head after the events at the end of the last book, and we already know this book is going to be—wait for it—legendary.
After being swept up in the magical world of Caraval, Donatella Dragna has finally escaped her father and saved her sister Scarlett from a disastrous arranged marriage. The girls should be celebrating, but Tella isn't yet free. She made a desperate bargain with a mysterious criminal, and what Tella owes him no one has ever been able to deliver: Caraval Master Legend's true name.
The only chance of uncovering Legend's identity is to win Caraval, so Tella throws herself into the legendary competition once more—and into the path of the murderous heir to the throne, a doomed love story, and a web of secrets…including her sister's. Caraval has always demanded bravery, cunning, and sacrifice. But now the game is asking for more. If Tella can't fulfill her bargain and deliver Legend's name, she'll lose everything she cares about—maybe even her life. But if she wins, Legend and Caraval will be destroyed forever.
5. All of This Is True, by Lygia Day Peñaflor
GET READY TO DEVOUR THIS BOOK. Seriously, good luck not reading the entire thing in one sitting. It's so twisted and perfectly devious that we just, we just need everyone to talk about it with us. Okay?!
Four YA-obsessed teens befriend their favorite novelist. What happens next will shock you.
Miri Tan loved the book Undertow like it was a living being. So when she and her friends went to a book signing to hear the author, Fatima Ro, they concocted a plan to get close to her.
Soleil Johnston wanted to be a writer herself one day. When she and her friends started hanging out with her favorite author, Fatima Ro, she couldn't believe their luck—especially when Jonah Nicholls started hanging out with them, too.
Penny Panzarella was more than the materialist party girl everyone at the Graham School thought she was—and she was willing to share all her secrets with Fatima Ro to prove it.
Jonah Nicholls had more to hide than any of them. And now that Fatima's next book is out in the world, he's the one who is paying the price…
6. Ace of Shades, by Amanda Foody
Amanda Foody's debut, DAUGHTER OF THE BURNING CITY, was very underrated in our opinion, and we cannot wait for everyone to get their hands on her sophomore stunner. Crime rings and gambling and steamy romance and a modern and unique fantasy world? Can we live in New Reynes forever?
Enne Salta was raised as a proper young lady, and no lady would willingly visit New Reynes, the so-called City of Sin. But when her mother goes missing, Enne must leave her finishing school—and her reputation—behind to follow her mother's trail to the city where no one survives uncorrupted.
Frightened and alone, her only lead is a name: Levi Glaisyer. Unfortunately, Levi is not the gentleman she expected—he's a street lord and a con man. Levi is also only one payment away from cleaning up a rapidly unraveling investment scam, so he doesn't have time to investigate a woman leading a dangerous double life. Enne's offer of compensation, however, could be the solution to all his problems.
Their search for clues leads them through glamorous casinos, illicit cabarets and into the clutches of a ruthless mafia donna. As Enne unearths an impossible secret about her past, Levi's enemies catch up to them, ensnaring him in a vicious execution game where the players always lose. To save him, Enne will need to surrender herself to the city…
7. The Fates Divide, by Veronica Roth
WE CAN FINALLY REVISIT THE INCREDIBLE WORLDS OF CARVE THE MARK! What are the odds that Akos is okay? Is he happy? Is he doing all right? And how is Cyra after Ryzek dropped that bombsell?! We have so many questions that we need answered in this stunning conclusion (seriously how can a book be this gorgeous?!) and we cannot wait to get lost in their universe one more time.
The lives of Cyra Noavek and Akos Kereseth are ruled by their fates, spoken by the oracles at their births. The fates, once determined, are inescapable.
Akos is in love with Cyra, in spite of his fate: He will die in service to Cyra's family. And when Cyra's father, Lazmet Noavek—a soulless tyrant, thought to be dead—reclaims the Shotet throne, Akos believes his end is closer than ever.
As Lazmet ignites a barbaric war, Cyra and Akos are desperate to stop him at any cost. For Cyra, that could mean taking the life of the man who may—or may not—be her father. For Akos, it could mean giving his own. In a stunning twist, the two will discover how fate defines their lives in ways most unexpected.
8. Leah on the Offbeat, by Becky Albertalli
Do you love SIMON? Have you fallen for LOVE, SIMON too, yet? Get ready for the story to continue in LEAH ON THE OFFBEAT, as our fave dry-humored drummer takes centerstage. We didn't think we could love this squad anymore than we already did, but this book is a masterpiece, Becky at her best, and we can't wait for everyone to read it!
When it comes to drumming, Leah Burke is usually on beat—but real life isn't always so rhythmic.
She's an anomaly in her friend group: the only child of a young, single mom, and her life is decidedly less privileged. She loves to draw but is too self-conscious to show it. And even though her mom knows she's bisexual, she hasn't mustered the courage to tell her friends—not even her openly gay BFF, Simon.
So Leah really doesn't know what to do when her rock-solid friend group starts to fracture in unexpected ways. With prom and college on the horizon, tensions are running high.
It's hard for Leah to strike the right note while the people she loves are fighting—especially when she realizes she might love one of them more than she ever intended.
9. Furyborn, by Claire Legrand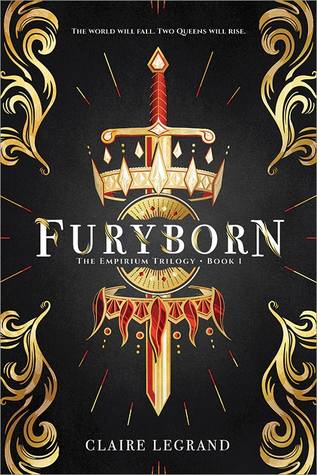 While we wait for SAWKILL GIRLS to hit shelves, we're more than ready to fall into Claire Legrand's dark and sweeping new fantasy world! This dual timeline story seems full of intrigue, drama, romance, and action, and just as magical as Claire's own writing.
When assassins ambush her best friend, the crown prince, Rielle Dardenne risks everything to save him, exposing her ability to perform all seven kinds of elemental magic. The only people who should possess this extraordinary power are a pair of prophesied queens: a queen of light and salvation and a queen of blood and destruction. To prove she is the Sun Queen, Rielle must endure seven trials to test her magic. If she fails, she will be executed…unless the trials kill her first.
A thousand years later, the legend of Queen Rielle is a mere fairy tale to bounty hunter Eliana Ferracora. When the Undying Empire conquered her kingdom, she embraced violence to keep her family alive. Now, she believes herself untouchable–until her mother vanishes without a trace, along with countless other women in their city. To find her, Eliana joins a rebel captain on a dangerous mission and discovers that the evil at the heart of the empire is more terrible than she ever imagined.
10. Puddin', by Julie Murphy
We're not sure there's even a Dolly Parton song to properly express how excited we are for this DUMPLIN' companion. Millie and Callie were two of our favorite characters in Julie Murphy's heartwarming classic for two very different reasons, so an unexpected friendship between them? A whole story about it? Yes please!
Millie Michalchuk has gone to fat camp every year since she was a little girl. Not this year. This year she has new plans to chase her secret dream of being a newscaster—and to kiss the boy she's crushing on.
Callie Reyes is the pretty girl who is next in line for dance team captain and has the popular boyfriend. But when it comes to other girls, she's more frenemy than friend.
When circumstances bring the girls together over the course of a semester, they surprise everyone (especially themselves) by realizing that they might have more in common than they ever imagined.
11. The Lies They Tell, by Gillian French
Fans of WE WERE LIARS and ONE OF US IS LYING rejoice, because we have an even darker mystery to pull you in. Welcome to a small town in Maine, where you're either rich—or work for the rich. And everyone, regardless of their standing, lies.
Everyone in Tenney's Harbor knows about the Garrison tragedy. How an unexplained fire ravaged their house, killing four of the five family members. But what people don't know is who did it. All fingers point at Pearl Haskins' father, who was the caretaker of the property, but Pearl just doesn't believe it. Leave it to a town of rich people to blame "the help."
With her disgraced father now trying to find work in between booze benders, Pearl's future doesn't hold much more than waiting tables at the local country club, where the wealthy come to flaunt their money and spread their gossip. This year, Tristan, the last surviving Garrison, and his group of affluent and arrogant friends have made a point of sitting in Pearl's section. Though she's repulsed by most of them, Tristan's quiet sadness and somber demeanor have her rethinking her judgments.
Befriending the boys could mean getting closer to the truth, clearing her father's name, and giving Tristan the closure he seems to be searching for. But it could also trap Pearl in a sinister web of secrets, lies, and betrayals that would leave no life unchanged… if it doesn't take hers first.
12. Sky In the Deep, by Adrienne Young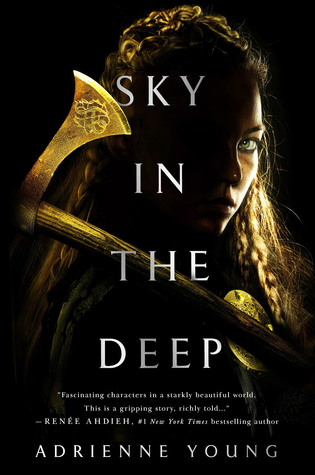 A brutal new viking inspired fantasy, SKY IN THE DEEP brings us one of the most badass new main characters we've ever read. Eelyn is incredible, and we're not just talking about physical strength. She's determined, ambitious, and isn't ready to give in without a fight. She knows what she believes in—just like how we believe that you need to read this book!
Raised to be a warrior, seventeen-year-old Eelyn fights alongside her Aska clansmen in an ancient rivalry against the Riki clan. Her life is brutal but simple: fight and survive. Until the day she sees the impossible on the battlefield—her brother, fighting with the enemy—the brother she watched die five years ago.
Faced with her brother's betrayal, she must survive the winter in the mountains with the Riki, in a village where every neighbor is an enemy, every battle scar possibly one she delivered. But when the Riki village is raided by a ruthless clan thought to be a legend, Eelyn is even more desperate to get back to her beloved family.
She is given no choice but to trust Fiske, her brother's friend, who sees her as a threat. They must do the impossible: unite the clans to fight together, or risk being slaughtered one by one. Driven by a love for her clan and her growing love for Fiske, Eelyn must confront her own definition of loyalty and family while daring to put her faith in the people she's spent her life hating.
Pin this Reading List! 
---
What books are you excited for this winter? Let us know in the comments!
Up next: