Suns out, spines out! We're ready to hit the beach, the park, the window seats—basically anywhere we can to bask in the summer sunshine and kick back with a great new book! Summer is one of the best seasons for reading because not only do we finally have more time to read, but there are also a bunch of action-packed books that hit shelves! And these are the most exciting titles being published in the summer months.
While there are so many amazing ones coming out over the next few months, we have to admit, these twelve caught out eye. Epic new fantasies, stunning series additions, and retellings galore. Who doesn't day dream about spending endless days with these?!
The Most Exciting Books Coming This Summer
1. The Darkest Legacy by Alexandra Bracken
Five years after the destruction of the so-called rehabilitation camps that imprisoned her and countless other Psi kids, seventeen-year-old Suzume "Zu" Kimura has assumed the role of spokesperson for the interim government, fighting for the rights of Psi kids against a growing tide of misinformation and prejudice. But when she is accused of committing a horrifying act, she is forced to go on the run once more in order to stay alive.
Determined to clear her name, Zu finds herself in an uncomfortable alliance with Roman and Priyanka, two mysterious Psi who could either help her prove her innocence or betray her before she gets the chance. But as they travel in search of safety and answers, and Zu grows closer to the people she knows she shouldn't trust, they uncover even darker things roiling beneath the veneer of the country's recovery. With her future—and the future of all Psi—on the line, Zu must use her powerful voice to fight back against forces that seek to drive the Psi into the shadows and save the friends who were once her protectors.
On sale: July 31st, 2018
2. My Plain Jane by Cynthia Hand, Brodi Ashton, & Jodi Meadows
You may think you know the story. After a miserable childhood, penniless orphan Jane Eyre embarks on a new life as a governess at Thornfield Hall. There, she meets one dark, brooding Mr. Rochester. Despite their significant age gap (!) and his uneven temper (!!), they fall in love—and, Reader, she marries him. (!!!)
Or does she?
Prepare for an adventure of Gothic proportions, in which all is not as it seems, a certain gentleman is hiding more than skeletons in his closets, and one orphan Jane Eyre, aspiring author Charlotte Brontë, and supernatural investigator Alexander Blackwood are about to be drawn together on the most epic ghost hunt this side of Wuthering Heights.
On sale: June 26th, 2018
3. Catwoman: Soulstealer by Sarah J. Maas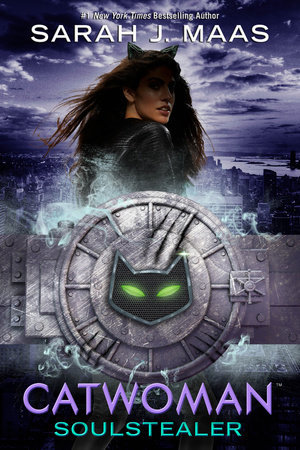 When the Bat's away, the Cat will play. It's time to see how many lives this cat really has…
Two years after escaping Gotham City's slums, Selina Kyle returns as the mysterious and wealthy Holly Vanderhees. She quickly discovers that with Batman off on a vital mission, Batwing is left to hold back the tide of notorious criminals. Gotham City is ripe for the taking.
Meanwhile, Luke Fox wants to prove he has what it takes to help people in his role as Batwing. He targets a new thief on the prowl who seems cleverer than most. She has teamed up with Poison Ivy and Harley Quinn, and together they are wreaking havoc. This Catwoman may be Batwing's undoing.
On sale: August 7th, 2018
4. Bright We Burn by Kiersten White
Haunted by the sacrifices he made in Constantinople, Radu is called back to the new capital. Mehmed is building an empire, becoming the sultan his people need. But Mehmed has a secret: as emperor, he is more powerful than ever… and desperately lonely. Does this mean Radu can finally have more with Mehmed… and would he even want it?
Lada's rule of absolute justice has created a Wallachia free of crime. But Lada won't rest until everyone knows that her country's borders are inviolable. Determined to send a message of defiance, she has the bodies of Mehmed's peace envoy delivered to him, leaving Radu and Mehmed with no choice. If Lada is allowed to continue, only death will prosper. They must go to war against the girl prince.
But Mehmed knows that he loves her. He understands her. She must lose to him so he can keep her safe. Radu alone fears that they are underestimating his sister's indomitable will. Only by destroying everything that came before–including her relationships–can Lada truly build the country she wants.
On sale: July 10th, 2018
5. These Rebel Waves by Sara Raasch
Adeluna is a soldier. Five years ago, she helped the magic-rich island of Grace Loray overthrow its oppressor, Agrid, a country ruled by religion. But adjusting to postwar life has not been easy.
Devereux is a pirate. As one of the stream raiders who run rampant on Grace Loray, he scavenges the island's magic plants and sells them on the black market. But after Argrid accuses raiders of an abduction, Vex becomes a target.
Benat is a heretic. The crown prince of Argrid, he harbors a secret obsession with Grace Loray's forbidden magic. When the king tasks him with reversing Argrid's fear of magic, Ben has to wonder if he can truly change a devout country, or if he's simply building his own pyre.
As conspiracies arise, Lu, Vex, and Ben will have to decide who they really are… and what they are willing to become for peace.
On sale: August 7th, 2018
6. Heart of Thorns by Bree Barton
In the ancient river kingdom, where touch is a battlefield and bodies the instruments of war, Mia Rose has pledged her life to hunting Gwyrach: women who can manipulate flesh, bones, breath, and blood. The same women who killed her mother without a single scratch.
But when Mia's father announces an alliance with the royal family, she is forced to trade in her knives and trousers for a sumptuous silk gown. Determined to forge her own path forward, Mia plots a daring escape, but could never predict the greatest betrayal of all: her own body. Mia possesses the very magic she has sworn to destroy.
Now, as she untangles the secrets of her past, Mia must learn to trust her heart… even if it kills her.
On sale: July 31st, 2018
7. Grace and Fury by Tracy Banghart
Serina has been groomed her whole life to become a Grace–someone to stand by the heir to the throne as a shining, subjugated example of the perfect woman. But when her headstrong and rebellious younger sister, Nomi, catches the heir's eye, it's Serina who takes the fall for the dangerous secret that Nomi has been hiding.
Now trapped in a life she never wanted, Nomi has only one way to save Serina: surrender to her role as a Grace until she can use her position to release her sister. This is easier said than done. A traitor walks the halls of the palace, and deception lurks in every corner. But Serina is running out of time, imprisoned on an island where she must fight to the death to survive and one wrong move could cost her everything.
On sale: July 31st, 2018
8. Seafire by Natalie C. Parker
After her family is killed by corrupt warlord Aric Athair and his bloodthirsty army of Bullets, Caledonia Styx is left to chart her own course on the dangerous and deadly seas. She captains her ship, the Mors Navis, with a crew of girls and women just like her, whose lives have been turned upside down by Aric and his men. The crew has one misson: stay alive, and take down Aric's armed and armored fleet.
But when Caledonia's best friend and second-in-command just barely survives an attack thanks to help from a Bullet looking to defect, Caledonia finds herself questioning whether or not to let him join their crew. Is this boy the key to taking down Aric Athair once and for all…or will he threaten everything the women of the Mors Navis have worked for?
On sale: August 28th, 2018
9. The Loneliest Girl in the Universe by Lauren James
The daughter of two astronauts, Romy Silvers is no stranger to life in space. But she never knew how isolating the universe could be until her parents' tragic deaths left her alone on the Infinity, a spaceship speeding away from Earth.
Romy tries to make the best of her lonely situation, but with only brief messages from her therapist on Earth to keep her company, she can't help but feel like something is missing. It seems like a dream come true when NASA alerts her that another ship, the Eternity, will be joining the Infinity.
Romy begins exchanging messages with J, the captain of the Eternity, and their friendship breathes new life into her world. But as the Eternity gets closer, Romy learns there's more to J's mission than she could have imagined. And suddenly, there are worse things than being alone…
On sale: July 3rd, 2018
10. Ruin of Stars by Linsey Miller
As Opal, Sal finally has the power, prestige, and most importantly the ability to hunt the lords who killed their family. But Sal has to figure out who the culprits are before putting them down. Which means trying to ignore the fact that Elise is being kept a virtual prisoner, and that the queen may have ulterior motives.
And the tales coming out of north are baffling. Talk of dark spirits, missing children, and magic abound. As Sal heads north toward their ruined homeland and the lords who destroyed everything, they learn secrets and truths that can't be ignored.
On sale: August 7th, 2018
11. Sea Witch by Sarah Henning
Ever since her best friend Anna died, Evie has been an outcast in her small fishing town. Hiding her talents, mourning her loss, drowning in her guilt.
Then a girl with an uncanny resemblance to Anna appears on the shore, and the two girls catch the eyes of two charming princes. Suddenly Evie feels like she might finally have a chance at her own happily ever after.
But magic isn't kind, and her new friend harbors secrets of her own. She can't stay in Havnestad—or on two legs—without Evie's help. And when Evie reaches deep into the power of her magic to save her friend's humanity—and her prince's heart—she discovers, too late, what she's bargained away.
On sale: July 31st, 2018
12. Mirage by Somaiya Daud
In a star system dominated by the brutal Vathek empire, eighteen-year-old Amani is a dreamer. She dreams of what life was like before the occupation; she dreams of writing poetry like the old-world poems she adores; she dreams of receiving a sign from Dihya that one day, she, too, will have adventure, and travel beyond her isolated moon.
But when adventure comes for Amani, it is not what she expects: she is kidnapped by the regime and taken in secret to the royal palace, where she discovers that she is nearly identical to the cruel half-Vathek Princess Maram. The princess is so hated by her conquered people that she requires a body double, someone to appear in public as Maram, ready to die in her place.
As Amani is forced into her new role, she can't help but enjoy the palace's beauty—and her time with the princess' fiancé, Idris. But the glitter of the royal court belies a world of violence and fear. If Amani ever wishes to see her family again, she must play the princess to perfection… because one wrong move could lead to her death.
On sale: August 28th, 2018
---
What books are you most excited for this summer?! Let us know in the comments!
Up next: