It doesn't need to be National Science Fiction Day for us to curl up with an out of this world story, but it does give us a reason to ignore the other books on our to-read piles a little longer! We're firm believers that if you don't like the sci-fi genre, you just haven't found the right sci-fi for you yet. Naturally, we have a ton of faves that fall under this umbrella that are completely different from one another!
So if you want to discover your next read, revisit an old favorite, or finally get going on that series you promised your friend you'd start (we know you're out there), we have the perfectly futuristic, twisted, galactic list for you! Which world are you getting lost in next?
17 Books for National Science Fiction Day
1. A Conspiracy of Stars by Olivia A. Cole
First off, A CONSPIRACY OF STARS is out today, on National Sci-Fi Day! It's like it was meant to be. This brand new epic will take you to sweeping new worlds as you join Octavia on her journey to become a Whitecoat, a scientist studying exotic wonders. But things are not as they appear…
Octavia has always dreamed of becoming a whitecoat, one of the prestigious N'Terra scientists who study the natural wonders of Faloiv. So when the once-secretive labs are suddenly opened to students, she leaps at the chance to see what happens behind their closed doors. However, as secret after disturbing secret comes to light, Octavia finds herself on a collision course with an all-out war.
2. Generation One by Pittacus Lore
Whether you've loved the I AM NUMBER FOUR series from the beginning, or even if you've never read them, this spin-off series is not to be missed! Six teens with superpowers are at a training academy learning how to use their new abilities but when one of them is kidnapped, you find out not everyone wants them to use these powers for good.
In order to win the war in I AM NUMBER FOUR, our alien allies unleashed their Loric energy that spread throughout the globe. Now human teenagers have begun to develop incredible powers of their own. To help these incredible and potentially dangerous individuals, the Garde have created an academy to train this new generation to one day help mankind. But not everyone thinks that's the best use of their talents. And the teens may need to use their Legacies sooner than they ever imagined.
3. Zenith by Sasha Alsberg & Lindsay Cummings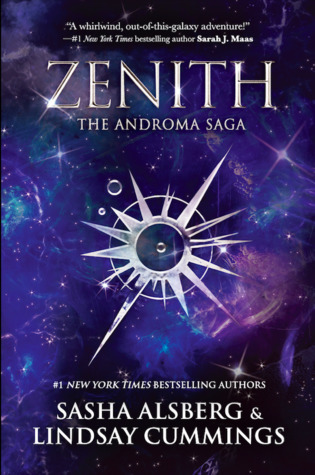 ZENITH is coming and we cannot wait to have it on our shelves! Aside from it being penned by BookTuber Sasha Alsberg and Lindsay Cummings, what we're most excited about is that the story stars an ALL-GIRL CREW. We can't wait to see how the action unfolds as they embark on a dangerous whirlwind journey through the stars.
Most know Androma Racella as the Bloody Baroness, a powerful mercenary whose reign of terror stretches across the Mirabel Galaxy. To those aboard her glass starship, Marauder, however, she's just Andi, their friend and fearless leader. But when a routine mission goes awry, the Marauder's all-girl crew is tested as they find themselves in a treacherous situation and at the mercy of a sadistic bounty hunter from Andi's past.
4. The Final Six by Alexandra Monir
In this cutthroat competition, 24 teens are competing to win one of—yep—six spots on a mission into space. The near-future setting where Earth has been destroyed by climate change is scarily plausible, the relationship between main characters Naomi and Leo is definitely one to root for, and that twist at the end will leave you anxious for the sequel!
When Leo and Naomi are drafted, along with twenty-two of the world's brightest teenagers, into the International Space Training Camp, their lives are forever changed. Overnight, they become global celebrities in contention for one of the six slots to travel to Europa—Jupiter's moon—and establish a new colony, leaving their planet forever. With Earth irreparably damaged, the future of the human race rests on their shoulders.
5. The Diabolic by SJ Kincaid
It's a story of survival, a story of power, and, through it all, a story of the epic, bleak, ruthless scope of Nemesis's galactic world. This sci-fi tale will keep you on the edge of your seat as it carries you through wondrous new lands, all the while asking a question that's all too human—what does it mean to live, rather than survive?
Nemesis is a Diabolic. Created to protect a galactic Senator's daughter, Sidonia. There's no one Nemesis wouldn't kill to keep her safe. But when the power-mad Emperor summons Sidonia to the galactic court as a hostage, there is only one way for Nemesis to protect Sidonia.
She must become her.
6. Warcross by Marie Lu
Escape reality with WARCROSS. Marie Lu really knows her gaming and her technology because she has created a vibrant world that fully immerses you into the experience. The story is filled with colorful characters, breathtaking action, and it even takes a closer look at the complex nature of futuristic tech. Don't be fooled by the "video game" hook because it's SO MUCH MORE.
For the millions who log in every day, Warcross isn't just a game—it's a way of life. The obsession started ten years ago and its fan base now spans the globe. Struggling to make ends meet, teenage hacker Emika Chen works as a bounty hunter, tracking down players who bet on the game illegally. But the bounty hunting world is a competitive one, and survival has not been easy. Needing to make some quick cash, Emika takes a risk and hacks into the opening game of the international Warcross Championships—only to accidentally glitch herself into the action and become an overnight sensation.
7. Honor Among Thieves by Rachel Caine & Ann Aguirre
HONOR AMONG THIEVES  is definitely one space flight you'll want to book a ticket on! A race of sentient alien ships that selects an elite team of humans to explore the outer reaches of the universe? Sign us up!
Petty criminal Zara Cole has a painful past that's made her stronger than most, which is why she chose life in New Detroit instead moving with her family to Mars. But when she commits a crime that has her running scared, Zara is recruited into the Honors, an elite team of humans selected by the Leviathan to explore the outer reaches of the universe as their passengers.
8. Bluescreen by Dan Wells
Into the old school style of sci-fi, rife with virtual worlds, futuristic danger, and grungey neon backdrops that make for a beautifully brutal showdown? Then BLUESCREEN is your book. Society is plugged in virtually 24/7, especially those with djinni—a smart device implanted right in a person's head. Yikes.
Marisa Carneseca is one of those people. She might spend her days in Mirador, but she lives on the net—going to school, playing games, hanging out, or doing things of more questionable legality with her friends Sahara and Anja. And it's Anja who first gets her hands on Bluescreen—a virtual drug that plugs right into a person's djinni and delivers a massive, nonchemical, completely safe high. But in this city, when something sounds too good to be true, it usually is…
9. Unplugged by Donna Freitas
For another dose of old school sci-fi—this time maybe tinged with some modern horror—don't miss UNPLUGGED. Seriously, this book could be the plot of a Black Mirror episode. They promised Skye that the virtual world would be better. She never expected it to be a cage she'd have to fight to escape.
Skylar Cruz still remembers the day she plugged in and joined the App World for the promise of a better life—the day she left her family behind in the Real World. Skylar is now a virtual teenager and even though she's surrounded by everything she ever dreamed about, she's never felt like she fits in. All she wants is to log out—but can she?
10. The Love Interest by Cale Dietrich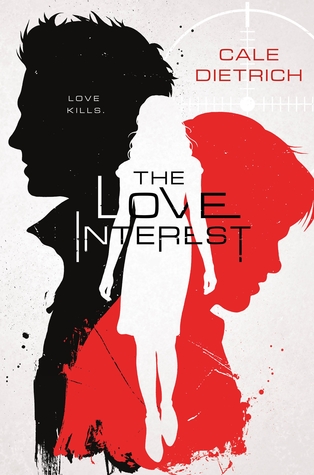 If you like your science fiction on the lighter side of sci-fi—say, set in a totally contemporary setting with a futuristic twist—then definitely check out this subversive take on love triangle spies. Yep, you heard us correctly. Love interests are raised in a facility to seduce key influencers, and only the one who wins their heart survives.
Caden is a Nice: the boy next door, sculpted to physical perfection. Dylan is a Bad: the brooding, dark-souled guy who is dangerously handsome. The girl they are competing for is important to the organization, and each boy will pursue her. What the boys don't expect are feelings that are outside of their training. Feelings that could kill them both.
11. Class, created by Patrick Ness, written by various authors
Calling all Doctor Who fans! Can't get enough of the show? Ready for even more diversity in this sprawling, sci-fi world? Make sure you check out CLASS! Based on the tragically underrated spin-off (it was so good 😭), these novels keep us in the world of Coal Hill School and the adventures don't disappoint. For ghosts, aliens, and more, make sure to read these!
Everyone at Coal Hill School has become obsessed with completing exciting dares posted on a strange new website, run by the charismatic vlogger Seraphin. Soon the challenges become more dangerous and competitive, yet even broken arms and fistfights don't stop the craze for them. And then students start to disappear…
12. Dare Mighty Things by Heather Kaczynski
DARE MIGHTY THINGS will take you through a top-secret competition for the best and the brightest and man are the trials and tribulations tough! What we love about this book is seeing how hard Cassie works for what she wants and what she wants is the grand prize… a trip to space 🚀
Eighteen-year-old Cassandra Gupta's entire life has been leading up to this—the opportunity to travel to space. But to secure a spot on this classified mission, she must first compete against the best and brightest people on the planet. People who are as determined as she is to win a place on a journey to the farthest reaches of the universe.
As the days until the launch tick down and the stakes rise higher than ever before, only one thing is clear to Cassie: she'll never back down… even if it costs her everything.
13. Replica by Lauren Oliver
Have you been missing ORPHAN BLACK as much as we have? If so, REPLICA needs to be your next read. This twisting story of two girls whose lives intertwine in shocking ways will legitimately have you gasping. Lauren Oliver is a master at playing with our emotions and this one of a kind novel is one crazy ride!
Lyra's story begins in the Haven Institute, a building tucked away on a private island off the coast of Florida that from a distance looks serene and even beautiful. But up close the locked doors, military guards, and biohazard suits tell a different story…
Gemma has been in and out of hospitals for as long as she can remember. A lonely teen, her life is circumscribed by home, school, and her best friend, April. But after she is nearly abducted by a stranger claiming to know her, Gemma starts to investigate her family's past and discovers her father's mysterious connection to the secretive Haven research facility…
14. Monster by Michael Grant
GONE fans rejoice! This start of a new trilogy set in the GONE universe takes place four years after the end of the original series. This book has everything we love in an action movie—crazy battles, superhuman powers, legendary heroes, villains so evil you'll love to hate them… trust us, it's got it all.
The dome is gone. But meteors are hitting earth with an even deadlier virus. Humans will mutate into monsters and the whole world will be exposed. As some teens begin to morph into heroes, they will find that others have become dangerously out of control… and that the world is on the brink of a monstrous battle between good and evil.
15. Carve the Mark by Veronica Roth
This gorgeous new fantasy from Veronica Roth is set in space and tells the story of Cyra and Akos – members of warring nations fighting for control of the same planet. Fate brings them together and both will have to make a choice – between loyalty to their families and love for each other.
Read it now because the conclusion to this duology, THE FATES DIVIDE, goes on sale April 10th!
Cyra Noavek and Akos Kereseth have grown up in enemy countries locked in a long-standing fight for dominance over their shared planet. When Akos and Cyra are caught in the middle of a raging rebellion, everything they've been led to believe about their world and themselves must be called into question. But fighting for what's right might mean betraying their countries, their families, and each other.
16. Illuminae by Amie Kaufman & Jay Kristoff
A fast paced read told in multiple formats. It's got epic showdowns space craft showdowns, a killer space virus outbreak, some bone-chilling moments AND a snarky main character we absolutely love. Start this series now before the final book hits shelves!
The year is 2575, and two rival megacorporations are at war over a planet that's little more than an ice-covered speck at the edge of the universe. Too bad nobody thought to warn the people living on it. With enemy fire raining down on them, Kady and Ezra—who are barely even talking to each other—are forced to fight their way onto an evacuating fleet, with an enemy warship in hot pursuit. But their problems are just getting started.
17. Heart of Iron by Ashley Poston
Anastasia. SIX OF CROWS. Firefly. SNOW LIKE ASHES. No, we're not just naming some of our favorite things. We're telling you all the things that HEART OF IRON could be a combination of. This rich space fantasy intertwines a heist tale with brilliant political intrigue and mythology, and we are not exaggerating when we say you'll fall in love with every character in this book. Want some more diversity in your reading life? Some fun, thrilling, and deadly action where the diverse characters' identities aren't their entire story? Look no further, because this is your book.
Seventeen-year-old Ana is a scoundrel by nurture and an outlaw by nature. Found as a child drifting through space with a sentient android called D09, Ana was saved by a fearsome space captain and the grizzled crew she now calls family. But D09—one of the last remaining illegal Metals—has been glitching, and Ana will stop at nothing to find a way to fix him…
---
What are your favorite sci-fi reads? Tell us in the comments below!
Up next: