If you pay attention to the YA community, you know that debuts get a sort of special attention. And TBH, they deserve it. An author's debut novel is such an incredible accomplishment, and we love all the efforts to support them as much as possible! But what happens next? What about when you write your next book? It's not part of a series so you don't have that hook, and it's no longer the sparkling debut.
It's a weird place to be in, which is why we wanted to give love to this some of this year's stunning sophomore novels!! These authors are following up their debuts with books that are just as good, if not better, and you need to add them to your list of faves.
These stunning books demolish the concept of the sophomore slump, so scroll down, check them out, and add them to your TBRs now!
New YA Novels That Defy the Sophomore Slump
1. Monday's Not Coming by Tiffany D. Jackson
After the shocking , true crime-esque thrill ride of ALLEGEDLY, we are SO excited to get our hands on another novel from Tiffany D. Jackson. And this one is even more twisted 😍
Monday Charles is missing, and only Claudia seems to notice. Claudia and Monday have always been inseparable—more sisters than friends. So when Monday doesn't turn up for the first day of school, Claudia's worried.
When she doesn't show for the second day, or second week, Claudia knows that something is wrong. Monday wouldn't just leave her to endure tests and bullies alone. Not after last year's rumors and not with her grades on the line. Now Claudia needs her best—and only—friend more than ever. But Monday's mother refuses to give Claudia a straight answer, and Monday's sister April is even less help.
As Claudia digs deeper into her friend's disappearance, she discovers that no one seems to remember the last time they saw Monday. How can a teenage girl just vanish without anyone noticing that she's gone?
2. All of This Is True by Lygia Day Peñaflor
Not only is this a YA book about YA books and a compulsively readable, voicey tale with characters you'll both love and love to hate, but it also keeps all the best pop culture elements of Lygia's previous book that we loved!
In this genre-defying page-turner from Lygia Day Peñaflor, four teens befriend their favorite YA novelist, only to find their deepest, darkest secrets in the pages of her next book—with devastating consequences.
Miri Tan loved the book Undertow like it was a living being. So when she and her friends went to a book signing to hear the author, Fatima Ro, they concocted a plan to get close to her.
Soleil Johnston wanted to be a writer herself one day. When she and her friends started hanging out with her favorite author, Fatima Ro, she couldn't believe their luck—especially when Jonah Nicholls started hanging out with them, too.
Penny Panzarella was more than the materialist party girl everyone at the Graham School thought she was—and she was willing to share all her secrets with Fatima Ro to prove it.
Jonah Nicholls had more to hide than any of them. And now that Fatima's next book is out in the world, he's the one who is paying the price…
3. Heart of Iron by Ashley Poston
GEEKERELLA was an adorable romance, an ode to fandom that we fell in love with. But HEART OF IRON is an adventure that kept us on the edge of our seats, with a group cast that we absolutely adore. The worlds! The banter! THAT ENDING!!
Seventeen-year-old Ana is a scoundrel by nurture and an outlaw by nature. Found as a child drifting through space with a sentient android called D09, Ana was saved by a fearsome space captain and the grizzled crew she now calls family. But D09—one of the last remaining illegal Metals—has been glitching, and Ana will stop at nothing to find a way to fix him.
Ana's desperate effort to save D09 leads her on a quest to steal the coordinates to a lost ship that could offer all the answers. But at the last moment, a spoiled Ironblood boy beats Ana to her prize. He has his own reasons for taking the coordinates, and he doesn't care what he'll sacrifice to keep them.
When everything goes wrong, she and the Ironblood end up as fugitives on the run. Now their entire kingdom is after them—and the coordinates—and not everyone wants them captured alive.
What they find in a lost corner of the universe will change all their lives—and unearth dangerous secrets. But when a darkness from Ana's past returns, she must face an impossible choice: does she protect a kingdom that wants her dead or save the Metal boy she loves?
4. The Lies They Tell by Gillian French
GRIT was one of our fave books last year that we thought was painfully underrated—and we are ready for THE LIES THEY TELL to line everyone's bookshelves. This mystery thriller literally made us gasp and we cannot wait to talk about it with everyone!
Everyone in Tenney's Harbor knows about the Garrison tragedy. How an unexplained fire ravaged their house, killing four of the five family members. But what people don't know is who did it. All fingers point at Pearl Haskins' father, who was the caretaker of the property, but Pearl just doesn't believe it. Leave it to a town of rich people to blame "the help."
With her disgraced father now trying to find work in between booze benders, Pearl's future doesn't hold much more than waiting tables at the local country club, where the wealthy come to flaunt their money and spread their gossip. This year, Tristan, the last surviving Garrison, and his group of affluent and arrogant friends have made a point of sitting in Pearl's section. Though she's repulsed by most of them, Tristan's quiet sadness and somber demeanor have her rethinking her judgments.
Befriending the boys could mean getting closer to the truth, clearing her father's name, and giving Tristan the closure he seems to be searching for. But it could also trap Pearl in a sinister web of secrets, lies, and betrayals that would leave no life unchanged… if it doesn't take hers first.
5. Ace of Shades by Amanda Foody
Steamy scenes, badass characters, and creepily magical worlds? Sign us up for anything after DAUGHTER OF THE BURNING CITY tbh. Especially this wicked and sinful tale.
Enne Salta was raised as a proper young lady, and no lady would willingly visit New Reynes, the so-called City of Sin. But when her mother goes missing, Enne must leave her finishing school—and her reputation—behind to follow her mother's trail to the city where no one survives uncorrupted.
Frightened and alone, her only lead is a name: Levi Glaisyer. Unfortunately, Levi is not the gentleman she expected—he's a street lord and a con man. Levi is also only one payment away from cleaning up a rapidly unraveling investment scam, so he doesn't have time to investigate a woman leading a dangerous double life. Enne's offer of compensation, however, could be the solution to all his problems.
Their search for clues leads them through glamorous casinos, illicit cabarets and into the clutches of a ruthless mafia donna. As Enne unearths an impossible secret about her past, Levi's enemies catch up to them, ensnaring him in a vicious execution game where the players always lose. To save him, Enne will need to surrender herself to the city…
6. On the Come Up by Angie Thomas
We're not 100% sure when Angie Thomas had the time to write this book with everything going on for THE HATE U GIVE, but we're so, so glad to have Bri in our lives. Y'all, get ready for this book to change your lives just like THUG has.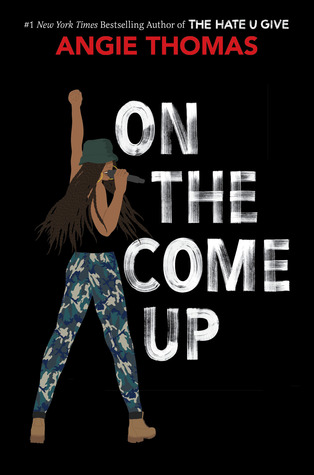 Sixteen-year-old Bri wants to be one of the greatest rappers of all time. Or at least get some streams on her mixtape. As the daughter of an underground rap legend who died right before he hit big, Bri's got massive shoes to fill. But when her mom unexpectedly loses her job, food banks and shut-off notices become as much a part of her life as beats and rhymes. With bills piling up and homelessness staring her family down, Bri no longer just wants to make it—she has to make it.
On the Come Up is Angie Thomas's homage to hip hop, the art that sparked her passion for storytelling and continues to inspire her to this day. It is the story of fighting for your dreams, even as the odds are stacked against you; of the struggle to become who you are, and not who everyone expects you to be; and of the desperate realities of poor and working class black families.
7. Pride by Ibi Zoboi
A Pride & Prejudice retelling? Yes please. A modernized retelling that deals with gentrification, written by the author of AMERICAN STREET?! Yes please!! This book cannot come quick enough, and we can't wait to see what magic Ibi Zoboi delivers next.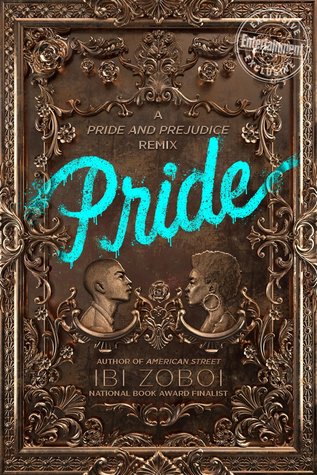 Zuri Benitez has pride. Brooklyn pride, family pride, and pride in her Afro-Latino roots. But pride might not be enough to save her rapidly gentrifying neighborhood from becoming unrecognizable.
When the wealthy Darcy family moves in across the street, Zuri wants nothing to do with their two teenage sons, even as her older sister, Janae, starts to fall for the charming Ainsley. She especially can't stand the judgmental and arrogant Darius. Yet as Zuri and Darius are forced to find common ground, their initial dislike shifts into an unexpected understanding.
But with four wild sisters pulling her in different directions, cute boy Warren vying for her attention, and college applications hovering on the horizon, Zuri fights to find her place in Bushwick's changing landscape, or lose it all.
8. Inkmistress by Audrey Coulthurst
Set in the same world as OF FIRE AND STARS but centuries before, this epic tale of dragons, magic, blood scribes and romance stole our breath and hearts away.
Asra is a demigod with a dangerous gift: the ability to dictate the future by writing with her blood. To keep her power secret, she leads a quiet life as a healer on a remote mountain, content to help the people in her care and spend time with Ina, the mortal girl she loves.
But Asra's peaceful life is upended when bandits threaten Ina's village and the king does nothing to help. Desperate to protect her people, Ina begs Asra for assistance in finding her manifest—the animal she'll be able to change into as her rite of passage to adulthood. Asra uses her blood magic to help Ina, but her spell goes horribly wrong and the bandits destroy the village, killing Ina's family.
Unaware that Asra is at fault, Ina swears revenge on the king and takes a savage dragon as her manifest. To stop her, Asra must embark on a journey across the kingdom, becoming a player in lethal games of power among assassins, gods, and even the king himself.
9. This Is Kind of An Epic Love Story by Kheryn Callender
This may be Kheryn Callender's second book, but it's their YA debut, and it is incredible. Kheryn is incredibly skilled at writing about grief and love, and THIS IS KIND OF AN EPIC LOVE STORY is, truly, kind of epic.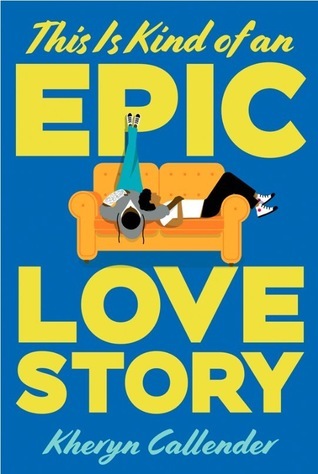 Nathan Bird doesn't believe in happy endings.
Although he's the ultimate film buff and an aspiring screenwriter, Nate's seen the demise of too many relationships to believe that happy endings exist in real life.
Playing it safe to avoid a broken heart has been his MO ever since his father died and left his mom to unravel—but this strategy is not without fault. His best-friend-turned-girlfriend-turned-best-friend-again, Florence, is set on making sure Nate finds someone else. And in a twist that is rom-com-worthy, someone does come along: Oliver James Hernández, his childhood best friend.
After a painful mix-up when they were little, Nate finally has the chance to tell Ollie the truth about his feelings. But can Nate find the courage to pursue his own happily ever after?
10. Wild Blue Wonder by Carlie Sorosiak
If IF BIRDS FLY BACK was a comforting debut about love and family, WILD BLUE WONDER really amps things up to another level. Prepare for things to get darker, to tug on your heartstrings even harder, and to feel allll the things!
Ask anyone in Winship, Maine, and they'll tell you the summer camp Quinn's family owns is a magical place. Paper wishes hang from the ceiling. Blueberries grow in the dead of winter. According to local legend, a sea monster even lurks off the coast. Mostly, there's just a feeling that something extraordinary could happen there.
Like Quinn falling in love with her best friend, Dylan.
After the accident, the magic drained from Quinn's life. Now Dylan is gone, the camp is a lonely place, and Quinn knows it's her fault.
But the new boy in town, Alexander, doesn't see her as the monster she believes herself to be. As Quinn lets herself open up again, she begins to understand the truth about love, loss, and monsters—real and imagined.
11. White Rabbit by Caleb Roehrig
Caleb Roehrig nailed the diverse-book-that-isn't-strictly-about-diversity game with his thriller debut, LAST SEEN LEAVING, and we can't wait to see what he has in store next. From the sounds of it, WHITE RABBIT won't even disappoint a little bit.
Rufus Holt is having the worst night of his life. It begins with the reappearance of his ex-boyfriend, Sebastian—the guy who stomped his heart out like a spent cigarette. Just as Rufus is getting ready to move on, Sebastian turns up out of the blue, saying they need to "talk." Things couldn't get much worse, right?
But then Rufus gets a call from his sister April, begging for help. And then he and Sebastian find her, drenched in blood and holding a knife, beside the dead body of her boyfriend, Fox Whitney.
April swears she didn't kill Fox—but Rufus knows her too well to believe she's telling him the whole truth. April has something he needs, though, and her price is his help. Now, with no one to trust but the boy he wants to hate yet can't stop loving, Rufus has one night to prove his sister's innocence… or die trying.
12. This Is What It Feels Like by Rebecca Barrow
If YOU DON'T KNOW ME BUT I KNOW YOU played with the ideas of choice, chance, and family, Rebecca Barrow's sophomore novel, THIS IS WHAT IT FEELS LIKE, is about the fierce love between friends and the threads that connect them. Sure, they'll look good next to each other on your shelves. But they'll also take you for an emotional ride.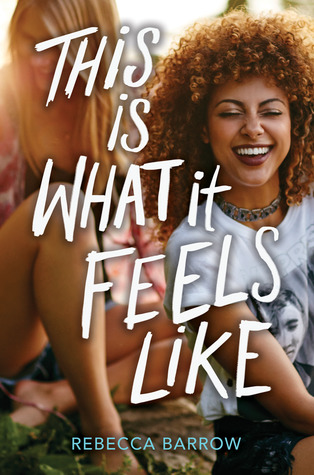 It doesn't matter what the prize for the Sun City Originals contest is this year.
Who cares that's it's fifteen grand? Who cares about a gig opening for one of the greatest bands to ever play this town?
Not Dia, that's for sure. Because Dia knows that without a band, she hasn't got a shot at winning Sun City. Because ever since Hanna's drinking took over her life, Dia and Jules haven't been in it. And ever since Hanna left — well, there hasn't been a band.
It used to be the three of them, Dia, Jules, and Hanna, messing around and making music and planning for the future. But that was then, and this is now — and now means a baby, a failed relationship, a stint in rehab, all kinds of off beats that have interrupted the rhythm of their friendship. No contest can change that. Right?
But like the lyrics of a song you used to play on repeat, there's no forgetting a best friend. And for Dia, Jules, and Hanna, this impossible challenge — to ignore the past, in order to jumpstart the future — will only become possible if they finally make peace with the girls they once were, and the girls they are finally letting themselves be.
13. Notes From My Captivity by Kathy Parks
The quirky humor of THE LIFEBOAT CLIQUE was one of our favorite additions to our contemporary shelves when it came out, and NOTES FROM MY CAPTIVITY is following in that same, uniquely Kathy Parks vein. You may not know what to expect, but we can guarantee that you will enjoy the ride.
Adrienne Cahill cares about three things: getting into a great college; becoming a revered journalist like her idol, Sydney Declay; and making her late father proud of her.
So when Adrienne is offered the chance to write an article that will get her into her dream school and debunk her foolish stepfather's belief that a legendary family of hermits is living in the Siberian wilderness, there's no question that she's going to fly across the world.
But the Russian terrain is even less forgiving than Adrienne. And when disaster strikes, none of their extensive preparations seem to matter. Now Adrienne's being held captive by the family she was convinced didn't exist, and her best hope for escape is to act like she cares about them, even if it means wooing the youngest son.
Pin this Reading List! 
---
What are some other second books that you think live up to the hype of the first? Let us know in the comments below!