We know another year of *Book Shimmies* has already come and gone, but we can't get all the awards we missed out on out of our minds. Sure, it's easy to decide what wins Best of Shelf or Maniacal Laughter, but YA stories are full of all kinds of unique details. We think that creativity should be respected in an even more particular way. So, welcome to another, unofficial round of Epic Reads awards! This time featuring some very obscure awards—because these characters and stories truly deserve it.
Obscure Awards That YA Characters Deserve
MOST LIFE THREATENING SPACE MISSION
🏅 Nadim, HONOR AMONG THIEVES
Okay, we have to start with the fact that the spaceship is ALIVE. And the fact that all the good guys may not really be good guys. Oh, and that the mission isn't even what everyone thinks it is? You know what, you should probably just read it. No, seriously, please read it so that we can discuss and freak out about this epic adventure.
Petty criminal Zara Cole has a painful past that's made her stronger than most, which is why she chose life in New Detroit instead moving with her family to Mars. In her eyes, living inside a dome isn't much better than a prison cell.
Still, when Zara commits a crime that has her running scared, jail might be exactly where she's headed. Instead Zara is recruited into the Honors, an elite team of humans selected by the Leviathan—a race of sentient alien ships—to explore the outer reaches of the universe as their passengers. But nothing could have prepared her for the dark, ominous truths that lurk behind the alluring glitter of starlight.
RUNNERS UP:
Nemesis, THE DIABOLIC
Kady, ILLUMINAE
BEST USE OF FASHION ACCESSORIES
🏅 Helene, AN EMBER IN THE ASHES
We're going to be honest: we may have had one or two nightmares about the Masks in our time. From their first introduction at the very start of the series to the brutal look at them through Elias and Helene's story arcs, we would not want to be on the wrong side of them—either way. And oh, Helene. We're still rooting for you.
It is in this brutal world, inspired by ancient Rome, Laia lives with her grandparents and older brother. The family ekes out an existence in the Empire's impoverished backstreets. They do not challenge the Empire. But when Laia's brother is arrested for treason, Laia is forced to make a decision. In exchange for help from rebels who promise to rescue her brother, she will risk her life to spy for them from within the Empire's greatest military academy.
There, Laia meets Elias, the school's finest soldier—and secretly, its most unwilling. Elias wants only to be free of the tyranny he's being trained to enforce. He and Laia will soon realize that their destinies are intertwined—and that their choices will change the fate of the Empire itself.
RUNNERS UP:
Watt, THE THOUSANDTH FLOOR
Jax, HEART OF IRON
MOST DRAMATIC ARENA BATTLE
🏅 Cal and Mare, RED QUEEN
Cal and Mare in the Bowl of Bones is one scene from YA that we are DYING to see on the big screen. The sheer epic scale of this entire fight scene left us gaping until we finished, and that's saying something considering how action-packed the battles in these books are to begin with. What are the odds we get another epic showdown before series end?
Mare Barrow's world is divided by blood—those with common, Red blood serve the Silver- blooded elite, who are gifted with superhuman abilities. Mare is a Red, scraping by as a thief in a poor, rural village, until a twist of fate throws her in front of the Silver court. Before the king, princes, and all the nobles, she discovers she has an ability of her own.
To cover up this impossibility, the king forces her to play the role of a lost Silver princess and betroths her to one of his own sons. As Mare is drawn further into the Silver world, she risks everything and uses her new position to help the Scarlet Guard—a growing Red rebellion—even as her heart tugs her in an impossible direction. One wrong move can lead to her death, but in the dangerous game she plays, the only certainty is betrayal.
RUNNERS UP:
Ja'van, THE TRAITOR PRINCE
Cyra, CARVE THE MARK
MOST INCONVENIENTLY SPECIFIC PROPHECY
🏅 Rufus and Mateo, THEY BOTH DIE AT THE END
Brutal, heartbreaking, and completely inconvenient all in one, Death-Cast fills the role of the prophet here to deliver terrible news to our two well-meaning protagonists. Why couldn't they have just had a little more time? 😭
On September 5, a little after midnight, Death-Cast calls Mateo Torrez and Rufus Emeterio to give them some bad news: They're going to die today.
Mateo and Rufus are total strangers, but, for different reasons, they're both looking to make a new friend on their End Day. The good news: There's an app for that. It's called the Last Friend, and through it, Rufus and Mateo are about to meet up for one last great adventure—to live a lifetime in a day.
RUNNERS UP:
Celaena, THRONE OF GLASS
Brienna, THE QUEEN'S RISING
BEST CHARACTER NAMED AFTER THE NUMBER FOUR
TIE: 🏅 Four, DIVERGENT and Four, I AM NUMBER FOUR
For (ha) some reason, naming a character Four is more common in YA than most people would think. Sure, there may only be two of them, but that's already more Fours than any of us know in real life. We couldn't choose between them, so we present our only tie.
Beatrice Prior's society is divided into five factions—Candor (the honest), Abnegation (the selfless), Dauntless (the brave), Amity (the peaceful), and Erudite (the intelligent). Beatrice must choose between staying with her Abnegation family and transferring factions. Her choice will shock her community and herself. But the newly christened Tris also has a secret, one she's determined to keep hidden, because in this world, what makes you different makes you dangerous.
John Smith seems like an ordinary teenager, living a normal life with his guardian Henri in Paradise, Ohio. But for John, keeping a low profile is essential, because he is not an ordinary teenager. He's an alien from the planet Lorien, and he's on the run. A group from the planet Mogadore, who destroyed his world, are hunting anyone who escaped. Nine Loric children were sent to Earth to live in hiding until they grew up; three of them are dead. John is Number Four, and he knows he's next.
MOST CRINGEWORTHY ROMANTIC MOMENT
🏅 Molly, 99 DAYS
While all the cringe may not happen on the page, the event that kickstarts this book's plot—Molly sleeping with her boyfriend's brother—is enough to take gold. Plus, we get flashbacks of the relationship arcs that led up to that fateful hookup, and even though we know it's coming, and even though we kind of super ship it, it's still not the smoothest.
Molly Barlow is facing one long, hot summer—99 days—with the boy whose heart she broke and the boy she broke it for… his brother.
Day 1: Julia Donnelly eggs my house my first night back in Star Lake, and that's how I know everyone still remembers everything. She has every right to hate me, of course: I broke Patrick Donnelly's heart the night everything happened with his brother, Gabe. Now I'm serving out my summer like a jail sentence: Just ninety-nine days till I can leave for college and be done.
RUNNERS UP:
Rishi, WHEN DIMPLE MET RISHI
Joaquin, FAR FROM THE TREE
SIBLING DYNAMIC WE WOULD LEAST WANT TO HAVE
🏅 Arsinoe, Katharine, and Mirabella, THREE DARK CROWNS
We may fight with our siblings, but these three REALLY fight with their siblings. Like, there is no arguing over the TV or dinner plans here. This is all strictly about power, morality, and which sister will live to see seventeen. Brutal, and we're here for it, but we don't want it.
Three queens, all equal heirs to the crown and each possessor of a coveted magic. Mirabella is an elemental, able to spark hungry flames or vicious storms at the snap of her fingers. Katharine is a poisoner, one who can ingest the deadliest poisons without so much as a stomachache. Arsinoe, a naturalist, is said to have the ability to bloom the reddest rose and control the fiercest of lions. But becoming the Queen Crowned isn't solely a matter of royal birth. Each sister has to fight for it.
And it's not just a game of win or lose… it's life or death. The night the sisters turn sixteen, the battle begins. The last queen standing gets the crown.
RUNNERS UP:
Sasha and Shanna, THIS DARKNESS MINE
Em and Olivia, RUINED
BEST USE OF FOOD ON A BOOK COVER
🏅 Waffles, TELL ME THREE THINGS
This book is adorable, first of all, but also every time we look at this cover we get the sudden craving for waffles. That means it's doing its job, right?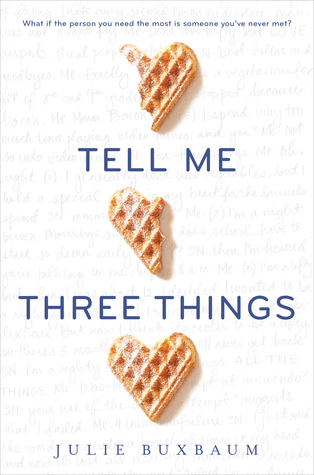 Everything about Jessie is wrong. At least, that's what it feels like during her first week of junior year at her new ultra-intimidating prep school in Los Angeles. Just when she's thinking about hightailing it back to Chicago, she gets an email from a person calling themselves Somebody/Nobody (SN for short), offering to help her navigate the wilds of Wood Valley High School.
In a leap of faith—or an act of complete desperation—Jessie begins to rely on SN, and SN quickly becomes her lifeline and closest ally. Jessie can't help wanting to meet SN in person. But are some mysteries better left unsolved?
RUNNERS UP:
Toast, HERETICS ANONYMOUS
Gelato, LOVE AND GELATO
BEST GENRE MASHUP THAT WAS STRANGE AT FIRST, BUT THEN OKAY
🏅 Adam and the Queen, RELEASE
This is a powerhouse of the book, and we're thrown into Adam's world so completely, so fully, that it took us a second to realize that there was a fantasy element being infused across town. It ended up working though, and the ending was tied up so beautifully, the intensity built so perfectly, that we wouldn't change it for anything.
Adam Thorn doesn't know it yet, but today will change his life. Between his religious family, a deeply unpleasant ultimatum from his boss, and his own unrequited love for his sort-of ex, Enzo, it seems as though Adam's life is falling apart. At least he has two people to keep him sane: his new boyfriend (he does love Linus, doesn't he?) and his best friend, Angela.
But all day long, old memories and new heartaches come crashing together, throwing Adam's life into chaos. The bindings of his world are coming untied one by one; yet in spite of everything he has to let go, he may also find freedom in the release.
RUNNERS UP:
Jane, JANE, UNLIMITED
Adri, Catherine, and Lenore, MIDNIGHT AT THE ELECTRIC
CHARACTER WE WOULD MOST THANK IF THEY PUNCHED US IN THE FACE
🏅 Kate, THIS SAVAGE SONG
Can we just take a moment to express our love for Kate Harker? This girl grew up in a city full of monsters, raised by a man who acted like a monster, and despite everything, ended up becoming an incredible, strong, righteous version of herself. We would reread this duology and relive the heartbreak infinite times just to re-experience Kate's tough glory.
Kate Harker and August Flynn are the heirs to a divided city—a city where the violence has begun to breed actual monsters. All Kate wants is to be as ruthless as her father, who lets the monsters roam free and makes the humans pay for his protection. All August wants is to be human, as good-hearted as his own father, to play a bigger role in protecting the innocent—but he's one of the monsters. One who can steal a soul with a simple strain of music.
When the chance arises to keep an eye on Kate, who's just been kicked out of her sixth boarding school and returned home, August jumps at it. But Kate discovers August's secret, and after a failed assassination attempt the pair must flee for their lives.
RUNNERS UP
Amren, A COURT OF THORNS AND ROSES
Felicity, THE GENTLEMAN'S GUIDE TO VICE AND VIRTUE
WORST WEEKEND GETAWAY
🏅 Coldthistle House, HOUSE OF FURIES
Coldthistle House is all of our worst AirBnB, apartment, and hotel nightmares come true. Imagine finding somewhere that you think is perfect, finally, after all your time looking, just to realize that the devil is literally punishing the people around you. No thank you!!
After escaping a harsh school where punishment was the lesson of the day, seventeen-year-old Louisa Ditton is thrilled to find employment as a maid at a boarding house. But soon after her arrival at Coldthistle House, Louisa begins to realize that the house's mysterious owner, Mr. Morningside, is providing much more than lodging for his guests. The house is a place of judgment, and Mr. Morningside and his unusual staff are meant to execute their own justice on those who are past being saved.
Louisa begins to fear for a young man named Lee who is not like the other guests. He is charismatic and kind, and Louisa knows that it may be up to her to save him from an untimely judgment. But in this house of distortions and lies, how can Louisa be sure whom to trust?
RUNNERS UP:
Longcross, S.T.A.G.S.
Haven Institute, REPLICA
CHARACTER WHO JUST REALLY DESERVES A HUG
🏅 Ty, LADY MIDNIGHT
Is there… anything else we have to say? From his first introduction in CITY OF HEAVENLY FIRE, to everything he goes through in LADY MIDNIGHT, to the freaking end of LORD OF SHADOWS, we just… we just want him to know it's going to be okay, okay?!
Emma Carstairs is a warrior, a Shadowhunter, and the best in her generation. And when the bodies of humans and faeries turn up murdered in the same way Emma's parents were when she was a child, an uneasy alliance with Downworlders is formed. This is Emma's chance for revenge—and Julian's chance to get back his brother Mark, who is being held prisoner by the faerie Courts. All Emma, Mark, and Julian have to do is solve the murders within two weeks… and before the murderer targets them.
Their search takes Emma from sea caves full of sorcery to a dark lottery where death is dispensed. And each clue she unravels uncovers more secrets. What has Julian been hiding from her all these years? Why does Shadowhunter Law forbid parabatai to fall in love? Who really killed her parents—and can she bear to know the truth?
RUNNERS UP:
Carver, GOODBYE DAYS
Jules, EVERLESS
---
Which characters would you give your own obscure awards to? Let us know!
Up next: