So you watched the Everything, Everything movie and now you want to experience everything, everything that will bring you those warm fuzzies that it gave you huh? We relate to that on a spiritual level. It's official. Everything, Everything, is our new YA obsession. Nicola Yoon crafted such an amazing story and, if we're being honest, it doesn't hurt that we get to stare at Amandla Stenberg and Nick Robinson's faces for an hour and a half.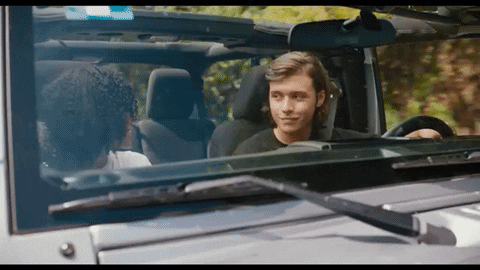 Since we're fangirling HARD over this one, we put together a list of similar books that made us want to giggle and sob at the same time (it's possible). Here's a list of 13 books to read after you watch The Everything, Everything movie!
Read These Books If You Love The Everything, Everything Movie
The Sun Is Also A Star by Nicola Yoon
If you're worried Nicola Yoon's sophomore novel doesn't hold up to her first, you couldn't be more off base. Her follow up novel is every bit as beautiful as her first, if not a little more heart breaking.
Natasha is the girl who believes in science and facts. Not fate. She's definitely not the kind of girl who meets a cute boy on a crowded New York City street and falls in love with him. Not when my family is twelve hours away from being deported to Jamaica. Falling in love with him won't be her story.
Daniel has always been the good son, the good student, living up to my parents' high expectations. Never the poet. Or the dreamer. But when he see her, he forgets about all that. Something about Natasha makes him think that fate has something much more extraordinary in store—for both of them.
 Add The Sun Is Also A Star to your Goodreads shelf! 
Simon Vs. The Homo Sapiens Agenda by Becky Albertalli
If you haven't read Simon Vs. yet, you really need to get on that. It's got all the cute teen romance you could ever want. And we can't help but think Simon and Maddie, from Everything, Everything, would make great friends.
Sixteen-year-old and not-so-openly gay Simon Spier prefers to save his drama for the school musical. But when an email falls into the wrong hands, his secret is at risk of being thrust into the spotlight. Now Simon is actually being blackmailed: if he doesn't play wingman for class clown Martin, his sexual identity will become everyone's business. Now, change-averse Simon has to find a way to step out of his comfort zone before he's pushed out—without alienating his friends, compromising himself, or fumbling a shot at happiness with the most confusing, adorable guy he's never met.
 Add Simon Vs The Homo Sapiens Agenda to your Goodreads shelf! 
Eleanor & Park by Rainbow Rowell
Rainbow Rowell knows how to write a romance that will make you feel butterflies one minute and make you cry the next, a feeling that we felt quite often while reading Everything, Everything.
Eleanor… Red hair, wrong clothes. Standing behind him until he turns his head. Lying beside him until he wakes up. Making everyone else seem drabber and flatter and never good enough…Eleanor.
Park… He knows she'll love a song before he plays it for her. He laughs at her jokes before she ever gets to the punch line. There's a place on his chest, just below his throat, that makes her want to keep promises…Park.
This is the story of two star-crossed sixteen-year-olds—smart enough to know that first love almost never lasts, but brave and desperate enough to try.
Add Eleanor & Park to your Goodreads shelf! 
Holding Up The Universe by Jennifer Niven
Jennifer Niven is another author with a contemporary YA adaptation in the works. Her book, All The Bright Places, is being made into a movie with Elle Fanning set to star! So get a head start on this fandom with her novel Holding Up The Universe.
Everyone thinks they know Libby Strout, the girl once dubbed "America's Fattest Teen." But no one's taken the time to look past her weight to get to know who she really is. Following her mom's death, she's been picking up the pieces in the privacy of her home, dealing with her heartbroken father and her own grief.
Everyone thinks they know Jack Masselin, too. He's mastered the impossible art of giving people what they want, of fitting in. What no one knows is that Jack has a newly acquired secret: he can't recognize faces. Even his own brothers are strangers to him.
When the two get tangled up in a cruel high school game—which lands them in group counseling and community service—Libby and Jack are both pissed, and then surprised. Because the more time they spend together, the less alone they feel.
 Add Holding Up The Universe to your Goodreads shelf! 
Extraordinary Means by Robyn Schneider
The characters in Extraordinary Means can relate to Maddie from Everything, Everything in that they know what it's like to be sick, and they also know what it's like to want more from life.
At seventeen, overachieving Lane finds himself at Latham House, a sanatorium for teens suffering from an incurable strain of tuberculosis. Part hospital and part boarding school, Latham is a place of endless rules and confusing rituals.
There, Lane encounters a girl he knew years ago. Instead of the shy loner he remembers, Sadie has transformed. At Latham, she is sarcastic, fearless, and utterly compelling. Her friends, a group of eccentric troublemakers, fascinate Lane, who has never stepped out of bounds his whole life. And as Lane and Sadie begin to fall in love and their group begins to fall sicker, their insular world threatens to come crashing down.
 Add Extraordinary Means to your Goodreads shelf! 
Side Effects May Vary by Julie Murphy
Like Everything, Everything, Julie Murphy's first novel features a character that tragically has to deal with a serious illness, and how that illness influences how they choose to live their lives.
When sixteen-year-old Alice is diagnosed with leukemia, her prognosis is grim. To maximize the time she does have, she vows to spend her final months righting wrongs—however she sees fit. She convinces her friend Harvey, who she knows has always had feelings for her, to help her with a crazy bucket list that's as much about revenge as it is about hope. But just when Alice's scores are settled, she goes into remission.
Now Alice is forced to face the consequences of all that she's said and done, as well as her true feelings for Harvey. But has she caused irreparable damage to the people around her—and to the one person who matters most?
 Add Side Effects May Vary to your Goodreads shelf! 
When We Collided by Emery Lord
Teen love can be messy and complicated. Like in Nicola Yoon's novel, the characters in When We Collided don't let their obstacles prevent them from falling into it.
Jonah never thought a girl like Vivi would come along.
Vivi didn't know Jonah would light up her world.
Neither of them expected a summer like this…a summer that would rewrite their futures. In an unflinching story about new love, old wounds, and forces beyond our control, two teens find that when you collide with the right person at just the right time, it will change you forever.
 Add When We Collided to your Goodreads shelf! 
Under Rose Tainted Skies by Louise Gornall
Under Rose Tainted Skies is the first of three books on this list that also feature main characters that can't go outside, but for a very different reason than Maddie's SCID.
At seventeen, Norah has accepted that the four walls of her house delineate her life. She knows that fearing everything from inland tsunamis to odd numbers is irrational, but her mind insists the world outside is too big, too dangerous. So she stays safe inside, watching others' lives through her windows and social media feed.
When Luke arrives on her doorstep, he doesn't see a girl defined by medical terms and mental health. Instead, he sees a girl who is funny, smart, and brave. And Norah likes what he sees.
Their friendship turns deeper, but Norah knows Luke deserves a normal girl. One who can walk beneath the open sky. One who is unafraid of kissing. Can she let him go for his own good—or can Norah learn to see herself through Luke's eyes?
 Add Under Rose-Tainted Skies to your Goodreads shelf! 
Say What You Will by Cammie McGovern
OMG, all of the books on this list are going to make you feel so many things. We're sorry ahead of time about the roller coaster of emotions you're going to experience in Say What You Will.
Born with cerebral palsy, Amy can't walk without a walker, talk without a voice box, or even fully control her facial expressions. Plagued by obsessive-compulsive disorder, Matthew is consumed with repeated thoughts, neurotic rituals, and crippling fear. Both in desperate need of someone to help them reach out to the world, Amy and Matthew are more alike than either ever realized.
When Amy decides to hire student aides to help her in her senior year at Coral Hills High School, these two teens are thrust into each other's lives. As they begin to spend time with each other, what started as a blossoming friendship eventually grows into something neither expected.
 Add Say What You Will  to your Goodreads shelf! 
Amy and Roger's Epic Detour by Morgan Matson
Of course, it would be a total sin if we didn't include a Morgan Matson book on a list of contemporaries. Arguably one of the queens of contemporary, she knows how to write troubled teen love.
Amy Curry is not looking forward to her summer. Her mother decided to move across the country and now it's Amy's responsibility to get their car from California to Connecticut. The only problem is, since her father died in a car accident, she isn't ready to get behind the wheel. Enter Roger. An old family friend, he also has to make the cross-country trip – and has plenty of baggage of his own. The road home may be unfamiliar – especially with their friendship venturing into uncharted territory – but together, Amy and Roger will figure out how to map their way.
Add Amy & Roger's Epic Detour to your Goodreads shelf! 
By Your Side by Kasie West
Kasie West is yet another author that needs to be mentioned on a list of young adult contemporaries for it be complete. Sometimes we think she understands teen love better than teens themselves!
When Autumn Collins finds herself accidentally locked in the library for an entire weekend, she doesn't think things could get any worse. But that's before she realizes that Dax Miller is locked in with her. Between the rumors about the fight he was in (and that brief stint in juvie that followed it) and his reputation as a loner, he's not exactly the ideal person to be stuck with. Except there is more to Dax than meets the eye. As he and Autumn first grudgingly open up to each other, Autumn is struck by their surprising connection. But can their feelings for each other survive once the weekend is over and Autumn's old life, and old love interest, threaten to pull her from Dax's side?
 Add By Your Side to your Goodreads shelf! 
Highly Illogical Behavior by John Corey Whaley
John Corey Whaley's third novel also features the intricacies of a main character that can't leave the house, though for a very different reason.
Sixteen-year-old Solomon is agoraphobic. He hasn't left the house in three years, which is fine by him.
Ambitious Lisa desperately wants to get into the second-best psychology program for college (she's being realistic). But is ambition alone enough to get her in?
Determined to "fix" Sol, Lisa steps into his world, along with her charming boyfriend, Clark, and soon the three form an unexpected bond. But, as Lisa learns more about Sol and he and Clark grow closer and closer, the walls they've built around themselves start to collapse and their friendships threaten to do the same.
Add Highly Illogical Behavior to your Goodreads shelf!  
Girl Against the Universe by Paula Stokes
Girl Against The Universe is the final book on this list that features a main character that can't quite go outside. Again, this explores a different reasoning than we see in Everything, Everything.
Sixteen-year-old Maguire knows the universe is against her. No matter how many good luck rituals she performs each morning, horrible things happen when she's around. Like the time the house next door caught on fire. Or the time her brother, father, and uncle were all killed in a car crash–and Maguire walked away with barely a scratch.
Despite what her therapist tells her, Maguire thinks it's best to hide out in her room, far away from anyone she might accidentally hurt. But then she meets Jordy, an aspiring tennis star who wants to help her break her unlucky streak. Maguire knows that the best thing she can do for him is to stay away, but it turns out staying away might be harder than she thought.
 Add Girl Against The Universe to your Goodreads shelf! 
---
Comment down below with any books on this list that gave you those Everything, Everything vibes!! 
Up Next: Watch The Everything, Everything Movie Trailer!