And baby I'll rule, I'll rule, I'll rule, let me read that fantasy.
Does it ever feel like something's missing in your life? Like you need to read more oh-no-they-didn't hookups pressed up against dark corners in a palace? And how do you feel about courtly intrigue, especially when everyone is clawing their way to the throne with secrets and deceit abound? What about rulers desperate to kill whoever necessary to maintain their power? And who really runs the kingdom? While the king's tyrannical rule runs the land, the queen runs the castle, smiling as she pours poison into your drink. Oh, and let's not forget to mention the jaw dropping gowns or the gorgeous scenery. And maps. MAPS.
If none of the above interests you, well, then you should probably just click away from this post right now. But if it does, check out some of the young adult books below that feature kings, queens and court life!  We promise they won't disappoint.
With the help of our Epic Readers on Twitter and Facebook we were able to curate this reading list! If you have other books to add, let us know in the comments below!
Click the image below to view it at a larger size!
The Crown Jewels of YA
Below you will find a breakdown of the novels and series featured on this visual reading list! We also curated all of these books onto a Goodreads list which you can find here!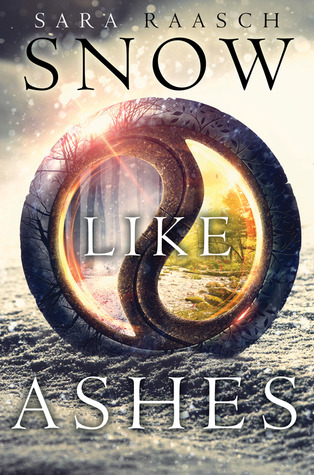 Kingdom name: Kingdom of Winter
Current ruler: King Angra Manu of Spring
Sixteen years ago the Kingdom of Winter was conquered and its citizens enslaved, leaving them without magic or a monarch. Now, the Winterians' only hope for freedom is the eight survivors who managed to escape, and who have been waiting for the opportunity to steal back Winter's magic and rebuild the kingdom ever since.
Add Snow Like Ashes to your Goodreads shelf!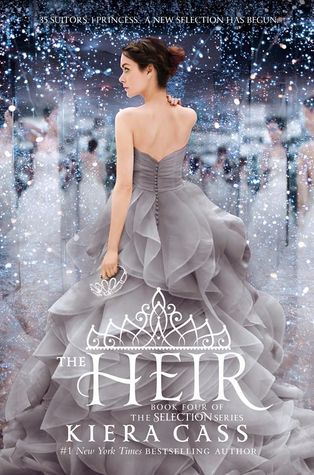 Kingdom name: Illea
Current ruler: King Maxon and Queen America
Twenty years ago, America Singer entered the Selection and won Prince Maxon's heart. Now the time has come for Princess Eadlyn to hold a Selection of her own. Eadlyn doesn't expect her Selection to be anything like her parents' fairy-tale love story…but as the competition begins, she may discover that finding her own happily ever after isn't as impossible as she's always thought.
Add The Heir to your Goodreads!
Kingdom name: Genovia
Current ruler: Dowager Princess Clarisse Marie Grimaldi Renaldo
Ruler in training: Princess Amelia Mignonette Grimaldi Thermopolis Renaldo
I don't think we really have to go into the plot here. We've all seen the perfect movie, right?
RED QUEEN by Victoria Aveyard
Kingdom name: Kingdom of Norta
Current rulers: King Tiberias and Queen Elara
Mare Barrow's world is divided by blood—those with common, Red blood serve the Silver- blooded elite, who are gifted with superhuman abilities. Mare is a Red, scraping by as a thief in a poor, rural village, until a twist of fate throws her in front of the Silver court. Before the king, princes, and all the nobles, she discovers she has an ability of her own.
Genre: Fantasy, dystopian
For fans of: Shatter Me, The Young Elites
Add Red Queen to your Goodreads shelf!
Kingdom name: Joya D'Arena
Current ruler: King Alejandro de Vega and Queen Lucero-Elisa né Riqueza de Vega
Elisa has always felt powerless, useless. Now, on her sixteenth birthday, she has become the secret wife of a handsome and worldly king—a king who needs her to be the chosen one, not a failure of a princess. And he's not the only one who seeks her. Savage enemies, seething with dark magic, are hunting her.
Genre: High fantasy, adventure, romance
For fans of: Queen of the Tearling, Seven Realms series
Add The Girl of Fire and Thorns to your Goodreads!
Kingdom name: Indigo Kingdom
Current ruler: King Terrell and Crown Prince Tobiah
When Princess Wilhelmina was a child, the Indigo Kingdom invaded her homeland. Ten years later, Wil and the other noble children who escaped are ready to fight back and reclaim Wil's throne. To do so, Wil and her best friend, Melanie, infiltrate the Indigo Kingdom palace with hopes of gathering information that will help them succeed.
Genre: High fantasy, adventure
For fans of: Snow Like Ashes, Defy
Add The Orphan Queen to your Goodreads!
VAMPIRE ACADEMY by Richelle Mead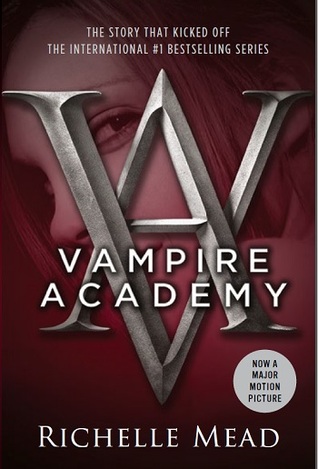 Royal line: Dragomirs
Current ruler: Queen Tatiana
St. Vladimir's Academy isn't just any boarding school—it's a hidden place where vampires are educated in the ways of magic and half-human teens train to protect them. Rose Hathaway is a Dhampir, a bodyguard for her best friend Lissa, a Moroi Vampire Princess. They've been on the run, but now they're being dragged back to St. Vladimir's—the very place where they're most in danger. . . .
Genre: Paranormal, contemporary
For fans of: The Darkest Powers series
Add Vampire Academy to your Goodreads!
CINDER by Marissa Meyer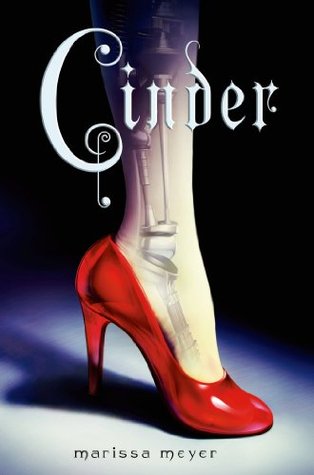 Kingdom: Eastern Commonwealth
Current Ruler: Crown Prince Kaito
Cinder, a gifted mechanic, is a cyborg. She's a second-class citizen with a mysterious past, reviled by her stepmother and blamed for her stepsister's illness. But when her life becomes intertwined with the handsome Prince Kai's, she suddenly finds herself at the center of an intergalactic struggle, and a forbidden attraction. Caught between duty and freedom, loyalty and betrayal, she must uncover secrets about her past in order to protect her world's future.
Genre: Science fiction, fantasy
For fans of: Across the Universe, Incarnate
THE THIEF by Megan Whalen Turner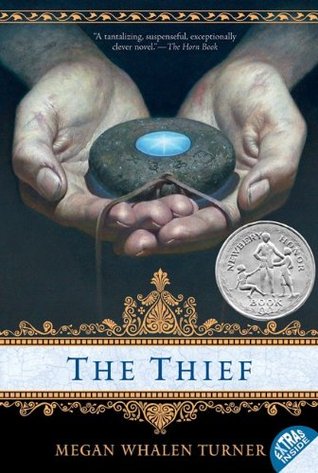 Kingdom names: Sounis, Eddis, and Attolia
The king's scholar, the magus, believes he knows the site of an ancient treasure. To attain it for his king, he needs a skillful thief, and he selects Gen from the king's prison. The magus is interested only in the thief's abilities. What Gen is interested in is anyone's guess. Their journey toward the treasure is both dangerous and difficult, lightened only imperceptibly by the tales they tell of the old gods and goddesses.
Genre: Historical fantasy
For fans of: Finnikin of the Rock
Add The Thief to your Goodreads!
A WICKED THING by Rhiannon Thomas
Kingdom name: Alyssinia
Current ruler: King John the Third and Queen Iris
One hundred years after falling asleep, Princess Aurora wakes up to the kiss of a handsome prince and a broken kingdom that has been dreaming of her return. All the books say that she should be living happily ever after. But as Aurora understands all too well, the truth is nothing like the fairy tale.
Genre: Fairy tale, fantasy, romance
For fans of: Cruel Beauty, Beastly
Add A Wicked Thing to your Goodreads!
BITTERBLUE by Kristin Cashore
Kingdom name: Monsea
Current ruler: Queen Bitterblue
Eight years have passed since the young Princess Bitterblue, and her country, were saved from the vicious King Leck. Now Bitterblue is the queen of Monsea, and her land is at peace. But the influence of her father, a violent psychopath with mind-altering abilities, lives on. Her advisers, who have run the country on her behalf since Leck's death, believe in a forward-thinking plan: to pardon all of those who committed terrible acts during Leck's reign; and to forget every dark event that ever happened.
Genre: High fantasy, adventure
For fans of: The Girl of Fire and Thorns
Add Bitterblue to your Goodreads!
THRONE OF GLASS by Sarah J. Maas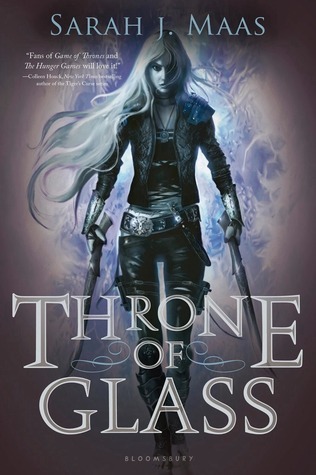 Kingdom name: Erilea
Current rulers: King of Adarlan and Queen Georgina
In a land without magic, where the king rules with an iron hand, an assassin is summoned to the castle. She comes not to kill the king, but to win her freedom. If she defeats twenty-three killers, thieves, and warriors in a competition, she is released from prison to serve as the king's champion. Her name is Celaena Sardothien.
Genre: High fantasy, adventure
For fans of: Shadow and Bone, Falling Kingdoms
Add Throne of Glass to your Goodreads!
STRAY by Elissa Sussman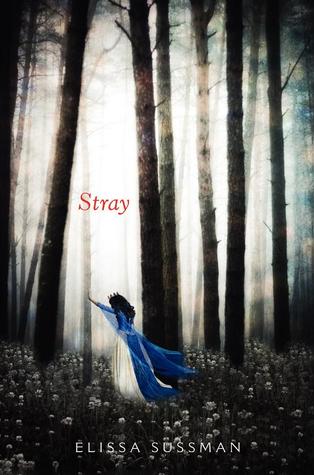 Kingdom name: Nepeta
Current ruler:
Princess Aislynn has long dreamed about attending her Introduction Ball, about dancing with the handsome suitors her adviser has chosen for her, about meeting her true love and starting her happily ever after. When the night of the ball finally arrives and Nerine Academy is awash with roses and royalty, Aislynn wants nothing more than to dance the night away, dutifully following the Path that has been laid out for her. She does not intend to stray.
Genre: Fairy tale, fantasy
For fans of: Entwined, Princess of the Midnight Ball
THE KINGDOM OF LITTLE WOUNDS by Susann Cokal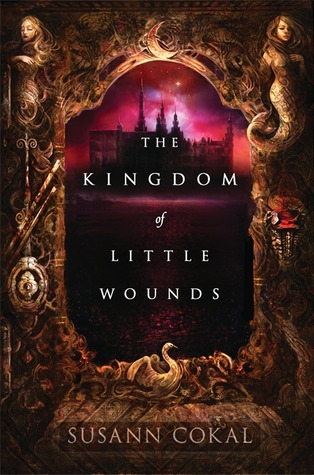 Kingdom name: Skyggehavn, Sweden
Current rulers: King Christian Lunedie V. and Queen Isabel
On the eve of Princess Sophia's wedding, the Scandinavian city of Skyggehavn prepares to fete the occasion with a sumptuous display of riches: brocade and satin and jewels, feasts of sugar fruit and sweet spiced wine. Yet beneath the veneer of celebration, a shiver of darkness creeps through the palace halls. A mysterious illness plagues the royal family, threatening the lives of the throne's heirs, and a courtier's wolfish hunger for the king's favors sets a devious plot in motion.
Genre: Historical, fantasy
For fans of: Grave Mercy, The Winner's Curse
Add The Kingdom of Little Wounds to your Goodreads! 
Kingdom name: Gévaudan
Current ruler: King Auguste-Philippe II
After an illicit meeting goes dreadfully wrong, Rachelle is forced to make a terrible choice that binds her to the very evil she had hoped to defeat. Three years later, Rachelle has given her life to serving the realm, fighting deadly creatures in a vain effort to atone. When the king orders her to guard his son Armand—the man she hates most—Rachelle forces Armand to help her hunt for the legendary sword that might save their world. Together, they navigate the opulent world of the courtly elite, where beauty and power reign and no one can be trusted.
Genre: Fairy tale, fantasy, romance
For fans of: Cruel Beauty
Add Crimson Bound to your Goodreads!
KING by Ellen Oh
Kingdoms: Guru, Tongey, Hansong, Kudara, Jinhan, Kaya
This thrilling and romantic conclusion to the Prophecy series brings Kira her final quest. All eyes are on her. Kira, once an outcast in her home village of Hansong, is now the only one with the power to save her kingdom. Kira braves a sea of tigers and battles armies of demons as she learns to trust herself, the romantic feelings for Jaewon that are growing within her, and the destiny that must be hers.
Genre: High fantasy, adventure
For fans of: Tamora Pierce, The Young Elites
More visual reading lists:
What other royal books would you add to this list? Tell us in the comments below!