With prom season in full swing and graduation a minute away, we're taking a moment to embrace all the various feels of senior year. It's a bittersweet mix of excitement and celebration mixed with goodbyes and (let's be honest) worries about the future. One of the best things about senior year is that while there are shared milestones a lot of us go through (senior prom, graduation day) there's no singular experience that defines senior year.
With that, we put together a list of some of our fave YA books that perfectly capture the angst, heartbreak, and utter joy of senior year for all the soon-to-be graduates out there!
Books to Spark All of Your Senior Year and Graduation Feels
1. Leah on the Offbeat by Becky Albertalli
Follow Becky Albertalli's Simonverse crew as they navigate their final year of high school together. Leah is trying to figure out who she is and what she wants, and also how much of that she shares with her closest friends. This book nails both the utter joy of sharing milestone moments with your closest friends, and the senior year stresses (like shopping for the perfect prom ensemble and the college application process). And if you're into senior year romances? This is one for the books.
When it comes to drumming, Leah Burke is usually on beat—but real life isn't always so rhythmic. She's an anomaly in her friend group: the only child of a young, single mom, and her life is decidedly less privileged. She loves to draw but is too self-conscious to show it. And even though her mom knows she's bisexual, she hasn't mustered the courage to tell her friends—not even her openly gay BFF, Simon.
So Leah really doesn't know what to do when her rock-solid friend group starts to fracture in unexpected ways. With prom and college on the horizon, tensions are running high. It's hard for Leah to strike the right note while the people she loves are fighting—especially when she realizes she might love one of them more than she ever intended.
2) Always and Forever, Lara Jean by Jenny Han
It's senior year for Lara Jean and this final book in the TO ALL THE BOYS I'VE LOVED BEFORE trilogy encompasses so many different senior year feels—everything from dealing with college rejection to relationship struggles to tough decisions and of course, inevitable goodbyes. We especially think this is the perfect story to read if you're considering going away to college when you've always believed you'd stay closer to home.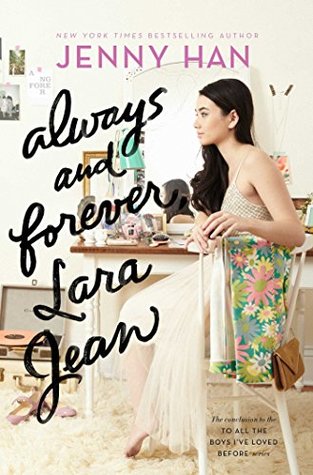 Lara Jean is having the best senior year. And there's still so much to look forward to: a class trip to New York City, prom with her boyfriend Peter, Beach Week after graduation, and her dad's wedding to Ms. Rothschild. Then she'll be off to college with Peter, at a school close enough for her to come home and bake chocolate chip cookies on the weekends. Life couldn't be more perfect!
At least, that's what Lara Jean thinks…until she gets some unexpected news. Now the girl who dreads change must rethink all her plans—but when your heart and your head are saying two different things, which one should you listen to?
3) Autoboyography by Christina Lauren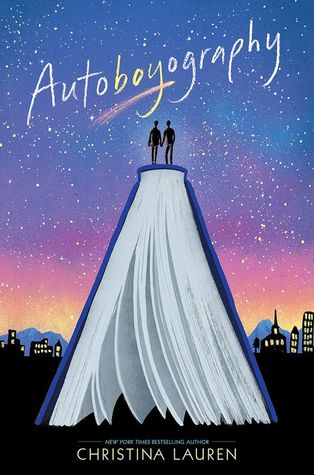 Three years ago, Tanner Scott's family relocated from California to Utah, a move that nudged the bisexual teen temporarily back into the closet. Now, with one semester of high school to go, and no obstacles between him and out-of-state college freedom, Tanner plans to coast through his remaining classes and clear out of Utah.
But when his best friend Autumn dares him to take Provo High's prestigious Seminar—where honor roll students diligently toil to draft a book in a semester—Tanner can't resist going against his better judgment and having a go, if only to prove to Autumn how silly the whole thing is. Writing a book in four months sounds simple. Four months is an eternity.
It turns out, Tanner is only partly right: four months is a long time. After all, it takes only one second for him to notice Sebastian Brother, the Mormon prodigy who sold his own Seminar novel the year before and who now mentors the class. And it takes less than a month for Tanner to fall completely in love with him.
4) Hello, Goodbye, and Everything in Between by Jennifer Smith
The big question that ANY couple has to face their senior year in high school is…will long distance really work and is it worth it? Clare and Aidan have created a ton of memories in their time together but soon, they'll be going their separate ways. Is it better to end things now before they inevitably get messy once they're apart? To decide, they'll take a trip down memory lane and revisit different spots from their past to make the ultimate decision.
On the night before they leave for college, Clare and Aidan have only one thing left to do: figure out whether they should stay together or break up. Over the course of twelve hours, they retrace the steps of their relationship, trying to find something in their past that might help them decide what their future should be. The night leads them to family and friends, familiar landmarks and unexpected places, hard truths and surprising revelations. But as the clock winds down and morning approaches, so does their inevitable goodbye. The question is, will it be goodbye for now or goodbye forever?
5) Top Ten by Katie Cotugno
This is another will-they-or-won't-they scenario. Ryan and Gabby are best friends, but with graduation looming – they have to decide if it's worth starting something that could be more…or if they should just stick to being friends. This book is an unforgettable examination of friendship and romance, and perfectly nails the senior year feels of looking back on the good times while also trying to figure out an uncertain future.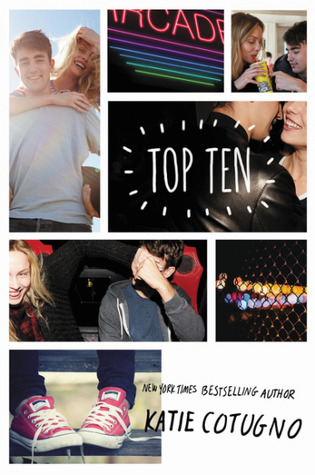 Ryan McCullough and Gabby Hart are the unlikeliest of friends. Introverted, anxious Gabby would rather do literally anything than go to a party. Ryan is a star hockey player who can get any girl he wants—and does, frequently. But against all odds, they became not only friends, but each other's favorite person. Now, as they face high school graduation, they can't help but take a moment to reminisce and, in their signature tradition, make a top ten list—counting down the top ten moments of their friendship.
6) Ramona Blue by Julie Murphy
Ramona's spent her high school career certain that she knows exactly who she is – a girl who's into girls (and only girls), and the person who will always be there to help her family through tough times. But when her childhood BFF Freddie returns to town for senior year – everything Ramona's always been certain of is thrown into question. This book is perfect for anyone who finds themselves at a crossroads as graduation day approaches.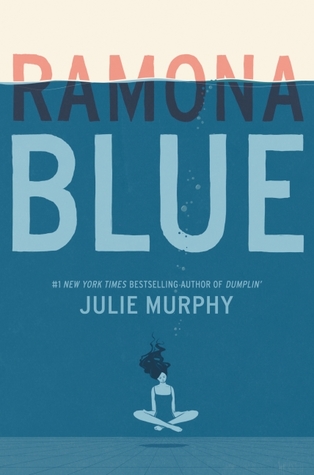 Ramona is sure of three things: she likes girls, she's fiercely devoted to her family, and she knows she's destined for something bigger than the trailer she calls home in Eulogy, Mississippi. But juggling multiple jobs, her flaky mom, and her well-meaning but ineffectual dad forces her to be the adult of the family. The return of her childhood friend Freddie brings a welcome distraction.
Ramona's friendship with the former competitive swimmer picks up exactly where it left off, and soon he's talked her into joining him for laps at the pool. But as Ramona falls in love with swimming, her feelings for Freddie begin to shift too, which is the last thing she expected. With her growing affection for Freddie making her question her sexual identity, Ramona begins to wonder if perhaps she likes girls and guys or if this new attraction is just a fluke. Either way, Ramona will discover that, for her, life and love are more fluid than they seem.
7) Anna and the French Kiss by Stephanie Perkins
Imagine having to spend your senior year at a brand new high school…and at a posh boarding school one at that! That's where we find Anna, who spends the year trying to stay connected to her old friends, making new friends, and navigating feelings for a boy that has a girlfriend (drama!). These are all things that typically happen once you go AWAY to college but hey, this is a nice preview of what it can be like in between.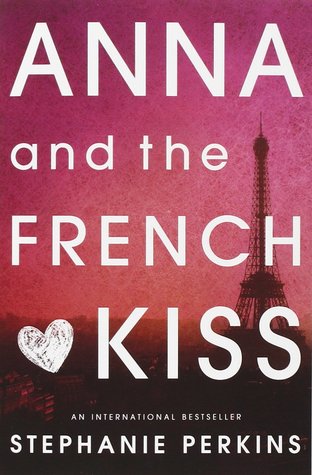 Anna is happy in Atlanta. She has a loyal best friend and a crush on her coworker at the movie theater, who is just starting to return her affection. So she's less than thrilled when her father decides to send her to a boarding school in Paris for her senior year.
But despite not speaking a word of French, Anna meets some cool new people, including the handsome Étienne St. Clair, who quickly becomes her best friend. Unfortunately, he's taken —and Anna might be, too. Will a year of romantic near misses end with the French kiss she's waiting for?
8) That Thing We Call a Heart by Sheba Karim
Shabnam Qureshi has survived senior year, but somehow her friendship with her BFF Farrah fizzled in the process. When a cute new boy shows up at her summer job, things are looking up, but will winning back her long lost friend cost Shabnam her new romance? This is the perfect book for anyone feeling a little lost as senior year draws to a close.
Shabnam Qureshi is a funny, imaginative Pakistani-American teen attending a tony private school in suburban New Jersey. When her feisty best friend, Farah, starts wearing the headscarf without even consulting her, it begins to unravel their friendship. After telling a huge lie about a tragedy that happened to her family during the Partition of India in 1947, Shabnam is ready for high school to end. She faces a summer of boredom and regret, but she has a plan: Get through the summer. Get to college. Don't look back. Begin anew.
Everything changes when she meets Jamie, who scores her a job at his aunt's pie shack, and meets her there every afternoon. Shabnam begins to see Jamie and herself like the rose and the nightingale of classic Urdu poetry, which, according to her father, is the ultimate language of desire. Jamie finds Shabnam fascinating—her curls, her culture, her awkwardness. Shabnam finds herself falling in love, but Farah finds Jamie worrying.
With Farah's help, Shabnam uncovers the truth about Jamie, about herself, and what really happened during Partition. As she rebuilds her friendship with Farah and grows closer to her parents, Shabnam learns powerful lessons about the importance of love, in all of its forms.
9) The Serpent King by Jeff Zentner
Everyone knows senior year can be super emotional and draining. In this one, Dill is struggling with the fact that graduation means saying goodbye to the two friends who have made life in his hometown bearable. Things seem tough enough already, but an unexpected, heartbreaking loss will force Dill to confront his past once and for all. Bring tissues – this book is one big, beautiful ugly cry.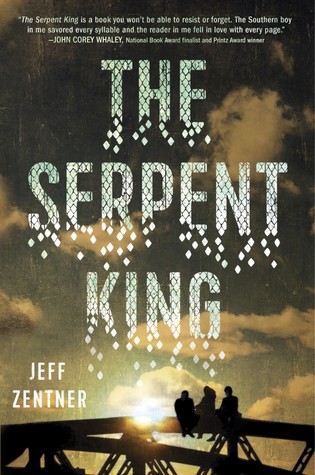 Dill has had to wrestle with vipers his whole life—at home, as the only son of a Pentecostal minister who urges him to handle poisonous rattlesnakes, and at school, where he faces down bullies who target him for his father's extreme faith and very public fall from grace.
The only antidote to all this venom is his friendship with fellow outcasts Travis and Lydia. But as they are starting their senior year, Dill feels the coils of his future tightening around him. The end of high school will lead to new beginnings for Lydia, whose edgy fashion blog is her ticket out of their rural Tennessee town. And Travis is happy wherever he is thanks to his obsession with the epic book series Bloodfall and the fangirl who may be turning his harsh reality into real-life fantasy. Dill's only escapes are his music and his secret feelings for Lydia—neither of which he is brave enough to share. Graduation feels more like an ending to Dill than a beginning. But even before then, he must cope with another ending—one that will rock his life to the core.
10) A Prom to Remember by Sandy Hall
You can't graduate without attending the biggest party of the year…prom! It's a high school staple and the last chance to dance the night away before moving on to the next stage of your life. But of course, everyone's prom experience is a little different….which is why this story about seven seniors is the perfect book to read for all the emotions and all the ups and downs this iconic dance brings!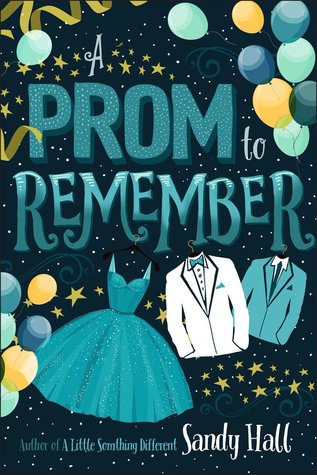 Seven seniors, seven problems, one senior prom. Cora: Head of the Prom Committee (and basically every other club in school). Has been dating Perfect Boyfriend Jamie™ for approximately forever, and has NO IDEA how to break up with him…. Paisley: Sarcastic feminist who wants nothing to do with prom. Has somehow managed to nominate her anxiety-ridden best friend for prom king… Henry: Quiet ballplayer who hates social situations. Invited to prom by the most popular girl in school. SEND HELP! Otis: Charming, popular, and one half of one of the cutest couples in his class. Doesn't know how to tell his boyfriend that he's not quite ready for a post-prom hotel room experience… Lizzie: A little bit shy, and a lot excited to finally get out of her comfort zone and go to prom. With a boy. Whose name she doesn't know. Cameron: Loner with two jobs and zero friends. Is so done with high school and this whole town: the only thing he still wants to do is meet the mysterious girl who's been leaving him notes… Jacinta: Unnamed Nerd Girl #3. Determined to become the star of her own life, starting with prom. Now if only she could find a date….
11) Sam & Ilsa's Last Hurrah by Rachel Cohn and David Levithan
Speaking of celebrations…there's prom and then there's the final get together before everyone goes off to college. You can expect lots of fun and lots of things to be shared—hopes and dreams and secrets and revelations of what comes next after they all part ways.
Siblings Sam and Ilsa Kehlmann have spent most of their high school years throwing parties for their friends–and now they've prepared their final blowout, just before graduation.
The rules are simple: each twin gets to invite three guests, and the other twin doesn't know who's coming until the partiers show up at the door. With Sam and Ilsa, the sibling revelry is always tempered with a large dose of sibling rivalry, and tonight is no exception.
One night. One apartment. Eight people. What could possibly go wrong? Oh, we all know the answer is plenty. But plenty also goes right, as well…in rather surprising ways.
---
Have you read any of these books? What other books give you senior year feels? Let us know in the comments!
Up next: