A long time ago This very weekend
in a galaxy far, far away on the planet we live on,
SOLO: A STAR WARS STORY
blasted off into theaters.
SOLO promises to be another thrilling, action-packed space extravaganza, cementing Star Wars as one of the greatest movie franchises of all time. NBD.
And we don't know about you, but Han Solo is an all-time fave character for us, so seeing his backstory was everything we never knew we needed! But possibly most importantly, the movie gave us Donald Glover in space.
Naturally, after seeing the movie, we started thinking baout books that people who enjoyed SOLO would also enjoy reading, whether they're set in space, or just have similar characters, plot lines, or themes. Why, you ask? Because we're book people. And providing people with book recommendations is what we do best.
Books to Read After Solo: A Star Wars Story
1. Carve the Mark by Veronica Roth
From its superhuman, alien gifts to the cross-galaxy outer space setting, the action-packed battles to the slow burning romance, this fantastical adventure had us in awe just the same. We're always happy to return home to both galaxies far, far away.
In a galaxy powered by the current, everyone has a gift. Cyra is the sister of the brutal tyrant who rules the Shotet people. Cyra's currentgift gives her pain and power—something her brother exploits, using her to torture his enemies. Akos is the son of a farmer and an oracle from the frozen nation-planet of Thuvhe. Protected by his unusual currentgift, Akos is generous in spirit, and his loyalty to his family is limitless. Once Akos and his brother are captured by enemy Shotet soldiers, Akos is desperate to get his brother out alive—no matter what the cost.
Then Akos is thrust into Cyra's world, and the enmity between their countries and families seems insurmountable. Will they help each other to survive, or will they destroy one another?
2. Six of Crows by Leigh Bardugo
When you say 'heist,' we say 'Kaz.' One of the things we were most excited about going into SOLO was that, at its heart, its a simple fun heist film set against the elaborate Star Wars universe. In SIX OF CROWS, we get an incredible heist, high stakes adventure, romance, angst, and near-impossible situations—all set against the gorgeous Grishaverse we already knew. And, let's be real. We'll take any excuse we can get to dive back into this book!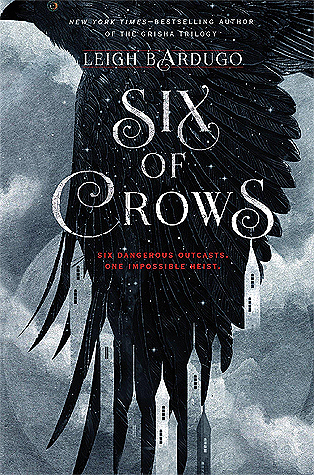 Addison Coleman's life is one big "What if?" As a Searcher, a special type of clairvoyant, whenever Addie is faced with a choice, she is able to look into the future and see both outcomes. So when her parents tell her they are getting a divorce and she has to pick who she wants to live with, a Search has never been more important.
In one future Addie is living with her mom in the life she's always known and is being pursued by the most popular guy in school. In the other she is the new girl in school, where she falls for a cute, quiet artist. Then Addie finds herself drawn into a murder investigation, and her fate takes a darker turn. With so much to lose in either future, Addie must decide which reality she's willing to live through… and who she's willing to live without.
3. As Red As Blood by Salla Simukka
A mysterious heist novel of lavish proportions, AS RED AS BLOOD is a great follow up to SOLO: A STORY WARS STORY. There are some characters out there who just can't seem to stay out of trouble, a sentiment that we know Han Solo knows very well.
Lumikki Andersson has made it a rule to stay out of things that do not involve her. She knows all too well that trouble comes to those who stick their nose where it doesn't belong. But Lumikki's rule is put to the test when she uncovers thousands of washed Euro notes hung to dry in her school's darkroom and three of her classmates with blood on their hands. Literally.
A web of lies and deception now has Lumikki on the run from those determined to get the money back—no matter the cost. At the center of the chaos: Polar Bear, the mythical drug lord who has managed to remain anonymous despite hosting lavish parties and having a notorious reputation. If Lumikki hopes to make it out alive, she'll have to uncover the entire operation.
4. A Conspiracy of Stars by Olivia A. Cole
Political conspiracies, taking down a corrupt government, and alien races! Oh my! A CONSPIRACY OF STARS is a must read title to fill your Star Wars craving.
Octavia has only ever had one goal: to become a prestigious whitecoat, one of the scientists who study the natural wonders of Faloiv. The secrets of the jungle's exotic plants and animals are protected fiercely in the labs by the Council of N'Terra, so when the rules suddenly change, allowing students inside, Octavia should be overjoyed.
But something isn't right. The newly elected leader of the Council has some extremist views about the way he believes N'Terra should be run, and he's influencing others to follow him. When Octavia witnesses one of the Faloii—the indigenous people of Faloiv—attacked in front of her in the dark of night, she knows the Council is hiding something. With help from her friends, Octavia is set on a collision course to discover the secrets behind the history she's been taught, the science she's lived by, and the truth about her family.
5. Heart of Iron by Ashley Poston
Ana and her crew of space pirates would be a force to be reckoned with in any galaxy, but we have to say we're partial to the idea of a competitive heist crossover. The banter and stakes in HEART OF IRON kept us laughing while on the edge of our seats, and while Solo might have have Han, we can't help but prefer, Ana, Jaxx, Di, and Robb.
Seventeen-year-old Ana , found as a child drifting through space with a sentient android called D09, was saved by a fearsome space captain and the grizzled crew she now calls family. But D09 has been glitching, and Ana will stop at nothing to find a way to fix him.
The journey leads her to team up with an Ironblood boy as fugitives on the run. And what they find in a lost corner of the universe will change all their lives—and unearth dangerous secrets. But when a darkness from Ana's past returns, she must face an impossible choice: does she protect a kingdom that wants her dead or save the Metal boy she loves?
6. Onyx & Ivory by Mindee Arnett
Though it's a fantasy adventure, and not set in outer space, ONYX AND IVORY is also an action packed tale of epic proportions. When two exes team up to take down a dangerous threat, old feelings (and some morals) get left behind for the greater good of their goals.
They call her Traitor Kate. It's a title Kate Brighton inherited from her father after he tried to assassinate the high king years ago. Now Kate lives as an outcast, hiding a forbidden magic. It's this magic that leads her to a caravan massacred by nightdrakes in broad daylight—the only survivor her first love, the boy who broke her heart, the king's second son.
With their paths once more entangled, Kate and Corwin have to put the past behind them. The threat of drakes who attack in the daylight is only the beginning of a darker menace stirring in the kingdom—one whose origins have dire implications for Kate's father's attack upon the king and will thrust them into the middle of a brewing civil war in the kingdom of Rime.
7. Devils Unto Dust by Emma Berquist
When you think about it, SOLO: A STAR WARS STORY is a bit of an outer space Western. DEVILS UNTO DUST is a Western that follows a girl who has to set off on a deadly journey to untangle her family from criminal dealings. We think that's a pretty good follow up to Solo.
Ten years ago, a horrifying disease began spreading across the West Texas desert. Infected people—shakes—attacked the living and created havoc and destruction. No one has ever survived the infection.
Daisy Wilcox, known as Willie, has been protecting her siblings within the relatively safe walls of Glory, Texas. When Willie's good-for-nothing father steals a fortune from one of the most dangerous shake-hunters in town, she finds herself on the hook for his debt. With two hunters, including the gruff and handsome Ben, to accompany her, she sets out across the desert in search of her father. But the desert is not kind to travelers, and not everyone will pass through alive.
8. Honor Among Thieves by Rachel Caine & Ann Aguirre
A team of criminals sent on a mission in outer space? HONOR AMONG THIEVES is essentially a teen Star Wars story! There are earth shattering revelations and dangerous circumstances among the stars, and we can't help but think a teenage Han Solo would have found himself on one of these ships!
When Zara commits a crime that has her running scared, jail might be exactly where she's headed. Instead Zara is recruited into the Honors, an elite team of humans selected by the Leviathan—a race of sentient alien ships—to explore the outer reaches of the universe as their passengers.
Zara seizes the chance to flee Earth's dangers, but when she meets Nadim, the alien ship she's assigned, Zara starts to feel at home for the first time. But nothing could have prepared her for the dark, ominous truths that lurk behind the alluring glitter of starlight.
---
What books are you reading in this galaxy so, so near? Let us know below!
Up next: