It's day 1 in our #CarveTheMarkCountdown celebration – our seventeen day long event where we're giving you with exclusive Carve the Mark content every day until the release of Carve the Mark, Veronica Roth's new spacetastic YA novel, on January 17, 2017!
If you're anything like us, the only thing that will be on your brain until January 17 is Carve the Mark. What will it look like?! What will it smell like?! WHAT WILL IT TASTE LI…. ok too far? Never. Anyway, while you are patiently waiting, be sure to check out these space recipes so you can get your fill of galaxy grub IRL before you devour Carve the Mark! Voa-la. Space food to the rescue.
1. Galaxy Macaroons
These galaxy macaroons are not only beautiful but they are also insanely yummy. These are almond macaroons filled with "elderberry jelly." No idea what that is, but i'm in. I'm sooo in.
Ingredients: 
100 ml reduced aquafaba (close to 1/3 cup)
1/4 tsp apple cider vinegar
100g granulated sugar (1/2 cup)
 100g almond meal (1 cup)
 65g confectioners sugar (1/2 cup)
1/2 tsp pure vanilla extract
purple gel color (for natural color, use TruColor)
Filling: elderberry jelly
2. Space Lollipops
There is just no way a human made these. You actually need to be from a different species to reach this level of space perfection. Suspicious…..
Ingredients:
2 cups granulated sugar
⅔ cup light corn syrup
⅔ cup water
Gel food coloring (black, violet, teal, pink)
edible glitter
White nonpareils
Lollipop sticks
3. Nebula Cake
HOLY. NEBULA. Help me understand exactly how not to eat this entire cake in one sitting? I can't with this.
Ingredients: 
2 cups (260g) all-purpose flour
1 1/2 cups (300g) granulated sugar
1 cup (125g) unsweetened dark cocoa powder, (Dutch process preferred)
2 teaspoons baking soda
1 teaspoon baking powder
1⁄2 teaspoon salt
2 eggs
1 cup (240 ml) cold coffee
1 cup (240 ml) buttermilk
1⁄2 cup (120 ml) vegetable oil
1 to 1 1/2 teaspoons black gel food color (I used Americolor Super Black)
Dark Chocolate Frosting
1 cup (1/2 lb.) unsalted butter, melted
1 1⁄3 cups (170g) dark cocoa powder
6 cups (770g) powdered sugar, sifted
2⁄3 cup (160 ml) milk
2 teaspoons vanilla extract
1/2 teaspoon black gel food color
4. Northern Lights Cake
It's a dream of mine to sit down and read Carve The Mark under the Northern Lights while eating this delicious cake. Anyone wanna join?
Ingredients: 
100g soft butter
180g cream cheese
560g icing sugar
gel food colouring in black, blue, pink and purple
edible glitter
5. Intergalactic Bark
This intergalactic treat is sure to ease your pain while waiting for 1.17.17. Like my momma says, "there's nothing in this whole wide world that a little chocolate can't fix." Yes, my mom actually does say that.
Ingredients: 
2 pounds black candy melts
half pound purple candy melts
half pound blue candy melts
half pound light blue candy melts
6. Out Of This World Ice Cream
Speechless. Seriously. Quite speechless.
Ingredients: 
2 Cups Heavy Whipping Cream
1 8oz Can Sweetened Condensed Milk
1 tbsp Vanilla
Food Coloring of choice
7. Galaxy Donuts:
These donuts aren't just taking over your news feed. They're taking over the universe.
Ingredients:
Plain donuts
3 tablespoons coconut oil, melted
3 tablespoons soy milk
1.5 cups confectioners sugar
Food coloring
Edible glitter dust
8. Galaxy cake pops:
Trust us. You need this in your life.
Ingredients: 
Vanilla Cake Mix
Milk Chocolate Buttercream
Dark Chocolate dip
Black food dye
Candy color
Luster dust
9. Zodiac Constellation Cake:
This one's a (zodiac) killer. Try not to drool while looking at this. We dare you.
Ingredients:
Galaxy swirl cake batter
3 1/2 cups cake flour
1 Tbsp. plus 1 tsp baking powder
1/2 tsp salt
6 large egg whites, room temp
1 1/2 cups buttermilk, room temp
1 cup vegetable oil
1 1/2 cups sugar
2 tsp vanilla extract
Betty Crocker Bold: dark blue food color
Betty Crocker Classic: blue and green food colors
Betty Crocker Neon: neon purple food color  
Frosting, fondant and décor supplies
24 ounces black ready-made fondant
Fondant smoother, such as Easy-Glide Smoother by Wilton
Americolor Bright White gel food color
Fine-tipped artists brush, round size 0 or 1
Large stiff bristle brush, round size 4 or larger
Black paper chalkboard picks, if using
10. Star and moon Rice Krispy treats:
These are easy to make and ready to go quick. Much on these while you wait for your other space treats!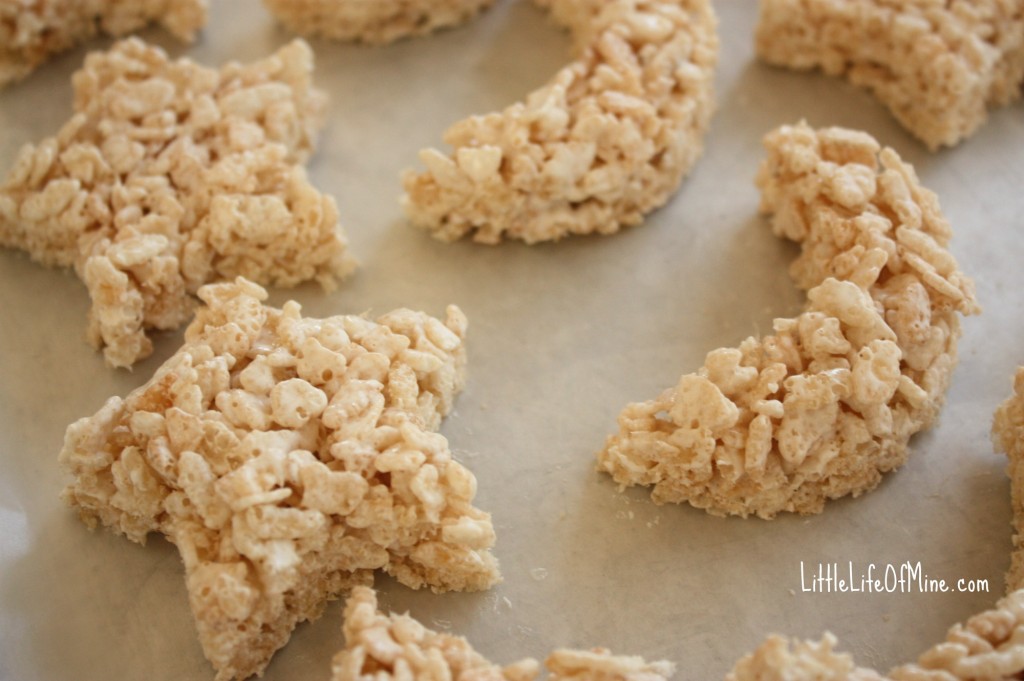 Ingredients:
6 cups of puffed rice cereal
1 jar of Marshmallow Creme
3 tablespoons butter
---
Do you have Space food recipes? Share them with us in the comments below! 
Did you know if you pre-order Carve the Mark (or if you've already pre-ordered it) and you live in the United States or Canada, you are elligible to receive the *exclusive and brand new* epilogue to the Divergent series? Find out how you can get We Can Be Mended here!
Save
Save
Save