😍😍😍😍😍😍 Think of this blog post like the previews before a movie. Want to know what will be hitting bookstores summer of '17? We've got you covered with this cover reveal list! Below you will find a list of ALL of the young adult books HarperCollins is publishing from May through August 2017. You have six months to start saving up so you can add all of these books to your collection!
We suggest you just scroll down and let all of the beautiful book covers soak in and don't worry about adding all the Goodreads links right now because there's a list at the end of this post that will take you to the full list of all of these books on Goodreads so you can add them in one go!
AVENGED by Amy Tintera
On sale: May 2, 2017
Sequel to Ruined
Pages: 416
Genre: High Fantasy
About Ruined:
In the sequel to RUINED, the romance of THE SELECTION and the epic stakes of RED QUEEN come together in a story of revenge, adventure, and unexpected love.
Emelina Flores has come home to Ruina. After rescuing her sister Olivia from imprisonment in rival kingdom Lera, Em and Olivia together vow to rebuild Ruina to its former glory.
But their fight has only begun. Olivia is determined to destroy everyone who acts against Ruina, but Em isn't as sure. Ever since Em posed as Prince Casimir's betrothed in Lera, she's started to see another side to this war. And now that Cas has taken the throne, Em believes a truce is within reach. But Olivia suspects that Em's romantic feelings for Cas are just coloring her judgement.
Em is determined to bring peace to her home. But when winning the war could mean betraying her family, Em faces an impossible choice between loyalty and love. Em must stay one step ahead of her enemies—and her blood—before she's the next victim in this battle for sovereignty.
---
BLIGHT by Alexandra Duncan
On sale: August 1, 2017
Pages: 528
Genre: Science Fiction Thriller
About Blight:
When a destructive disease tears through her home, killing every living thing it touches, seventeen-year-old Tempest Torres desperately tries to stay one step ahead of it while searching for an antidote. An action-adventure stand-alone from the author of the Indies Introduce pick Salvage; ideal for fans of Nancy Farmer's The House of the Scorpion.
Tempest Torres has lived on the AgraStar farm north of Atlanta since she was found outside its gates at the age of five. Now seventeen, she's part of the security force that guards the fence and watches for scavengers—the people who would rather steal from the Company than use their genetically engineered seeds. But when the scavengers accidentally release a disease, the blight spreads rapidly, killing every living thing in its path. In their rush to escape, Tempest and a scavenger boy named Alder discover a tomato plant that has somehow survived. Hoping its blight-resistant seeds will lead to survival, Tempest and Alder set out to bring them to the research facilities at AgraStar headquarters. When they finally arrive, they discover there's an even bigger plot behind the blight than they suspected—and it's up to them to stop it from happening again. From the acclaimed author of Salvage, this is a fast-paced action-adventure story that will appeal to fans of Margaret Atwood's Oryx and Crake.
---
CHANGES IN LATITUDES by Jen Malone
On sale: July 25, 2017
Pages: 384
Genre: Contemporary Romance
About Changes in Latitudes:
After concluding that her mother is to blame for her parents' recent divorce, Cassandra McClure is hoping to stay as far away from her as possible. With a summer of freedom right around the corner, it shouldn't be too hard. But when a forty-foot sailboat appears in her driveway, and her mom announces that Cassie and her brother Drew will be accompanying her on a four-month sailing trip down to Mexico, Cassie's plans for the summer go, quite literally, overboard.
Once the three set sail, tensions quickly rise. So meeting Jonah—a gorgeous, whip-smart deckhand—is an unexpected bright spot on an otherwise dim horizon. Though she tries to keep him at a distance—considering the upheaval of her home life—their chemistry is impossible to ignore, and Cassie soon finds herself questioning everything: Should she go for it with Jonah? Can she forgive her mom? Will home ever feel the same? With life's unpredictable tides working against her, Cassie must decide whether to swim against them, or dive right in.
---
CRYSTAL BLADE by Kathryn Purdie
On sale: May 2, 2017
Sequel to Burning Glass

Pages: 384
Genre: Fantasy
About Crystal Blade:
The second book in Kathryn Purdie's intoxicating fantasy trilogy about a teen empath will captivate readers as the secret of Sonya's expanding powers is revealed.
Sonya and Anton may have brought about a revolution, but can they protect their homeland—and their love—with so many forces threatening to tear them apart?
The empire has fallen, Valko faces trial, and Sonya is finally free from her fate as Sovereign Auraseer. But Sonya's expanding abilities are just as unstable as the new government of Riaznin. Not only can she feel the emotions of others but, unlike most Auraseers, she's learned to make others feel what she's feeling as well. And with her relationship falling apart, Sonya isn't immune to her power's sinister temptations.
Now, as Sonya fights to contain her own darkness, she senses a new evil lurking in the shadows of the palace. Someone from Sonya's past has returned seeking revenge—and she won't be satisfied until Sonya has suffered for her mistakes.
---
DEACON LOCKE WENT TO PROM by Brian Katcher
On sale: May 9, 2017
Pages: 400
Genre: Contemporary Romance

About Deacon Locke Went to Prom:
In this funny, offbeat, and smile-inducing contemporary romance from award-winning author Brian Katcher, the love life of an awkward teen takes an unforgettable turn after he brings his grandmother to prom.
Promposals are taking over Deacon Locke's high school and there is no place left to hide. But even with graduation looming, shy and unusually tall Deacon doesn't think he can get up the nerve to ask anyone to the dance. Especially given all the theatrics.
It isn't until Deacon confides in his witty and outgoing best friend Jean that he realizes should could be a great person to take. Only problem is Jean isn't your typical prom date. She's older. A lot older. And she's Deacon's grandmother.
But when Deacon meets Soraya—a girl unlike any other he's ever met—he fears he has totally squandered his chances of having a prom he'll never forget. Deacon couldn't be more wrong. About everything.
---
DIVIDING EDEN by Joelle Charbonneau
On sale: June 6, 2017
Pages: 336
Genre: Fantasy
About Dividing Eden
A sweeping fantasy, by the bestselling author of The Testing, about two royal siblings forced to compete for the crown.
Twins Carys and Andreus were never destined to rule Eden. With their older brother next in line to inherit the throne, the future of the kingdom was secure.
But appearances—and rivals—can be deceiving. When Eden's king and crown prince are killed by assassins, Eden desperately needs a monarch, but the line of succession is no longer clear. With a ruling council scheming to gain power, Carys and Andreus are faced with only one option: to take part in a Trial of Succession that will determine which one of them is worthy of ruling the kingdom.
As sister and brother, Carys and Andreus have always kept each other safe—from their secrets, from the court, and from the monsters lurking in the mountains beyond the kingdom's wall. But the Trial of Succession will test the bonds of trust and family.
With their country and their hearts divided, Carys and Andreus will discover exactly what each will do to win the crown. How long before suspicion takes hold and the thirst for power leads to the ultimate betrayal?
---
DREAMFALL by Amy Plum
On sale: May 2, 2017
Pages: 288
Genre: Science Fiction
About Dreamfall:
Nightmare on Elm Street meets The Matrix in this gripping, psychological thriller from internationally bestselling author Amy Plum. When an experiment to cure a group of teens' insomnia goes awry, they find themselves trapped in a dangerous dreamscape created from their nightmares.
Cata Cordova suffers from such debilitating insomnia that she agreed to take part in an experimental new procedure. She thought things couldn't get any worse…but she was terribly wrong.
Soon after the experiment begins, there's a malfunction with the lab equipment, and Cata and six other teen patients are plunged into a shared dreamworld with no memory of how they got there. Even worse, they come to the chilling realization that they are trapped in a place where their worst nightmares have come to life. Hunted by creatures from their darkest imaginations and tormented by secrets they'd rather keep buried, Cata and the others will be forced to band together to face their biggest fears. And if they can't find a way to defeat their dreams, they will never wake up.
Perfect for fans of Madeleine Roux, Danielle Vega, and Kendare Blake, Dreamfall is the first book in a spine-tingling duology full of action, suspense, and horror—and it is sure to keep readers on the edge of their seat until the very last page.
---
DRESS CODES FOR SMALL TOWNS by Courtney Stevens
On sale: August 29, 2017
Pages: 352
Genre: Contemporary
About Dress Codes for Small Towns:
Faking Normal author Courtney Stevens delivers a contemporary realistic John Hughes-esque exploration of sexual fluidity in the small-town South.
As the tomboy daughter of the town's preacher, Billie McCaffrey has always struggled with fitting the mold of what everyone says she should be. She'd rather wear sweats, build furniture, and get into trouble with her solid group of friends: Woods, Mash, Davey, Fifty, and Janie Lee.
But when Janie Lee confesses to Billie that she's in love with Woods, Billie's filled with a nagging sadness as she realizes that she is also in love with Woods…and maybe with Janie Lee, too. Always considered "one of the guys," Billie doesn't want anyone slapping a label on her sexuality before she can understand it herself. So she keeps her conflicting feelings to herself, for fear of ruining the group dynamic. Except it's not just about keeping the peace, it's about understanding love on her terms—this thing that has always been defined as a boy and a girl falling in love and living happily ever after. For Billie—a box—defying dynamo—it's not that simple.
Readers will be drawn to Billie as she comes to terms with the gray areas of love, gender, and sexuality, while facing the opposition that follows. An honest, funny, endearing, and important book!
---
ELIZA AND HER MONSTERS by Francesca Zappia
On sale: May 30, 2017
Pages: 352
Genre: Contemporary, Mental Health
About Eliza and Her Monsters:
In the real world, Eliza Mirk is shy, weird, and friendless. Online, Eliza is LadyConstellation, anonymous creator of a popular webcomic called Monstrous Sea. With millions of followers and fans throughout the world, Eliza's persona is popular. Eliza can't imagine enjoying the real world as much as she loves her digital community. Then Wallace Warland transfers to her school and Eliza begins to wonder if a life offline might be worthwhile. But when Eliza's secret is accidentally shared with the world, everything she's built—her story, her relationship with Wallace, and even her sanity—begins to fall apart.
With pages from Eliza's webcomic, as well as screenshots from Eliza's online forums, this uniquely formatted book will appeal to fans of Noelle Stevenson's Nimona and Rainbow Rowell's Fangirl.
---
EVERYTHING ALL AT ONCE by Katrina Leno
On sale: July 25, 2017
Pages: 368
Genre: Will make you cry
About Everything All At Once:
From the author of The Half Life of Molly Pierce and The Lost & Found comes a magical new YA novel about 24 dares, 3 weeks, and taking a leap into the unknown.
Lottie Reeves has always struggled with anxiety, and when her beloved Aunt Helen dies, Lottie begins to fear that her own unexpected death might be waiting around every corner.
Aunt Helen wasn't a typical aunt. She was the author of the best–selling Alvin Hatter series, about siblings who discover the elixir of immortality. Her writing inspired a generation of readers.
In her will, she leaves one last writing project—just for Lottie. It's a series of letters, each containing mysterious instructions designed to push Lottie out of her comfort zone. Soon, Lottie's trying some writing of her own, leaping off cliffs, and even falling for a boy she's only just met. Then the letters reveal an extraordinary secret about the inspiration for the Alvin Hatter series. Lottie finds herself faced with an impossible choice, one that will force her to confront her greatest fear once and for all.
---
FOREVER IN LOVE by Susane Colasanti
About Forever in Love:
From bestselling author Susane Colasanti comes the bittersweet ending to the City Love trilogy about three girls who move to NYC to find themselves, only to discover that no matter where life takes them next, they will have each other.
Sadie, Darcy, and Rosanna are facing a bittersweet ending to a summer filled with amazing adventures, personal challenges, and finding love when they least expected it. But in the city where dreams become reality, anything is possible…
Sadie has to find the strength to confront a past trauma and forgive the boy who broke her heart. Darcy needs to figure out how to make it on her own for the first time and finally accept the love she deserves. Rosanna is having unexpected problems with her boyfriend and with a girl at her camp…can she overcome her fears to finally become the confident girl she envisions?
---
GRIT by Gillian French
On sale: May 16, 2017
Pages: 304
Genre: Contemporary
About Grit:
Raw and moving, this contemporary realistic novel will leave readers breathless as it unflinchingly unfolds the tragic secrets being kept in a small, deceptively idyllic Maine town.
Seventeen-year-old Darcy Prentiss has long held the title of "town slut." She knows how to have a good time, sure, but she isn't doing anything all the guys haven't done. But when you're a girl with a reputation, every little thing that happens seems to keep people whispering—especially when your ex-best friend goes missing.
But if anyone were to look closer at Darcy, they'd realize there's a lot more going on beneath the surface. Staying out late, hooking up, and telling lies is what Darcy does to forget. Forget about the mysterious disappearance of her friend. Forget about the dark secret she and her cousin Nell share. Forget about that hazy Fourth of July night. So when someone in town anonymously nominates Darcy to be in the running for Bay Festival Princess—a cruel act only someone with a score to settle would make—all of the things that Darcy wants to keep hidden threaten to erupt in ways she wasn't prepared to handle…and isn't sure if she can.
---
HOUSE OF FURIES by Madeleine Roux
On sale: May 30, 2017
Pages: 336
Genre: Horror
About House of Furies:
Complete with photo illustrations and eerie black-and-white art, this all-new gothic horror series from the New York Times bestselling author of Asylum tells the story of teenager Louisa Ditton, who finds employment as a maid at a boarding house in Northern England—only to discover that the owner is executing his own brand of dark justice on the guests.
After escaping a harsh school where punishment was the lesson of the day, Louisa Ditton is thrilled to find employment as a maid at a boarding house. But soon after her arrival at Coldthistle House, Louisa begins to realize that the house's mysterious owner, Mr. Morningside, is providing much more than lodging for his guests. Far from a place of rest, the house is a place of judgment, and Mr. Morningside and his staff are meant to execute their own justice on those who are past being saved.
Louisa begins to fear for a young man named Lee who is not like the other guests. He is charismatic and kind, and Louisa knows that it may be up to her to save him from an untimely judgment. But in this house of distortions and lies, how can Louisa be sure whom to trust?
---
HOW DARE THE SUN RISE: MEMOIRS OF A WAR CHILD by Sandra Uwiringiyimana
On sale: May 16, 2017
Pages: 288
Genre: Memoir
About How Dare the Sun Rise:
Sandra Uwiringiyimana was just ten years old when she found herself with a gun pointed at her head. The rebels had come at night—wielding weapons, torches, machetes. She watched as her mother and six-year-old sister were gunned down in a refugee camp, far from their home in the Democratic Republic of the Congo. The rebels were killing people who weren't from the same community, the same tribe. In other words, they were killing people simply for looking different.
"Goodbye, life," she said to the man ready to shoot her.
Remarkably, the rebel didn't pull the trigger, and Sandra escaped into the night.
Thus began a new life for her and her surviving family members. With no home and no money, they struggled to stay alive. Eventually, through a United Nations refugee program, they moved to America, only to face yet another ethnic disconnect. Sandra may have crossed an ocean, but there was now a much wider divide she had to overcome. And it started with middle school in New York.
In this profoundly moving memoir, Sandra tells the story of her survival, of finding her place in a new country, and of her hope for the future.
---
HOW TO DISAPPEAR by Sharon Huss Roat
On sale: August 15, 2017
Pages: 272
Genre: Contemporary
About How to Disappear:
A timely, contemporary YA story that explores social anxiety and the power of social media—a clean teen narrative perfect for fans of Sarah Dessen.
Vicky Decker has perfected the art of hiding in plain sight. But when her only friend moves away, Vicky's mother is desperate for Vicky to meet people, even if it means stepping in to help. To avoid that embarrassment, Vicky decides to invent a social life by Photoshopping herself into photos and posting them on Instagram under her screen name, Vicurious. As she adds herself to photos from all over the world, her online followers multiply, but the more followers she finds, the clearer it becomes that there are a lot of people out there who feel like she does—#alone and #ignored in real life. And when danger comes to one of her followers, Vicky must find the courage to stop living vicariously, come out from behind her screen, and show the world her true self.
---
I SEE LONDON, I SEE FRANCE by Sarah Mlynowski
On sale: July 11, 2017
Pages: 336
Genre: Cute Contemporary Romance
About I See London, I see France:
I see London, I see France
I see Sydney's underpants.
Nineteen-year-old Sydney has the perfect summer mapped out. She's spending the next four and half weeks travelling through Europe with her childhood best friend Leela. Their plans include Eiffel-Tower-Selfies, eating cocco gelato, and making out with très hot strangers. Her plans do not include Leela's cheating ex-boyfriend showing up on the flight to London, falling for the cheating ex-boyfriend's très-hot friend, monitoring her mother's spiraling mental health via texts, or feeling like the rope in a friendship tug of war.
In this hilarious and unforgettable adventure, New York Times bestselling author Sarah Mlynowski tells the story of a girl learning to navigate secret romances, thorny relationships, and the London Tube. As Sydney zigzags through Amsterdam, Switzerland, Italy and France, she must learn when to hold on, when to keep moving, and when to jump into the Riviera….wearing only her polka dot underpants.
---
IF BIRDS FLY BACK by Carlie Sorosiak
On sale: June 27, 2017
Pages: 448
Genre: Contemporary Romance
About If Birds Fly Back:
Linny has been fascinated by disappearances, ever since her sister Grace ran away in the middle of the night without saying goodbye.
Sebastian can tell you how many galaxies there are, and knows how much plutonium weighs. But the one thing he can't figure out is the identity of his birth father.
They've never met, but Linny and Sebastian have one thing in common: an obsession with famous novelist and filmmaker Alvaro Herrera, who went missing three years ago and has just reappeared. As they learn more about the mystery of Alvaro, Linny and Sebastian uncover the answers they've been searching for.
With humor and heart, debut author Carlie Sorosiak weaves a story of finding people who leave and loving those who stay, perfect for fans of Jandy Nelson and Emery Lord.
---
IT'S NOT LIKE IT'S A SECRET by Misa Sugiura
On sale: May 9, 2017
Pages: 400
Genre: Contemporary Romance
About It's Not Like It's a Secret:
This charming and bittersweet coming-of-age story is part TO ALL THE BOYS I'VE LOVED BEFORE and part SIMON VS. THE HOMO SAPIENS AGENDA.
Sixteen-year-old Sana Kiyohara has too many secrets. Some are small, like how it bothers her when her friends don't invite her to parties. Some are big, like that fact that her father may be having an affair. And then there's the one that she can barely even admit to herself—the one about how she might have a crush on her best friend.
When Sana and her family move to California she begins to wonder if it's finally time for some honesty, especially after she meets Jamie Ramirez. Jamie is beautiful and smart and unlike anyone Sana's ever known. There are just a few problems: Sana's new friends don't trust Jamie's crowd; Jamie's friends clearly don't want her around anyway; and a sweet guy named Caleb seems to have more-than-friendly feelings for her. Meanwhile, her dad's affair is becoming too obvious to ignore anymore.
Sana always figured that the hardest thing would be to tell people that she wants to date a girl, but as she quickly learns, telling the truth is easy… what comes after it, though, is a whole lot more complicated.
---
LIBERTY by Andrea Portes
On sale: June 6, 2017
Pages: 416
Genre: Contemporary Thriller
About Liberty: The Spy Who (Kind of) Liked Me:
Andrea Portes is back with a fast-paced, super-fun spy novel, told in her signature snarky, voice-driven style.
What is a hero? Paige Nolan knows.
Edward Raynes, the young man who exposed America's unconstitutional spying techniques, is a hero, even if half the dum-dums in the country think he's a traitor. Or her parents, journalists who were captured by terrorists while telling stories of the endangered and oppressed. They were heroes, too. Were. . . or are—no one has ever told Paige if they're still alive, or dead.
Not heroes? Anyone in the government who abandoned her parents, letting them rot somewhere halfway across the world. And certainly not Paige herself, who despite her fluency in five languages and mastery of several obscure martial arts (thanks, Mom!) could do nothing to save them.
Couldn't, that is, until she's approached by Madden Carter, an undercover operative who gives her a mission—fly to Russia, find Raynes, and discover what other government secrets he's stockpiled. In exchange, he'll reopen the case on her missing parents. She's given a code name and a cover as a foreign exchange student.
Who is a hero? Not Paige Nolan, but maybe, just maybe, Liberty is.
---
MATTHEW ESPINOSA: MORE THAN ME by Matthew Espinosa
On sale: April 4, 2017
Pages: 224
Genre: Memoir
About More Than Me:
You may think you know everything about multiplatform entertainer Matthew Espinosa—but he's here to tell you so much more in his debut book, full of hundreds of brand-new pictures from a series of exclusive photo shoots.
You know Matthew is burning up the internet with more than 18 million fans across YouTube, Vine, Instagram, Twitter, and Facebook. You know about his starring role in the hit movie Be Somebody. And you know he makes you laugh every time.
More Than Me tells you what you don't know, with tons of photos, Q&As, and more that offer an inside look at Matthew's life and a new side of him that's hilarious and heartfelt. For the first time, Matthew wants to let the world in on the true story of his wild ride to success and why he loves what he does. In this must-have for any fan, Matthew is ready to share how legendary you can all be—together.
More Than Me cover photo by Chris Eckert.
---
OBSIDIAN AND STARS by Julie Eshbaugh
On sale: June 13, 2017
Sequel to Ivory & Bone

Pages: 384
Genre: Historical Fantasy Romance
About Obsidian and Stars:
In the sequel to Ivory and Bone, the story shifts to Mya's viewpoint as vengeful adversaries force her to flee the life she once knew.
After surviving the chaotic battle that erupted after Lo and the Bosha clan attacked, now Mya is looking ahead to her future with Kol. All the things that once felt so uncertain are finally falling into place. But the same night as Kol and Mya's betrothal announcement, Mya's brother Chev reveals his plan to marry his youngest sister Lees to his friend Morsk. The only way to avoid this terrible turn of events, Morsk informs Mya when he corners her later, is for Mya to take Lees' place and marry him herself.
Refusing to marry anyone other than her beloved, and in an effort to protect her sister, Mya runs away to a secret island with Lees. And though it seems like the safest place to hide until things back home blow over, Mya soon realizes she's been followed. Lurking deep in the recesses of this dangerous place are rivals from Mya's past whose thirst for revenge exceeds all reason.
With the lives of her loved ones on the line, Mya must make a move before the enemies of her past become the undoing of her future.
---
OUR BROKEN PIECES by Sarah White
On sale: August 8, 2017
Pages: 288
Genre: Contemporary Romance
About Our Broken Pieces:
A steamy teen romance from Wattpad phenom Sarah White about one girl's quest to find herself after a traumatic breakup.
The only thing worse than having your boyfriend dump you is having him dump you for your best friend. For Everly Morgan the betrayal came out of nowhere. One moment she had what seemed like the perfect high school relationship, and the next, she wanted to avoid the two most important people in her life. Every time she sees them kiss in the hallways her heart breaks a little more.
The last thing on Everly's mind is getting into another relationship, but when she meets Gabe in her therapist's waiting room she can't deny their immediate connection. Somehow he seems to understand Everly in a way that no one else in her life does, and maybe it's because Gabe also has experience grappling with issues outside of his control. Just because they share so many of the same interests and there is an undeniable spark between them doesn't mean Everly wants anything more than friendship. After all, when you only barely survived your last breakup, is it really worth risking your heart again?
---
OUR DARK DUET by Victoria Schwab
On sale June 13, 2017
Sequel to This Savage Song
Pages: 368
Genre: Urban Fantasy
About Our Dark Duet:
The sequel to Victoria Schwab's #1 New York Times–bestselling This Savage Song. August Flynn and Kate Harker lead the battle between humans and monsters in a thrilling urban fantasy that will appeal to fans of Holly Black and Laini Taylor.
Nearly six months after August and Kate were first thrown together in a plot to start a war, Kate is hunting monsters in Prosperity while August fights to keep V-City from collapsing into chaos. But when a new kind of monster appears—one who feeds on chaos and brings out its victim's inner demons—it lures Kate home, where she finds more than she bargained for. She'll face a Malchai she thought she killed, a boy she thought she knew, and a monster all her own.
---
QUEER, THERE, AND EVERYWHERE by Sarah Prager
On sale May 23, 2017
Illustrated by Zoe More O'Ferrall

Pages: 272
Genre: Nonfiction LGBTQIA
About Queer, There, and Everywhere: 22 People Who Changed the World
From debut author Sarah Prager comes the first-ever LGBTQ history book for teens, combining riveting facts with a pop-culture vibe to chronicle the lives of 22 influential queer figures from the Roman Empire through to the present.
World history has been made by countless lesbian, gay, bisexual, transgender, and queer individuals—and you've never heard of many of them. Queer author and activist Sarah Prager delves deep into the lives of 22 people who fought, created, and loved on their own terms. From high-profile figures like Abraham Lincoln and Eleanor Roosevelt to the trailblazing gender-ambiguous Queen of Sweden and a bisexual blues singer who didn't make it into your history books, these astonishing true stories uncover a rich queer heritage that encompasses every culture, in every era.
By turns hilarious and inspiring, the beautifully illustrated Queer, There, and Everywhere is for anyone who wants the real story of the queer rights movement.
---
RAMONA BLUE by Julie Murphy
On sale May 9, 2017
Pages: 400
Genre: Contemporary Romance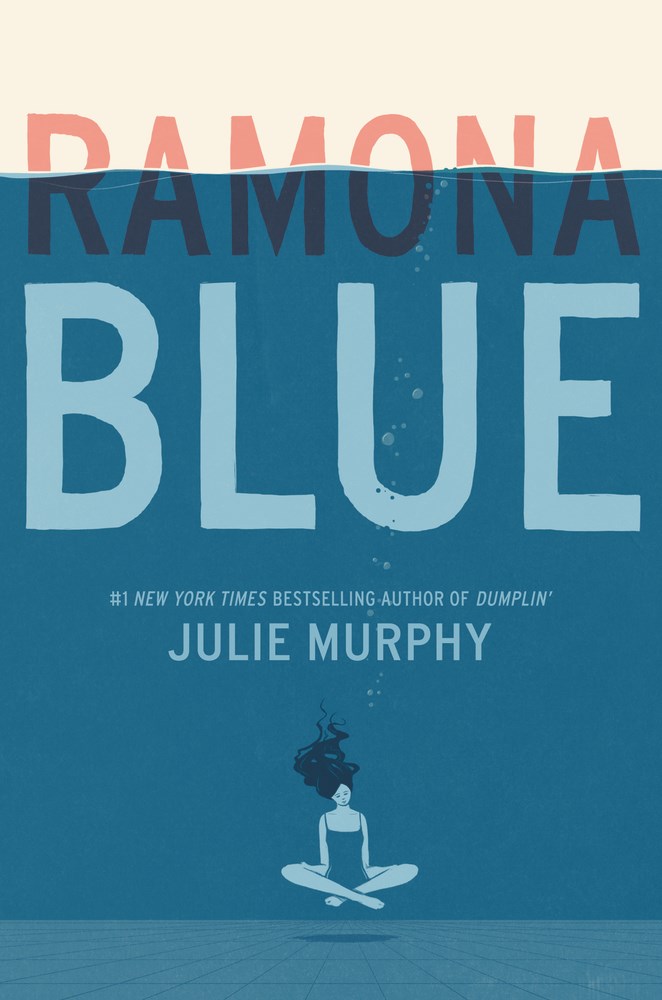 About Ramona Blue:
A new novel from Julie Murphy, the #1 New York Times bestselling author of Dumplin', about family, friendship, and modern love.
Ramona was only five years old when Hurricane Katrina changed her life forever. Since then, it's been Ramona and her family against the world. One of only two out lesbians in her small town and standing over six feet tall with unmistakable blue hair, Ramona knows she's destined for something bigger than the trailer she calls home in Eulogy, Mississippi. But juggling multiple jobs, her flakey mom, and her well-meaning but ineffectual dad forces her to be the adult of the family. Now with her sister Hattie pregnant, her responsibilities weigh more heavily than ever.
The return of her childhood friend, Freddie, brings a welcome distraction. Ramona's friendship with the former competitive swimmer picks up exactly where they left off, and soon he's talked her into joining him for laps at the pool. Ramona is hesitant at first, but soon she finds herself called to the water in a way that makes all the other noise fade.
As Ramona falls more in love with swimming, her feelings for Freddie begin to shift as well, and she must decide if knowing who she is is more important than figuring out who she might become.
---
ROMANCING THE THRONE by Nadine Jolie Courtney
On sale May 30, 2017
Pages: 400
Genre: Romance
About Romancing the Throne:
For the first time ever, the Weston sisters are at the same boarding school. After an administration scandal at Libby's all-girls school has threatened her chances at a top university, she decides to join Charlotte at posh and picturesque Sussex Park. Social-climbing Charlotte considers it her sisterly duty to bring Libby into her social circle: Britain's young elites, glamorous teens who vacation in Hong Kong and the south of France and are just as comfortable at a polo match as they are at a party.
It's a social circle that just so happens to include handsome, clever 17-year-old Prince Edward, heir to Britain's throne.
Charlotte's had her eye on Edward, and soon they're snogging all over the campus lawn and common rooms-while Libby busies herself with settling into her studies and navigating the complicated social code of Sussex Park. Eager to put her sister at ease, Charlotte encourages Libby to hang out with her new boyfriend. And much to everyone's surprise, Libby and Edward hit it off. Actually, they really hit it off.
In this juicy, contemporary girl-meets-prince story, two sisters find themselves at odds over the same boy amid high society expectations and paparazzi scandals. In the end, there may be a price to pay for romancing the throne…and more than one path to happily ever after.
---
THAT THING WE CALL A HEART by Sheba Karim
On sale May 9, 2017
Pages: 288
Genre: Contemporary
About That Thing We Call a Heart:
High school has ended and Shabnam Qureshi is facing a summer of loneliness and boredom. She's felt alienated from her gutsy best friend Farah ever since Farah started wearing the Muslim headscarf-without even bothering to discuss it with Shabnam first. But no one else comes close to understanding her, especially not her parents.
All Shabnam wants to do is get through the summer. That is, until she meets Jamie, who scores her a job at his aunt's pie shack and meets her there every afternoon.\
Shabnam sees Jamie and herself like the rose and the nightingale of classic Urdu poetry, which, according to her father, is the ultimate language of desire. Jamie finds Shabnam fascinating-her curls, her culture, even her awkwardness. Shabnam quickly finds herself in love, while Farah, whom Shabnam has begun to reconnect with, finds Jamie worrying.
In her quest to figure out who she really is and what she really wants, Shabnam looks for help in an unexpected place–her family.
That Thing We Call a Heart is a funny, fresh, and affecting coming-of-age story about the importance of love–in all of its forms.
---
THE ART OF FEELING by Laura Tims
On sale July 25, 2017
Pages: 336
Genre: Contemporary
About The Art of Feeling:
Perfect for fans of Jennifer Niven's New York Times bestseller All the Bright Places, this contemporary YA novel explores the friendship between a girl in constant pain and a boy who feels nothing at all.
Since the car accident, Samantha Herring has been in pain, not only from her leg injury, but also from her mother's death, which has devastated her family. After pushing away her friends, Sam has receded into a fog of depression.
But then Sam meets Eliot, a reckless loner with an attitude and an amazing secret—he can't feel any pain. At first, Sam is jealous. But then she learns more about his medical condition…and his self-destructive tendencies. In fact, Eliot doesn't seem to care about anything at all—except maybe Sam. As they grow closer, they begin to confront Sam's painful memories of the accident—memories that may hold a startling truth about what really happened that day.
---
THE ART OF STARVING by Sam J. Miller
On sale July 11, 2017
Pages: 384
Genre: Contemporary, Mental Health
About The Art of Starving:
Matt hasn't eaten in days.
His stomach stabs and twists inside, pleading for a meal. But Matt won't give in. The hunger clears his mind, keeps him sharp—and he needs to be as sharp as possible if he's going to find out just how Tariq and his band of high school bullies drove his sister, Maya, away.
Matt's hardworking mom keeps the kitchen crammed with food, but Matt can resist the siren call of casseroles and cookies because he has discovered something: the less he eats the more he seems to have . . . powers. The ability to see things he shouldn't be able to see. The knack of tuning in to thoughts right out of people's heads. Maybe even the authority to bend time and space.
So what is lunch, really, compared to the secrets of the universe?
Matt decides to infiltrate Tariq's life, then use his powers to uncover what happened to Maya. All he needs to do is keep the hunger and longing at bay. No problem. But Matt doesn't realize there are many kinds of hunger… and he isn't in control of all of them.
A darkly funny, moving story of body image, addiction, friendship, and love, Sam J. Miller's debut novel will resonate with any reader who's ever craved the power that comes with self-acceptance.
---
THE BROKEN WORLD by Lindsey Klingele
On sale August 29, 2017
Sequel to The Marked Girl

Pages: 432
Genre: Fantasy
About The Broken World:
The fantastical adventure that began in The Marked Girl concludes in this exciting sequel, filled with even more twists, turns, longing, and laughs.
In the fantasy world of Caelum, Liv, Cedric, and Kat attempt to defeat an evil traitor and his army to save their families and the kingdom. Meanwhile, Liv's best friend and Cedric's frenemy stick in LA to try and figure out how to fix Los Angeles. The city, thanks to the open portals between LA and Caelum, is breaking down: the sky is orange, gravity isn't working right, and earthquakes shake the ground every few hours.
When the crew reunites in LA, it's a race against time to restore the balance of magic between the two worlds.
---
THE CROWN'S FATE by Evelyn Skye
On sale May 16, 2017
Sequel to The Crown's Game

Pages: 432
Genre: Historical Fantasy Romance
About The Crown's Fate:
Perfect for fans of Shadow and Bone and Red Queen, The Crown's Fate is the thrilling sequel to the New York Times bestselling The Crown's Game, an atmospheric historical fantasy set in Imperial Russia.
Russia is on the brink of great change. Pasha's coronation approaches, and Vika is now the Imperial Enchanter, but the role she once coveted may be more difficult—and dangerous—than she ever expected.
Pasha is grappling with his own problems—his legitimacy is in doubt, the girl he loves loathes him, and he believes his best friend is dead. When a challenger to the throne emerges—and with the magic in Russia growing rapidly—Pasha must do whatever it takes to keep his position and protect his kingdom.
For Nikolai, the ending of the Crown's Game stung deeply. Although he just managed to escape death, Nikolai remains alone, a shadow hidden in a not-quite-real world of his own creation. But when he's given a second chance at life—tied to a dark price—Nikolai must decide just how far he's willing to go to return to the world.
With revolution on the rise, dangerous new magic rearing up, and a tsardom up for the taking, Vika, Nikolai, and Pasha must fight—or face the destruction of not only their world but also themselves.
---
THE GALLERY OF UNFINISHED GIRLS by Lauren Karcz
On sale July 25, 2017
Pages: 352
Genre: Magical Realism
About The Gallery of Unfinished Girls:
Mercedes Moreno is an artist. At least, she thinks she could be, even though she hasn't been able to paint anything worthwhile in the past year.
Her lack of inspiration might be because her abuela is in a coma. Or the fact that Mercedes is in love with her best friend, Victoria, but is too afraid to admit her true feelings.
Despite Mercedes's creative block, art starts to show up in unexpected ways. A piano appears on her front lawn one morning, and a mysterious new neighbor invites Mercedes to paint with her at the Red Mangrove Estate.
At the Estate, Mercedes can create in ways she hasn't ever before. But Mercedes can't take anything out of the Estate, including her new-found clarity. Mercedes can't live both lives forever, and ultimately she must choose between this perfect world of art and truth and a much messier reality.
---
THE GAUNTLET by Megan Shepherd
On sale May 23, 2017
Pages: 400
Genre: Science Fiction
About The Gauntlet:
The Maze Runner meets Scott Westerfeld in the final novel in the gripping and romantic Cage series, about teens abducted from Earth by an otherworldly race.
Cora and her friends have escaped the Kindred station and landed at Armstrong—a supposed safe haven on a small moon—where they plan to regroup and figure out how to win the Gauntlet, the challenging competition to prove humanity's intelligence and set them free. But Armstrong is no paradise; ruled by a power-hungry sheriff, it's a violent world where the teens are enslaved and put to work in mines. As Nok's due date grows closer, and Mali and Leon journey across space to rescue Cassian, the former inhabitants of the cage are up against impossible odds.
With the whole universe at stake, Cora will do whatever it takes, including pushing her body and mind to the breaking point, to escape Armstrong and run the Gauntlet. But it isn't just a deranged sheriff she has to overcome: the other intelligent species—the Axion, Kindred, Gatherers, and Mosca—all have their own reasons to stop her. Not knowing who to trust, Cora must rely on her own instincts to win the competition, which could change the world—though it might destroy her in the process.
---
THE GENTLEMAN'S GUIDE TO VICE & VIRTUE by Mackenzi Lee
On sale June 20, 2017
Pages: 368
Genre: Historical Romance
About The Gentleman's Guide to Vice & Virtue:
An unforgettable tale of two friends on their Grand Tour of 18th-century Europe who stumble upon a magical artifact that leads them from Paris to Venice in a dangerous manhunt, fighting pirates, highwaymen, and their feelings for each other along the way.
Henry "Monty" Montague was born to be a gentleman, but even the finest boarding schools in England haven't been able to tame his roguish passions—not for gambling halls, late nights spent with a bottle of spirits, or waking up in the arms of women or men.
But as Monty embarks on his grand tour of Europe, his quest for a life filled with pleasure and vice is in danger of coming to an end. Not only does his father expect him to take over the family's estate upon his return, but Monty is also nursing an impossible crush on his best friend and traveling companion, Percy.
So Monty vows to make this yearlong escapade one last hedonistic hurrah and flirt with Percy from Paris to Rome. But when one of Monty's reckless decisions turns their trip abroad into a harrowing manhunt, it calls into question everything he knows, including his relationship with the boy he adores.
---
THE SANDCASTLE EMPIRE by Kayla Olson
On sale June 6, 2017
Pages: 464
Genre: Science Fiction, Dystopian
About The Sandcastle Empire:
Before the war, Eden's life was easy. Then the revolution happened, and everything changed.
Now a powerful group called the Wolfpack controls the earth and its resources. And even though Eden has lost everything to them, she refuses to die by their hands. She knows the coordinates to the only neutral ground left in the world, a place called Sanctuary Island, and she is desperate to escape to its shores.
Eden finally reaches the island and meets others resistant to the Wolves. But the solace is short-lived when one of Eden's new friends goes missing. Braving the jungle in search of their lost ally, they quickly discover Sanctuary is filled with lethal traps and an enemy they never expected.
This island might be deadlier than the world Eden left behind, but surviving it is the only thing that stands between her and freedom.
---
THE SECRET HISTORY OF US by Jessi Kirby
On sale August 1, 2017
Pages: 288
Genre: Contemporary
About The Secret History of Us
When Olivia awakes in a hospital bed following a car accident that almost took her life, she can't remember the details about how she got there. She figures the fog is just a symptom of being in a week-long coma, but as time goes on, she realizes she's lost more than just the last several days of her life—she's lost her memory of the last four years. Gone is any recollection of starting or graduating high school; the prom; or her steady boyfriend Matt. Trying to figure out who she is feels impossible when everyone keeps telling her who she was.
As Liv tries to block out what her family and friends say about who she used to be, the one person she hasn't heard enough from is Walker, the guy who saved her the night her car was knocked off that bridge into the bay below. Walker is the hardened boy who's been keeping his distance—and the only person Olivia inexplicably feels herself with. With her feelings growing for Walker, tensions rising with Matt, and secrets she can't help but feel are being kept from her, Olivia must find her place in a life she doesn't remember living.
---
THESE THINGS I'VE DONE by Rebecca Phillips
On sale August 1, 2017
Pages: 352
Genre: Contemporary
About These Things I've Done:
A contemporary YA perfect for fans of Courtney Summers and Jessi Kirby, THESE THINGS I'VE DONE is the story of a seventeen-year-old girl who accidentally caused her best friend's death and, a year later, is still grappling with the consequences.
Before:
Dara and Aubrey have been inseparable since they became best friends in sixth grade. Dara is the fearless one, Aubrey the prodigy, yet despite their differences they support each other, unconditionally. However, as they begin their sophomore year in high school, cracks in their friendship begin to form, testing the bond they always thought was unbreakable.
After:
It has been fifteen months since the accident that killed Aubrey, and not a day goes by that Dara isn't racked with guilt over her role in her best friend's death. Now, after spending a year in California in order to escape the constant reminders of what happened, Dara is back at her old high school to start her senior year. Dara thought the worst thing about coming home would be confronting the memories of Aubrey that relentlessly haunt her, but she soon realizes that that's not half as difficult as seeing Ethan, Aubrey's brother, every day. Not just because he is a walking reminder of what she did, but because the more her feelings for him change, the more she knows she is betraying her best friend one final time.
---
THICK AS THIEVES by Megan Whalen Turner
About Thick as Thieves:
The eagerly anticipated new novel set in the world of the Queen's Thief. New York Times–bestselling author Megan Whalen Turner's entrancing and award-winning Queen's Thief novels bring to life the world of the epics and feature one of the most charismatic and incorrigible characters of fiction, Eugenides the thief. Perfect for fans of Leigh Bardugo, Marie Lu, Patrick Rothfuss, and George R.R. Martin.
Kamet, a secretary and slave to his Mede master, has the ambition and the means to become one of the most powerful people in the Empire. But with a whispered warning the future he envisioned is wrenched away, and he is forced onto a very different path. Set in the world of the Queen's Thief, this epic adventure sees an ordinary hero take on an extraordinary mission. Megan Whalen Turner's Queen's Thief novels are rich with political machinations and intrigue, divine intervention, battles lost and won, dangerous journeys, power, passion, and deception.
---
THIEF'S CUNNING by Sarah Ahiers
On sale June 13, 2017
Companion to Assassin's Heart
Pages: 416
Genre: Fantasy Romance
About Thief's Cunning:
The companion novel to Assassin's Heart, Thief's Cunning picks up eighteen years later and follows Allegra Saldana as she uncovers the secrets about the line of killers she descends from.
Allegra Saldana has always had to look over her shoulder. As the niece of the infamous assassin Lea Saldana, Allegra is used to hiding from people who want her dead. Once the strongest clipper family in the Kingdom of Lovero, the Saldanas—or what's left of them—are now the most hunted. Their number one enemy is the Da Vias, whose thirst for retaliation is almost two decades in the making.
At least that's what Lea has told Allegra her whole life, but lately Allegra's been feeling like things are being kept from her—including her parents' identity. So when Allegra finally learns the truth—I'm a Da Via—her world crumbles. Feeling betrayed by the people she trusted the most, Allegra turns to Nev, a Traveler boy whose presence makes her feel alive in ways she's only dreamed of. But getting caught up in Nev's world has consequences Allegra never saw coming.
In this dark and enthralling fantasy that fans of Sarah Maas and Leigh Bardugo will devour, one girl must decide whether she's destined to pay for the wrongs of her family's past…or if the future is hers for the taking.
---
THIS IS HOW IT HAPPENED by Paula Stokes
On sale July 11, 2017
Pages: 384
Genre: Contemporary
About This is How it Happened:
A contemporary YA story about a girl who must grapple with the consequences of honesty in a world where the internet is always watching—and judging.
When Genevieve Larsen wakes up from a coma, she can't remember the car crash that killed her boyfriend, Dallas, a YouTube musician on the brink of superstardom. Genevieve knows she was driving the car, and that there was another driver, who everyone assumes is guilty. But as she slowly pieces together the night of the accident, Genevieve is hit with a sickening sense of dread—that maybe she had something to do with it all.
As the internet rages against the other driver, Genevieve escapes to her father's house, where she can spend the summer in peaceful Zion National Park. But she quickly realizes that she can't run away from the accident, or its terrible aftermath. And at some point, she will have to deal with what really happened, and her role in it.
---
VINDICATED by M.G. Reyes
About Vindicated:
Murder will out in the shocking conclusion to the Emancipated trilogy, where no one is who they seem and the truth has a nasty habit of showing up uninvited.
No alibis. No escape. No surrender. The six Venice Beach housemates have made some life-alteringly bad decisions since they were each legally emancipated from their parents, including confronting a killer. And the consequences have been deadly.
Now, they're hiding out, trying to find a way out of the mess they've made without getting themselves killed when one of the housemates disappears, two fall in love, and another betrays them all. And when the secrets they've been keeping are finally laid bare, they'll wish they'd never started looking for answers in the first place.
---
WHO'S THAT GIRL by Blair Thornburgh
On sale July 11, 2017
Pages: 400
Genre: Romance
About Who's That Girl:
Junior Nattie McCullough has always been that under-the-radar straight girl who hangs out in the cafeteria with her gay-straight alliance friends. She's never been the girl that gets the guy, let alone the girl that gets a hit song named after her. But when last summer's crush, smoking-hot musician Sebastian Delacroix, returns home to play a local show, that's just what she gets. He and his band, the Young Lungs, have written a chart-topping single—"Natalie"—which instantly makes Nattie second guess everything she thought about their awkward non-kiss at that June pool party. That it was horrific. That it meant nothing. That Sebastian never gave her another thought.
Things get even more confusing when Nattie starts to develop feelings for her good friend Zach. With the song getting major airplay and her once-normal life starting to resemble the cover of a gossip magazine, Nattie is determined to figure out once and for all if her brief moment with Sebastian was the stuff love songs are made of—or just a one-hit wonder.
---
WICKED LIKE A WILDFIRE by Lana Popovic
On sale August 15, 2017
Pages: 416
Genre: Fantasy Romance
About Wicked Like a Wildfire:
From debut author Lana Popovic comes the first book in a bewitching YA fantasy duology about a wicked bargain that binds the fates—and hearts—of twin sisters to a force larger than life.
All the women in Iris and Malina's family have the unique magical ability or "gleam" to manipulate beauty. Iris sees flowers as fractals and turns her kaleidoscope visions into glasswork, while Malina interprets moods as music. But their mother has strict rules to keep their gifts a secret, even in their secluded sea-side town. Iris and Malina are not allowed to share their magic with anyone, and above all, they are forbidden from falling in love.
But when their mother is mysteriously attacked, the sisters will have to unearth the truth behind the quiet lives their mother has built for them. They will discover a wicked curse that haunts their family line—but will they find that the very magic that bonds them together is destined to tear them apart forever?
---
YOU DON'T KNOW ME BUT I KNOW YOU by Rebecca Barrow
On sale August 29, 2017
Pages: 336
Genre: Contemporary
About You Don't Know Me But I Know You:
An earnest, accessible debut YA about a girl dealing with an unexpected pregnancy while grappling with the ever-widening gap between her and her best friend.
There's a box in the back of Audrey's closet that she rarely thinks about.
Inside is a letter, seventeen years old, from a mother she's never met, handed to her by the woman she's called Mom her whole life. Being adopted, though, is just one piece in the puzzle of Audrey's life—the picture painstakingly put together by Audrey herself, full of all the people and pursuits that make her who she is.
But when Audrey realizes that she's pregnant, she feels something—a tightly sealed box in the closet corners of her heart—crack open, spilling her dormant fears and unanswered questions all over the life she loves.
Almost two decades ago, a girl in Audrey's situation made a choice, one that started Audrey's entire story. Now Audrey is paralyzed by her own what-ifs and terrified by the distance she feels growing between her and her best friend Rose. Down every possible path is a different unfamiliar version of her life, and as she weighs the options in her mind, she starts to wonder—what does it even mean to be Audrey Spencer?
Rebecca Barrow's bright, honest debut novel about chance, choice, and unconditional love is a heartfelt testament to creating the future you truly want, one puzzle piece at a time.
---
😍😍😍😍😍😍😍😍😍😍😍😍😍😍😍
That's it for these the Harper summer 2017 cover reveal list!

📚 ADD ALL OF THESE BOOKS TO YOUR GOODREADS SHELF! 📚 Click this link to see all of these books in one list on Goodreads!
More Cover Reveals Still To Come
Not all book covers get designed at the same time, and every once in awhile some covers need a little extra time to be totally perfected. Below is a list of other Harper books that are publishing summer 2017 that still have unfinished covers. We will be adding the finished covers to this blog post as they come in so follow us on Twitter for the latest updates!
16 Ways to Break a Heart by Lauren Strasnick
Daughter of the Burning City by Amanda Foody
Four Weeks, Five People by Jennifer Yu
Generation One by Pittacus Lore
Little Wrecks by Meredith Miller
Midnight at the Electric by Jodi Lynn Anderson
Red Dirt by Anna Jarzab
Reign of Serpents by Eleanor Herman
The Authentics by Abdi Nazemian
The Black Witch by Laurie Forest
The F-Word by Kiley Roache
The Impossible Vastness of Us by Samantha Young
The Scattering by Kimberly McCreight
The Secret History of Us by Jessi Kirby – ADDED ABOVE!

The Thousandth Floor #2 by Katharine McGee
When It's Real by Erin Watt
Zenith by Lindsay Cummings and Sasha Alsberg
---
Which covers are you favorites? Tell us in the comments below!
Save
Save
Save
Save
Save
Save
Save
Save
Save
Save
Save
Save
Save
Save
Save
Save
Save
Save
Save
Save
Save
Save
Save
Save
Save
Save
Save
Save
Save
Save
Save
Save
Save
Save
Save
Save
Save
Save
Save
Save
Save
Save
Save
Save
Save
Save
Save