Is it too early for us to start getting excited about summer? We mean, we know it kind of JUST ended, but there are so many amazing books coming out NEXT summer that we can't help it! But, fine, we understand. We'll just get excited about summer books instead. And that's something we think we can all get behind.
This list includes every YA book that HarperCollins is publishing next summer, and get ready to go on a TBR-adding spree. They are all so beautiful and we can't wait to add them to our #shelfie stock!
As you scroll through you can click over through each book's Goodreads link and add them to your account there! It is 100% okay to add them all because that is absolutely what we did. What? We can't help it. LOOK AT THEM.
No, really. Scroll down and feast your eyes 😍
Please note that sometimes covers can change before on sale, and some books publishing next summer aren't listed here because their covers aren't finished being designed!

Puddin' by Julie Murphy
About Puddin'
After winning runner up at the Miss Teen Blue Bonnet Pageant, Millie Michalchuk has decided that she's now ready to go after what she really wants: acceptance into the Broadcast Journalism Boot Camp at UT Austin. She will finally (finally!) tell her mother she is no longer going to fat camp like she has every summer, and she will get up the courage to kiss Malik, the shy boy that she is crushing on. In the meantime she spends her days working part-time at her aunt and uncle's gym, Knockout.
Callie Mendoza dreams of getting out of Clover City, and her first chance is dance team nationals in San Francisco. But when one of the team's sponsors, Knockout Gym, backs out at the last minute—her dreams are dashed. As an act of revenge, Callie and her friends go to pull a prank on Knockout and accidentally take it way too far, vandalizing the property. When Callie is caught, she is kicked off the team, and has to work at Knockout to pay off the damages.
Over the course of a semester, Millie and Callie are forced to work together and surprise everyone (especially themselves) by becoming friends. With complicated friendships, swoony romance, heartache, and serious girl power—this is the irresistible companion to the #1 New York Times bestseller Dumplin'.
9 Days & 9 Nights by Katie Cotugno
About 9 Days & 9 Nights
Molly Barlow isn't that girl anymore. A business major at her college in Boston, she's reinvented herself after everything that went down a year ago… After all the people she hurt and the family she tore apart.
Slowly, life is getting back to normal. Molly has just said I love you to her new boyfriend, Ian, and they are off on a romantic European vacation together, starting with scenic London. But there on a tube platform, the past catches up to her in the form of Gabe, her ex, traveling on his own parallel vacation with new girlfriend Sadie.
After comparing itineraries, Ian ends up extending an invite for Gabe and Sadie to join them on the next leg of their trip to Ireland. Sadie, who's dying to go there, jumps at the prospect. And Molly and Gabe can't bring themselves to tell the truth about who they once were to each other to their new significant others.
Now Molly has to spend 9 Days and 9 Nights with the boy she once loved, the boy whose heart she shredded, without Ian knowing. Will she make it through as new improved Molly, or will everything that happened between her and Gabe come rushing back?
Court of Shadows by Madeleine Roux
About Court of Shadows
Louisa Ditton doesn't know who she is anymore. After the gruesome events of last autumn, she has settled into her role as a maid at Coldthistle House, but she has not settled into what that means for her humanity. Do her changeling powers make her a monster like her employer, the devilish Mr. Morningside, or did her last act of heroism redeem her? As Louisa struggles with these weighty questions, Mr. Morningside plans a fete–one that will bring all manner of new guests to Coldthistle House, from wicked humans to Upworlders–angelic beings who look down upon Mr. Morningside's monstrous staff and who bring with them their own brand of self-righteous justice. Even a man claiming to be Louisa's father has a role to play, though what his true motive is, Louisa cannot tell. The conflicts will come to a head on the grounds of Coldthistle House—and the stakes include Louisa's very soul.
In this second book of Madeleine Roux's expansive gothic horror series, photographs and illustrations help bring to life a world where the line between monsters and men is ghostly thin.
The Collide by Kimberly McCreight
About The Collide
The Scattering ended with Wylie locked away in a detention center, having learned that her mother is still alive. Now, in the final book in The Outliers series, Wylie must work to fight the forces conspiring against her and protect outliers like herself.  Told through multiple POVs, this electrifying conclusion to the series finally answers the question of who Wylie can trust.  
Allied by Amy Tintera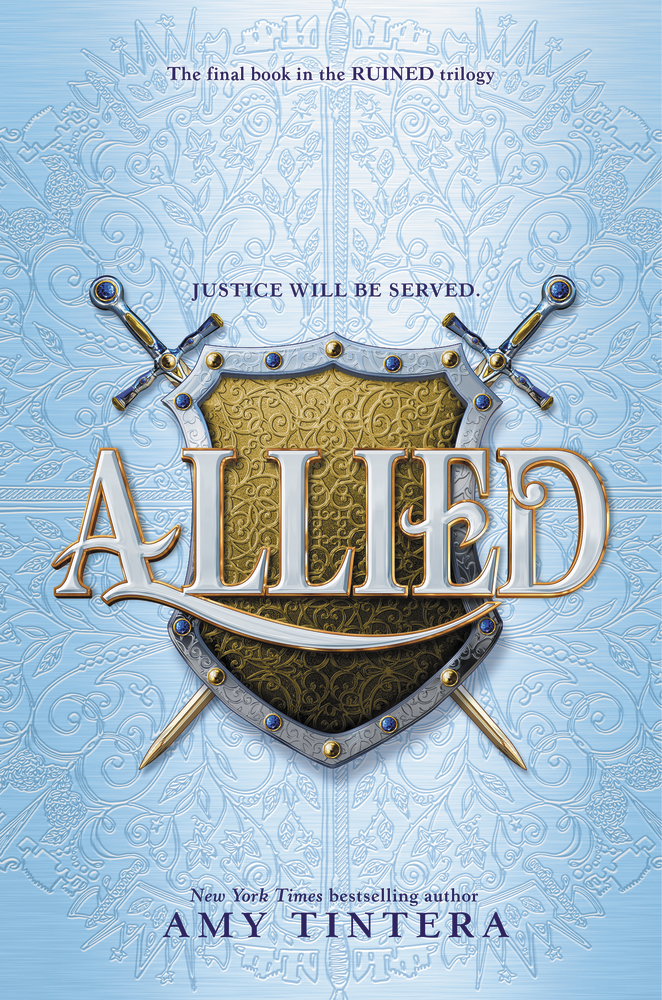 About Allied
Emelina Flores and her sister Olivia were determined to bring peace to the people of Ruina. But as the war for liberation raged on, what triumph and freedom meant to Em and Olivia slowly changed. As Olivia's violence and thirst for vengeance became her only ambition, Em was left to pick up the pieces. But it's not only Em who is upset by Olivia's increased violence. Other members of the Ruined army are beginning to see the cracks, and soon, a small group of them defect from Olivia's army and join Em instead. The two sisters are soon pitted against each other, and only one will survive.    
The Lies They Tell by Gillian French
About The Lies They Tell
Everyone in Tenney's Harbor, Maine, has heard of the Garrison tragedy. A mysterious fire. A family of five reduced to one. For people like Pearl Haskins—whose dad was the caretaker of the Garrison property when the house went up in flames—the whispers about that night are more than upsetting. They hurt. With her disgraced father now trying to find steady work in between booze benders, Pearl is stuck waiting tables at the town's country club where the rich townspeople come in the summer to flaunt their money and gossip about one another.
This year, a group of privileged boys has made a point of sitting in Pearl's section—throwing careless insults her way while also attempting to flirt. Though she's repulsed by everything they stand for, she's drawn to the quiet leader of the pack, Tristan—the last surviving Garrison. He wasn't home the night a blaze took his entire family, and the sadness coming off him in waves is hard to ignore. Befriending the summer boys might irk her to her core, but inside their fold of elite parties and reckless whims could be answers to what happened the night of the fire. And that's just what she finds.
Hidden beneath the glittering façade of wealth and luxury, Pearl discovers a dark and twisted web of lies and betrayals that, once untangled, will leave no life in Tenney's Harbor unchanged. That is…if it doesn't take Pearl's first.
Onyx and Ivory by Mindee Arnett
About Onyx and Ivory
They call her Traitor Kate. It's a title Kate Brighton inherited from her father, the former royal Master of Horse, after he tried to assassinate the high king years ago. Now, Kate lives as an outcast, clinging to the fringes of society as a member of the Relay, the imperial courier service. Only those most skilled in riding and bow hunting for the Relay; and only the fastest survive, for when night falls, the nightdrakes—deadly flightless dragons—come out to hunt.
Fortunately, Kate has a secret edge: she is a wilder, born with magic that allows her to influence the minds of animals, like the horses she rides. But it's this magic that she needs to keep hidden, as being a wilder is forbidden, punishable by death or exile. And it's this magic that leads her to a caravan massacred by nightdrakes in broad daylight—the only survivor her childhood friend, her first love, the boy she swore to forget, the boy who broke her heart.
The high king's second son, Corwin Tormane, never asked to lead. Even as he waits for the uror—the once-in-a-generation ritual to decide which of the king's children will succeed him—he knows it's always been his brother who would assume the throne. And that's fine by him. He'd rather spend his days away from the palace, away from the sight of his father, broken with sickness from the attempt on his life. But the peacekeeping tour Corwin is on has given him too much time to reflect upon the night he saved his father's life—the night he condemned the would-be killer to death, and lost the girl he loved. Which is why he takes it on himself to investigate rumors of unrest in one of a remote city-states, only for his caravan to be attacked—and for him to be saved by Kate.
With their paths once more entangled, Kate and Corwin have to put the past behind them. The threat of drakes who attack in the daylight is only the beginning of a darker menace stirring in the kingdom—one whose origins have dire implications for Kate's father's attack upon the king, and will thrust them into the middle of a brewing civil war in the kingdom of Rime.
Questions I Want to Ask You by Michelle Falkoff
About Questions I Want to Ask You
Patrick "Pack" Walsh may not know exactly where he's going in life, but he's happy where he is. He's got a girlfriend who gets him. His single dad is his best friend. After graduation, he has a desk job lined up at the local crossfit gym, maybe he'll even work his way up to trainer. He can't see himself ever leaving the small town of Brooksby, MA. And he's fine with that.
Then, on his eighteenth birthday, a letter from Pack's mother changes everything.
Pack hits the road, searching for a mother he's never known and a family he had no idea existed until now. His journey unearths questions about both of his parents that he never saw coming. And by the end of the summer, Pack has a whole different understanding of his past—and most importantly, where he wants his future to lead.   
A Lite Too Bright by Samuel Miller
About A Lite Too Bright
Arthur Louis Pullman III lives in his grandfather's shadow. The first Arthur Louis Pullman, an iconic Salinger-esque author who wrote the American classic A World Away, died in Ohio a week after he disappeared from his family's California home. What happened in that week—and how much his actions were influenced by his advanced Alzheimer's—remains a mystery.
Arthur's future is crumbling. Stripped of a college scholarship and starting to lose his grip on reality, he's sent away to live with his aunt and uncle. There, Arthur discovers a journal written by his grandfather through the fog of his dementia, the narrator pining for something he can't quite understand and the final sentence containing a train route and a destination.
Eager to escape his own demons, Arthur embarks on a cross-country train ride, guided only by what he thinks are clues from his grandfather. As he decodes the cryptic writings, he learns there's a greater story to his grandfather's life buried beneath his disease. Arthur's journey is complicated by a shaky alliance with a girl who's keeping secrets of her own and escalating run-ins with the rabid Pullman fan base. Arthur's not the only one chasing the truth.
Samuel Miller intricately weaves a story about family legacy, self-acceptance, and the difference between running toward something and running away from it.   
The Academy by Katie Sise
About The Academy
Frankie Brooks knows what she wants in life: to become the world's next great fashion editor. All she needs to do is get into the elite American Fashion Academy in New York City. If she gets in, her life plans will be going right on schedule. Anna Wintour, watch out.
But after Frankie messes up one too many times—hey, it's hard keeping up with classwork and an acclaimed fashion blog—her parents come up with entirely different plans for her future: Military school. How is Frankie, the least athletic person in the world, who knows absolutely nothing about the military, going to survive a whole semester at the famed—and feared—Academy?
With students who seem to be totally uninterested in her, a course-load that's even more difficult than at her old school, and the weird athletic War Games competition Frankie has to join—her life is way harder than it used to be. And no one, including her roommate Joni, seems to understand Frankie at all.
As she learns how to cope in about a million drills, a hundred different specialized classes, and is maybe even falling for super-hot and super-smart cadet Jack Wattson, can Frankie prove to everyone that being a fashionista doesn't mean she can't succeed?
We'll Fly Away by Bryan Bliss
About We'll Fly Away
Uniquely told through letters from death row and third-person narrative, Bryan Bliss's hard-hitting third novel expertly unravels the string of events that landed a teenager in jail.   Luke feels like he's been looking after Toby his entire life. He patches Toby up when Toby's father, a drunk and a petty criminal, beats on him, he gives him a place to stay, and he diffuses the situation at school when wise-cracking Toby inevitably gets into fights. Someday, Luke and Toby will leave this small town, riding the tails of Luke's wrestling scholarship, and never look back.
But during their senior year, they begin to drift apart. Luke is dealing with his unreliable mother and her new boyfriend. And Toby unwittingly begins to get drawn into his father's world, and falls for an older woman. All their long-held dreams seem to be unraveling. Tense and emotional, this heartbreaking novel explores family, abuse, sex, love, friendship, and the lengths a person will go to protect the people they love. For fans of NPR's Serial podcast, Jason Reynolds, and Matt de la Peña.
Eden Conquered by Joelle Charbonneau
About Eden Conquered
This is the second and final installment in the DIVIDING EDEN duology, in which Carys and Andreus, betrayed by everyone they believed to be allies, continue to fight to determine who will reign over the kingdom. And now, one sibling has changed the game.
My Plain Jane by Cynthia Hand, Brodi Ashton, Jodi Meadows
About Plain Jane
You may think you know the story. After a miserable childhood, penniless orphan Jane Eyre embarks on a new life as a governess at Thornfield Hall. There, she meets one dark, brooding Mr. Rochester. Despite their significant age gap (!) and his uneven temper (!!), they fall in love—and, Reader, she marries him. (!!!)
Or does she?
Prepare for an adventure of Gothic proportions, in which all is not as it seems, a certain gentleman is hiding more than skeletons in his closets, and one orphan Jane Eyre, aspiring author Charlotte Bronte, and supernatural investigator Alexander Blackwood are about to be drawn together on the most epic ghost hunt this side of Wuthering Heights.
Always Forever Maybe by Anica Mrose Rissi
About Always Forever Maybe
When Betts meets Aiden at the candy store where she works, their connection is like a sugar rush to the heart. Even before they share a first kiss, Betts already knows the two of them are infinite. Inevitable. Destined to become an us.
Betts has a bruised, cautious history with love, but she feels safe and empowered in Aiden's arms. He trusts her with the darkness in his troubled past, and his devotion opens up a new future for Betts just as everything else in her world is changing. With graduation inching closer, Betts and her best friend, Jo, have been sliding slowly apart, and that fissure is blown wide open by Aiden.
Betts has only ever kept one secret from Jo, but suddenly there's a long list of things she won't tell her, things Jo wouldn't understand. Because Jo doesn't see how good Aiden is for Betts. She finds him needy. Possessive. Controlling.
She's wrong. With a love like this, nothing else matters.
In her forceful YA debut, Anica Mrose Rissi explores the depths and boundaries of intense friendships and intoxicating love, with astonishing insight and tender wit.
Mariam Sharma Hits the Road by Sheba Karim
About Mariam Sharma Hits the Road
The summer after her freshman year at college, Mariam is looking forward to working and hanging out with her best friends: irrepressible and beautiful Ghazala, and religious but closeted Umar. But when a scandalous photo of Ghaz appears on a billboard in Times Square, Mariam and Umar come up with a plan to rescue her from her furious parents. And what better escape than a spontaneous road trip to New Orleans?
The friends pile into Umar's car and start driving south, making all kinds of pit stops along the way—from a college drag party to a Muslim convention, from alarming encounters at roadside diners to honky tonks and barbecue joints. Along with the adventures, the fun banter and the gas station junk food, the friends have some hard questions to answer on the road.
With her uncle's address in her pocket, Mariam hopes to learn the truth about her father (and to make sure that she didn't inherit his talent for disappearing). But as each mile of the road trip brings them closer to their own truths, they know they can rely on each other, and laughter, to get them through.
Monday's Not Coming by Tiffany D. Jackson
About Monday's Not Coming
Monday Charles is missing, and only Claudia seems to notice. Claudia and Monday have always been inseparable—more sisters than friends. So when Monday doesn't turn up for the first day of school, Claudia starts to worry. When she doesn't show for the second day, or the second week, Claudia knows that something is wrong. Monday wouldn't just leave her to endure tests and bullies alone.
With her grades on the line, Claudia needs her best—and only—friend now more than ever. But Monday's mother refuses to give Claudia a straight answer, and Monday's sister April is even less help. As Claudia digs deeper into her friend's disappearance, she discovers that no one seems to remember the last time they saw Monday. How can a teenage girl just vanish without anyone noticing that she's gone?
In her dark, thrilling, and timely sophomore novel, acclaimed author Tiffany D. Jackson unravels a complex mystery and explores the traumatic effects of the truth.
A Flicker in the Clarity by Amy McNamara
About A Flicker in the Clarity
For as long as Evie can remember, she and Emma have been best friends. They've gone through everything together—only Evie understood what it was like for Emma to lose her older brother in a car accident. And though they couldn't be more different—Emma is the life of the party while Evie is shy—the dynamic has always worked for them.
But then Evie makes a careless mistake that ends up having serious consequences for Emma. They've had their squabbles before, but this is different. When Evie tries to apologize, Emma ignores her texts, gets a new best friend, and completely freezes her out. Evie didn't mean to betray Emma in the way that she did, and she's desperate to get back in Emma's good graces. Who is Evie without Emma?
Then Evie meets Theo, a kindred spirit unlike any boy she's ever encountered. With him, she can at least pretend like her life is normal. But just as she's about to let go and fully fall into whatever is happening with him, Emma resurfaces, miraculously letting Evie back in—though it's not without consequence. Erratic behavior, drunken incidents, and panicked late-night calls are only some of the hoops Emma makes Evie jump through. All Evie has wanted is to get her best friend back—but Emma seems hell-bent on self-destruction. Evie is used to swooping in to pull Emma out of her troubles, but how do you help someone who doesn't want to be saved?
Summer of Salt by Katrina Leno
On the island of By-the-Sea you could always smell two things: salt, and magic. Georgina Fernweh waits with growing impatience for a tingle of magic in her fingers—a magic that has been passed down through every woman in her family. Her sister Mary already has a gift for defying gravity, but Georgina fears her own gift will never come. When tragedy strikes, what made the Fernweh women special suddenly casts them in suspicion. Over the course of her last summer on the island—a summer of storms, of love, of salt—Georgina will learn the truth about magic, in all its many forms.
Now You See Her by Lisa Leighton, Laura Stropki
About Now You See Her
AMELIA has always felt like a happy life is just out of reach. Having moved every few years with her mom and sister, she's always had a hard time making and keeping friends; there's never enough time, and never enough money to stay in one place. And now, in her senior year, right before tennis season, Mom wants to move again.
SOPHIE has a perfectly curated, Instagram-ready life, from her first singles wins to her cute, long-term boyfriend to the beautiful, landscaped home where she lives with her parents. Though they're tennis teammates, the two girls almost never speak.
But then one night changes everything. When Amelia's car breaks down on the side of the road in a rainstorm, a man she thinks is a Good Samaritan pulls over to help her. When he tries to abduct her instead, she escapes into oncoming traffic.
In one inexplicable moment, Amelia and Sophie switch bodies. Amelia wakes up in Sophie's body. Amelia's body is in a coma. Now Amelia needs to find a way to switch back into her own life—but before that, she must retrace her steps to unravel the mystery of the accident, her attempted abduction, and how it's all tied to her mother's secret past.
Wild Blue Wonder by Carlie Sorosiak
About Wild Blue Wonder
Last summer…
Quinn was surprised to find herself falling in love with her best friend Dylan. Dylan had always lived next door, worked at her family's summer camp, and been part of the family. But suddenly she saw him as something more. The only problem was: Quinn's younger sister Fern, and older brother Bear, were both falling in love with Dylan, too.
This winter…
Dylan is gone. The tragic accident that took his life has driven a wedge between the three Sawyer siblings. And Quinn is convinced it was all her fault. She's a monster like Wessie, the deep-sea creature who, local legend has it, is lurking somewhere off the coast of her Maine home.
Quinn is certain that the only way to confront the monster within herself and save her family is to repair the boat from the night of the accident, and go in search of Wessie. But as she begins to fall for a new boy in town, she begins to understand the truth about her siblings, herself, and monsters—real, and imagined.
99 Lies by Rachel Vincent
About 99 Lies
They wanted Spring Break to be memorable. Getting kidnapped in the jungle? Impossible to forget.
Lie # 1: I'm Fine  Truth is, Maddie's heart is buried with the hostages who didn't make it, while Genesis is still fighting to free herself—from her own lies and her vindictive ex.
Lie #16: I'm Still Me  Home in Miami, the former hostages try to return to normal life: high school, dating, million-dollar pool parties. But with headlines that declare Maddie and Luke the new "it couple," Holden a hero, and Genesis a traitor, there's no escaping the spotlight—or the truth about the ways they betrayed each other in the jungle.
Lie #3: I Forgive You  They may have stopped their captors' main threat, but everyone has a plan B and this time the danger isn't coming from the outside … it's what they might do to each other.
Told from the alternating perspectives in countdown format, the gripping conclusion to 100 HOURS delivers an explosive mix of non-stop action and emotional intensity as five elite teens discover that lies are nowhere near as dangerous as the truth.  
A Thousand Beginnings and Endings
About A Thousand Beginnings and Endings
A man in a beautiful orange cloak causes a goddess to lose her heart.
Two sisters transform into birds to escape captivity.
A young man learns the true meaning of sacrifice when he is transported to a war he has no stake in.
A young woman takes up her mother's mantle and leads the dead to their final resting place.
From fantasy to science fiction to contemporary, from romance to tales of revenge, this collection of fifteen original stories reinterprets East and South Asian myths in a wide range of stories that will appeal to every reader. This anthology contains stories from fifteen Asian-American authors—including New York Times–bestselling authors Melissa de la Cruz, Julie Kagawa, Renée Ahdieh, and Roshani Chokshi.   
Notes From My Captivity by Kathy Parks
About Notes From My Captivity
Girl meets boy… and the family holding her hostage.
Adrienne Cahill cares about three things: getting into a great college; becoming a revered journalist like her idol, Sydney Declay; and making her late father proud of her.
So when Adrienne is offered the chance to write an article that will get her into her dream school and debunk her foolishly optimistic stepfather Dan's claim—no, belief—that a legendary family of hermits is living in the Siberian wilderness, there's no question that she's going to fly across the world.
After all, it is the trip of a lifetime.
But the Russian terrain is even less forgiving than Adrienne. And when disaster strikes, nothing—not the flirtatious guide or her stepdad's obsessively detailed preparations—can protect Adrienne from the sheer force of nature. Now, Adrienne's being held captive by the family she was convinced didn't exist, and her best hope for escape is to act like she cares about befriending them, even if it means wooing the youngest son.
Sharp and sensitive, Kathy Park's NOTES FROM MY CAPTIVITY is a darkly hilarious novel about survival, the human condition, and the power to shape your own story.  
The Loneliest Girl in the Universe by Lauren James
About the Loneliest Girl in the Universe
The daughter of two astronauts, Romy Silvers is no stranger to life in space. But she never knew how isolating the universe could be until her parents' tragic deaths left her alone on The Infinity, a spaceship speeding away from Earth.
Romy tries to make the best of her lonely situation, but with only brief messages from her therapist on Earth to keep her company, she can't help but feel like something is missing. It seems like a dream come true when NASA alerts her that another ship, The Eternity, will be joining The Infinity.
Romy begins exchanging messages with J, the captain of The Eternity, and their friendship breathes new life into her world. But as The Eternity gets closer, Romy learns there's more to J's mission than she could have imagined. And suddenly, there are worse things than being alone….  
Endless Water, Starless Sky by Rosamund Hodge
About Endless Water, Starless Sky
In the last days of the world, the walls of Viyara are still falling, and the dead are rising faster than ever. Juliet is trapped—ordered by Lord Ineo of the Mahyanai to sacrifice the remaining members of her family, the Catresou, to stave off the end of the world.
Though they're certain his plan is useless, Juliet and her former friend Runajo must comply with Lord Ineo's wishes—unless they can discover a different, darker path to protecting Viyara. Romeo is tortured—finally aware that his true love is alive, he is at once elated and devastated, for his actions led directly to the destruction of her clan.
The only way to redemption is to offer his life to the Catresou to protect them and support them…even if it means dying to do so. When Romeo and Juliet's paths converge once again, only a journey into Death will offer answers, and the key to save them all—but is it a journey any of them will survive?
Contagion by Erin Bowman
About Contagion
Seventeen-year-old Thea Sadik has landed a dream internship working with Dr. Lisbeth Tarlow, a renowned scientist. But when her ship is ordered to respond to a distress call, she and the rest of her crew discover horrors beyond their wildest nightmares.
Every member of the Black Quarry project appears to be dead. The only clue left to shed light on what could have decimated an entire project is a three-line message, written in blood. When one of their own is injured and presents strange symptoms, they realize that he's been infected by a contagion—but instead of killing him, it consumes him, taking over his body and his mind until he is nothing more than a host for the parasite, rabid and eager to infect others. And the Black Quarry crew? Turns out they're not quite dead after all.
Now Thea is in  a race against the clock to escape the contagion and its victims—and not everyone will make it off the planet alive.  
Sea Witch by Sarah Henning
About Sea Witch
"But I must be paid also," said the witch, "and it is not a trifle that I ask." Ever since her best friend Anna drowned, Evie has been an outcast in her small fishing town. A freak. A curse. A witch. Hiding her talents, mourning her loss, drowning in her guilt.
Then a girl with an uncanny resemblance to Anna appears on the shore and, though the girl denies it, Evie is convinced that her best friend survived. That her own magic wasn't so powerless after all. And as the two girls catch the eyes—and hearts—of two charming princes, Evie believes that she might finally have a chance at a happily ever after. Only, her new friend has secrets of her own. She can't stay in Havnestad, or on two legs, unless Evie helps her.
Now Evie will do anything to save her friend's humanity—and her prince's heart—harnessing the power of her magic, her ocean, and her love until she discovers, too late, the truth of her bargain.
The pulse-pounding origin story of the villainess from Hans Christian Anderson's beloved tale "The Little Mermaid," Sarah Henning's debut is a heart-wrenching story of friendship, betrayal, and a girl pushed beyond her limits—to become a monster.
The Girl You Thought I Was by Rebecca Phillips
About The Girl You Thought I Was
No one looking at Morgan Kemper would think that she had a secret—at least not one that she was deeply ashamed of. To everyone else she comes across as pretty, put together, and sweet.
But Morgan knows that looks can be deceiving. For over a year she has shoplifted countless pieces of clothing and makeup. Each time she tells herself it will be the last, and each time it never is. But when she is caught and sentenced to thirty hours of community service the image Moran has carefully constructed starts to crumble. She is determined to complete her punishment without her friends discovering the truth about her sticky fingers, but that seems easier said than done… Especially once she meets Eli, the charming, handsome nephew of the owner of the charity shop where Morgan is volunteering. Soon Morgan is faced with an impossible decision: continue to conceal the truth or admit that she has lied to everyone in her life, including the boy she is falling for.    
How We Learned to Lie by Meredith Miller
About How We Learned to Lie
In their little suburban town of Highbone, Long Island, it's always been Daisy and Joan against the world. But lately, their tight-knit friendship is crumbling. Joan is the only black girl in their very white suburb, and knows Daisy will never understand what that means for her, or her family. Daisy's family has been falling apart since his father went to jail, and no matter how hard he tries to keep his world together, he knows he can't ever reveal to Joan just how bad things have gotten.
As the secrets and struggles of their hidden worlds consume them, Joan and Daisy start to pull away from each other. Soon they are facing the reality that friendship isn't forever, and sometimes loving someone means letting go, even if that's the hardest thing of all.
Atmospheric and voice-driven, Meredith Miller's HOW WE LEARNED TO LIE is a beautifully written coming-of-age story about friendship, love, and a small town.  
Scream All Night by Derek Milman
About Scream All Night
DARIO HEYWARD KNOWS ONE THING: He's never going back to Moldavia Studios, the iconic castle that served as the set, studio, and home to the cast and crew of dozens of cult classic B-horror movies. It's been three years since Dario's even seen the place, after getting legally emancipated from his father, the infamous director of Moldavia's creature features.
But then Dario's brother invites him home to a mysterious ceremony involving his father and a tribute to his first film—The Curse of the Mummy's Tongue. Dario swears his homecoming will be a one-time visit. A way for him to get closure on his past—and reunite with Hayley, his first love and costar of Zombie Children of the Harvest Sun, a production fraught with real-life tragedy—and say good-bye for good. But the unthinkable happens—Dario gets sucked back into the twisted world of Moldavia and the horrors, both real and imagined, he's left there.
With only months to rescue the sinking studio and everyone who has built their lives there, Dario must confront the demons of his past—and the uncertainties of his future. But can he escape the place that's haunted him his whole life?
Heart of Thorns by Bree Barton
About Heart of Thorns
Mia Rose wants only one thing: revenge against the Gwyrach who killed her mother. In a world where only women can possess magic—and every woman is suspected of having it—Gwyrach are feared, reviled, and outlawed from Mia's kingdom, and tensions have mounted in recent years. After training under her father and his infamous Hunters, Mia is ready. She will scour the four kingdoms, find her mother's murderer, and enact the Hunters' Creed: heart for a heart, life for a life.
But then Griffin Rose announces a quite different future for his eldest daughter: she will marry Prince Quin, the handsome, if haughty, heir to the Glas Ddir throne. Just like that, three years of Huntress training dissolve into dust as Mia is thrust into the last role she ever wanted: pretty, wifely bauble to the future king.
On the eve of her wedding, Mia plots a daring escape, only to discover something she never imagined: she has magic. She may be a Huntress, but she's also a Gwyrach.
As the truth comes to light, Mia must untangle the secrets of her own past. Friends darken into foes and logic begins to fray—as do the rules Mia has always played by. If she wants to survive, Mia must learn to trust her heart . . . even if it kills her.
If Only by Jennifer Gilmore
About If Only
Before: When Bridget imagined her life at sixteen it wasn't this. She didn't think that her boyfriend would dump her for another girl. She didn't think that her father would barely be able to look at her anymore. And she certainly didn't think that she would be pregnant. With just a few months until she gives birth Bridget must envision an entirely new future—one for her baby. But as she sifts through the multitude of different paths she could take she can't help but feel that none of them are the right one.
After: Ivy doesn't know much about her birth mother. She knows that she is now the same age Bridget was when she gave Ivy up for adoption. She knows that Bridget was the one who named her. And she knows that fifteen years ago Bridget disappeared from Ivy and her adoptive parents' lives.
Ivy wants to discover the truth about where she came from, but she can't help but feel that in doing so she is risking disturbing her perfectly balanced life. Acclaimed novelist Jennifer Gilmore deftly explores the weight of both teenagers' decisions on their futures and their lives in this intimate and achingly beautiful novel.  
These Rebel Waves by Sara Raasch
About These Rebel Waves
Adeluna is a soldier. Five years ago, she helped the magic-rich island of Grace Loray overthrow its oppressor, Argrid, a country ruled by religion. But adjusting to postwar life has not been easy. When an Argridian delegate vanishes during peace talks with Grace Loray's new council, Argrid demands brutal justice—but Lu suspects something dangerous is at work.
Devereux is a pirate. As one of the outlaws called stream raiders who run rampant on Grace Loray, he pirates the island's magic plants and sells them on the black market. But after Argrid accuses raiders of the diplomat's abduction, Vex becomes a target. An expert navigator, he agrees to help Lu find the Argridian—but the truth they uncover could be deadlier than any war.
Benat is a heretic. The crown prince of Argrid, he harbors a secret obsession with Grace Loray's forbidden magic. When Ben's father, the king, gives him the shocking task of reversing Argrid's fear of magic, Ben has to decide if one prince can change a devout country—or if he's building his own pyre.
As conspiracies arise, Lu, Vex, and Ben will have to decide who they really are . . . and what they are willing to become for peace.
The Other Side of Lost by Jessi Kirby
About The Other Side of Lost 
The perfect sunset? Instagram filtered. The perfect body? She's been hungry for days.  The perfect boyfriend? Fake. Every one of Mari Turner's social media posts was a carefully-constructed photo meant to distract her—and her thousands of followers—from the fact that she has no direction in life, no friends, and no idea how she got to this place of emptiness. So after spending her eighteenth birthday alone, Mari does something she hasn't for a very long time.
She looks into the lens of her camera and tells the truth.  Then she posts it for the world to see.  When her video confession goes viral, everyone turns on her, leaving Mari more desperate than ever to escape.
Then the package arrives. A box full of hiking gear that belonged to her late cousin Bri. Mari and Bri shared the same birthday, and had always talked about hiking the John Muir Trail together when they turned eighteen. That was before Mari got so wrapped up in her online world that she turned her back on their friendship. Mari's video was a cry for a help, and with Bri's gear in her hands, she takes a leap of faith. Mari has zero experience reading a map or climbing rocks, but as lost as she's been feeling, one or two wrong turns aren't going to make a difference.
With Bri's boots and trail diary as her guide—as well as a group of strangers that become friends—Mari slowly makes her way through the highest mountains and lowest valleys in an attempt to find her way back to the girl she used to be.  
Neverwake by Amy Plum
About Neverwake
For most people, nightmares always come to an end. But for Cata, Ant, and the others, there may be no escape from theirs. After an experimental treatment that was meant to cure their insomnia went horribly wrong, the teens were dragged into a shared dreamworld where their most terrifying fears became reality.
Now the six of them are trapped. They have no way of waking up. And they're beginning to realize that if they die here, they might actually die in the real world. One of the dreamers is already gone, and anyone could be next. The only thing they know for certain is that they have to work together to survive. But they are about to discover they are trapped with something far worse than their nightmares….
One of them has a deadly secret, and he will do whatever it takes to silence anyone who comes close to discovering it. Even if that means taking matters into his own hands and making sure none of them wake up. Ever.  
Heretics Anonymous by Katie Henry
About Heretics Anonymous
Michael is an atheist. So when he walks through the doors at St. Clare's—a strict Catholic school—sporting a plaid tie, things can't get much worse. His dad has just made the family move again, and Michael needs a friend. When a girl challenges their teacher in class, Michael thinks he might have found one, and a fellow non-believer at that. Only this girl, Lucy, is not just Catholic . . . she wants to be a priest.
But Lucy introduces Michael to other St. Clare's outcasts, and he officially joins Heretics Anonymous, where Michael can be an atheist, Lucy can be an outspoken feminist, Avi can be Jewish and gay, Max can wear whatever he wants, and Eden can practice paganism. After an incident in Theology class, Michael encourages the Heretics to go from "secret society" to "rebels" intent on exposing the school's hypocrisies. When Michael takes one mission too far—putting the other Heretics at risk—he must decide whether to fight for his own freedom or rely on faith, whatever that means, in God, his friends, or himself.
Debut author Katie Henry brilliantly delivers a laugh-out-loud and heartfelt novel about a band of misfits who set out to challenge their school, only to find their friendships—and their own beliefs—tested.   
Nine by Zach Hines
About Nine
In an alternate world startlingly close to our own, humans have nine lives—and they can't wait to burn straight through them.
As you shed lives, you shed your awkward phases; one death is equal to one physical and mental upgrade. Not only is it a thrill to die, but when you wake up, you've come one step closer to the person you dream of becoming.
Julian's friends are obsessed with the idea of burning lives, but Julian is determined to stay on his first for as long as possible. His mother, the ultimate cautionary tale, burned through her first eight in just a few years, and Julian has no intention of succumbing to the debilitating Rebirth Sickness that she inflicted on herself.
But thanks to the government's death incentives aimed at controlling overpopulation, Julian realizes that he's going to have to burn at some point. And when he does, he not only sees what all the fuss is about dying—but he also spots suspicious gaps in the system that may explain exactly why his mother went so far down the rabbit hole years ago. Along with a group of student extremists, Julian sets out to find answers… and if they're right about their hunch, they may just expose the greatest conspiracy ever unleashed on the world.
He has just eight more lives to uncover the truth.  
The Truth Lies Here by Lindsey Klingele
About The Truth Lies Here
Penny Hardjoy only believes in the black-and-white truth–that's been the case ever since she discovered her conspiracy theorist father was massaging the truth in order to make a buck for the tabloid he's written for all her life.
When seventeen-year-old Penny arrives in Bone Lake, MI to spend the summer with her dad, she'll have to confront her own hard-nosed beliefs about fact and fiction. Because her dad is nowhere to be found, and when two teens turn up burnt to death in the woods, Penny and her next door neighbor Dex are convinced something is wrong in their town. So the search begins for her father–but who will find him first: Penny and Dex, the sheriff, or the two men in black suits who seem to have come our of nowhere?    And who's the culprit for all the weird and scary things happening in Bone Lake–a real, live murderer? Or something out of this world?
PERFECT FOR FANS OF NETFLIX'S STRANGER THINGS AND MEN IN BLACK.
The Last Best Story by Maggie Lehrman
About the Last Best Story
Rose Regnero was the star reporter for the high school paper, destined for a career in journalism, when she abruptly quit—leaving behind her very-nearly-sort-of-boyfriend and editor-in-chief, Grant. Now she's trying to be "normal" at prom, with a new boy and new interests.
Grant is determined to entice her back—to the paper or to him, he's not quite sure. Their squabbling is interrupted when prom goes on lockdown. Apparently, someone's loose in the building with a gun.
But Rose, caught out of the gym when the alarm went off, knows differently. And her instincts for a good story fight against her resolve to leave Grant and the paper behind.
Fierce Like a Firestorm by Lana Popovic
About Fierce Like a Firestorm
Twin sisters Iris and Malina thought they knew how to reverse the ancient curse that haunts their line, the spell that destines them to use their gleams—unique forms of beauty-manipulating magic—to entice and enchant none other than Death himself. But both sisters thought wrong. Instead of ending the wicked bargain with the power of her infinite bloom, Iris is taken to an exquisite, uncanny realm in between this world and the next—a world Death created for her alone.
Only, unlike all of Death's companions before, Iris's body goes on the one-way journey along with her soul, arriving in a kingdom never meant to sustain a living girl. Left behind with Niko, her girlfriend, and Luka, the boy her sister loves, Lina searches for a way to save Iris. But as Lina unearths the dark secrets that bind her family to parallel fates of loss and immortality and Iris tries to outwit Death on his own terrain, a power resurfaces that even Mara, the original witch mother, fears.
Now both sisters must learn to fully embrace their gleams—or else they'll truly lose each other forever. Luscious and breathtaking, FIERCE LIKE A FIRESTORM is the second book in Lana Popovic's dazzling duology about freedom, beauty, sacrifice, and the infinite power of love.  
In Another Time by Caroline Leech
About In Another Time
It's 1942, and as the war rages in Europe, Maisie McCall is in the Scottish Highlands swinging an axe for the Women's Timber Corps. Maisie relishes her newfound independence working alongside other lumberjacks—including the mysterious John Lindsay.
As Maisie and John work side-by-side felling trees together, Maisie can't help but feel like their friendship has the spark of something more to it. And yet every time she gets close to him, John pulls away. It's not until Maisie rescues John from a terrible logging accident that he begins to open up to her about the truth of his past, and the pain he's been hiding.
Suddenly everything is more complicated than Maisie expected. And as she helps John untangle his shattered history, she must decide if she's willing to risk her heart to help heal his. But in a world devastated by war, love might be the only thing left that can truly heal what's broken.  
The Looking Glass by Janet McNally
About The Looking Glass
GIRLS IN TROUBLE.
That's what Sylvie Blake's older sister Julia renamed their favorite fairy tale book, way back when they were just girls themselves. Now, Julia has disappeared—and no one knows if she's in trouble.
Sylvie is trying to carry on Julia's impressive legacy at the prestigious National Ballet Theatre Academy, but Julia, ever the star of the show, can't stay hidden forever. And when she sends Sylvie a copy of their old storybook with a mysterious list inside, Sylvie begins to see signs of her sister everywhere she goes. She may be losing her grip on reality, but Sylvie has to find out if the strange, almost magical things she's been seeing have anything to do with Julia's whereabouts.
With the help of her best friend's enigmatic brother and his beat-up car, Sylvie sets out to the beat of a Fleetwood Mac playlist, determined to return to New York with her sister in tow. But what Sylvie doesn't expect to learn is that trouble comes in lots of forms—and that the damsel in distress is often the only one who can save herself.
Let Me List the Ways by Sarah White
About Let Me List the Ways
Mackenzie Clark has been best friends with Nolan Walker for as long as she can remember. She's shared everything with him, from family dinners to days lounging at the beach to her anxieties about her diabetes. The only thing she hasn't shared is the fact that she is in love with him. Now in their senior year of high school, the specter of their inevitable separation the following fall looms before Mackenzie and Nolan. Determine to make the most of the time they still have left, they come up with a list of things they want to do together before graduation. But as they make their way through everything from toilet papering the school bully's house to having a backyard campout like the ones they had when they were kids, Mackenzie can't help feeling that she's left the most important thing off the list…telling Nolan how she feels. But when confessing her love could jeopardize the incredible relationship they already have, is honesty really the best policy?
Hidden Pieces by Paula Stokes
About Hidden Pieces
Embry Woods knows she shouldn't meet her brooding artist sort-of boyfriend Holden at the deserted Sea Cliff Inn. And she definitely shouldn't drink. But she does, and when her bottle of vodka spills on a candle and sets the hotel on fire, Embry figures she's getting exactly what she deserves. Embry calls 911 soon after they escape, but then she sees a shadow move in an upstairs window. Someone else is trapped inside. Embry goes back in to rescue the stranger—a homeless hitchhiker who was squatting in the building. The fire department arrives just in time to witness the rescue and the whole town begins to hail her as a hero. But, not everyone. A few days after Embry makes the front page of the local paper, she receives what looks like a Christmas card in the mail. Only it's asking her to ruin the life of someone she cares about. And when Embry ignores it, the stakes become higher—until there is no doubt that someone is going to die.
The Dating Disasters of Emma Nash by Chloe Seager
About The Dating Disasters of Emma Nash 
Though she hadn't seen her boyfriend in…weeks…a month…how long?! Emma Nash was in a relationship…until she saw her boyfriend update his online status to "in a relationship" with someone else. Ghosted, dumped, whatever you want to call it, Emma is heartbroken but determined to get herself together and try new things.
Starting with a private blog, in which she'll chronicle her adventures with friends and potential love interests with a side of family drama (her mother is a serial dater whose current boyfriend is younger, hot, and poses nude…but we won't go there yet!).
With a voice reminiscient of Louise Rennison's in Angus, Thongs, and Full Frontal Snogging, debut author Chloe Seager has created Emma Nash, poster girl for being ghosted, accidental catfishing (well…sort of accidental…), dating mishaps and high school shenanigans, and most of all, friendships that rise above the noise and help keep things together when all the world is laughing at…with…nope, definitely at you.
This is a book that will have you snort-laughing and rooting for every awkward first, scandalous second, and any teen who's had to pick themselves up and try, try again in the face of both private and very, very public humiliation!
---

OMG THERE ARE SO MANY COVERS AND SO MANY NEW STORIES TO READ.
We are seriously obsessed with these! Which ones are your favorite? Which book are you most excited to read next year? Tell us in the comments below!
Up Next: The Official List of Harper's Winer 2018 YA Cover Reveals