Three dark sisters, all fair to be seen, two to devour, and one to be queen. No, this is not the tagline of this season's Keeping Up With the Kardashians, it's the tagline for THREE DARK CROWNS by Kendare Blake—a dark fantasy about three sisters—triplets—each with her own magic, who were separated when young but will meet again on their 16th birthday when they will fight to the death to be Queen.

Talk about sibling rivalry, amiright?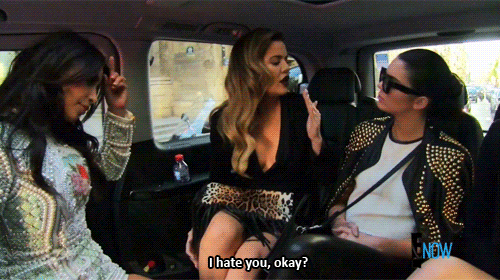 This book is getting hella good ratings over on Goodreads, but one of the main concerns most readers have with this new book is that it's hard to keep the sisters all straight at first.
We promise that if you stick with the book, you'll 100% be able to figure out who all of the characters are which sister is which, but to smooth things over for the first few chapters, we made these super helpful charts of the three main Kweens to help you differentiate them.
☠️  Katharine: The Poisoner 🍷
Let's talk about my girl, Katharine. This Potential Future Queen #1 is gifted with poisoner magic, which means she is theoretically supposed to be able to withstand any and all kinds of poisons. Buuut, her power hasn't materialized yet so during her training so she gets all kinds of poisoned and has the scars to prove it.
Her people decide she's gotta get healthier before she can face her sisters, so they enlist this dude Pietyr to help get her well and teach her how to seduce all these potential king consorts that will be coming to her island during Beltane. But does love blossom between them? Guess you'll have to read it to find out! (You can buy a copy here or start reading the first three chapters here!)
🌧 Mirabella: The Elemental ⚡️
Do not f-ck with Mirabella, Potential Future Queen #2. Granted, if you do f-ck with her, she'll probably forgive you because she is sweet, humble and really does NOT want to kill her sisters, but if you do mess with her in any way her horde of priestesses will literally cut you.
Mirabella is not a late bloomer to the whole power game, unlike her sisters. She is by far the strongest sister because she has that whole Legend-of-Korra-I-can-control-the-elements-thing going on. Her favorite element is lightning but she's really good at controlling all of the other elements too. In short, she's super powerful and her other sisters better watch out come the Beltane!
PS- Keep an eye out for this CRAZY THING that happens with Mirabella's story line later in the book! (Reminder: You can start reading the first three chapters right here!)
🌲 Arsinoe: The Naturalist 🐿
Now let's talk about Arsinoe, Potential Future Queen #3. Arsinoe is in the same boat (you'll get this pun when you read the book) as Katharine in that she has yet to develop her powers. She's a naturalist which means she can control animals, and once her powers develop she'll get a cool kickass animal sidekick.
Arsinoe doesn't have time for you bullsh*t. She's outdoorsy, capable, DGAF about her looks, and isn't sitting around whining about the fact that her power hasn't come in yet. Instead, she is being resourceful and is coming up with alternative solutions to win her the crown. (You can start reading Three Dark Crowns right here and find out more about her story!)
---
Now that you know more about each sister, which one are your rooting for? Tell us in the comments below!
Up next: Watch the THREE DARK CROWNS Book Trailer
Save
Save
Save
Save
Save
Save
Save
Save
Save
Save
Save