Ah, to be young forever. Since we haven't quite figured out how to get to Neverland (which star is the second to the right?) we'll have to settle for reading and watching all of the stories based on Peter Pan. Our personal favorite adaptation is number one, but there are a few others worth checking out as well…
1.     Tiger Lily, 2012 novel by Jodi Lynn Anderson
Before Peter belonged to Wendy, he belonged to the girl with the crow feather in her hair. It's a heartbreaking romance between a fearless heroine and a boy who won't grow up. We feel you, sister.
2.     Peter Pan, 1953 animated Disney classic
Not a classic because of its age (can you believe this is from 1953?) but because of its magical, musical Disney perfection.
3.     Hook, 1991 film
Who needs Pretty Woman when we can have Julia Roberts at her finest as Tinkerbell? Plus, in this version we meet Roofio (Roo-fi-ooooo!) and well, he's just the best.
4.     Finding Neverland, 2004 film
Although not technically an adaptation, how could we leave out the story of the man behind the Pan? This movie is great for the tissue industry, you'll need a lot!
5.     Peter and the Starcatcher, 2009 play
This theatrical version tells the story of how a sad, nameless boy became our beloved Peter. And 5 Tony Awards don't lie…this Broadway show was a hit.
6.     Peter Pan, 2003 film
I don't think you can watch this live-action version without chiming in with, "I do believe in fairies! I do, I do!"
7.     Capt. Hook: The Adventures of a Notorious Youth, 2005 novel by J.V. Hart
Even the bad guy needs a back story. And didn't you always wonder about how he really lost his hand?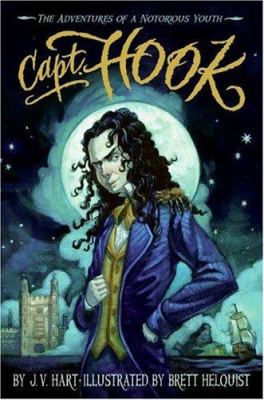 8.     Return to Neverland, 2002 animated Disney movie
Won't Hook just give it up already? Back with a vengeance in this sequel, Hook goes after Wendy's daughter, Jane. Thanks for more Peter Pan fun, Disney!
9.     Peter Pan in Scarlet, 2006 novel by Geraldine McCaughrean
The Darlings head back to Neverland in this official sequel to find Peter a changed man boy thanks to, you guessed it, Captain Hook.
10.  Once Upon A Time, Season 2

We've never been attracted to Captain Hook. . . Until now.
What are your favorite Peter Pan adaptations?