It's HAPPENING!! The Before I Fall movie––based on Lauren Oliver's first novel and starring Zoey Deutch, Halston Sage, and Kian Lawley––is opening in theaters everywhere in the USA on March 3rd, 2017 and we made a new cover to celebrate!!! The new movie-tie in edition of the book will be hitting shelves on February 7 and we can't wait for you to see the new look! Are you ready to feast your eyes on the beauty?!?!
HERE IS THE NEW BOOK COVER!!!
AHHH! Have you ever seen a move glorious move tie-in cover? Go ahead and get your pre-order on for this edition right here: Amazon | Target | Barnes & Noble | IndieBound
And that's not all, the movie trailer is officially out in the world thanks to iTunes movie trailers!
can't
hold
back
the
tears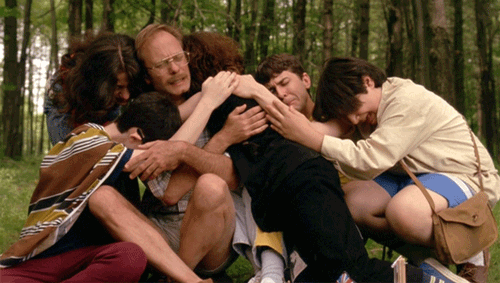 Ok so after you compose yourself after watching that emotional roller coaster here's everything you need to know about the movie:
The Cast:
Samanth Kingston:
Zoey Deutch: You might recogize her from other YA to film adaptations Vampire Academy and Beautiful Creatures. We also can't forget her stint on the Disney Channel's Suite Life on Deck. We predict Zoey's career is about to sky rocket, and she was just named one of Hollywood Reporter's Rising Stars 35 and Under.
Kent:
Logan Miller: This up and comer is known for his starring role in the thriller The Good Neighbor and his recurring role on The Walking Dead. He has a lot going on in the next few years so this is definitely not the last you'll hear of him.
Lindsay:
Halston Sage: You might recognize her from the film adaptation of Paper Towns in which she played Lacey or in last year's film adaptation of Goosebumps with Jack Black. She's been busy in Hollywood with three films coming out in 2017.
Photos from the set:
Make sure you read it before you see it! You can pre-order the new Before I Fall movie tie-in edition here! Or if you can't wait to read it, check out our enhanced edition now!
About Before I Fall:
What if you only had one day to live?
What would you do? Who would you kiss?
And how far would you go to save your own life?
Samantha Kingston has it all: looks, popularity, the perfect boyfriend. Friday, February 12th, should be just another day in her charmed life. Instead, it turns out to be her last.
The catch: Samantha still wakes up the next morning. Living the last day of her life seven times during one miraculous week, she will untangle the mystery surrounding her death—and discover the true value of everything she is in danger of losing.
---
More YA Movie News: Amandla Stenberg is Taking Over the YA Movie World
Save
Save
Save
Save
Save
Save
Save
Save
Save
Save
Save
Save