There are some books that should always be read with a reading buddy by your side- can I get an amen? The books below all contain moments that are so shocking we're honestly impressed that so many people survived reading them. Below you'll find a list of the most shocking moments in YA!
!!! SPOILER WARNING !!!
SO MANY SPOILERS BELOW.
SOOOO MANY.
PROCEED AT YOUR OWN RISK.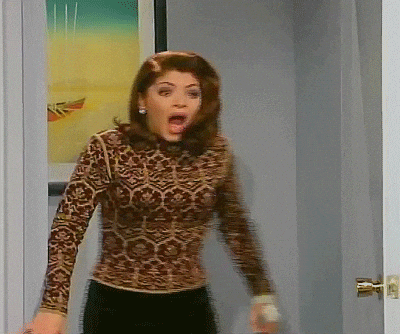 The Outliers by Kimberly McCreight
How do you save your friends from a delusional guy who has you all locked in a cabin? LIGHT YOURSELF ON FIRE. For most of THE OUTLIERS, we're anxiously cheering on Wylie as she tries to find her friend Cassie who is being held hostage, and when they're finally reunited all of our happiness literally goes up in flames! Cassie lights herself and the cabin on fire so that Wyler and Jasper can escape. Cassie's death is so unexpected and tragic and it doesn't look like Wylie will have much time to recover because new enemies are after her in THE SCATTERING!
Add The Outliers To Your Goodreads Shelf!
Ruined by Amy Tintera
We were shocked by the first chapter of RUINED (where Em kills a princess and assumes her identity), but nothing could have prepared us for the last chapter! Em finally rescues her sister Olivia, who was kidnapped by the kingdom of Lera, and holy sh*t this girl is powerful and out for revenge!! When the queen of Lera tries to stop them from getting away, Olivia uses her powers to RIP OUT THE QUEEN'S HEART. HER HEART JUST FLIES RIGHT OUT OF HER CHEST AND INTO OLIVIA'S HAND. I HAVE NO WORDS. What more will Olivia do in book two, AVENGED?!
Add Ruined To Your Goodreads Shelf!
Three Dark Crowns by Kendare Blake
PIETYR HOW DARE YOU?! Yes, we know this is a story about three sisters who will have to fight to the death for the crown, but they're not really going to die…right, Kendare? RIGHT?! Anyway, Pietyr is a total murderous jerk and tells Katharine that he loves her but then pushes her off a cliff into a bottomless pit! WTF?! But just when we think it's one queen down and only two left, Katharine miraculously returns at the end with these chilling words, "I want revenge. And then I want my crown." Ahhhh, ONE DARK THRONE needs to get here ASAP!
Add Three Dark Crowns To Your Goodreads Shelf!
Six of Crows by Leigh Bardugo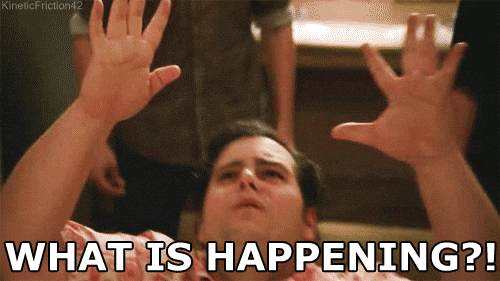 The crew survives the heist and makes it back (mostly) in one piece so you're thinking all is well but NOPE. Van Eck kidnaps Inej and I am Kaz is furious. Van Eck better watch his back because a pissed off Kaz is definitely not someone I would want to face!
Add Six Of Crows To Your Goodreads Shelf!
This Savage Song by Victoria Schwab
There were a *ton* of moments in THIS SAVAGE SONG that left our jaws on the floor. Like, you know, when the Malchai attack Kate at school, or when August finally gives in to his hunger… but NOTHING could have prepared us for the sick twist during August's rescue. Yeah, we're talking about that gut-punching moment when Leo steps out of the shadows to save his brother's life and reveals that, SURPRISE, he'd been working with Sloan the whole time. What? WHAT?! How are we supposed to trust ANYONE in this dark and twisted world?! And how are we supposed to survive reading the sequel, OUR DARK DUET?!
Add This Savage Song To Your Goodreads Shelf!
The Thousandth Floor by Katharine McGee
The prologue of The Thousandth Floor reveals that a girl falls off the 1,000-story Tower, so the entire time you're reading the book you're trying to figure out who it will be and the truth is HEARTBREAKING. During the party at Avery's penthouse apartment, all the main characters end up on the roof of the Tower, which is a terrible idea because they're over 10,000 feet above the ground! Leda and Eris get into a fight and Leda pushes Eris, accidentally sending her over the edge of the Tower. *GASP* Noooooooo, anyone but Eris! She was so fun and flawless and deserved better and why wasn't there some sort of railing at the edge of this roof?! *sobs incoherently while adding THE DAZZLING HEIGHTS to tbr list*
Add The Thousandth Floor  To Your Goodreads Shelf!
A Court of Mist and Fury by Sarah J. Maas
Feyre and crew sneak into Hybern to steal the Cauldron and things do NOT go as planned. The King traps them in the castle and then Tamlin aka the WORST shows ups. Turns out the traitorous fool Tamlin is working with Hybern in exchange for getting Feyre back. Tamlin is basically to blame for every bad thing that happens and I will never forgive him for splitting up Feyre and Rhysand.
Add A Court Of Mist And Fury  To Your Goodreads Shelf!
Queen of Hearts by Colleen Oakes
We all know Wonderland is a trippy place, but Dinah's visit to the Black Towers will really make your jaw drop. Dinah breaks into the prison to see Faina, who was arrested for treason. But Faina's punishment is to be strapped the wall of her cell—oh and we should mention this prison is built inside a giant tree and the walls are covered in poisonous sap and tiny roots that crawl into Faina's mouth, nose, and ears, driving her insane. Yikes, which do you think is worse—the Black Towers or Azkaban?
Add Queen Of Hearts To Your Goodreads Shelf!
The Female of the Species by Mindy McGinnis
The first line of this book is "This is how I kill someone." I'm already shook and Alex Craft's quest for revenge has just begun. After her sister was murdered, Alex starts carrying out her own form of justice on some of the horrible people in her town. In one chilling scene, she breaks into the house of a pedophile and lights him on fire while he's sleeping. Yes, this book does not hold back and is so powerful and important and everyone should read it because this book will change how you think about rape. 
Add The Female Of The Species  To Your Goodreads Shelf!
We Were Liars by E. Lockhart
THEY'RE ALL DEAD THE WHOLE TIME. THAT IS ALL.
Add We Were Liars To Your Goodreads Shelf!
---
What other moments from YA books shocked you? Tell us in the comments below!
Save