Mark the day, Shatter Me fans! Write down in your calendars that on Wednesday, April 26, 2017 was the day you almost died of happiness because today Tahereh Mafi has announced that there is A NEW SHATTER ME BOOK coming your way in 2018!
We'll give you a moment to let that sink in.
YES, YOU HEARD CORRECTLY. Let me repeat that in a bigger font so you know you're not dreaming:
THERE IS A NEW SHATTER ME SERIES COMING SOON.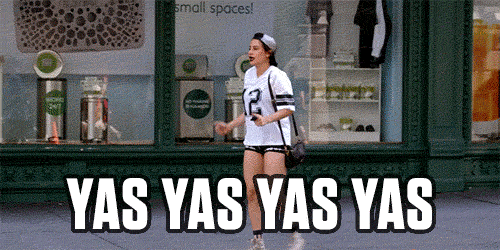 Here's what we can tell you about the new Shatter Me book:
You can find out more over on EW here, they did an exclusive interview with Tahereh and she goes into more detail but you can get the gist of it all right here.
What's the title? Restore Me
When does it go on sale? March 6, 2018 is the release date for the United States. We don't have international release date information yet but we will let you know as soon as we find out!
How many pages will it be? 352 glorious pages
Can I add it to my Goodreads shelf? YES, A THOUSAND TIMES YES! Add it here!
What's it about? Restore Me will follow the new Supreme Commander as she attempts to lead Sector 45 with Warner at her side. But when tragedy strikes, Juliette will be tested, leading her to see if she can use her ability (to kill with a single touch) after all. Find out more over on EW right here.
How many POVs are there? Two! One from Juliette and the other from Warner's (I KNOW, I'M FREAKING OUT ABOUT THIS SMALL DETAIL TOO.) If you haven't read Destroy Me yet, definitely go read that to get a little taste of what it's like to be inside Warner's head.
Can I pre-order it yet?: Yasss queen you can!
Go ahead and add it to your Amazon cart right here!
Or if you're the B&N book nerd type, add it to your Barnes and Noble cart here!
How many books will be in this new series? Three!
Is it a spin-off series? No, it is not a spinoff. The three new books are direct sequels to Shatter Me. So basically if you haven't read the original series (and the novellas) yet, you will definitely need to read those before you dive in to this new book.
Do you have any updates on the Shatter Me TV series? Not at the moment other than the pilot has been written! In case you aren't aware yet, the Shatter Me series has been optioned for TV by ABC Signature Studios, ABC Studio's boutique division that develops properties for cable TV and other outlets.
When will the cover be revealed? Great question, we keep bugging the cover designer about it but they won't tell us anything. Stay tuned for more info on this one!
That's it for now, Shatter Me fans! ARE YOU FREAKING OUT? ARE YOU OKAY? DO YOU NEED A HUG? DO YOU NEED A TISSUE? DO YOU WANT TO FREAK OUT SOME MORE WITH US? OKAY LET'S DO THAT.
For more updates on this series and the new Shatter Me book, follow the official Shatter Me Facebook page right here!
---
How are you feeling about this? Head down to the comments below and let's chat this out! And don't forget to pre-order it!!! 
Save
Save
Save
Save
Save
Save
Save
Save