This week was golden for YA fans everywhere. It seemed like everywhere we looked YA was killin' it! There were Cover reveals galore, J.K. Rowling gave us a hint of what she's working on next, and Lauren Oliver gave us the title of her newest book! Find out what else happened this week in YA news below! Let's get it rolling.
Stephanie Perkins Announces Her New Book
Though we don't have a cover reveal yet, we do know that There's Someone In Your House is a YA horror novel in the vein of the movie Scream in which a cadre of high school students are being stalked and attacked by a mysterious killer with no obvious motive. We are really scared but also REALLY excited.
Coming this year from @DuttonYR . . . pic.twitter.com/sWOJqdCxRr

— Stephanie Perkins (@naturallysteph) January 4, 2017
Wild Beauty by Anna Marie McLemore  Revealed It's Cover!
In Wild Beauty, McLemore introduces a spellbinding setting and two characters who are drawn together by fate—and pulled apart by reality.
For nearly a century, the Nomeolvides women have tended the grounds of La Pradera, the lush estate gardens that enchant guests from around the world. They've also hidden a tragic legacy: if they fall in love too deeply, their lovers vanish. But then, after generations of vanishings, a strange boy appears in the gardens.
The boy is a mystery to Estrella, the Nomeolvides girl who finds him, and to her family, but he's even more a mystery to himself; he knows nothing more about who he is or where he came from than his first name. As Estrella tries to help Fel piece together his unknown past, La Pradera leads them to secrets as dangerous as they are magical in this stunning exploration of love, loss, and family.
Read her full interview with EW here! 
WHAT IN THE WORLD IS J.K. WORKING ON
Yes, we are on a first name basis with J.K. …. okay no we aren't please forgive us Queen Rowling and then PLEASE tell us what exactly it is that you're writing/plotting?!?! Read more about her plans here.
It's hard to find a header that sums up everything I'm working on at the moment, but this painting comes close! It's by Harmen Steenwyck.

— J.K. Rowling (@jk_rowling) January 5, 2017
The Title For Lauren Oliver's REPLICA Sequel is here!
aandddd the winner is…. RINGER! We know, we know, you thought it was Helix because #Goodreads but PLOT TWIST! Oliver's sequel to Replica will be Ringer! We cannot, cannot, CANNOT WAIT to get our hands on this one! Ringer will hit shelves October 3rd 2017.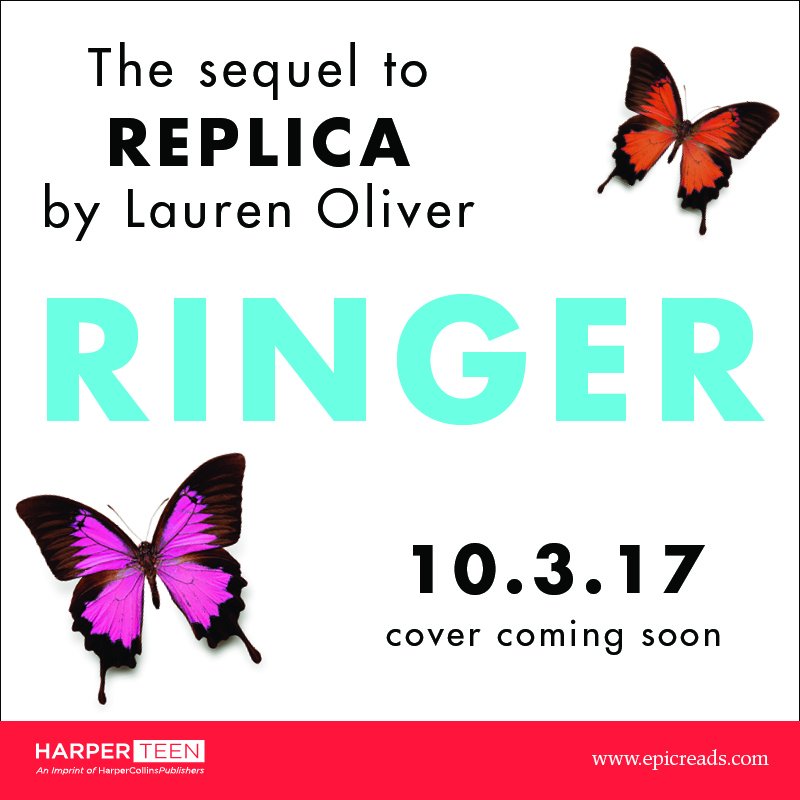 More YA Cover Reveals!
Laurie Forest released an excerpt from her new book,The Black Witch, as well as revealed the cover for it earlier this week! We are going to keep this one on our radar.
"In Laurie Forest's forthcoming YA fantasy novel The Black Witch, Elloren Gardner — granddaughter of legendary Black Witch Carnissa Gardner — finds herself lacking the magical abilities she'd need to truly be her grandmother's heir. Still, everyone believes she's the next chosen Black Witch, who will fight against the prophesied enemy, the Great Winged One, scheduled to arrive quite soon. While Elloren's real dream is to become an apothecary, she arrives at the illustrious Verpax University to find that she can't quite leave her lineage behind."
The Black Witch hits shelves May 2!
Annnnd Another One:
Roshani Chokshi, author of The Star Touched Queen, is writing a series of novellas which tell the tale of the original love story between two of her characters in the the novel- Maya and Amar! The cover is beautiful, and we just can't look away!
DEATH & NIGHT. The original love story of Maya and Amar releases 5/2! I can't wait to share their origin tale. More surprises coming on Wed! pic.twitter.com/00BSBz1nkV

— Roshani Chokshi (@NotRashKnee) January 6, 2017
---
That's it for this week! Did we miss any YA news? Tell us what other newsworthy YA events happened this week in the comments below!