YOU GUYS. I finished reading Two Dark Reigns and I am in need of a hug and in bigger need of ANSWERS that only Kendare Blake can give me.
Last year, I binge read Three Dark Crowns and One Dark Throne and WOW was that a wild ride. Fun fact: I had not read the series prior to joining Team Epic Reads and it was Tyler's conspiracy theory of Taylor Swift's Look What You Made Me Do being inspired by Katharine that convinced me that I needed to get to it ASAP. Also, for the record, he is 100% correct that LWYMMD was def from Katharine's POV. Just stating the facts, people!
ANYWAY. Those of you who have read any of the books in the Three Dark Crowns series know that Kendare just rips your heart out at the end of each book making you literally gasp out loud. So…I really should have known better and been prepared that Two Dark Reigns would do the same. Sigh. Lesson learned. NOW ONTO MY QUESTIONS FOR KENDARE. But before you scroll any further, know that SPOILERS lie ahead so if you haven't read Two Dark Reigns yet, please exit this page and get yourself a copy pronto. You have been warned.
*SPOILERS* *SPOILERS* SPOILERS* SPOILERS* SPOILERS* 
*SPOILERS* *SPOILERS* SPOILERS* SPOILERS* SPOILERS* 
*SPOILERS* *SPOILERS* SPOILERS* SPOILERS* SPOILERS* 
IS PIETYR REALLY GONE?
Sweet Pietyr. What a dark fate for one of my faves! No matter how many times I've tried to convince Tyler that there's a chance he may be alive, he continues to crush all my hopes and dreams and says firmly, he is dead. For an example of how I feel, please watch this Book Nerd Problem video. Kendare, I'd appreciate any insight you can shed on this topic. Unless, of course, he really is dead. In the case, I'd prefer to remain blissfully unaware.
HOW DO WE GET RID OF THE MIST WITHOUT A MIRA SACRIFICE?
Kendare!!!! I spent most of book one and two without a care in the world for Mira. And yet, you've successfully endeared her to my heart with Two Dark Reigns and then you just dropped a bombshell like that on me?! NOT COOL. There has to be another way for them to get rid of the mist without sacrificing her…right? THERE HAS TO BE.
WE NEED TO TALK ABOUT KATHARINE.
I need clarification here. Is Katharine like legit an ~undead queen~ now that the dead queens have risen to the surface of…her skin? Like is that scary ghostly appearance temporary or permanent????? And is there any Kat left…? This needs to be answered ASAP so I can make my predictions for the next book (this might affect the storyline!) and also for fan art purposes…even though I can't draw…but yeah. Clarification, pls!
WHO DO WE KNOW IS A LOW MAGIC EXPERT?
Honestly, I cannot believe Madrigal is also gone. I was really enjoying her this book (especially when they locked her up and she was being such a smartass) but of course, in your world…all good things must come to an end. So my question is WHO WILL HELP JULES NOW??????? And let's not forget Katharine…but seriously, will Jules regain her mind? Her sanity? SOS, we need a low magic expert to come to Fennbirn ASAP.
WILL YOU PLEASE LEAVE US WITH ONE SHIP TO ROOT FOR?
Billy is going to STAY ALIVE…right, Kendare?! You already took Joseph! RIP. And Pietyr! RIP. So please don't take the purest cinnamon roll away from us. We need at least one ship to keep us happy so here I am begging you. PLEASE!
ALSO, LET'S DISCUSS THE BOOK TITLES.
You've been totally trolling us readers with the titles of these books. Three Dark Crowns. One Dark Throne. Two Dark Reigns. What's the fourth one going to be??? It HAS to begin with Four, right? Four Dark….???? I really need more information about this book and have my fingers crossed for a title reveal coming soon…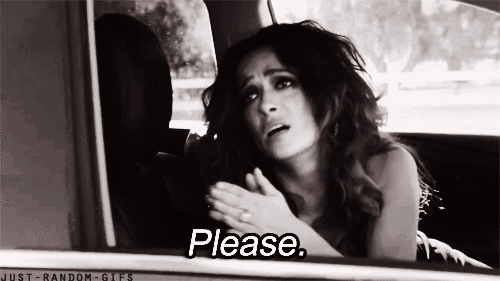 Kendare Blake, this reader is demanding answers and I want them ASAP. But you know what? It'll probably be easier if you just send me book four. I'll accept it with NO QUESTIONS ASKED. Just putting it out there…into the universe…
---
OKAY GUYS. I KNOW the ending of Two Dark Reigns got to you too.
Are you still screaming at what happened?! What questions do you have? What theories? Tell me EVERYTHING in the comments below. Now excuse me while I go take all the Three Dark Crowns quizzes as I wait for news on book four…
Up Next: