There are a few YA books with characters whose names you all know. In fact, you even see them on our lists quite a bit. Some examples might be RED QUEEN's Mare, SHATTER ME's Warner, SIX OF CROWS's Kaz, or ACOTAR's Rhys. And it's easy for us to talk about these characters, because we know that we've all read these books! But there are SO MANY other amazing books out there too, that we wanted to give those characters their own time in the spotlight! After all, we love them all and we want to be able to discuss them freely!
For starters, here's a handy little infographic with just SOME of them:
And now for even more—and more details!—scroll through, take notes, and add their books to your TBRs. These characters are going to be talked about, and they may be talked about quite a bit (!!) so you better start falling in love with them, too. We promise you will!
Underrated Characters You Need to Know
1. Zélie | Children of Blood and Bone
Sure, Zélie can be rash—speaking up when it might be better for her to stay silent, getting involved in a princess's royal jailbreak… but everything she does is in the name of a better future. Zélie is an incredible just, brave girl and her story has just begun!
Zélie Adebola remembers when the soil of Orïsha hummed with magic. Burners ignited flames, Tiders beckoned waves, and Zelie's Reaper mother summoned forth souls.
But everything changed the night magic disappeared. Under the orders of a ruthless king, maji were targeted and killed, leaving Zélie without a mother and her people without hope.
Now, Zélie has one chance to bring back magic and strike against the monarchy. With the help of a rogue princess, Zélie must outwit and outrun the crown prince, who is hell-bent on eradicating magic for good.
2. Stevie | Truly Devious
Stevie Bell has a special place in our hearts because of just how relatable she is. You know, just a normal, clever, sarcastic bookworm who loves true crime podcasts and unrealistically hoped to solve a murder one day. Oh, and then she finds herself in the middle of an actual cold case and mystery and… yeah, we'll just say, you'll love her too!
Ellingham Academy is a famous private school in Vermont for the brightest thinkers, inventors, and artists. It was founded by Albert Ellingham, an early twentieth century tycoon, who wanted to make a wonderful place full of riddles, twisting pathways, and gardens. "A place," he said, "where learning is a game."
Shortly after the school opened, his wife and daughter were kidnapped. The only real clue was a mocking riddle listing methods of murder, signed with the frightening pseudonym "Truly, Devious." It became one of the great unsolved crimes of American history.
True-crime aficionado Stevie Bell is set to begin her first year at Ellingham Academy, and she has an ambitious plan: She will solve this cold case. That is, she will solve the case when she gets a grip on her demanding new school life and her housemates: the inventor, the novelist, the actor, the artist, and the jokester. But something strange is happening. Truly Devious makes a surprise return, and death revisits Ellingham Academy. The past has crawled out of its grave. Someone has gotten away with murder.
3. Penny | Emergency Contact
We fell in love with Penny's mix of self-awareness and vulnerability so fast, it almost wasn't fair. She's balancing tensions in her family life with those in her own social and personal life and her outlook really struck a chord with us.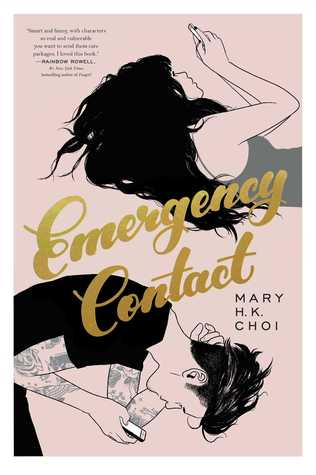 For Penny Lee high school was a total nonevent. Her friends were okay, her grades were fine, and while she somehow managed to land a boyfriend, he doesn't actually know anything about her. When Penny heads to college in Austin, Texas, to learn how to become a writer, it's seventy-nine miles and a zillion light years away from everything she can't wait to leave behind.
Sam's stuck. Literally, figuratively, emotionally, financially. He works at a café and sleeps there too, on a mattress on the floor of an empty storage room upstairs. He knows that this is the god-awful chapter of his life that will serve as inspiration for when he's a famous movie director but right this second the seventeen bucks in his checking account and his dying laptop are really testing him.
When Sam and Penny cross paths it's less meet-cute and more a collision of unbearable awkwardness. Still, they swap numbers and stay in touch—via text—and soon become digitally inseparable, sharing their deepest anxieties and secret dreams without the humiliating weirdness of having to see each other.
4. Tanner & Sebastian | Autoboyography
Tanner Scott is a sweet, romantic, vulnerable cinnamon roll who ends up falling in love with someone he can never have—right? The love story between Tanner and Sebastian is so sweet and heartbreaking all at once, and through it all you'll just want Tanner to be happy!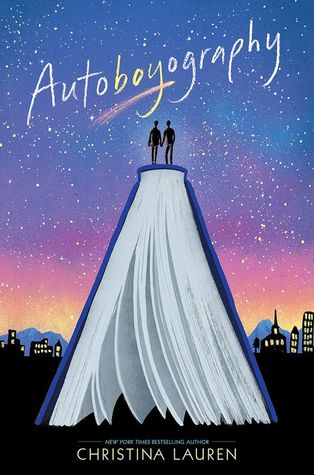 Three years ago, Tanner Scott's family relocated from California to Utah, a move that nudged the bisexual teen temporarily back into the closet. Now, with one semester of high school to go, and no obstacles between him and out-of-state college freedom, Tanner plans to coast through his remaining classes and clear out of Utah.
But when his best friend Autumn dares him to take Provo High's prestigious Seminar—where honor roll students diligently toil to draft a book in a semester—Tanner can't resist going against his better judgment and having a go, if only to prove to Autumn how silly the whole thing is. Writing a book in four months sounds simple. Four months is an eternity.
It turns out, Tanner is only partly right: four months is a long time. After all, it takes only one second for him to notice Sebastian Brother, the Mormon prodigy who sold his own Seminar novel the year before and who now mentors the class. And it takes less than a month for Tanner to fall completely in love with him.
5. Eugenides | The Queen's Thief
Gen is as clever as they get, and it always feels like a gift to see him on a Queen's Thief novel page. We don't really know else to describe him other than just be saying you NEED to read these books! He's cunning, crafty, and unpredictable, and you'll ALWAYS underestimate him.
Megan Whalen Turner's Queen's Thief novels are rich with political machinations and intrigue, battles lost and won, dangerous journeys, divine intervention, power, passion, revenge, and deception.
The brilliant thief Eugenides has visited the Queen of Attolia's palace one too many times, leaving small tokens and then departing unseen. When his final excursion does not go as planned, he is captured by the ruthless queen. The Queen's Thief novels have been praised by writers, critics, reviewers, and fans and have been honored with glowing reviews, "best of" citations, and numerous awards
6. Emika & Zero | Warcross
Emika is one of the most clever and creative heroines we've ever read in YA. And despite hitting a rough patch in life, she hasn't let it affect her hope for a better future. Most of the time. She's independent, maybe to a fault sometimes, but she's working on it. And Zero? Where do we even start? You should probably just read it…
For the millions who log in every day, Warcross isn't just a game—it's a way of life. The obsession started ten years ago and its fan base now spans the globe, some eager to escape from reality and others hoping to make a profit. Struggling to make ends meet, teenage hacker Emika Chen works as a bounty hunter, tracking down players who bet on the game illegally. But the bounty hunting world is a competitive one, and survival has not been easy. Needing to make some quick cash, Emika takes a risk and hacks into the opening game of the international Warcross Championships—only to accidentally glitch herself into the action and become an overnight sensation.
Convinced she's going to be arrested, Emika is shocked when instead she gets a call from the game's creator, the elusive young billionaire Hideo Tanaka, with an irresistible offer. He needs a spy on the inside of this year's tournament in order to uncover a security problem… and he wants Emika for the job. With no time to lose, Emika's whisked off to Tokyo and thrust into a world of fame and fortune that she's only dreamed of. But soon her investigation uncovers a sinister plot, with major consequences for the entire Warcross empire.
7. Ana, Robb, Jax, & Di | Heart of Iron
The entire crew of the Dossier collectively stole our hearts. Ana, the snarky ball of outlaw energy. Di, the android on the verge of consciousness. Robb, the ambitious, flawed cinnamon rol. And Jax, superstar pilot, dry wit hero. These four make up the best little underrated ensemble we've read in a long time, and we know you'll love them too.
eventeen-year-old Ana is a scoundrel by nurture and an outlaw by nature. Found as a child drifting through space with a sentient android called D09, Ana was saved by a fearsome space captain and the grizzled crew she now calls family. But D09—one of the last remaining illegal Metals—has been glitching, and Ana will stop at nothing to find a way to fix him.
Ana's desperate effort to save D09 leads her on a quest to steal the coordinates to a lost ship that could offer all the answers. But at the last moment, a spoiled Ironblood boy beats Ana to her prize. He has his own reasons for taking the coordinates, and he doesn't care what he'll sacrifice to keep them.
When everything goes wrong, she and the Ironblood end up as fugitives on the run. Now their entire kingdom is after them—and the coordinates—and not everyone wants them captured alive.
8. Cardan | The Cruel Prince
Cardan's character is built so cleverly, his arc crafted so subtly, that you won't be able to decide if you love or hate him, even through to the very end. Relatable, right Jude? This cruel prince is an amazing addition to our list of "YA characters with questionable morality we love."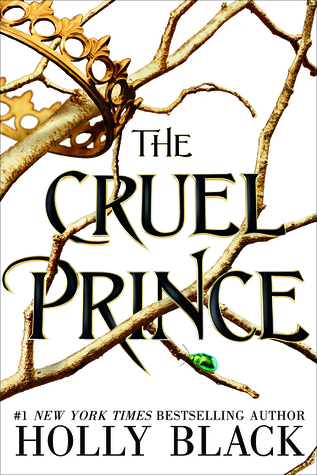 Jude was seven years old when her parents were murdered and she and her two sisters were stolen away to live in the treacherous High Court of Faerie. Ten years later, Jude wants nothing more than to belong there, despite her mortality. But many of the fey despise humans. Especially Prince Cardan, the youngest and wickedest son of the High King.
To win a place at the Court, she must defy him–and face the consequences.
In doing so, she becomes embroiled in palace intrigues and deceptions, discovering her own capacity for bloodshed. But as civil war threatens to drown the Courts of Faerie in violence, Jude will need to risk her life in a dangerous alliance to save her sisters, and Faerie itself.
9. Farway | Invictus
Farway may be a character who can travel through time, but he found a home… in our hearts. Okay, cheesiness aside, Far's sarcastic personality, his penchant for snarky clapbacks even in the most dire of times, and his self-sacrificial streak cemented him as a fave. Easily.
Farway Gaius McCarthy was born outside of time. The son of a time-traveling Recorder from 2354 AD and a gladiator living in Rome in 95 AD, Far's birth defies the laws of nature. Exploring history himself is all he's ever wanted, and after failing his final time-traveling exam, Far takes a position commanding a ship with a crew of his friends as part of a black market operation to steal valuables from the past.
But during a heist on the sinking Titanic, Far meets a mysterious girl who always seems to be one step ahead of him. Armed with knowledge that will bring Far's very existence into question, she will lead Far and his team on a race through time to discover a frightening truth: History is not as steady as it seems.
10. Jules | Everless
Jules is a fierce new addition to the YA fantasy landscape. Nothing in her world is as it seems, but through all the twists and turns she does her best to fight for what's right and the people she loves. She's brave, loving, determined, and we can't wait to see what she does next!
In the kingdom of Sempera, time is currency—extracted from blood, bound to iron, and consumed to add time to one's own lifespan. The rich aristocracy, like the Gerlings, tax the poor to the hilt, extending their own lives by centuries.
No one resents the Gerlings more than Jules Ember. A decade ago, she and her father were servants at Everless, the Gerlings' palatial estate, until a fateful accident forced them to flee in the dead of night. When Jules discovers that her father is dying, she knows that she must return to Everless to earn more time for him before she loses him forever.
But going back to Everless brings more danger—and temptation—than Jules could have ever imagined. Soon she's caught in a tangle of violent secrets and finds her heart torn between two people she thought she'd never see again. Her decisions have the power to change her fate—and the fate of time itself.
11. Lazlo | Strange the Dreamer
Lazlo is a unique and super charming character in YA because it's so rare to get a quiet main character who leans into his nerdiness! And on top of it, he has an incredible arc that deals with his learning to speak up for himself and stand up for his beliefs!
The dream chooses the dreamer, not the other way around—and Lazlo Strange, war orphan and junior librarian, has always feared that his dream chose poorly. Since he was five years old he's been obsessed with the mythic lost city of Weep, but it would take someone bolder than he to cross half the world in search of it. Then a stunning opportunity presents itself, in the person of a hero called the Godslayer and a band of legendary warriors, and he has to seize his chance or lose his dream forever.
What happened in Weep two hundred years ago to cut it off from the rest of the world? What exactly did the Godslayer slay that went by the name of god? And what is the mysterious problem he now seeks help in solving?
The answers await in Weep, but so do more mysteries—including the blue-skinned goddess who appears in Lazlo's dreams. How did he dream her before he knew she existed? And if all the gods are dead, why does she seem so real?
12. Citra & Rowan | Scythe
Though they take different paths, they both put their lives on the line for the greater good. This series really puts them through the ringer but these two characters are resiliant and refuse to be shut down. Hopefully everything will work out? Maybe?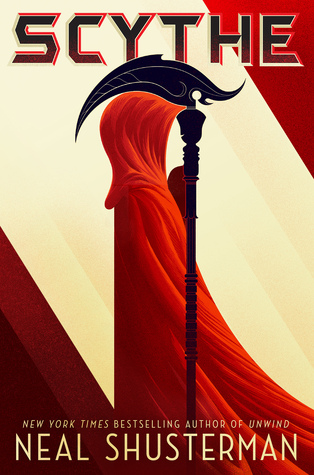 Thou shalt kill.
A world with no hunger, no disease, no war, no misery. Humanity has conquered all those things, and has even conquered death. Now scythes are the only ones who can end life—and they are commanded to do so, in order to keep the size of the population under control.
Citra and Rowan are chosen to apprentice to a scythe—a role that neither wants. These teens must master the "art" of taking life, knowing that the consequence of failure could mean losing their own.
13. Alice | The Hazel Wood
Alice's determination bleeds through from the very first page, and her willingness to risk her life to save the people she loves is honestly main character #goals. This story is a super twisted take on urban fairy tales, but Alice keeps us grounded and rooting for her the whole time.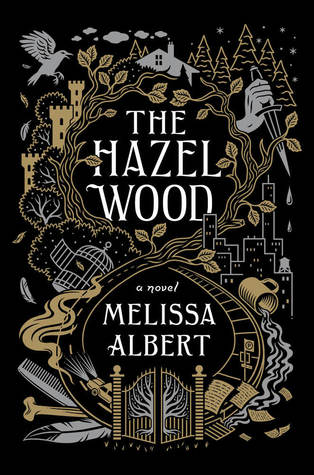 Seventeen-year-old Alice and her mother have spent most of Alice's life on the road, always a step ahead of the uncanny bad luck biting at their heels. But when Alice's grandmother, the reclusive author of a cult-classic book of pitch-dark fairy tales, dies alone on her estate, the Hazel Wood, Alice learns how bad her luck can really get: her mother is stolen away―by a figure who claims to come from the Hinterland, the cruel supernatural world where her grandmother's stories are set. Alice's only lead is the message her mother left behind: "Stay away from the Hazel Wood."
Alice has long steered clear of her grandmother's cultish fans. But now she has no choice but to ally with classmate Ellery Finch, a Hinterland superfan who may have his own reasons for wanting to help her. To retrieve her mother, Alice must venture first to the Hazel Wood, then into the world where her grandmother's tales began―and where she might find out how her own story went so wrong.
14. Emelina | Ruined
Em is a brutal, vengeance-seeking princess who is also willing to listen to those around her, and her combination of combat skills and empathy make her a force to be reckoned with.
Emelina Flores has nothing. Her home in Ruina has been ravaged by war; her parents were killed and her sister was kidnapped. Even though Em is only a useless Ruined—completely lacking any magic—she is determined to get revenge.
Her plan is simple: She will infiltrate the enemy's kingdom, posing as the crown prince's betrothed. She will lead an ambush. She will kill the king and everything he holds dear, including his son.
The closer Em gets to the prince, though, the more she questions her mission. Her rage-filled heart begins to soften. But with her life—and her family—on the line, love could be Em's deadliest mistake.
15. Jane | Dread Nation
Jane may be trained to slay zombies, but she's not all brawn—Jane is super clever and smart and works to be one step ahead at all times. She's definitely someone you want on your side in the case of zombies. We couldn't even count the times we were impressed by her quick wit.
Jane McKeene was born two days before the dead began to walk the battlefields of Gettysburg, Pennsylvania—derailing the War between the States and changing the nation forever. In this new America, safety for all depends on the work of a few, and laws like the Negro and Native Reeducation Act require certain children attend combat schools to learn to put down the dead. But there are also opportunities, and Jane is studying to become an Attendant, trained in both weaponry and etiquette to protect the well-to-do. It's a chance for a better life for Negro girls like Jane.
But that's not a life she wants. Almost finished with her education at Miss Preston's School of Combat in Baltimore, Jane is set on returning to her Kentucky home and doesn't pay much mind to the politics of the eastern cities, with their talk of returning America to the glory of its days before the dead rose. But when families around Baltimore County begin to go missing, Jane is caught in the middle of a desperate fight against some powerful enemies. And the restless dead, it would seem, are the least of her problems.
16. Xiomara | The Poet X
Xiomara is just learning to speak up, and watching her grow and come into her own was empowering as hell. She is a fierce character with so much personality her words practically leapt off the page, and together with her optimism and anxiety, her insecurities and confidence, she's a character we never want to let go of.
Xiomara Batista feels unheard and unable to hide in her Harlem neighborhood. Ever since her body grew into curves, she has learned to let her fists and her fierceness do the talking.
But Xiomara has plenty she wants to say, and she pours all her frustration and passion onto the pages of a leather notebook, reciting the words to herself like prayers—especially after she catches feelings for a boy in her bio class named Aman, who her family can never know about.
With Mami's determination to force her daughter to obey the laws of the church, Xiomara understands that her thoughts are best kept to herself. So when she is invited to join her school's slam poetry club, she doesn't know how she could ever attend without her mami finding out. But she still can't stop thinking about performing her poems.
Because in the face of a world that may not want to hear her, Xiomara refuses to be silent.
17. Camellia | The Belles
Camellia wants to be the best—and we love a main character who can acknowledge her own ambition. She finds ways to be unique and the risks she takes kept us on the edge of our seats the entire time. Her cleverness on top of all that gives us all the reasons we need to not overlook her!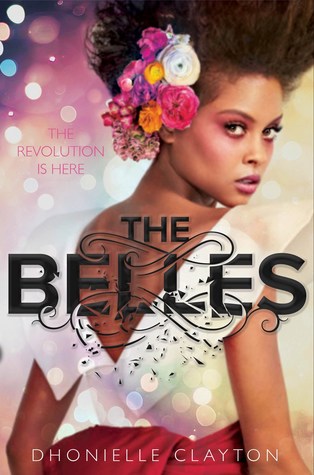 Camellia Beauregard is a Belle. In the opulent world of Orléans, Belles are revered, for they control Beauty, and Beauty is a commodity coveted above all else. In Orléans, the people are born gray, they are born damned, and only with the help of a Belle and her talents can they transform and be made beautiful.
But it's not enough for Camellia to be just a Belle. She wants to be the favorite—the Belle chosen by the Queen of Orléans to live in the royal palace, to tend to the royal family and their court, to be recognized as the most talented Belle in the land. But once Camellia and her Belle sisters arrive at court, it becomes clear that being the favorite is not everything she always dreamed it would be. Behind the gilded palace walls live dark secrets, and Camellia soon learns that the very essence of her existence is a lie—that her powers are far greater, and could be more dangerous, than she ever imagined. And when the queen asks Camellia to risk her own life and help the ailing princess by using Belle powers in unintended ways, Camellia now faces an impossible decision.
18. Willowdean | Dumplin'
Willowdean is equal parts total sweetheart and southern sass. She's a headstrong, lovable Dolly Parton fan you can't help but fall for. Her self-confidence is usually on point and she's got some one liners we'd love to steal and use ourselves!
Self-proclaimed fat girl Willowdean Dickson (dubbed "Dumplin'" by her former beauty queen mom) has always been at home in her own skin. Her thoughts on having the ultimate bikini body? Put a bikini on your body. With her all-American-beauty best friend, Ellen, by her side, things have always worked… until Will takes a job at Harpy's, the local fast-food joint. There she meets Private School Bo, a hot former jock. Will isn't surprised to find herself attracted to Bo. But she is surprised when he seems to like her back.
Instead of finding new heights of self-assurance in her relationship with Bo, Will starts to doubt herself. So she sets out to take back her confidence by doing the most horrifying thing she can imagine: entering the Miss Teen Blue Bonnet beauty pageant—along with several other unlikely candidates—to show the world that she deserves to be up there as much as any girl does. Along the way, she'll shock the hell out of Clover City—and maybe herself most of all.
19. Desi | I Believe In a Thing Called Love
Desi is a girl on a mission! She's not afraid to take advice that might otherwise seem cliché… but really make it work for her. Why count things out that might seem hilarious if they might actually work? She's a quick study who will keep you smiling the whole read through.
Desi Lee believes anything is possible if you have a plan. That's how she became student body president. Varsity soccer star. And it's how she'll get into Stanford. But—she's never had a boyfriend. In fact, she's a disaster in romance, a clumsy, stammering humiliation magnet whose botched attempts at flirting have become legendary with her friends.
So when the hottest human specimen to have ever lived walks into her life one day, Desi decides to tackle her flirting failures with the same zest she's applied to everything else in her life. She finds guidance in the Korean dramas her father has been obsessively watching for years—where the hapless heroine always seems to end up in the arms of her true love by episode ten. It's a simple formula, and Desi is a quick study.
Armed with her "K Drama Steps to True Love," Desi goes after the moody, elusive artist Luca Drakos—and boat rescues, love triangles, and staged car crashes ensue. But when the fun and games turn to true feels, Desi finds out that real love is about way more than just drama.
20. Lada & Radu | And I Darken
Lada and Radu are two siblings whose stories are SO interesting because of how they diverge and intertwine. Lada is brutal and wants to prove that she's worthy of inheriting her father's homeland, while Radu simply wants to find peace and be happy. They both have a soft spot for each other even as their adventures tear them apart and bring them back together, and through it all, we can't stop reading about either of them.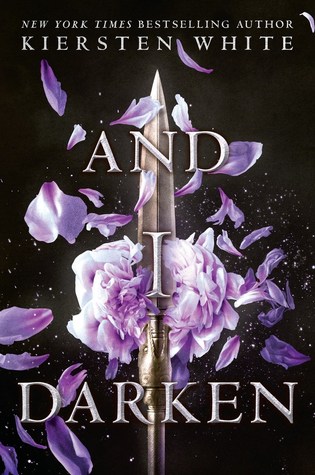 No one expects a princess to be brutal. And Lada Dragwlya likes it that way. Ever since she and her gentle younger brother, Radu, were wrenched from their homeland of Wallachia and abandoned by their father to be raised in the Ottoman courts, Lada has known that being ruthless is the key to survival. She and Radu are doomed to act as pawns in a vicious game, an unseen sword hovering over their every move. For the lineage that makes them special also makes them targets.
Lada despises the Ottomans and bides her time, planning her vengeance for the day when she can return to Wallachia and claim her birthright. Radu longs only for a place where he feels safe. And when they meet Mehmed, the defiant and lonely son of the sultan, Radu feels that he's made a true friend—and Lada wonders if she's finally found someone worthy of her passion.
But Mehmed is heir to the very empire that Lada has sworn to fight against—and that Radu now considers home. Together, Lada, Radu, and Mehmed form a toxic triangle that strains the bonds of love and loyalty to the breaking point.
21. Brienna | The Queen's Rising
Brienna is an incredibly strong female character without relying on physical strength. She's super endearing and supports the other women around her, always tries to do the right thing, and there are serious sparks in this book's romance.
Brienna desires only two things: to master her passion and to be chosen by a patron. Growing up in Valenia at the renowned Magnalia House should have prepared her. While some are born with a talent for one of the five passions—art, music, dramatics, wit, and knowledge—Brienna struggled to find hers until she chose knowledge. However, Brienna's greatest fear comes true—she is left without a patron.
Months later, her life takes an unexpected turn when a disgraced lord offers her patronage. Suspicious of his intent, she reluctantly accepts. But there is much more to his story, for there is a dangerous plot to overthrow the king of Maevana—the rival kingdom of Valenia—and restore the rightful queen, and her magic, to the throne. And others are involved—some closer to Brienna than she realizes.
22. Miri | All of This Is True
When Miri and her friends decided to befriend their favorite YA author, they weren't expecting anything bad to come out of it. But things take a twist. Miri, throughout the book, is as idealistic as she is manipulative, and let's just say there's a reason her classmates worship her.
Miri Tan loved Undertow like it was more than a book—like it was a living being. So when she and her friends went to a book signing to meet the author, Fatima Ro, they had a plan for how to get close to her, even if Miri's friends won't admit it now, after everything that's happened. As for Jonah, well—Miri knows none of that was Fatima's fault.
Soleil Johnston wanted to be a writer herself one day. When she and her friends started hanging out with her favorite author, she couldn't believe their luck—especially when Jonah Nicholls started coming along with them. Now, looking back, Soleil can't believe she let Fatima manipulate her and Jonah like that. She can't believe she got used for a book.
Penny Panzarella was more than the materialist party girl everyone at the Graham School thought she was, and she was willing to share all her secrets with Fatima Ro to prove it. If only she'd known what would happen when Fatima found out about Jonah. If only she'd known that the line between fiction and truth was more complicated than any of them imagined…
23. Evie | The Diviners
Evie is an amazingly flawed character who we couldn't help but root for from the first page. She's super fun and loves to party, and it's honestly such a good time reading her story—she has a charismatic energy (and a super cool power)!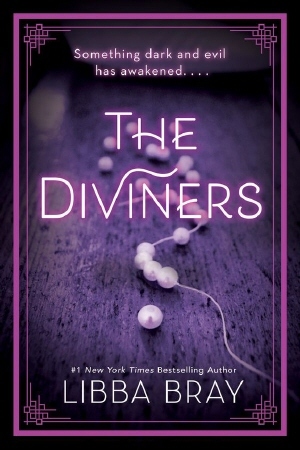 Evie O'Neill has been exiled from her boring old hometown and shipped off to the bustling streets of New York City—and she is pos-i-tute-ly ecstatic. It's 1926, and New York is filled with speakeasies, Ziegfeld girls, and rakish pickpockets. The only catch is that she has to live with her uncle Will and his unhealthy obsession with the occult.
Evie worries he'll discover her darkest secret: a supernatural power that has only brought her trouble so far. But when the police find a murdered girl branded with a cryptic symbol and Will is called to the scene, Evie realizes her gift could help catch a serial killer.
As Evie jumps headlong into a dance with a murderer, other stories unfold in the city that never sleeps.
---
Who are some of your favorite characters that you wish other people knew more about? Let us know in the comments!
Up next: